The goal that got our U15B Blue Tongues to the grand final
It was a hard day at the office for our senior men's teams in the finals at the weekend with grades 1-4 going down.
Fifth grade had a monumental game against Manly, fighting out a 1-1 draw after double extra time. But sadly, it wasn't enough to continue their season – Manly finished above them in the ladder and went through to the grand final.
Thank you once again to our dedicated photographers who contributed to this week's report: Rory and Matt Staples and Craig Turner. CT and Rory even turned in a photo report each of 5th grade's epic: two galleries to enjoy.
Match reports
Men
1st grade: Moorebank Liverpool 5 Sutho 2. No team report.
2nd grade: Sutho 3 Briars 2. No team report.
3rd grade: Sutho 1 Moorebank Liverpool 2. No team report. Pictures: Craig Turner
4th grade: Sutho 1 Uni NSW 2. No team report.
5th grade: Sutho 1 Manly 1
Galleries Rory Staples and Craig Turner
Preliminary Final: with a 1-1 draw after double extra time, Manly progresses.
It was going to be hard to beat the excitement of our Semi-Final win, but we gave it a red-hot go. This time we took on Manly, who finished second, and it was always going to be a tight game based upon our previous meetings this year – 6:5 win in round 6 and a 0:1 loss in round 15.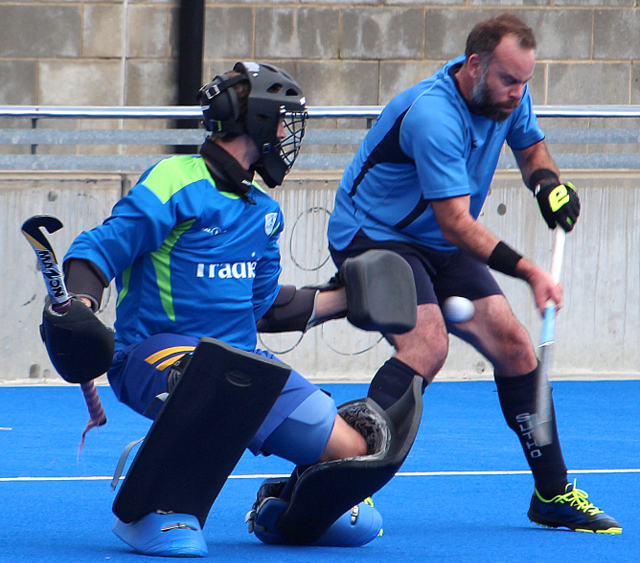 Mitch "Duck" Scott (reminder – Mr Scott to some) didn't pass the fitness test, so he was ruled out, but we had young Will Gair rejoin the team after a weekend away at the National Cross-Country Championship. Everyone was fired up, our warm-up was very good, and the old heads were stoking the fire even more before we started the game – fight for it, win every 50:50 etc, 1,2,3 SUTHO – and out we went.
A battle
The team were competing very well, and it was a battle in every sense; physical tackles, plenty of banter, and a struggle for either side to own the midfield. Our young lads in the middle played outstandingly – with Matt Staples, Isaac Olsen, Lachlan O'Leary all playing like the experienced, grey-haired members of the team (well those that have any hair left).
Our attacking threats came from right across the park with our mixture of youth and experience (Nic Donni, Matt Jones, Lachlan Groundwater, Marty Taylor, Lachlan Cartwright, Chris Fishlock, Ty Stevens) taking it to the Manly defenders. And despite all our efforts, we did find it difficult to break through and get meaningful outcomes when we did enter their circle in the first half.
Our defensive unit worked hard at the other end of the field, with Blake Sykes and Will Gair shutting down any threats coming from their right-side, and Gilby saving our tails on a couple of occasions.
But it was Tom Hausman who came out on top almost every time against Manly's greatest and most skilful threat – it was a pleasure to watch Tom shutdown threat after threat in this arm-wrestle of a match (surely that is cliche bingo!?).
Syko fracture
We lost Sykes who rolled his ankle in a tackle midway through the 1st half (which turns out to be fractured – best wishes for a speedy recovery Skyko), and the team responded well. We were awarded a short corner with seconds left in the first half and then failed to take advantage of it and the follow-up corner – 0-0 at half time.
The half chat was about belief and positivity; we were very much in the game and dominating ball process at times. Despite our efforts, it was not long after half time when the first goal was scored – unfortunately, it was from Manly. We easily defended the previous short corner, but this time Manly executed it well and fired a drag flick at the left postie (me) and it deflecting into the goal off my inner thigh (I still have the bruise to show for it).
We tried to find another gear and were still struggling to threaten the Manly goal. Piles (me) had enough of hanging back and decided we needed to chase the game to win. I took a very quick long corner, running it with intent 5 m then smashed the ball into the circle where the Manly GK saved the first deflection but not the follow up from Donni – 1:1 with plenty of time left on the clock. The arm-wrestle picked up a gear, and both teams chased the win, but at the end of 70 mins, it was still 1:1.
Into extra time with two fewer players and after some professional advice from Sean, "Did I tell you I'm going to The Hilltop Hoods tonight?" Kelly, we decided on a formation and went for it – we had to win to progress.
Real threat
Chances were again few and far between in the first 5 mins, so we had to take off another two players for the next and final 5 mins. We also planned to pull Gilby (the GK) after 1 min to go with seven outfield players, and we again created half chances.
The threat from Manly on the break was real, and they were two on one at one point but (may I say) I expertly defused the situation, cutting out a pretty poor pass. Our best chance was again a short corner, but this time it was awarded at the death. Disappointingly for all, we again failed to execute our short corner routine. The match ended 1:1, with Manly progressing as the higher placed finisher of the regular season.
A massive thanks to all 15 players, Coach Duck and guest Manager Angelo. Also, to everyone who played 5th grade this year. It has been one of the most enjoyable seasons I have had in my time at Sutho HC, and I'm hoping everyone is back for another shot at a premiership next year.
Rory Staples gallery
Craig Turner gallery
Metro
U17: No match report
U15: No match report.
Rory Staples pictures
U15B Blue Tongues 3 v St George Randwick 2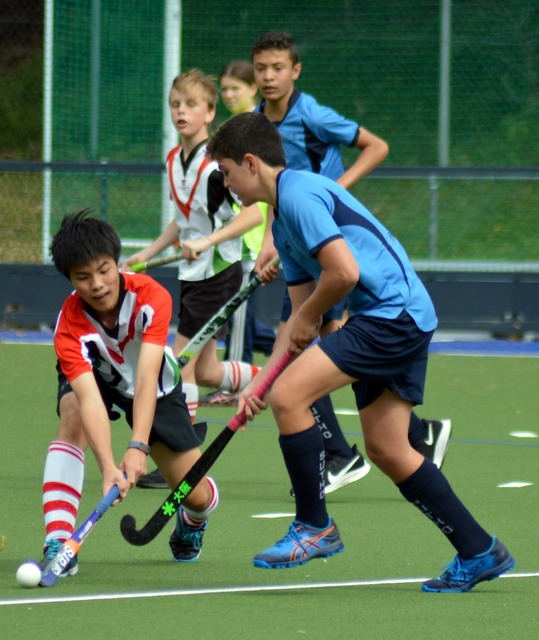 This was  was a great game of skill and passing to watch, especially being finals! A nail biter to the end with every player battling it out to the last seconds.
We had a good first 10 or so minutes of possession through the centre of the field, eventually breaking through when a penalty was awarded in our attacking 25.
KK took the penalty quick passing to Tully, who did a brilliant pass into the circle finding every inch of a gap available to Coops, who deflected a shot and found the back of the goal. 1-0.
St George took off quick and we had some defending to do. Milan held strong defence all game clearing the ball out left and right and finding Bailey to move the ball down the field.
Declan made some great intercepts and attack on the ball throughout the game. KK found Olive in good position. Olive takes the ball in and slaps the ball across the back line to goal. After a long hustle with the ball and the goalie in the circle, many Blue Tongues took a shot with eventually Kai popping it in. 2-0.
With one minute to go in the half, we found ourselves defending the goal. Mylo did save after save but eventually a short corner was awarded to St George. They took an early shot and got a goal right on half time. 2-1.
Second half, in true St George form, they came back stronger and attacking well. Milan, Jack, Declan and Charlotte defended with everything they had. With 11 minutes to go we had a short corner awarded. Coops blasted a thumper into the goal and not sure if there was even a back board left after it! 3-1.
The game took a turn and with the last 6 minutes left, we were defending every minute, every second! Short corner to St George awarded. Unlucky call, but this resulted in Saints coming back and scoring 3-2.
This gave them a second wind, and again with minutes to go they had another short corner. Blue Tongue defence made sure nothing was getting through, clearing the ball and the final buzzer sounded. Players, parents and dugout were all looking very relieved. 3-2 Blue Tongues.
Good luck next week against Moorebank.
Sutho U11b Blue Tongues 2 Sutho Bearded Dragons 7
In a hotly anticipated Battle of the Lizards Trophy game there was a lot at stake, with the winner to progress to the grand final.  We were down a couple players so our team knew they had a lot of running to do.
In the first half we had plenty of ball and played some lovely hockey only to let a few goals sneak in against us. There was some excellent play from Ryan and Alyssa, who also scored a great goal.
In the second half our team had the majority of chances to score with multiple short corners and shots on goal, but the Bearded Dragons played a great game and managed to keep us out. Georgia played an outstanding game at fullback and led the way for our team in the second half.
Unfortunately it wasn't to be and the final score was 2-7.
Overall the season has been a success. For the majority of our players to play their first ever season and come 3rd is a great result. All of the kids had a positive attitude and I was blown away by their good sportsmanship and willingness to compete without any fuss.
Good luck to the Bearded Dragons next week in the grand final.
Sutho U11b Bearded Dragons 7 v Sutho 11b Blue Tongues 2
This weekend the Bearded Dragons met fellow Sutho team the Blue Tongues in a Mate vs Mate sudden death game with the winner going to the grand final against St George Randwick.
As soon as both teams headed onto the field, the game was on with both starting a little nervously before settling down in to a great tussle.
The Bearded Dragons began to put their minds to the game and started pushing out wide giving the defence a great challenge before managing to capitalise on a few goals before the Blue Tongues turned it around and tested Ellie up in goals a few times before slipping by late in the first half.
At half time the team ran off for a drink, excited at being well up but cool-minded coach Rory calmed them down giving direction for the second half.
As the team bolted on for the second half they put their minds on the job at hand and made sure to cover off good opposition challenges at goal but one did sneak in. The team regrouped and was back on the offence to round off with a final goal. As the team sprinted off the field they knew that that they had secured themselves a spot in the Grand Final.
Great work to everyone in the team it has been a fantastic effort to get to the Grand Final. Have lots a fun and enjoyment along the way.
Goals : Harrison 3, Jack 2, Nic 1 and Liam 1.