A tense moment in the Metro Sutho v Briars game!
Sorry the match reports are later than usual this week everyone, but it was hope against hope that we might get some latecomers over the line.
There's a very good chance this week Sutho fans to learn more about how goalkeepers work. Your editor can only direct you to the 4th grade men's report, where goalie Stevo details his highly personal account of the game.
Anyway, forging ahead without our absent reports, it's that time of the year when things get sweet and sour – the semis that are won and your team lives to fight another day, or the end of the trail for 2019.
Many of our junior teams moved into finals territory last weekend, joining some of our senior teams.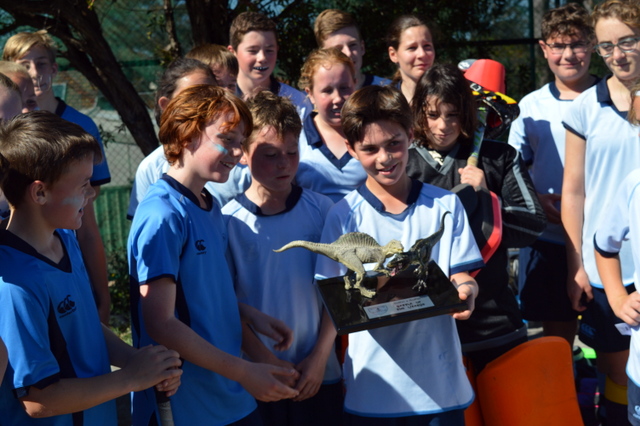 One of those games was when our U13B Blue Tongues and Thorny Devils played a tough match not just for semis survival, but for the Sutho Battle of the Lizards Trophy. This time the Blue Tongues reversed the result. Reports from both teams and a big picture gallery are below.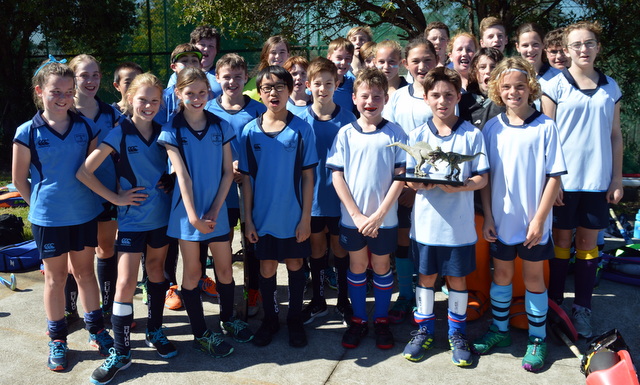 Our most senior men's teams that play in the Sydney Hockey Association Premier League move into finals territory next weekend.
Finals schedule
Our 5th grade team (Sydney League 1) kicks off senior hockey this weekend when it plays Manly at 12.45 on Saturday. The boys from the Insular Peninsula finished second, we Shire boys fourth.
Meanwhile, at Moorebank, our first grade, which finished second, lines up against minor premiers and traditional rivals Moorebank at 2.15 pm; second grade (finished 3rd) plays Briars (6th) at 5.45 pm; third grade (4th) plays Moorebank (5th) at 4 pm; and fourth grade (5th) plays Sydney Uni (4th) at 6 pm.
Junior semis will be advised of finals times through Junior Convenor Dave Richardson's usual team advisory.
It should be a hockey feast over the weekend for Sutho fans. Get to games if you can.
Women's night summer comp
Sydney South Hockey Association is holding a women's 6-a-side night summer comp at Marang Sports Complex (Greenhills).
It's scheduled to hit off on Wednesday 25th September, with the first game at 7pm.
Half Field games
12 Week Competition ending 11th December
Games time: 2 x 20min halves, 5 min half time
Cost: $600 per team. $300 for turf fees, $240 for umpires, $60 team entry
Register interest Women's Summer 6 a-side Comp
Need further information? Contact Lyn: president@sydneysouthhockey.com.au
Great pictures, everyone
Thank you so much for our dedicated photographers who add enormously to our match reports each week. Often they have to work in lighting – and weather – conditions that can only be described as challenging. Our great selection of shots with this week's reports includes images from Anna Domrow, Rory Staples, Tony O'Leary and Tony Stark.
Now to the match reports we received:
Men
Sutho 1st grade 9  Glebe 0
Pictures: Tony Stark
This was our last game for the home and away rounds of the season, and at home in front of a good crowd.  There were lots of goals and some nice hockey from our team, leading in to the semi finals next week end.
It was a  special day also as our Matt Phillips played his last home game after 16 years at the top and is hanging up his boots after we "win" the grand final.
There's not much to say regarding the game as it was against a less experienced team but, as always,  spirited between Glebe & Sutho.
Next Saturday we play against our old nemesis Moorebank in the preliminary major semifinal next Saturday at Moorebank. The teams again came in 1, 2 with Moorebank coming in as minor premiers.
We look forward to club support at this match and the coming matches of the final series where we hope to bring home the premiership once again.
B & F :  Matt Phillips 1, Jono Scott 2, Kieran Govers 3. Goal scorers:  Kieran Govers 1, Alex Shaw 1, Brady Anderson 1,  Christian Halyard 1, Scott Govers 2, Matt Bennett 3.
Sutho 3rd grade 0 Sydney Uni 1
This game was the battle for third place. Uni scored early with some quick play that had us scrambling.
We managed to fight back and keep them out for the rest of the match.
We had plenty of possession and awe created some scoring opportunities, but out shots on goal were off target and we struggled to convert out corners.
We had the opportunity to level the score when Tim was awarded a stroke, but unfortunately Matt's shot went straight to their goalkeeper.
The loss means we have finished fourth and will play fifth placed Moorebank this week in the semis.
Points to Gus 3, Ralph 2, Dan 1.
Sutho 4th grade 1 Sydney Uni 0 (or Stevo goes nuts)
It is a pretty simple equation. Win and we are playing finals! Lose or draw, we still play finals. It feels pretty good knowing that either way, but I am selfish and want to end the regular season with a win! And truth be told, playing at 5pm on a Saturday is never a good time slot.
Sutherland versus Sydney Uni is always going to be a tough match. We were coming up against last year's GF winners and they had the number on us by beating us 1-0 earlier in the year. This time, we were out for revenge!!
The chat in the change room was unchanged from the past few weeks and it seems to be working, but what made it even more tight and motivating was the fact Quinny was back from the week off for his exams, and the new strategy was to NOT pass him the ball up front. End result, he set up a goal! Looks like the plan worked!
Unlucky
As for the game, it was what we expected. Tough and grinding! Sydney Uni came out with a strong press from the start but we just bided our time and used our back line passing to effect. Slowly as the 1st quarter went on we made some good circle penetrations and were unlucky with a few shots hitting their keeper. Sydney Uni had a few close calls down our end, but the scramble of the fullbacks has become next level! The 2nd quarter played out a few good chances from either team, but nothing came to be. 0-0 at half time.
As the second half began, Sydney Uni attempted to catch us off guard with a quick take off from halfway, but it was unsuccessful. Again, another half of hockey when both teams had good chances but nothing could stick. Sydney Uni had the best chance of the early section of the 3rd quarter where their forward had a one-on-one with Stevo, and absolutely nut-megged him!
If it wasn't for the best fullback in the game coming to the rescue, it would be 1-0 to Sydney Uni. So a massive shout out to the goal post for stopping the ball from going in… Oh, and Sean I guess, for being there to clean up the remains on the baseline! End of the 3rd, 0-0.
The 4th quarter began same as the 3rd: Sydney Uni trying to catch us out, but again, we were ready.
Both teams gave everything right now, and shots and corners were coming hot and heavy. Neither team could break the deadlock, til 10 minutes to go, when Ryan O'Leary managed to direct home a brilliant cross across the face of the circle. Sutho 1 – Sydney Uni 0.
It was far from over. 6 mins to go, Sydney Uni had moved the ball so well their striker was able to get behind our defence and land a one-on-one.
Stevo bags saver!
Some world record speed by Stevo meant he was able to get into position so quickly, the striker did not notice. As light as a feather, he dropped to the ground and made a wonderful pad save to keep it 1-0. However, after the save he realised one thing – it wasn't his leg guard that saved the ball, it was his box. Safe to say, everything is still there and in working order, but bloody hell it hurt!!
Some great defence for the remainder of the game meant Sutho could hold on for a tight 1-0 win over last year's Grand Finalists. Ironically, we now get to face them again in the semis. Bring on the 3rd time this year!!
Goal – Ryan O'Leary
Points: 3 Elliot Stark, 2 Ryan O'Leary, 1 Jason 'Stevo' Stevens.
Sutho 5th grade 6 UNSW 3 at Olympic. Minor Semi Final
Not one, but two picture galleries of 5ths action last weekend as Tony O'Leary and Rory Staples were at work on the sidelines.
A successful season 2019 for 5th grade meant that we were in the finals after making the grand final last season with a different team in a different division – Sydney League 2.
Last week the team beat a previously undefeated Ryde team in our final round game (Isaac, still waiting on that match report ?), meaning we were confident that were would be a real challenge for 3rd placed UNSW.
The previous two games this season were split one win each (2:4 loss to them in round 2 and a 1:0 win in round 11) and indicated a very tough game, but this time at the neutral venue with blue playing surface (Olympic).
Our warm-up was a little disorganised with the prior game going into double drop-off, so we were never sure when that game was going to end.
Once on the field, we lacked some intensity which carried into the start of the game and we were turning over the ball very cheaply and allowing UNSW field position and ball possession in dangerous areas of the field, where they threatened early.
Duck ducked off
Early on, we also lost Mitch "Duck" Scott (Mr Scott to some) who succumbed to a knee injury he sustained the previous week, so our rotation plans went out the window and it took the team a while to find their feet with the reshuffle.
UNSW scored their first goal when they got us somewhat on the break, getting the ball quickly into our 25, and then a smashed ball into the circle which was deflected past Gilby.
The second was equally disappointing, conceded just before half time, after we failed to deal with another direct pass to their high striker who got 1 on 1 with Gilby and shot early. The lads held their heads high at half time after a tough battle, and we knew we were very much still in it despite being behind on the scoreboard.
We also knew we needed to score early and so we were again disappointed to concede early in the second half to another direct ball into the circle – but this time their unmarked runner got to the ball first and defected the ball at pace past Gilby – score: 1-3.
The tussle continued but we sensed that they were tiring, especially with ~20 mins left on the clock. This is when we struck.
Our first goal came from Lachlan Groundwater, and was quickly followed by two in quick succession goals, one from Lachlan O'Leary and another from Donni – the scoreboard now showing 3-3.
Our confidence was now building, and we were controlling the middle of the field, picking off their long balls and building pressure. We took the lead via a Donni special, then another from Marty Taylor.
Low speed ball
Finally, a turnover in their own 25 yard line saw Isaac pounce and nail a low speed ball into the backboard (note – my recollection of the order of events is hazy so it may not be 100%, oh well).
In the end we scored 5 unanswered goals inside the final 20 mins to win the minor semi-final 6-3, and book our place in the preliminary final.
Next week we take on Manly, who we have also shared the spoils this season – 6:5 win in round 6 and a 0:1 loss in round 15. Bring on the Preliminary Final! Fire up, lads.
B&F: The whole team! Goals: Nic Donni 2, Isaac Olsen, Lachlan Groundwater, Lachlan O'Leary, Martyn Taylor.
Metro
Sutho U15 1 Briars 1
Pictures: Rory Staples
Sutho's U15s Metro travelled out to Cintra on Friday night to face another top four team for what would be a good strong game of hockey.
The game started off with both teams fighting for possession of the ball. Sutho showed promising signs in attack but just couldn't break through the Briars defence.
Briars in turn were making our defence work incredibly hard to keep them out with everyone getting back and supporting. Ours attack continued to probe the Briars defence for much of the first half and eventually we broke through for a well earned goal leaving us 1-0 up at half time.
We headed into the second half full of confidence and lollies (some players had too many –  they had a stitch).
Briars came out hard and really tested our defence for much of the 2nd half. They struggled to put anything into the goal thanks to the player of the match performance by our keeper Grace, who kept us in the game.
Eventually that wall was broken through a piece of individual brilliance that levelled the score 1-1 with 10 minutes to go. This score did not change with the game resulting in a 1-1 draw.
Juniors
Sutho U17 Geckos 1 Bankstown 6
The U17 Geckos came up against a very dangerous Bankstown team that played a level above what we've seen from them throughout the season.
We knew they had a few dangerous players (who did dominate the game), but the rest of the team supported them very well. Notwithstanding, the Geckos fought til the end and can hold their heads high on a terrific season.
The Geckos were down on numbers due to school excursions and injuries, with only 8 players available for the knockout semi-final. Players from the U15 Thorny Devils and Blue Tongues again answered the call for troops, and all were rarin' to go on Friday night at Daceyville.
The initial few minutes of the game were a typical semi-final with both teams a little bit nervous/hesitant.
Bankstown seemed to settle first though and the Geckos goalkeeper, Ryan, was called on to make some tough saves. Bankstown eventually found a way through and finished the first quarter 1-0. T
he Geckos were still not composed in the second quarter and Bankstown found themselves with a number of short corners and goals, resulting in a half time score of Geckos 3-0 down.
The Geckos played very well during the second half, particularly moving the ball up the right side through Raina and Kai, but we still couldn't find a goal. Zara, Charles and Sean in defence were amazing throughout to fend off the many attacking raids by Bankstown.
Bankstown did not wilt at anytime though and scored two more goals to lead 5-0 at three quarter time.
It was great to see the players in the huddle at the three-quarter break agreeing not to give up and play right through to the final whistle. And lift they did.
Again, Bankstown continued to attack and showed no weakness in defence, but the Geckos dug deep and managed to build pressure and earned a well-deserved goal. And even though the Geckos didn't stop fighting, Bankstown also managed a goal before full-time.
So it was a 6-1 final score, but the final quarter had been 1-1 and it was a fitting way for the Geckos to finish their season. They  had struggled throughout  with injuries and other distractions, but can hold their head high from a gritty effort throughout.
B&F: Ryan Deeth.
Sutho U15A Geckos 1 Sharks U15A 1
Semi Final: Sharks go through after this draw as they finished  higher on the ladder.
Finals time and we faced the Sharks; and, as always, it was a very close-fought game.
After getting a last-minute exemption for James, he had a whale of a game in goals making some unbelievable saves.
The game was end- to-end and Sharks got a good goal in the 1st half after a good save off James's stick was punched in from the rebound.
We dominated the second half gaining in confidence, we attacked and defended strongly. Jack picked a ball in the D and scored, making the score 1-1. Everyone played so well and gave it everything to the final whistle.
Ending in a draw Sharks go through to next week final as they were placed higher on the ladder.  We borrowed Jonty again from 13A's to give us a sub and once again he played his socks off. Thanks again Jonty, we feel you were a real valuable part of our team this year.
So that's the end of 2019 season thanks team, and special thanks to Darren and Lachlan for coaching.
Sutho U15B Blue Tongues 2 University of NSW 0
The U15B Blue Tongues had a convincing win over UNSW in the minor semi played on Friday night at a cold and windy Daceyville.
The team was all fired up and ready to go – for the first time in the season we actually had a sub! Which lead to the new problem of not actually knowing how to sub – the team quickly caught on though after a few miscommunications.
There passing early in the first half was superb with all  lines linking up to continually put pressure on the UNSW defence. Max scored a cracker of a goal at the 10 minute mark.
Great defence by Amelia and Johnno in the centre, ably assisted by Lily and James at the back, meant that our circle was rarely invaded in the first half.
In the second half we were under more pressure from the UNSW attack but brilliant play by the whole team kept them scoreless. Amelia Kirby fired in an amazing goal from the top of the D with 10 minutes to go.
Great team play by the whole team. Lots of passing, racing back to help in defence and aggressive tackling left this coach very proud of how far this team has progressed over the season. They are an extremely delightful and positive team who deserve to go all the way this season.
Best and fairest points: Amelia K 3, Lily 2, Zara 1. Goals:  Max, Amelia.
Sutho U13B Blue Tongues 3 Sutho Thorny Devils 1
Were there ever two more closely matched teams of U13s than the Sutho Blue Tongues and Sutho Thorny Devils of 2019?
Three times they had met this regular season, producing a BT win, a draw and a TD win; the most recent game also allowing the Thorny Devils to hold aloft the inaugural "Battle of the Lizards" trophy – much to the disappointment of the Blue Tongues.
To rub salt in the wound, Blue Tongues had finished 4th on the table to Thorny Devils 3rd – so this minor semi-final was placed in the 'must win' category by BTs coach Todd. He strategically ordered an extra 30 minutes of training for his Lizards this week.
When the warm and sunny Saturday rolled around there was much excitement and strong club spirit between the teams as they shared blue zinc for their cheeks and blue hair glitter.
The two teams were tightly matched for the first 10 minutes, but a short lapse in defence from the BTs led to the TDs drawing blood early. 0-1 down.
The BTs did not hang their heads, knowing the game had only just begun and battled even harder for the ball.
Soon Cooper was off like a flash down the side of the field, deftly evading his opponents to look up and see Kai in the circle. Passing it accurately to his team mate, Kai efficiently slotted the ball in the bottom left corner of the goal. 1 – 1 and the Battle of the Lizards was on.
Milan, Declan, Charlotte and Jack showed their strength in defence to hold the TDs out for the remainder of the half.
Cooper took at hard fall on the turf and took a moment to recover but bravely returned to play on. GK Mylo's dives and slides saved some short corner attacks under pressure and the teams returned to dugouts for half time instruction on the drawn score line.
The Blue Tongues came out strong in the second half, intent on improving on the first and despite some great runs and strong plays from the Thorny Devils, the Blue Tongues countered with fantastic team work. Ten minutes into the second half Olive passed to Tully, who found Cooper perfectly positioned to finish it off. 2-1 up.
Skye and Bailey showed their determination and athleticism both continuing to run for balls throughout the game despite little rest coming from a sparsely populated subs bench.
With 11 minutes to go, the mastery of coach Todd's season of coaching came to fruition as his stealthily high positioned Indi, lurking in the shadows of the back post at the shady north end of the field, showed off her patience in positioning and used her strong arms to perfectly deflect Kai's delivery into the goal mouth for a 3-1 win!
Well done to both teams and good luck to Blue Tongues in the finals next week.
No individual points awarded today, every player was declared player of the match!
Sutho Under 13B Thorny Devils 1 vs Sutho Blue Tongues 3
This was crunch time, a sudden death semi-final against our very own Sutho BT and defending the Battle of the Lizards Trophy, so there was a lot at stake at our home pitch. Our TDs were looking forward to the battle and team spirits were high.
In typical derby fashion it was end-to-end hockey with the BTs starting off well and dominating field possession.
Coach Hoy's TDs showed composure and were rewarded with the first goal of the match: after a number of short passes it was eventually tapped in by Izzy.
Conceding that goal only fired up the BTs even more. They showed more determination, focus and fight and came back with two first half goals to take a 2 – 1 lead into half time.
Coach Hoy led with his half time speech as water melons were dished out: It's warm out on the pitch and the TDs needed to dig deep if there was going to be a comeback to beat a very determined BT team.
Well, it wasn't to be. Our TDs tried hard and kept in the contest, but all credit to the BTs they played very well and put the foot down in  the second half with great ball movement. They were determined not to give the lead up.
Our mids Dominic, Darcy, Lucy and Lachlan never gave up, showing some real passion. Tom and Izzy up front worked hard to try and pull back the deficit. Our backs, led by Nate (who had been sick all week with tonsillitis) with Ken and Steven scrambled well all match.
Our goal keeper Finn made some brilliant saves. Jacob, Amy, Liam and Abby kept in the fight to the very end. A special mention to Reilly who missed out on playing due to illness but came out and supported his TDs team mates – he showed himself to be a true young man of good character.
Congratulations on a great win and well deserved to the BT and all the coaching staff. We wish you the very best and believe you can win this competition. Go get 'em BTs.
To our crew it's been our pleasure nurturing your hockey skills this season. It's been rewarding to watch how you all have come together as a team and really enjoying each others' company. You're a funny and unique bunch and hope you all return next year.
Goals: Isabel 1
Sutho  U13A Geckos 6 St George Randwick 0
The Geckos defeated SGR 6-0 and have won a place in the GRAND FINAL – congratulations.
The team had more energy and passion to win the ball this week and the results speak for themselves.
Our passing was great with many of our goals originating from the back line with good passes all the way to the circle, where Peter Rast expertly put the ball in the back of the net.
A really impressive part of today's game was that the players listened to Brad's advice and executed it brilliantly out on the field.
Best and fairest: N/A. Goals: Peter Rast 4, Archie Groundwater 1, Tomas McCowan 1.
Sutho U11A Geckos 2 Bankstown 1
Pictures: Anna Domrow
The prize for winning today's semi final was a ticket straight to the grand final and a week off and it seems that the Geckos were more concerned about winning the week off than the ticket to the grand final.
The scoring started in the first few minutes with Eliana pushing a snail paced ball past the keeper, but just minutes later Bankstown evened the score to one all. The game was already looking to be a close battle – and it was.
The Geckos played impressively, spreading the ball wide and getting the ball into the opposing D where Rohan was waiting at the post but countless attempts at goal were foiled by a desperate Bankstown defence who often turned defence into attack.
However, the Geckos defence was also desperate to keep the ball out of their goal. So desperate, in fact, that Bethany was the only runner left in a short corner to Bankstown due to another eager defender jumping early and being sent back to half way.
She didn't let this bother her and she ran down the shot at goal not even allowing them to get the shot off.
Kaylee and Jack were brilliant in defence stopping Bankstown from making it into the Gecko D nearly every time they ventured down that end of the field. They were fearless and left Luke with little to do in goals for the second week running.
With the score locked at one-all midway through the second half, the Geckos stepped it up a notch with the ever dependable Julian, Luka and Emily tackling, picking up loose balls and sending them to teammates in space.
Emily sent a great ball through to Jude who was waiting in the D, and with a text book slap hit he sent the ball flying past the keeper for a goal.
The Geckos didn't go into defence mode; they continued to attack and had a few more unsuccessful shots at goal and with continued desperate defence they held on for the win. They won their hard earned week off – and a ticket to the grand final!
Team management is super proud of their amazing little lizards and look forward to an exciting grand final.
Goal scorers: Eliana, Jude.
Go the Geckos!!!
U11 Bearded Dragons 1 v SGR 11B 3
It was a bright and sunny start for the Bearded Dragon travelling to Kyeemgah to meet the 1st placed St George Randwick ( SGR ) 11b in what was expected to be a tough fought match with the winner going straight to the Grand Final and gee was it a tough game.
SGR came out on to the field with plenty of Weetbix in the engines and proved to be a tough opponent testing the team defences early but we managed to hold them off for some time before they pushed through for two goals. After which the Dragon set about settling down with some good passing was about to send pass out to Ellie who had a clear shot and she then capitalised on a well hit goal.
The second half started out strong again but the defence by Lincoln and Hamish was too strong and they struggled to get anywhere the goals but then a dribbler managed to be hit through everyone's leg before landing a goal for the opposition team
Nearing the end of the second half the team managed to run around the SGR defences for a clean shot a goal but unfortunately after some deliberation the goal was not allowed so the Bearded Dragons went back on the attack but was not able to get back close to the opposition goals.
Well done to the team as it was a tough game now time to get ready for the sudden death match next weekend.
B&F points:  Griffin 2, Ellie 2, Jack 1, Nic 1. Goal:  Ellie 1.