If it's the start of school term 2, it must be Sutho Minkey Time again! And it is: registrations are open for 5-9-year-olds taking their first steps in the wonderful sport of hockey.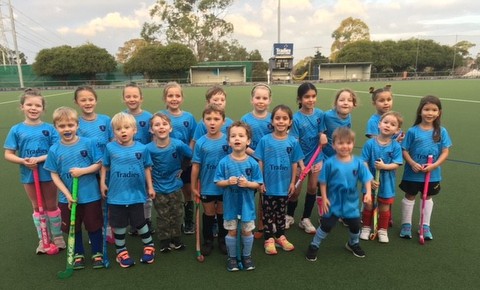 The action starts next Friday at 4.30 pm.
What's Minkey?
Minkey hockey – or mini hockey – is a program that introduces girls and boys to the basic skills of hockey through fun hockey-based activities.
Minkey 2022 begins at Sutho next Friday, 29 April and each Friday from 4:30 pm-6 pm throughout school Term 2 and the first half of Term 3.
The Minkey Program is all about ensuring the youngsters have a lot of fun whilst learning the initial skills of playing hockey. At Sutherland Hockey Club the participants get to run around enjoying themselves on our Olympic standard synthetic playing field.
Everyone who took part in  Minkey last year should have received an email from our Club with your personalised link invitation to register. Please click on that link and register before the program fills up (prior participants will gain priority if you register asap).
If you would like to register your 5-9-year-old to participate in the Minkey Program at Sutho for the first time, please register by clicking here:  https://sutho.majestri.com.au/2022-minkey-season
More details:
Cost?: Nothing if you get a NSW Government's Active Kids Voucher number from Service NSW  at https://www.service.nsw.gov.au/transaction/apply-active-kids-voucher) before registering online for Minkey.
Otherwise, the 2022 Minkey fee is $90 per child. However, if your child participated in the Covid-shortened Minkey program last year, the cost will be $70 per child.
Place: Sutherland Hockey Club, Tradies Hockey Park, 73 Sylvania Road, Miranda.
Skill development:  Experienced coaches/players will introduce hockey to the little Minkies and develop their skills using drills and fun activities. The program does not involve any teams or competition games – just fun activities to develop their hockey skills each Friday.
Equipment:  Everyone will need to bring along to each session a hockey stick, shin guards, mouth guard and a water bottle. If you are unsure of what hockey stick to buy, then just come along to the first session and borrow a stick from the Club to work out the best option.
Completion Certificate & BBQ: Registration also covers at the last session of the program a completion certificate, drink & BBQ.
To welcome every participant and make them feel part of the Sutherland Hockey Club, in conjunction with our major sponsor, Tradies,  they will receive a playing shirt to wear to each Minkey session.
If you would like further information, please email juniors@sutho.com.au