100 per cent effort in the first grade match against North West Strikers
Sutho's junior teams had a fantastic South East Hockey Association grand finals weekend, bagging a bunch of premiership flags and just missing valiantly otherwise.
In senior hockey, only first and second grades were left to carry Sutho's banner to the Sydney Hockey Association grand finals, which will be played next weekend. First grade squeaked through to the Big Show against arch-rival Moorebank-Liverpool after a 2-2 draw with North West Strikers.
Because Sutho finished second on the table, and higher than Strikers, they went through for the grand final, which will be played at 4 pm next Saturday at Olympic Park.
Second grade went down 1-4 to University of NSW. We couldn't get a match report, but Craig Turner filed a fine picture gallery, as he did for first grade.
Thank you to all our sideline snappers from last weekend, who, as many did all season, capture some great on-field Sutho moments during 2019. Thanks especially for your contributions to Craig Turner, Tony O'Leary, Rory Staples (and Matt probably got more than one or two, as well), Anna Domrow, Tony Stark, Dave Richardson – and I hope I haven't missed anyone.
And a particular thank you to all teams that have made the effort to file match reports. We often bubble along at 800-900 reads a week, so it's an important part of of our club communications.
Men
1st grade Preliminary Final
Sutho 2 – North West Strikers 2. Sutho progresses to grand final, as it finished highest on the table.
Pictures: Craig Turner
The match was hard and fast with skills from both sides shown at a high level.
We were 2- nil down and were awarded a penalty stroke which Scott Govers put unstoppably into the top left corner. The game seesawed back & forth with neither team able to score.
We then pulled the goalkeeper off with seven minutes to go and, call it a miracle or not, we scored soon thereafter to 2 – 2.  Immediately we put our goal keeper back on.
We did this in 2017 in the semi final against Ryde and went on to win the grand final.  Hopefully it will all work for us again.
Unfortunately, we lost Scott Govers with a hamstring injury late in the game. Kieran Govers also had a twinge late in the game but was able to play on with limited capability.
The game went to sudden death extra time during which both teams traded blows and misses, but  with neither able to score.  The final whistle couldn¹t come quickly enough.
As we finished second on the table we went through to the grand final next week.  Our match,  scheduled for 4 pm is against our old rivals, Moorebank.
This will be a hard ask, but hopefully if everyone pulls up OK we have a chance to remedy last year's loss in the final and win the grand final.
Goals: Scott Govers 1,  Mamat Zainol  1.
2nd grade Preliminary Final
Sutho 1 University of NSW 4
No match report. Pictures thanks to Craig Turner.
Metro
U17s won and went through to the grand final.  U15s lost to Briars to conclude their season. No match reports from either, but Rory Staples was on hand to get some shots of the U15 game.
Juniors Grand Finals Day
U11A Sutho Geckos 1 Bankstown 0
Pictures by Anna Domrow
The grand final saw the top two teams of the regular season come head to head. It would be a hard fought battle, just like all the three previous games they have played against each other.
Bankstown came out hard and fast and looked to be the stronger of the two teams as the Geckos showed their nervousness.
The Geckos gave away a couple of penalty corners but were very strong in their defence of them and Bankstown weren't able to take advantage.
Midway through the first half the Geckos' nerves settled down and they were able to work the ball up the field towards the Bankstown end more often, but where they also couldn't take advantage of their penalty corner opportunities.
Then late in the first half, after 5 weeks of practising the same drill, Julian made a textbook hit from the top of the circle, sending the ball into the back of the goal to relieve some of the pressure on the Geckos, the coaching staff and the supporters.
The second half was a nail biter! Both the Geckos and Bankstown moved the ball quickly to the other end of the field but weren't able to cash in on their attacking opportunities due to the desperate defence of the opposition.
Finally, the slowest ticking clock ever hit zero seconds and the siren sounded. The game was over and the Geckos held on to defeat Bankstown to become the 11a Premiers.
Everyone's big effort
Every player put in a big effort today:
Rohan – scrambled well in the attacking D and almost came away with a goal on a couple of occasions.
Jude – was constantly ready to attack and run away with the ball when given the opportunity.
Eliana – was often outnumbered two to one by the Bankstown defence but was still able to get the ball away to a supporting team mate waiting in the D.
Luca – gained possession of the ball and dribbled his way out of trouble to pass the ball up the field on many occasions, showing his ability to wrong foot the opposition.
Julian – our goal scorer, is the definition of a team player, always looking to pass to a team mate in open space.
Emily – our centre midfielder covered about 100 kilometres chasing down and tackling the Bankstown players.
Jack – played whatever position the coach put him in and made a number of great clearances up the field to take pressure off the team and send Bankstown back to their own end.
Bethany – defended desperately and stopped Bankstown from taking a shot on goal many times.
Kaylee – ran hard at the opposition when defending short corners to give them no time to pass the ball or have a shot at goal.
Luke – our brilliant goal keeper made some great saves and never hesitated to leave the goal to run out and kick the ball away.
Thank you Geckos for an outstanding season. We are proud of you! Have a great break. We look forward to seeing you at U13 trials in February/March.
U11B Sutho Bearded Dragons 4 St George Randwick 1
Pictures thanks to Rory Staples (or was it Matt, because Rory would have busy coaching)
The u11 Bearded Dragons made it through to the Grand Final the hard way. They went down in the semi-final before earning their place by winning the preliminary final.
The Grand Final was always going to be tough, as we had lost to St George in the two previous meetings. But the team was keen to reverse the result and they put in an excellent training session in the lead up to the big game.
We had a nice early start out at Daceyville on game day and everyone turned up with a sense of excitement for the big day.
We had organised a game plan to nullify St.George's strength which had Liam and Nicolas tracking their two strongest players around the field.
Great work
This was working well as Sutho continually sent the ball out of the defensive line with great work by Griffin, Hamish and Lincoln and some important saves from our keeper, Ellie.
Opportunities started to come for Sutho as St.George became frustrated with the great defending – and some excellent team work led to our first goal from Harrison.  St.George didn't lie down and they came back strongly and tied the game at 1-1.  This is how it stayed until half time.
At the break we reset and all agreed to come out and pressure the St.George goal.
Our forwards, Mandy, Myah and Harrison, went out with purpose and started the half attacking.  The goal eventually came after Jack pushed up from the midfield and delivered a great finish from the top of the D to make it 2-1.  This was soon followed up with a well worked goal from Harrison that was deflected off the St.George defence and into the net, 3-1.
Liam and Nicolas continued to follow their players around the field. They were starting the get very frustrated,  as they weren't getting the room they were used to.
Continued attack
Even though the Bearded Dragons were up by two goals, they continued to attack and were rewarded with a number of short corners.  On one of them, Jack returned the push out to Nicolas who trap and sent the ball into the back of the net to make it 4-1.
They could taste victory now but didn't let up until the final whistle.
What a great team effort from the U11 Bearded Dragons, playing their best game of the season in the grand final.
Congratulations on finishing the season on such a high: the coach and manager were very proud of the whole team.  You showed such great spirit and determination and you deserved to be rewarded with the victory.
Player of the Match: Liam. Goals: Harrison 2, Jack 1, Nicolas 1
U 13A Sutho Geckos 2 St George 2. Sutho won 3-1 on strokes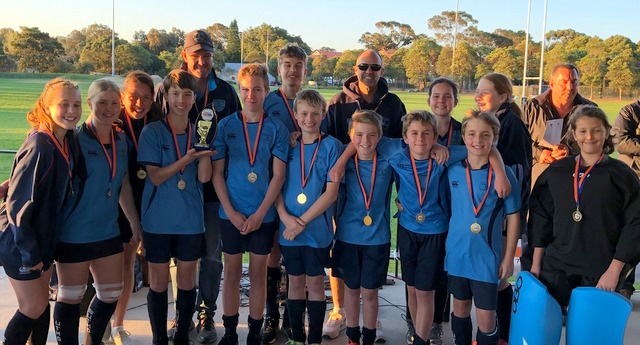 What a game. After a 6-0 demolition of Saints in the semi, we knew the grand final would be different – they always are. Saints are a gritty, dogged team that fights hard.
The key for the Geckos was to start well and take the game away from Saints, as the longer they  stayed in it, the harder they would compete.
With Amelia out injured, we had only 12, so that fitness was going to be tested. Amelia gave the team calm and direct instructions in the pre-game huddle, and Archie lead the chant – "Go Sutho"!
The Geckos dominated early possession and had the best of the first period of play.
An early corner was calmly converted by Chris, only to be called back by the umpire for a back of the stick.
Early pressure
The continued early pressure did not result in a goal, despite a couple more corners. But too many stupid back stick attempts had the ire of coach Brad, who made it clear there were better technical ways to pass and shoot.
The Geckos withstood a few corners at the other end, but for the most part had the better of play, so felt we were on top despite the 0-0 half time score. As such, the team talk focused on energy and execution, getting Pete more involved at centre forward, and playing wider to our strengths, away from the middle.
The 2nd half started disastrously – A couple of poor passes from the hit-off saw a turn over and Saints swooped, passed quickly and converted. Heads dropped before we even had a chance to execute our game plan.
This will be interesting. Having been so dominant in most games this season, our resilience hasn't really been tested. How will the Geckos respond? The answer was pleasingly, "Well!".
The Geckos started to play wider, and opened the right and left hand sides to put Saints under more pressure in the defensive circle. We should have converted a couple of good chances, but eventually Chris put a goal away to level the scores.
Great fightback
Later in the half, another corner variation saw the ball scrambled into the goal by Pete, or was it Holly, or was it Pete? Either way, it gave us a 2-1 lead. Great fightback.
But again we slipped into poor options and failed clearances saw Saints pass into the circle and slot the equaliser at the back post. 2-2 with not long left. A frantic last few minutes and we were headed to sudden death drop-off.
Six minutes of 9-a side end-to-end action, without any really good chances, saw both teams striving, but almost overdoing it, trying to find the balance between attacking and over committing and leaving themselves exposed. 2-2 still at the break, 2 more drop off.
As a coach, we don't really get to practice this scenario – who to play, what structure to use. My thoughts were to use a mix of our biggest, oldest, fastest and fittest players for the last 6 minute period. Again, end-to-end, without any great opportunities to score a winner.
Coach and Manager were going deaf on the sideline as our dugout, now loaded with six players, was screaming encouragement to their teammates. But to no avail. Off to strokes.
Strokes practice
We had practised strokes twice in the last week. This was invaluable. The flickers got practice and tips on how to prepare and what they wanted to do, and confidence as to whether they were capable or not.
Isaiah got to practice making saves, how to move, how to read the flickers' cues. I pulled the team in and asked which mentally strong players were willing to volunteer. But only 5 hands went up, and 2 of those were our 11 year olds, Archie and Rhys – very brave little guys.
As we strode over to get ready, we realised St George were already on the spot and Isaiah was ready in the goals – he hadn't even come into the huddle, so he was on his own, with no tips from the coach. SAVE. He lunged with his stick and pad behind and saved the first one.
Tomas stepped up, spotted the left corner – goal. 1-0.
Saved!
The second Saints stroke taker flicked, Isaiah dived glove side down and SAVED again.
Archie stepped up, good shot but saved. 1-0 after 2 each.
The 3rd Saints flicker walked straight up and flicked it straight into the left corner, but hadn't waited for the whistle and had to retake it. She went again to the same side, Isaiah read it and again got down with glove, stick and pad and SAVED.
Jonty stepped up. He is our best flicker, so we were confident, and sure enough, fast flick into the left side netting. 2-0 after 3 each.
But then drama, as the officials stepped in and said that was the game. But with 2 flicks each left, it could still be tied up, so we didn't know what was going on? Was that it, had we won? But soon enough it was sorted out and the strokes continued.
Saints' best player and captain, Jana, stepped up. If we saved, we won – but it was not to be, as she calmly slotted it in the corner.  OK, our captain Chris stepped up. If we scored, we won. Step, stroke, SCORE!!! – 3-1 with only 1 stroke left , we won!!!!!
What a day! What a game! I was so proud of the guys to come back, to stay in the contest and win in the end – to past that resilience test. To win despite being below our best, and not playing with the freedom we had usually shown, but to make up for that with effort, determination and passion.
We deserved it. To win the minor premiership and grand final undefeated after 16 games is a pretty solid achievement. Coach Brad and manager Tony couldn't contain the sheepish smiles through the presentation into the team dinner at the Tradies that followed. Well done Geckos!
Goals: Chris, Pete (or Holly).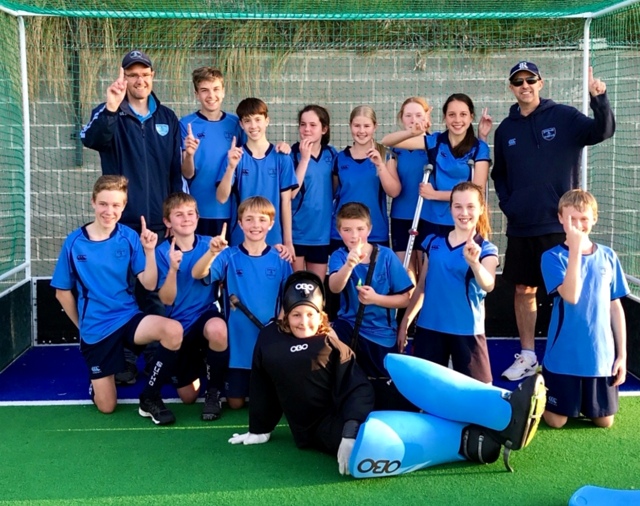 U13B – Sutho Blue Tongues 4 Moorebank 3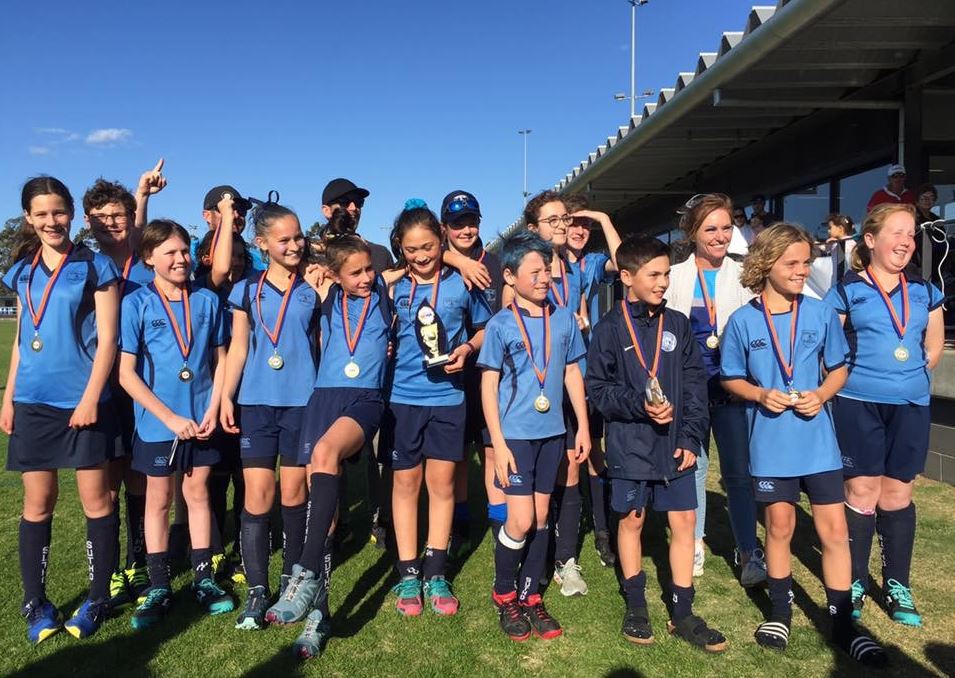 We made it to the Grand Final after finishing the season 4th on the ladder, so this on its own was an achievement. Could it get any better? Read on to hear how things went down at a windy Daceyville for the big show……
Everyone seemed to be pumped for this proud occasion, with the players on both sides, the coaches/managers, and a nice crowd of supporters all building with excitement.
On the field the energy was building, with both sides showing why they've made it this far. An arm wrestle could describe the first quarter as possession of the ball was wrangled between the sides.
There were a number of runs against play that had both sides on edge, until Moorebank scored their first goal. 1-0, not bad, but not good, we needed to get this one back.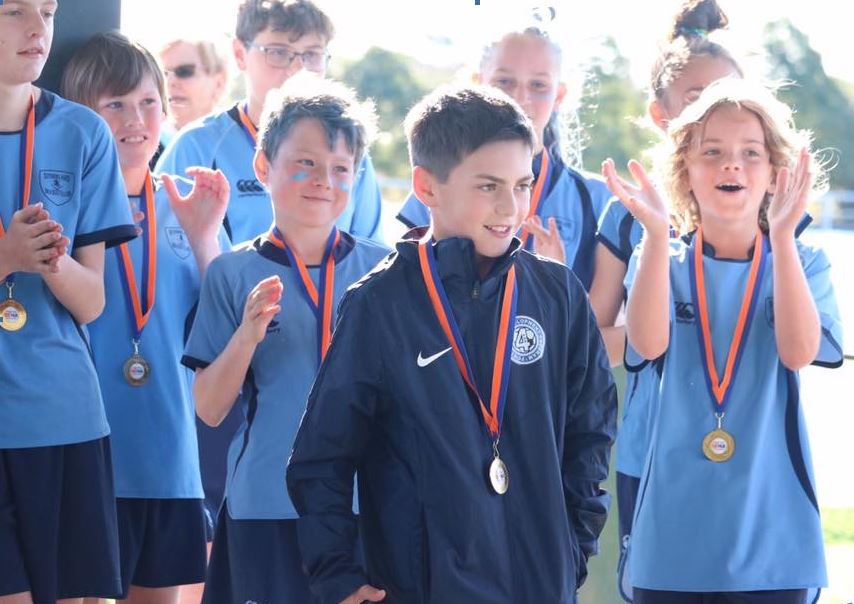 The Blue Tongues fought hard but the run of the game was swinging heavily in favour of the Moorebank side, and before the halftime whistle, with another 2 goals scored by Moorebank. We thought 1-0 wasn't good, now we're down 3-1. Ummm?
Time to re-group over our halftime oranges and snakes! We composed ourselves, backed each other and hoped that the cards would starting falling in our favour, and that it did!
As if it was planned, (we did train hard for this), we converted a cracking short corner: 3-2 and getting better. We followed some outstanding team passing across the field to score another goal! 3-3, hey we can really do this!
The Moorebank warriors, were showing signs of frustration as the battle continued, and we did not yield. We saw an opportunity and didn't waste it, with another fine example of passing and leading resulting in our 4th goal. Yes, that makes it 3-4, our way, with less than 10 minutes to go.
Time to muscle up and shut this thing down. Our crew turned our defence dials to "11", and would not let them through, apart from a couple of heart stopping breaks that were thwarted by our rock solid defenders.
The passion for this game was at boiling point now as we ground down the clock. Everyone across the ground was on their feet, willing their teams on. Come on guys! Oh no, Moorebank pierced our defence and into our circle…..,…never fear, our defenders have it covered and earned a free hit in the dying seconds.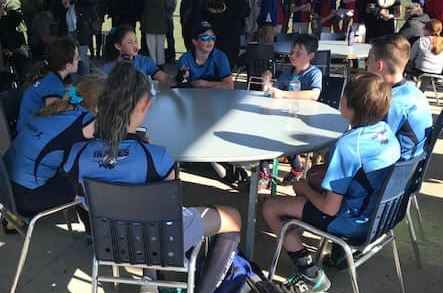 Phew! This game was intense and we're all so proud of the way our team handled themselves against a very tough and passionate opposition. The Blue Tongues represented our club amazingly, and were rewarded with the 2019 premiership, defeating the minor premiers 4-3. Up, Up, the Blue Tongues!
U15B Sutho Blue Tongues 0 Bankstown 4
Well played, but it was not to be!
This was always going to be a tough match. The Blue Tongues, who  scraped into 4th place on count back, were up against a bigger, undefeated Bankstown team.
Our chances were further hindered by last minute injuries, meaning we headed to the Grand Final with no subs.
The Blue Tongues unfortunately started a little slowly and conceded a relatively easy goal in the first 5 minutes. Despite positive attitudes, great effort and determination from all players, we were not able to recover.
There was a 10minute spell near the end of the first half when the lack of subs took its toll and we let in 3 quick goals. One of which was an absolute beauty that even the Kookaburras/Hockeyroos would have had a hard time defending.
Courage undaunted, the Blue Tongues came out firing in the second half. They ran their hearts out, never gave up, supported their team mates until the final whistle. We managed to keep Bankstown scoreless in the second half.
Massive congratulations to Jonathon Krepp – a very deserving player of the Grand Final Match.
Richo reports Grand Final Day
If you missed the action today…read on…
It was a very Sutho day of junior hockey today at Daceyville – with all teams performing very well  in the Grand Finals.
The sun was out and the Under 11s were up first and got the day off to an amazing start. Not the chilly winds nor SGR or Bankstown could stop a blue tsunami with both the 11A Geckos and 11B Bearded Dragons playing side by side and notching up hard fought wins over higher placed opponents. The Bearded Dragons took control of the game in the second half to win 4-1 whilst the Geckos game went down to the wire, but they held on with a 1-0 win.
Tough and fiery
The U17 Blue Tongues were up next and it was a tough and fiery affair against the SGR Knights. The Blue Tongues were up 1-0 into the second half, but the SGR Knights were pressing hard and earnt some short corners in the last couple of minutes of the game to ensure no spectators left their seats. However the Blue Tongues defence held tough and another premiership was secured.
The fourth-placed 15B Blue Tongues had a tough assignment against an undefeated Bankstown team. The odds were further stacked against the Blue Tongues when a late injury meant they had no reserves whilst Bankstown had 4. Notwithstanding, they battled valiantly throughout the game – earning praise from the SEHA officials. They didn't give up, but just couldn't overcome the odds.
The Under 13 games were both heart-stoppers! The 13B Blue Tongues had come from 4th place to earn their spot in the Grand Final and it looked like their terrific late season charge would come to an end with the score 1-3 against them half way through the second half. However a magic period of hockey with the midfield taking control of the game resulted in 3 late goals for the true believers and an amazing 4-3 come-from-behind win!
And before the crowd could gather themselves, we were witnessing a titanic struggle in the 13A game with the Geckos going down an early goal, then fighting their way back to a 2-1 lead in the second half, but then sustained pressure from SGR meant a 2-2 scoreline at full time.
Quality hockey
The final game of the day, and it going into extra time, was a fitting way to finish a terrific day of quality hockey (although coach Brad and all relevant parents may beg to differ). We had 2 players drop-off in the first period of golden point extra time, and then another 2 drop-off in the second period for a 7-on-7 six minutes of hockey to round out the season.
But even though it was end-to-end heart-palpitating hockey, and the teams were still 2-2 at the end of extra time with strokes having to be taken to decide the Premier. The Geckos goal-keeper stepped up (Isaiah) and made some amazing saves to ensure the Geckos won the match with the strokes 3-1 the Blues' way!
Thanks everyone for a long, but unforgettable day of junior hockey Grand Finals.