As they say in the classics, no one saw that one coming.
Sutho's first-grade team, after losing a lot of personnel from last season with retirements and moving on, have been giving an opportunity to many of our emerging youngsters.
Did they grab that opportunity when, on Saturday at home, sixth-placed Sutho faced off against arch-rivals, first-placed and unbeaten Moorebank-Liverpool?
Let's just say the expected script was not followed. Sutho got out to 4-2 before Moorebank nabbed a short corner seconds before full time and our Blues had the honours 4-3.
Great job team and coach John Cowan. Invaluable experience for the rest of the season.
Sorry, we're short on our usual picture coverage, but your editor was not in Sydney (but caught the big game on the excellent Sutho live stream coverage – and so did Frank Rowling in Bali!). But thank you to our weekend sideline eyes: Anna and Bethany Domrow, Matt Morris and Craig Turner.
 Men
Sutho 1st grade 4 Moorebank 3
What a game and what a result, one which no one was expecting or even gave us a chance of doing. Well, there's egg on everyone's faces.  Our young guns are coming of age with the fantastic guidance of the 5 seniors left in the team.
In the absence of goalie Nathan Ackroyd with Covid, Daniel Bryant – another "junior" – stepped up and played magnificently – earning 1 point for best and fairest by the umpires. A solid future for him to come.  Buzz  Halyard led from the front and played his best game of the season, showing everyone what he can do when on-song. And that he was, earning 3 points from the umpires as the best on the pitch.
Matt Bennett scored 2 goals, bringing back the Benny of old. His "tomma" at the end brought the curtain down on our old nemesis Moorebank at 4 – 2. About 30 sec before the end Moorebank clawed a goal back off a corner but the game was won.
For a team that everyone wrote off at the beginning of the season, having lost 8 senior representative players, they have done the hard yards and earned respect everywhere.  We need to continue the hard work and move on with consistency for the season and see what comes.
Once again too hard to give special mention to players as they are now a unit and playing for each other. We have a week's bye next Saturday, then another testing opponent in Norwest Strikers.
Best and fairest: Blake Hernandez  3 Christian Halyard 2 Angus Callinan 1. Goals:  Matthew Bennett 2 Riley Lloyd 1 Christian Halyard 1. -Peter Krepp
Sutho 2nd  grade 1 Moorebank 1
This week we started on the back foot, with Moorebank taking the opportunity to put the pressure on in the first quarter.
They scored in the second to establish their lead, but Sutho had started to regain their composure.
We gained more control of the ball into the third quarter and created more chances in attack as a result. This culminated with Mason's goal – a flick near the seven-yard spot – after our midfielders moved the ball into the circle.
A special note to Chris Goodman, who had a great game in his 2nd Grade debut, backing up from 3rd Grade earlier.
Best and fairest: Mason 3, Iain 2, Peter 1. Goal: Mason.
Sutho 3rd Grade 1 Moorebank 4
Sutho 3rds took on a confident-looking Moorebank-Liverpool outfit on Saturday afternoon.
With a new-look team – due to a few players out and some late call ups – we managed to pull together a promising squad for the day.
The game started off poorly, however, with a couple of mistakes leading to a quick goal against us in the first 20 seconds. This was a huge wake-up call:  if we wanted to be competitive today we had to work harder and switch on.
But we were struggling to find passes through the midfield to the strikers for most of the first half and as a result, went into half-time 2-0.
We managed to get a few more opportunities in the second half with a couple of short corners allowing for a goal to be scored by Ollie Bollard after Quinny cleaned up a goalkeeper save from a flick from Aidan.
However, a lapse in concentration after the goal meant the scoreline quickly became 3-1.
In the final quarter, they managed to find another goal and as a result, our undefeated streak for this season was well and truly finished.
Not a bad effort from the boys overall with some great moments through the game and, in particular, great efforts from Chris, Sohan and Jono coming into spots left open by unavailable players.
Points: Chris 3, Brad 2, Matt 1. Goal: Ollie 1.
 Sutho 4th grade 1 Ryde Black 4 – No report
Sutho 5th grade 1 Northern Districts 0 – No report
Sutherland 6th Grade 4 Glebe 0
A match set for 10 am on Mothers' Day was always going to be a lottery as to who would be available to play at Sutho against Glebe. Fortunately, several extra players from the U17s and 7th grade were able to give us a couple of reserves.
In our past three games we have been under pressure in the backline and unable to convert chances in our scoring circle.
Today all that was reversed and we were finding open channels down the sides and had plenty of scoring shots upfront.
Adrian Collins, Elliott, Lachlan and Ryan were able to fall back in defence find space, get past Glebe's marking and travel forward changing the point of attack and find strikers in the circle.
We kept our turnovers to a minimum and were in possession for most of the game.
Thanks to Andrew directing passes at centre back, our game flowed and we dominated Glebe to win 4-0.
 Sutho 7th grade 0 Northern Districts 1 – No report
Women
Sutho 1 (SWHL ML4) 5 Sydney Uni 0
Our team had a blinder against Sydney Uni in what was predicted to be one of our toughest match-ups of the season.
An early goal in the first quarter set us up in a good position. Our press forced Sydney Uni into sending lots of their free hits over the sideline. Our build-up into the circle was rewarded with a number of short corners.
Great work team; our work over the last couple of weeks is paying off! Thanks to Chloe for being ready to help us out on the field.
Points: 3 Yaz, 2 Jacqui T, 1 Jacqui G. Goals:  Zara 2, Meaghan, Alex, Jacqui T.
Sutho 2 (SWHL ML6) 2 Sydney Uni 0
Tough game out at Cumberland, but the team came away with a 2-0 win against Sydney Uni.
Great goals were scored by Piper and Jess.
A huge shout out to Ruth filling in as goalie for this week – she made some great saves.
Best and fairest: 3 Ruth 2 Emily Piper 1.
Sutho Blues  2 RSL Anacondas 2
A mostly defensive first half took us into 0-2 at halftime. In the second half of the game, we started to have some opportunities and levelled the score in the fourth quarter. With seconds to go, we were 2-2 and awarded an attacking short corner! The goal went in… but it was too high and disallowed. While a win would have been nice, 2-2 is a great result!
We welcomed two new players: Brielle Gosch returning to hockey after many years' break and Abbey Coxledge, sister of Liv, and another skilled junior coming through the club!
Thanks, Jo Momsen for playing for us!
Enjoying playing together, this new team took the opportunity to get to know each other off the field. Drinks and nibbles in the sunshine on a Saturday afternoon! Just perfect!
Happy Mother's Day ladies!
Players points: 3 each Brielle Gosch and Liv Coxledge, 1 Abbey Coxledge. Goals: Brigette Crowther and Meagan Patmore.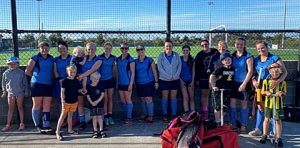 Sutho 3 vs UNSW (3-0 loss)
Mothers' Day turned on the perfect hockey weather for Sutho 3's game against UNSW at Kyeemagh this weekend.
Missing a number of players, Elissa Hughes and Zara Cathcart were on hand to help out. Jo Momsen thought she was just there to cheer on her daughter but ended up playing her second game of the day.
And what a game it turned out to be.
The team worked together to play their best game of the season so far, with some quick, accurate passing, excellent communication and 100% commitment on the field.
This led to some long periods of possession and we were able to penetrate the UNSW circle several times and narrowly missed scoring in the first half.
Our defensive line was strong all game and managed to keep out a number of short corners. Tight marking in defence helped us stay in the match despite the opposition capitalising on a couple of fast breaks which led to goals.
By the final quarter, we were three goals down (having kept many more out) and running on low batteries due to our lack of numbers on the sub bench. So it was an incredible effort that we were able to hold the opposition to 0-0 in this quarter, even though they continued working through their sub rotation of approximately 500 players.
Sutho played a strong and confident attacking game which the final 0-3 scoreline doesn't adequately reflect. It was a fantastic team effort and every single player played an integral part. Well done, ladies!
Best and fairest: 3 Kiara 2 Janet 1Teresa.
Juniors
Sutho U17 Metro 5 Mosman 1
It was great to be out at Olympic Park for the first time in many years and we probably played our best game of hockey so far this season.
Right from the beginning of the game, we started off strongly with intensity, while making some excellent passes up the field while at the same time still holding our defensive structure, ensuring any breakaways were covered.
In the first quarter, we quickly penetrated the circle and Jett Austin scored a goal in a penalty corner. We recomposed ourselves and started to take our time on our free hits and more playback through our defensive line.
This created more space for another breakaway which soon after led to an excellent short corner goal from Timm Stetter. This was quickly followed by another short corner goal by Jett Austin.
During half time we agreed to make cleaner traps and passes and to slow the game down.
Going into the second half of the game we held our full press defensive structure much better and started to communicate more.
Lachlan Staples, coming back from a leg injury, was subbed on as striker.  Making a run to receive the ball on the right side of the opposition circle, he made an amazing first-time forehand volley goal to secure a 4-0 lead against Mosman.
Shortly after Sohan Mavji entered the circle scoring another goal for Sutho. Lachlan once again positioned himself well in the circle as a striker, creating yet another for Sutho. Toward the end, Mosman was awarded a penalty corner and scored a great goal.
Across the board, everyone had outstanding performances on Friday night and played well together as a team and we had a very fun night of hockey. Thanks to Jonty Austin for backing up and filling in.
Best and fairest: Timm Stetter 3, Lachlan Staples 2, Jett Austin 1
 Sutho U15 Metro 8 Mosman 8
It was a great start to the match with most of the game played in Mosman's half.
We had a few attempts at scoring a goal off short corners but were unable to convert. We ended the first quarter at 0-0.
As the game progressed, we got into our groove and managed to score some great goals in the second, third and fourth quarters. Our goal scorers were Justin, Kai & Louis with some good attempts by Jamie-Grace & Archie.
Passing between the defensive players led to the game being spread across the whole field… great use of the field by Rhys, Zara, Jonty, Darcy, Hamish, Olive and Julian.
While we had many attempts at goal, there were some attempts made at Isaiah, which he managed to hold out, great effort.
With only a few minutes to go, and on the supposed promise from Wade… I'll have to check that at training… we decided to mix it up with some of our positions. Hope you had fun Oisin & Zara. Maybe next time it will be a little longer.
Happy Mother's Day to all our Mums… we hope you had a great day being spoilt by your kids.
Goals: Justin 4, Louis 3, Kai 1.
 Sutho U 17 Geckos 1 Moorebank 8
It was always going to be a tough game against Moorebank. We fronted up on a cold Friday night, only with a team of 10, but ready to go.
There was a quick goal to Moorebank, then a fast reply from a short corner from Sutho. It was a beautiful hit from Chloe to even things up; a nice start to the game.
Moorebank managed another 2 goals in the first quarter from a strong hitting side. It was 4-1 at half time and Sutho were feeling the pinch.
MaKye had a couple of great runs up the middle, and Audrey made some great defensive saves. Unfortunately, we went down in the end, but the whole team tried hard. The final score was 8-1.
Points this week went to Piper (goalie) 3, MaKye 2, and Audrey  1.
 U17 Sutho Thorny Devils 2 Glebe 0
This was another good game for the Thorny Devils as they continue to improve and develop as a team.
Not only are every player's individual skills on the field improving, but the teamwork, positional play and structure are developing at a fantastic rate.
Two great goals to Jack this week with several other players getting some very good shots off, just saved by a talented Glebe goalie.
Our star goalie, Liv, again made some great saves to keep our opponent's score to nil. The passing from defence through the mid-field to link with our forward line was a highlight of the game.
Points: 3 Jack, 2 Bailey, 1 Kai. Goals: 2 Jack.
U15 LIZARDS TROPHY
Sutho Blue Tongues 0 Sutho Thorny Devils 1
Pre-game banter/texts between the teams started at training on Thursday.
Today we had our first game at home for the season, playing against the other Sutho team, the Thorny Devils, to decide who would take possession of the Battle of the Lizards Trophy.
All the elements were lined up for a great game, a watered pitch, a home game, a great crowd and beautiful weather.
During the first half, there were some of our players out of place, which gave the Thorny Devils more open players to pass to.
After a team discussion with coach Darcy, we went back onto the field and played a fair quarter with good positioning. Leading us to trigger a short corner, sadly missing the goal.
Stepping on the field going into the 3rd quarter both teams were hungry and determined for the ball. We dominated but in the 4th quarter, the Thorny Devils wanted the ball more, resulting in them scoring the 1-0 win.
This game was played in great spirit by the players. It even saw coaches and managers encouraging the opposite team, sometimes to the confusion of players.
Best and fairest: Luke Erickson 3, Ariana Crawford 2  Leo Matthews. 1.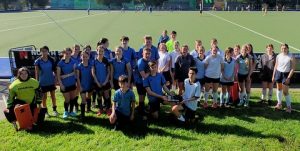 Sutho U13B Thorny Devils 0 UNSW 0
It was a cracker match at a freezing Daceyville against U13B UNSW.
Our team went in with the game plan to play their positions and it paid off. The score was 0-0 in a hotly contested match.
Laura took a ball to the lip but continued on with determination. Jared and Laura shared the goalkeeping duties, returning a clean goals-against sheet.
Lucas from fullback made some killer hits out of defence, supported by Beckett and Mila.
Addison played multiple positions and showed great effort to get into the contest. Ivy found herself in space upfront for the ball down the line.
Best game this year!
Points: Lucas  3 Addison2  Laura 1.
U13B Thorny Devils 0 UNSW Humpbacks 0
This weekend the Thorny Devils had a road trip to meet the UNSW Humpbacks at Daceyville.
After a pre-game talk by the coaches, the team sped onto the ground ready for what turned out to be a fantastic game between the two teams.
The Devils were passing, calling for the ball really well which saw some great action in numerous short corners and shots for goal but unfortunately were unable to get past the UNSW goalie.
Although there were no goals scored the tension for the spectators was very nerve-wracking.
The team are looking forward to their next match back on home soil next week against fellow Sutho Blue Tongues team.
B&F Points: – Lucas Read 3 Addison Laycock 2, Laura Harding 1.
U11 Sutherland Geckos 6 Glebe Wasps  0
A young Sutherland Geckos could have been forgiven for showing up late to this game on the coldest morning since last winter, but they showed their great enthusiasm by getting to the ground early for a great warm-up and team talk.
The Geckos again got off to a flying start, with our midfield dominating early exchanges. With some slick passing and gaining great field positioning, they struck with Michael Chapman scoring from a great slap hit into the left corner of the goal.
They were then relentless with their attack and were rewarded with many short corners, one of which Joel Kooner converted. Sutherland was soon up 2-0.
We kept Glebe to their half for most of the first half. Under this pressure, they gave away another short corner. Krishang Prabhu pounced on a loose ball in the D and scored our third goal for the half and we went to the break up 3-0.
After an inspiring halftime talk to keep the kids pumped, Sutherland came out all guns blazing. Luke Palmer finally got on the field and was making some good runs on the right side, forming a great link between the midfield and high strikers.
Michael Chapman soon had his second goal, which was well deserved for his excellent efforts as the attacking midfielder. He was causing the Glebe fullbacks all kinds of trouble with his darting runs and clever passes.
More short corners for the Geckos and another goal to Krishang Prabhu who was in the right place at the right time.
The Geckos were in control when Luke Palmer slotted away the team's sixth goal close to full time – from a nice sharp slap hit.
This was another impressive display from this young team with many first-year players, who are really showing some great potential. The fullbacks had a quiet game with not much ball in their zones so they pushed upfield a little. The midfield again was very strong with Alexander Steckhov playing his best game of the season.
Our keeper Harrison Leach got a vote in the Best & Fairest for keeping a clean sheet and a couple of good saves, Joel Kooner was a standout in the midfield setting up most of the goals and scoring once, and Luke Palmer is improving fast after a few years out of the game.
B & F: Joel Kooner 3 Luke Palmer 2pts Harrison Leach 1. Goals: Michael Chapman 2, Krishang Prabhu 2 Luke Palmer 1, Joel Kooner 1.