It was a pretty miserable day for hockey on Saturday, with some mixed results for our men's teams in particular. There was a lot of frustration in the first grade match against North West Strikers in an all-round miserable night at Pennant Hills and Sutho ended up losing its first match of the season.
They still top the Sydney Hockey Association table, leading Moorebank by a point 20-19 and with a handy 29-19 for and against goal differential. Strikers are a point behind and University of NSW rounds out the top four on 16.
Over in the South East Sydney Hockey Association women's comp's first grade, Sutho is in second place on 16 points behind Cronulla RSL which has a handy lead on 22.
Meanwhile, back to last week's action, and sorry we didn't get all the reports we normally receive. Everyone enjoy the long weekend, and thanks once more to all the team managers, coaches and other reporters who send in their reports and pictures each week.
Men
First grade Sutho 1 North West Strikers 2
1st grade had a heavy night playing at Pennant Hills for the second successive week, and at 6.30 pm.  This in itself a ridiculous time for 1st grade matches to be played.  They should be at prime time every week, at say 3.30 pm.  However, the powers to be see it differently for some obscure reason.
The match was marred by a lot of hard tackles  and there was a lot of frustration with many of the decisions. This does not excuse players from reacting but it was a top of the table match and all standards should have been at that level.
To our team, it is one to forget and to regroup for the business end of the competition.  We are in a far superior position in 1/2 position as against 7th last season and came home to win the grand final.
Its now up to the boys to regroup and get back to a team of believers and close relationships as it has always been.  This is just a small hiccup and we can now move on to do what we do best together as a unit and get back on the winning track.  B& f were Mat Johnson 1, Shane Smith 2, and Mitch Wray 3.
Second grade
Third grade Sutho 0  North West Strikers 0 
It was a frosty Saturday afternoon, with the weather  was predicted to only get worse, our boys made the trek out to Pennant Hills to battle North West Strikers (NWS) for a vital three points. After last week's disappointing draw to Macquarie University, the team was anxious the play and hopefully leave with 3 points.
The first half started with NWS pressing quite high and holding a fair amount of possession, moving the ball well, pressing Sutho deep into their own half, some wonderful scramble defence and patience from our backline and with the efforts made by our forward line to work back in defence,
Sutho held out and managed a few counter attacks which launched us out into the game. Holding more possession and building play with quick short passes and strong running on the ball, Sutho found themselves higher up the pitch, a few chances to both teams but nothing separating a fairly even match in the first half.
Leading into the second half, our boys came out all guns blazing looking the more dangerous team from the beginning.
NWS defended well which lead to the game becoming very tightly matched.  Some great work by our backline again holding possession and making the right passes to our mid's, followed up with some strong running and ball movement from our front line.
Defused
Sutho often caught the high pressing NWS low on numbers at the back, leading to some great chances which were well defused by the NWS goal keeper, but goal keeper of the day went to our own Jason Stevens with some incredible saves which kept left NWS wondering how they were going to score. He was well backed up when he made a save by a roaming Brad Bollard always ready for the ball to drop in front of goals.
Sutho, were the dominant team for the rest of the game despite a late surge with 10 minutes left in the game from our opponents. Sutho  were unfortunate not to get a win for their efforts with good performances form our boys, just not good enough to get all three points with the game ending in a draw.
Shout outs to Brady and Jono for backing up from fourth grade and both still looking like the fittest guys on the pitch, Brad for a strong first game at fullback, Jason for a top game in goals, Hayden for a solid showing for his first game as a defensive mid, Jimmy for arriving late, but more than making up for it during the game, also the random player from the opposite team who came and joined our pre game team chat while he used the bathrooms, and didn't even say a word when he entered and left.
Points:  Jason Stevens 3, Wade Tonna 2, Hayden Neale 1
Fourth grade Sutherland 3 vs NWS 0
It was a brisk, cold and windy afternoon up in Pennant Hills.
The game  started out pretty steady with Sutho controlling the ball and pace of the game and managing to create a few chances up around the circle with the opening goal coming from Brady Machen in a penalty corner with a crisp sweep into the backboard.
The second goal came nearing the end of the first half coming with another from Brady, this time  with a tomahawk. Half time came and spirits were high heading into the break.
The second half was a lot tighter with Strikers re-jigging their midfield and regaining some control of the ball and creating more pressure on our defence. A couple of times they looked certain to score, but the defence knuckled down and with the help of some fantastic efforts from Luke C in goals,  kept them at bay.
The last goal of the game was another absolute belter scored by Matt Q who finished a ball that deflected back off the post to him, roofing the ball off a tomahawk about metre off the base line, giving the keeper no chance.
Best and fairest: 3 pts Brady Machen, 2 pts Brendon Hol, 1 pt Matt Quinlivan.Goals Brady Machen 2 Matt 1
Fifth grade. Sutherland 5 Ryde 2
The long awaited game of the two undefeated teams came to us at our home ground with minimal unavailabilities to the squad.
As we do, the warmup was slow and quiet but once the game started we went to work. With the first 15 minutes going nowhere fast for either team Sutho struck with Bob through a short corner.
Tails up and confidence booming, Sutho went on to score 2 more goals before half time, one each going to the 2 debutants, Jack and Luke.
The 2nd half saw a change in the game's momentum with Ryde improving in every aspect of their game. Their strikers, with some strong attack on goals awakened the beast of Dan in goal, who made some AMAZING saves… Could have been a very different result.
Sutho began gaining the upper hand to see out the game. A good save by Geoff on their goal line saw the game stay at 4-2 with plenty of time. To redeem himself a defender passed it straight to him on the dot to score his hardest shot of the day. Similar spot that in the first half he put an open goal over the top. That polished off a nice 5-2 victory.
Points: Eythan (Bob) – 1, Tom – 2, Dan – 3.
Sixth grade Sutho 6 St George Randwick 1
After a couple of back to back losses to the 2 front running teams we had to get back on the bike and quickly.
Playing the team coming last made it a bit easier but it was still good to put 6 goals in however it wasn't what we wanted letting a goal in near the end of the game.
If we want to be honest with ourselves we still have a lot of improving to do if we are to knock off the 2 top teams come the finals.
A lot more control in our passing and commitment in defence is needed but it's definitely not out of the question.
Goals were shared around the team with 2 to Sean Ryan who is improving with ever game as well as 1 each to Julian Weaver,Matt Stevens,Mitch Rowling and Mark Brookfield.
It was also great to see 2 of our  up and coming stars young "Nibs" and "Max" play their first grade games for the club,hope there is many more to come.
Best and Fairest 3 M.Brookfield,2 Max Heckley 1 Tim Crismale.
Have a good long weekend train hard for UTS in a fortnight.
Seventh grade Sutho 0 Bentstix 0
We started the game very scrappily; we seemed unable to control the ball for very long. We did have a couple of shots on goal and one hit the post in the first half, but there was just not enough composure in our play.
After a bit of a serve during half time we picked up slightly but was still unable to score. Darren had one cleared off the line and Bentstix improved as the game went on.
For the bottom of the table team they played very well, but we missed out on the opportunity for three points and will have to settle for one.
Dave Lucas saved the day a couple of times in a game in which he shouldn't have been required much, therefore easily gaining three points. Ross and Adam marked well in defence and Alex and Cameron tried hard in the centres.
A week off is well timed for us and hopefully we will come back bigger and stronger in two weeks.
3 points to Dave Lucas, 2 points Cameron Bayley and 1 point Alex Doyle.
Metro
U17 Metro
Sutho 7 Gordon North Sydney 0
We equalled last week's record – again we had 7 players unavailable. Obviously a different group out this week!
The new team formation, with Staples at striker and Hayden in the midfield generated immediate results. The running upfront (Staples and Helena) was especially energetic, and the midfield also played with plenty of enthusiasm. The ball was moved crisply around the field, and we quickly had 2 goals on the board. A good opening 10 minutes!
We kept the intensity up across the field, and by half-time the game was very much under control with a 6-0 lead.
Without any reserves, and playing 1 player short after Elliot was forced to retire at half-time, some legs began to tire a bit in the 2nd half – although not Matthew Staples, who ran tirelessly and harassed the GNS defence relentlessly, forcing multiple turnovers.
Unfortunately the goals didn't come in the second half (although there were some very near misses) and we added just 1 further goal for the half.
Overall a very good team performance, and special thanks to U15s Oliver, Daniel Bryant (GK) and Elliot for their efforts.
B&F: Staples 3, Hayden 2, Helena 1. Goals: Harry 1, Turner 1, Helena 2, Joel 2, Elliot 1
Juniors
U17 Sutho Blue Tongues 0 Sutho Geckos 3
Sutho vs Sutho is always a good contest and yet again it proved to be just that. With both teams having a good start to the season, it meant someone was leaving with their first loss of the season.
The Blue Tongues started off strongly with good ball movement and team play leading to well worked opportunities for shots at goal, but with the chances either missing or brilliants saves from the Geckos keeper. As the first half went on, lapses in concentration led to two goals being conceded in quick succession, leaving the Blue Tongues 0-2 down going into half time.
The half time talk was again a display of good cop bad cop, trying to get things back on track against a very well structured opposition who were playing extremely well.
The second half was an intense contest between the two sides with only one goal being scored and good one at that! It was a real tug of war type match during the second half, with both teams creating many (unsuccessful) opportunities.
Eventually the Geckos scored a brilliant goal leaving the Blue Tongues down 3-0. With scoreboard pressure mounting, the game became a slightly more difficult task. However the Blue Tongues never gave up and put in 100% until the final whistle! Hopefully we can come back strong in the next game and get back on the winning path.
Best and fairest was a three way tie this week with 2 points each going to: Lachlan Prentice (aka Nibs), Svea Hansen and Joshua Ko.
U17A Sutho Geckos  3 Sutho Blue Tongues 0
Cold and early Saturday morning the U17 Geckos played the other Sutho team, the Blue Tongues.
We played our game plan and we cleanly executed skills from training to come away with the win 3-0. Goals were from Jacob 2, and Edward 1. Everyone was positive and gelled as a team, and it made for a great game to watch.
15B Blue Tongues Sutho 1  Moorebank 4
The Blue Tongues had a great game against Moorebank on Saturday. The last game against Moorebank was lost 5-0 so the Blue Tongues were looking to improve on that result.
The first half of the game was spent equally up both ends of the field, but Moorebank were able to convert their attack into 3 goals. Sutho did well to get the ball into the circle, but weren't able to get the shot to get some points on the board.
A determined Blue Tongue team went out on the field in the second half and they were able to get a point on the board from a long pass from the back up to Ryan who found himself with no opposition between him and the goal keeper.
Well done to the team. Great improvement against Moorebank and great teamwork. Well done also to Sofie in goals.
Best and Fairest: 3 points  Ryan, 2 points Blake, 1 point  Dominic.
Under 13A Suth0 7 defeated Bankstown 1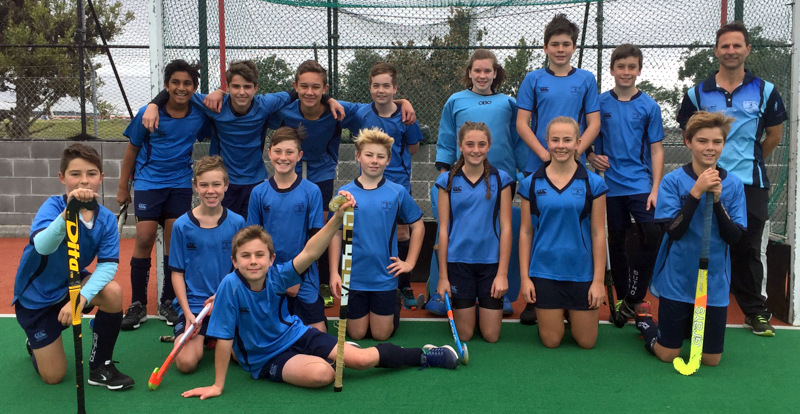 We were playing against a relatively weak Bankstown side, so we knew it was going to be a game where the team really needed to focus on the things that we were doing and not get drawn into relaxing our own structure and skills.
I think for most of the game we achieved this, however it was very difficult to retain our structure when cycling through four substitutes off the bench. Those regular changes made it difficult, but forced more communication on the field. We also mixed up the playing positions a bit to enable the defence to get more involved in the game etc.
Matt had a strong start to the game by scoring off a short corner in the first couple of minutes and then setting up the second goal shortly after. He dribbled the ball out wide, then down along the back line and popped the pass around the keeper to Lachlan who was standing on the spot for a tap in goal. Exactly what we'd practiced at training – a joy to see.
The third goal was a solo effort by Fletcher – he dribbled the ball towards the circle, but in his attempt to evade a tackle he lost control of the ball. However, he didn't give up, it was still a 50/50 ball and he managed to re-gain the ball, dribble into the circle, drag around the keeper and slot in the goal. Persistence had paid off.
The Geckos scored 4 more goals in the second half, with Sohan scoring his first goal for the season by showing some hunger in the circle and pouncing on the loose ball. Bankstown played well in patches – even scoring a well-deserved goal late in the game. And Noah showed some good skills to score the team's final goal to make it a convincing win.
Best & Fairest: Fletcher King 2 pts, Tom Bryden 2 pts, Tom de Soza 2 pts. Scorers:  Matt 2, Lachlan 2, Fletcher, Sohan and Noah.
Under 13B Sutho Blue Tongues 3 Glebe Hornets 0
 Another great game from the Sutho Blue Tongues. We all could not believe this is the same team that started just 5 weeks ago. The passing, trapping and tackling has significantly improved including our players stick work and their ability to control the ball. New areas of focus for our team include "cover defence" and hitting the ball to the "SPOT" in attack.
It was really nice to see the kids celebrating with "high fives" with their team mates after we scored a goal or saved a goal in defence.
Best and fairest: 3 pts: Dominic Guinta 2 pts: Finn Wille 1 pts: Zara Cathcart. Scorers: Finn Wille (1 goal) Dominic Guinta (1 goal) Chris Goodman (1 goal)
U13B Sutho Thorny Devils 1  UNSW  4.
'Windy and wild' conditions at Daceyville today for our match against UNSW sent a chill through our work on the field and had the team running in all directions to keep on top of a tough game against UNSW.
We did seem to get going earlier than the past two weeks which was good to see, and this kept the score even for a good part of the game.
There were several times that we found our strength and played the ball nicely up the field into scoring positions, but these weren't enough to turn the tide on an aggressive UNSW who  were just hungrier for the ball today.
Success in this style of game will rely heavily on breaking up the opposition defence by 'drawing the player in' before delivering to another running player.  Confidence in our fundamental skills of tackling to get more ball possession will allow us to 'go harder' into the one-on-one situations, and come away in control of the play. Several impressive moments in defence saved the score from running away further than it did.
These games against strong teams will only serve to strengthen our game and shed light on areas for improvement, allowing us to focus on continual development and the success that it will deliver.
Go Sutho!!
Best and fairest: 3 pts : Nicholas Cullen, 2 pts : Mackenzie Shaw, 1 pt : Jack Treharne.  Scorers: Jack Treharne – 1
U11 Sutho Bearded Dragons 6 Sutho Blue Tongues 1
The Bearded Dragons welcomed winter by turning their shirts inside out  and displaying a colourful array of socks for the local Sutho derby against their deeply respected club rival, the Blue Tongues.
The Sutho spirit was evident from the beginning with both Lachlan and Thomas kindly agreeing to assist the Blue Tongues as they were down on numbers for the day.
Riley began the scoring for the Bearded Dragons early with a terrific one-handed effort. Both teams tackled hard in the windy conditions, but the Bearded Dragons got the better of the open field play, and spread the ball well with Riley finishing up with 5 goals, and Eliana sneaking one past the goalkeeper as well.
The Bearded Dragons may have come out ahead this time, however a brilliant late goal from the Blue Tongues illustrated their determination, and the next Sutho derby is sure to be a hard fought affair.
Best and fairest: 3 pts Riley de Soza, 2 pts Dominic Lenzo, 1 pt Lachlan Hoy
Sutho Blue Tongues 1  Sutho Bearded Dragons 6
A good effort from the team this week. We still have a lot to improve on, especially our positioning on the field. Regardless, the kids seem to be enjoying playing as a team each week.
A big shout out  to Ava who put her hand up to play goalkeeper this week. After a bit of a shaky start she made some really good saves throughout the game.
Thank you to the Bearded Dragons for loaning us a couple of their players, Locky and Thomas, as we were a few players short on Saturday.
Women
Sutherland 1st grade 4 Dolphins 0
Possession was key to our game plan today.
After a draw last week, our aim was to win the 50/50 balls. We didn't take long to get off to a good start with a goal scored by Kristen on the post in perfect position (after making a huge effort to get there) in the first minute of the game.
We kept our structure and determination and by half time, we were up by two after a perfectly positioned shot by Iris straight past the goalie on a penalty corner (so good she doesn't even need our help).
Sarah gave us some feedback at half time about continuing to come back out of attack to reset, then attack again and focus on the press. And off we went again in the second half. Our passing and pressure helped us to score another goal in the second half courtesy of Paris's flair and finally Han finished off with a 'typical Hannah shot', bottom right on a penalty corner.
Every player helped us to our win today, from Anna's talking in the goals to our strikers making space for other players but our standout 'players player' was Jo! Good job girls on the 4 nil win vs Dolphins.
And I can't not mention, the insane weather conditions. We did this during cyclonic winds.. felt like I was back home in North Queensland – I didn't think cyclones came this far south! By Katie Short.
Player points: Jo Momsen 3, Katie Short 2, Paris Barnard 1.Goals: Kristen Agius 1, Paris Barnard 1, Hannah Burrell 1, Iris Vanhecke 1.
Sutho 3rd grade Wildcats 4 vs Glebe 3 0 
Another good win for Wildcats although the score could have been higher with plenty of goal scoring opportunities missed. It was a big hitting game with lots of long passes.
The first half was a good effort from Wildcats forwards with Kath and Gemma combining well up the  left hand side.
The first half was spent mostly with Wildcats attacking. First goal came from a short corner scored by Fi, the second a hard shot from Kathleen and the third from Kath H after some good passing and teamwork. Half time Wildcats 3-nil up.
The second half saw Wildcats struggling with injured and sick players making up the bare 11.
The game slowed down and was messy in bits with Wildcats defenders getting a bit more of a work out. Jules made some good saves in goal to keep Glebe scoreless.
After many Wildcats shots at goal Lisa finally managed to get one in the back of the net. Final score 4 nil.
Best and Fairest: 3 Chris Hagan 2 Lois Scott 1 Kirsty Margetson. Goals. 1 Fiona Edgar, Kathleen Leach, Kath Hails, Lisa Cummins.