Ever doubted the old saying, "A picture tells a thousand words"? Cop this! Our U15B Thorny Devils paddled to victory over Uni of NSW at a swampy Marang on Friday night. – Tony Duhne picture
Match reports or weather reports?
Games abandoned, pitches turned into swamps and the skies opening like Niagara Falls. And that was just Friday night when our younger teams turned up for their games – at least the Under 15 Metro team learned before heading off on the long drive to Pennant Hills that their match was washed out.
Then Saturday was gorgeous for hockey – go figure.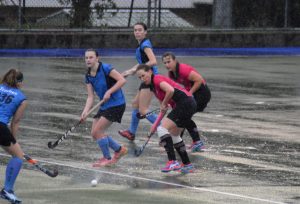 But the heavens wept again on Sunday, even washing out our 2nd-grade Arangas game against Pohogs at home. Truly, as the pitch fought to drain, it was like watching the tide come in. It was no contest: Weather 1 Hockey 0.
Men
Sydney Hockey Premier League
Sutho 1st grade 4 Norwest Strikers – Baulkham Hills 0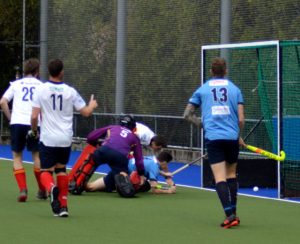 What a way to celebrate our first real test of the season in such a convincing manner. It was at home against old rivals NWS in front of a "deafening crowd" (Haha ). And what a turnaround from the previous week, which was a dismal display.
The senior players of the team showed up ready to play and lead by example. But most pleasing was the young brigade of Buzz Halyard, Harry Roberts, Billy Hernandez, Riley Nilan and Riley L proving their capabilities in 1st grade. Notably, Billy celebrated his first goal in 1st grade. 
Wade Tonna's part in this match should also be mentioned, with his excellent display after doubling up from 2nd grade for the second week in a row. 
The team's display showed we can make a big dent in this competition. Not getting too far in front of ourselves, next week will be a test of whether we can maintain this momentum against Glebe at Cintra. 
The two nights a week training is making a difference with the whole squad Wed nights and 11/12 on Thurs nights. As coach Kizz says, the more "stick-ball", the better you get.
Best and fairest: Mitchell Johnson 3, Nick Hill 2, Buzz Halyard 1.Goals: Buzz Halyard 1, Harry Roberts 1, Scott Govers 1, Billy Hernandez 1.
Sutho 2nd grade 5 NorWest Strikers 2
On another glorious Saturday, our team faced the might of the undefeated Norwest Strikers. After our rather underwhelming performance last week and some tough opponents on the horizon, we knew three points today were vital.
The game was very back and forth, as each side struggled to take hold. Some brilliant saves in goal and strong defensive efforts kept us in the tussle after a tough first half.
As half time approached and the scores tied one-all with seconds left, the ball was drilled circle-bound in search of a striker or corner.
The hit was perfectly placed, but still seemed to be heading over the baseline. As this opportunity appeared missed and hope lost, suddenly out of nowhere, our recently un-retired player-coach burst into action.
With blistering speed, he lunged desperately at the flying ball to deflect it between the keeper's legs for the go-ahead goal! Their defence stunned, our team shocked at what we had just witnessed, we took a 2-1 lead.
The second half proved fruitful, despite conceding an early goal. We maintained our composure and held possession well as our midfield and strikers showed too much class for our opposition, turning them inside and out.
From our solid second-half display, we were able to push on to a satisfying 5-2 victory.
Best and fairest: Michael Sharkey 3, Hayden Neale 2, Matt Turner 1.
Sutho 3rd grade
The weather held out nicely for 3rd grade as we played Macquarie uni and we won 3-0.
Isaac Olsen, Lachlan Rowling and Joel Westblade scored. The first goal was early in the game and was scored by Isaac from a nice tomahawk from the top of the circle. Joel then came in at the battery of a corner and flicked a nice one to the side of the goal.
Lachy Rowling got a rebound in the circle and capitalised on the loose ball to put us up by three in the 3rd quarter. We were the dominant team and played a good game.
Sydney Hockey Sydney League
Sutho 4th Grade 1 UTS 2     Pictures thanks to Tony O'Leary
A close game.
As a team, we knew we had to play out and around to beat UTS's skilled centre field. This strategy played to our strengths, but despite our focus, UTS managed to score first.
Fortunately, we recovered quickly and hit back almost immediately with a short corner goal of our own.
After weathering some game stoppage due to lighting difficulties and again for the refs to scold us for our vigorous ball contests, we were back to playing. 
Unfortunately for us, that meant another goal for UTS but none for us before full time. We had plenty more opportunities but couldn't make them stick!
Best and fairest: Lachlan O'Leary 3, William Lewis 2, Mark Bonnici 1. Goal: Jack Mecham.
Just to round things off, here's a great picture gallery from Tony O'Leary covering 5th and 4th grades.
Sutho 5th grade 3 UTS 0 
The 2020 season has been started off well for Sutherland 5th grade, as they had yet another strong game last Saturday against UTS. Having won our last meeting with UTS in a trial game 4-0, heads were confident in performing a similar result.
Though due to low availability, players from 6th grade were called up to help out. The Sutho 5th boys still managed to come out on top with a convincing 3-0 win.
Debut player Darren Pike scored the first goal of the game, making a strong entrance to the team and club. The other two goals came from the sticks of Luke Mecham and Lachlan Cartwright. Our MVP of the match was Oliver Bollard, with Jason Stevens and Will Gair taking out the remaining points.
Sutho 6th grade: Bye
Sutho 7th grade 4 UTS 0 at P2. 
Throughout the game, we controlled the ball throughout the midfield and gave our strikers plenty of opportunities to score. 
Matt Rowling led the goal-scoring early in the game, and we never looked back. There were further scores by Kevin Margetson, Aaron Krepp and Declan Coman. 
In defence we had a solid performance, handling the pressure of their strikers when required. Lots of talk between our backs meant we covered anything UTS had to throw at us. 
Best and fairest: 3, 2, 1. Goals: Matt Rowling, Kevin Margetson, Aaron Krepp, Declan Coman.
Sutho 8th grade 0 Ryde 5
It was always going to be a tough game against the table leaders, and they were clinical. Everyone in 8th grade played exceptionally well, and the score could've been a lot higher had we not all been on form.
Ryde consistently played for short corners and had obviously practised them. Four of their goals were from shorts, although they did have about a dozen attempts.
If we continue to play this well, our results will change for the better.
Best and fairest: Steve Harvey 3, Caleb Nieuwendyk 2, Adam Howard 1.
Masters and Legends
Sutherland Masters (1) 1 v Sydney Uni (3) 0
Another week and another win, although a game of missed opportunities. The bye last week had us return to the field like we had been away for a month. Passes not firm enough, easy turnovers and lack of "colour recognition" i.e. we hit the ball straight to the opposition, meant we had to rally in the second half.
Some consistent pressure in the second half had Sutho on the attack for most of the game and after a flurry of penalty corners, Raj Mavji scored the only goal of the match. Some great individual performances in the final quarter had Sutho maintaining the pressure on Uni. Although some poor discipline had us finish the game with only 10 men.
We are currently sharing top of the table, with Ryde being second on goal difference. We are keeping them out but need more goals – hopefully, they will come from our next game. We are playing Easts on (tomorrow) Tuesday at 6.30. Easts are currently 3rd and we hope to widen the gap between us and them and consolidate our lead.
Sutho Legends 0 Sydney Uni 2
This was not our best performance.
It was disappointing for all the team members as we had finished the previous game on a high, against such strong opposition.
The team is looking to turn around our form with a strong showing against a Ryde outfit in the next game.
Sydney Women's Hockey League
Sutherland 6 UNSW 0
 We went into our very wet and rainy match on Sunday with positive attitudes (about the atrocious weather and the game) knowing it would be hard. 
We put a lot of pressure on the opposition and became more aware and sensible about our passing, keeping possession and shooting as the game progressed using more triangles and transfers toward the end of the game.
Camille was strong on the ball as a left AM, which secured us a lot of free hits within our 23-yard line. These plays were used wisely by our attack and defence by moving the ball around in the 23-yard line, and more often than not got positive outcomes out of it.
Best and fairest: Camille 3, Paris 2, Amelia 1. Goals: Kristen 2, Jill 2, Ashton 1, Amelia 1.
SEHA Women
Sutho 1st grade Arangas
For the second game of the season for our Sutho Arangas, we travelled to Kyeemagh to play Tartans. After last week's narrow loss, we were keen to get a win.
Two ladies made their debut into first grade: Jacqui and Kiara, welcome. 
We had a great first quarter in which we passed, trapped, communicated, played our game and finished it 1-0 off a penalty corner.
Then – not sure what happened in the next three quarters. We didn't trap, we passed to the opposition and lost the game 1-3.
It's back to basics at training. 
Huge thank you goes to Emma for helping us in goals. 
Best and fairest: Hannah 3, Ruth 2, Fish 1. Goal: Hannah. 
Sutho 2nd grade Arangas 0 Pohogs 0
The wild weather definitely didn't deter either team with both taking the pitch in the pouring rain at Sutho's home ground. 
We had a slow start to the game with half the field underwater making it tough to move the ball. Both the Sutho ladies and Pohogs fought hard to keep the game moving despite the rain and windy conditions. 
We held out, defending all of Pohogs sort corners and making a strong effort to keep a strong hold on the ball and keep the play going. 
However, we had three missed opportunities in attacking short corners. 
By half-time, over three-quarters of the field was underwater, making it harder to move the ball and play a dynamic game of hockey. 
Unfortunately, during the third quarter, the game was called off due to the increasingly bad weather. 
We finished the game with a 0-0 draw and ultimately as a team, pleased with the result. 
All the ladies played a well-fought game. As a team, we learnt a lot from the game on ways we can improve in the future. 
Best and fairest: Sofie Cherrie 3, Kathleen Leach 2, Georgie Cherrie 1. 
Juniors
U17 Sutho Blue Tongues 0 v University of NSW 1
 It was a cold and very wet night out at Daceyville. Will we play, won't we play? It was the question everyone was asking as we waited for the rain to stop. 
We would also wait for the excess water on the field to drain away and stop looking like a small lake. But the odds were on our side; the rain did subside, and the pitch dried out just enough for us to play. 
The pre-game entertainment was fun to watch as the boys practised their shots on goal with the ball rolling only centimetres at times, the dives, slides and water sprays were spectacular as was the stretching on the cold, wet field… but let's get to the game.
It seemed to be in slow motion, possibly from the excess water on the field, but we tried our best for the challenging conditions in which we were playing. 
It was difficult to spread out and play our positions correctly because when the ball was passed, it didn't always make the distance. 
We held UNSW to 0-0 until the second quarter when they scored a goal. We managed to hold them to a 0-1 score for the rest of the game. 
There were some great saves by Jonathon, who was goalie this week. 
Marking our players was better again, and if we continue to talk to each other more during the game, we will continue to improve. 
Call on your team players to mark someone, encourage them where you want them to stand when sending them the ball, tell your team-mates who is free to collect a pass. 
It all helps to make the game flow. 
Many thanks to Amelia, Jack, Kai and Samir (all from 15 Geckos) who stayed back after their game was called off to help out our team. It was great having you join us for the night.
Best and fairest: Kai 3, Nathan 2, Byron 1.
Sutho U15B BlueTongues 0 St George Randwick 5                   Thanks to Phil Cullen for his pictures
The first quarter was our best so far this year; it was a fast-paced game, and Sutho was up for it. Our defence held strong with Flynn making some sensational saves. You could see how the hard work at training was paying off as the passes started to find our players. 
Both teams had their chances, but no-one was able to get that elusive goal, and we went to quarter time 0-0. Coach Jo was so impressed by the first quarter she was jumping with excitement. 
The second quarter was a different story. The 2-minute break did us no favours, and our defence allowed four goals through in seven minutes. After the influx of goals, we started to regain our composure, and this prevented more.
At half time the plan was to ignore the first half and win the second. The third quarter saw SGR score again from a tight angle, but then the momentum started to change; we began to play as we did in the first quarter and our passes found our players, and we forced SGR to go back and defend.
The final quarter saw us change the game. Instead of playing fast that SGR wanted, we slowed down the play, looked for our players in the gaps and sent great through passes. All the momentum was with Sutho opening up opportunities only to be denied by SGR's defence.
Except for the second quarter, this was our best performance of the year. If we play the whole game like we did the first and final quarters, there will be a victory around the corner. As agreed by all the players, Flynn was outstanding in goals and took the 3 best and fairest points, with Myles 2 and Mylo 1.
Sutho U13A Blue Tongues 3 Glebe Redbacks 0
 We played at Kyeemagh against the Glebe Redbacks, and while the weather was cloudy, fortunately, it wasn't raining.
Nothing much happened in the first quarter of the game with the ball going one side to the other and no goals scored.
We switched on in the second quarter and scored two great goals. A great flick by Louis hit the back of the net, while Kai scored a good goal that bounced off the goalie's pads and shot it right back in.! 
The third quarter was tight, and while both teams made each other work for the ball, no goals were scored. The final quarter was very tough. One team had the ball, then a second later the other had it. 
Dylan's come back for his first game this season had him running hard, He scored a cracking goal, leaving the final score at 3-0.
We all played well, we outnumbered them in the circle on many occasions, but we have some work to do to ensure more opportunities become goals. 
Thank you to Todd, Julia and Cooper, this week's goalie. 
 Best and fairest: Dylan Hughes 3, Louis Olsen 2, Milan Stowers 1. Goals: Kai Fisher 1 goal, Dylan Hughes 1, Louis Olsen 1.
Sutho Under 13A Geckos 4 UNSW 1
The Geckos were ready and looking forward to another challenge after last week's Lizard's Trophy victory. We had not played UNSW since pre-COVID-19 days in our first trial match of 2020.
They were a tough opponent then – and not much has changed.
The first half ended with Geckos walking over to coach Bollard 2-1 up and in need of some pearls of wisdom from our great coach as UNSW had looked the much more composed team of the half. There had been some great moments half with Riley bagging 2 of his 3 goals, one from a short corner. Several defensive saves by our backs Oisin, Olive and Skye and goalie Rhys kept UNSW at bay.
Coach Bollard's chat at HT made the difference, with the Geckos playing a more settled game and scoring two more goals with some great combination passing from beyond the halfway line to seal the match.
Even though this was a strong win, there is still room for improvement. I'm sure the Geckos will continue to work hard at training. 
A special mention and thank you to Eliana who played an extra game for our Geckos.
Best and fairest: Oisin Perry 3, Riley De Soza 2, Amy Whetters 1. Goals: Riley De Soza 3, Hamish Draganic 1. 
U13B Sutho Thorny Devils 3 UNSW 1
The Thorny Devils faced hard opposition in UNSW, who challenged them to work for their points. There was plenty of hustle in the middle between the two sides.
The Devils were threatening whenever they freed the ball into space or along the sideline. Early goals to Jude and Jamie-Grace saw them take a good lead going into the half time break.
The Devils demonstrated their persistence in the 3rd and 4th quarters by defending against UNSW's more determined attack. 
Julian was relentless in reclaiming the ball, with Emily and Kaylee keen to challenge the onslaught of attack in the middle. The backline defence scrambled well to prevent the ball from making it through to the goal and Eliana made some great saves.
Sarah shone in both attack and defence during the final quarter. The Devils were rewarded with a final goal to Jamie-Grace before UNSW made a dent on the scoreboard. It was a hard-fought victory for the Thorny Devils against really competitive opposition.
Best and Fairest: Jamie-Grace Pittello, Bethany Domrow and Sarah Ekernawi (2 points each)
Goals: Jamie- Grace Pittello 2 and Jude Lyons 1.
Sutho U11a Geckos 3 UNSW 1    Thank you for the pictures to Rory Staples
 We were hoping for a more competitive game this week after a few weeks of big wins.
 Our wish was granted. We came up against a strong UNSW team with some experienced players who gave our team much more to consider.
 Our first half was a pass mark as our positioning wasn't great. Seeing our fullbacks up in the forward line provided some confusion.
However, we managed to create lots of shots on goal and short corners. The UNSW goalkeeper had a great game keeping his team in the contest.
 Our second half was much better. There was some great passing, and we scored some lovely goals to finish the game winners 3-1.
 We still have lots to learn, but the team is having a great time together, which is fantastic.
 Best & fairest: Ellie 3, Nic 2, Thomas 1. Goals: Nick 2, Ellie 1.
Sutho U11b Blue Tongues 3 UNSW U11b 0
 After a very rainy Friday night, the weather cleared to be a perfect morning at home for hockey. After a big win last week, the team was pumped to take the field and get back into it. 
Sutho were immediately on the attack with the forwards, Caiden and Ethan, putting pressure on the UNSW goalie. The defence was much stronger this week, with UNSW holding us out for nearly 25 minutes before Jack was finally able to slot one. 
The teamwork featured lots of calling and passing to each other. At the back, Lincoln immediately turned defence into attack by stealing possession and then distributing the ball to the halves and forwards. 
The Uni defence held steady, but Sutho were able to penetrate the defence and put another two goals away in the second half. One was a deflection from Audrey, the other from an attacking run by Ethan. 
Sophie kept Uni scoreless with an amazing save, kicking the ball wide to the sideline.
Best and Fairest: Lincoln, Mila and Sophie. Goals: Jack, Audrey, Ethan.