It was another soggy last Friday night at Marang when a halt was called to proceedings in our Under 17s match.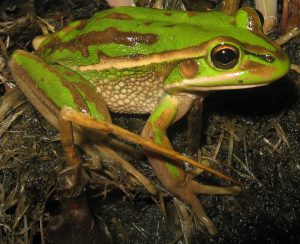 A frog was spotted stranded and sheltering in a pitch puddle. After being carried gently from the field of play in a coffee cup, it was released into the damp Kurnell peninsula night.
Our Environmental Correspondent did not know whether it was an endangered Green and Golden Bell Frog, which calls the area home, or whether the coffee cup was an environmentally sensitive reusable job.
Knowing hockey people, it was probably Yes to both.
Got to be a Sutho first…
It's doubtful this has ever happened in Sutho hockey before.
In 6th grade on Saturday, the boys in Blue lined up for the expected tough match against great rivals, Ryde. And amongst them playing for Sutho were David Krepp in goals – in his third week into a comeback – and two of his boys, Aaron and Jonathon. And as the game would have it, its best and fairest players were none other than David 3 points, Aaron 2 and Jonathon 1. Pictures of the trio are in the 6th-grade picture gallery.
Epic effort, guys.
Watch the big games from home
Next Saturday we line up against traditional tough rivals Ryde, at Ryde – and with the help of the Ryde Club, both first and second and grade matches will be live-streamed. So Sutho fans will be able to watch the action, live from home.
Seconds hit off at 2 pm, first grade at 3.30.
Access details will be sent out later in the week through Sutho's Facebook page and Majestri member information system.
Match reports
Women
 SWHL Sutho 4 Norwest Strikers 0
Our SWHL team came up against Norwest Strikers, who were expected to give us a tough game.
We played well, communicating more as the game progressed, transfers started to happen, and goals followed. 
Hannah opened the score with a beautiful run around the goalie. Camille was up next, lobbing the ball into the goal. 
After half time, Hannah had a fine hit from the right side of the circle for her second goal. Our final score was a textbook R2 short corner. Amelia was on the post, stick down and eyes on the ball: Loved it. 
The SWHL ladies keep their unbeaten run and the top spot on the table. GO SUTHO
 Sutho Arangas 1st grade 2 UNSW 1
Our third game of the season and our Sutho Arangas were extremely keen to win after losing their last two games. 
We played UNSW out at Daceyville, the weather looking a lot nicer than last week.
Ruth's inspirational speech at the beginning set the tone, "It isn't luck that will win us the game, it's our ball control."
About 90% of the game was spent in defence, with our defenders staying strong. Keeping Ruth's mantra in mind, we worked hard to maintain possession, leading to a few breakaways upfront. It resulted in 2 goals. 
In the 3rd quarter, one of the many defensive PCs resulted in a goal, bringing a bit more pressure to the defenders – but losing wasn't an option. They kept the ball from going in the goal again, leading to our 2-1 win.
Best and fairest: Ash 3, Grace 2, Fish 1. Goals: Ash and Kristen.
 2nd grade Sutho Arangas 1 Bentstix 4
With weather much better than last week, our gameplay changed and we used our wide players and space on the field. 
A slow start and an unlucky early four goals set Sutho behind in the first half, but we made a comeback and fought hard in the second half. 
Starting it with a score to settle, we did play strongly in the last two quarters. The strength of the forwards resulted in a short corner in the third quarter, and with a deflection assist, Sutho scored. 
Everyone fought really well right until the end of the game. If we keep up our positive attitudes and train as we have been, a win is just around the corner. 
Best and fairest: Georgia Cherrie 3, Kaylah Gibson 2, Tahlia Gibson 1. Goal: Hillary.
 

Men
Sutho 1st grade 4 Glebe 2
As we expected, the match played against our old rival, Glebe, was a tough encounter which delivered a few green cards and a yellow.
 It was again an experience for our younger brigade to play in that sort of environment, try to hold their own – and learn the hard way in some instances. They handled it well.
Hopefully, this will help over the next weeks, when we play Ryde and Moorebank.
Billy Hernandez showed determination to score two more "slider" goals: following his first similarly last week. 
Some intense encounters between players tended to keep the score down as Glebe put their bodies on the line to try and stop us. But it was to no avail. 
Our coach, Kieran Govers, missed this week's game with a slight groin strain, but it's hoped he'll be OK for the two next hard games. 
We play Ryde at Ryde at 3.30 pm next Saturday – and for the first time, Sutho fans will be able to watch it from the comfort of their lounge rooms! Live streaming details will be posted later in the week. 
We are also looking to doing the same the following week at home when we play Moorebank. 
Best and fairest: Blake Hernandez 3, Shane Smith 2, Matt Johnson 1. Goals: Blake Hernandez 2, Matt Bennett 1, Matt Johnson 1.
Sutho 2nd grade 7 Glebe 2
After a revitalising win last week against NWS, we travelled to Cintra hockey complex to play against an old rival, Glebe. We knew we could not take this match lightly.
Before our game even commenced, we appeared to be off to a patchy start. With an unnamed member of our team forgetting his socks and our team not playing what has, unfortunately, become this year's team song 'What's Love Got To Do With It,' we hoped it would not be a precursor for our game.
Early on, it was clear to see our team held the attacking dominance. Using our midfield from our defensive line, we were able to find our strikers in desirable positions. We maintained ball possession well, making it hard for Glebe to gather much momentum.
Defensively, we only came under threat from our turnovers, which led to fast counter-attacking play from our opposition. But we managed to hold our line firmly, for the majority of the game at least.
Some well-finished goals were a well-earned reward for our ball control, with our strikers remaining calm and composed.
A highlight for our team this week: I can easily say was how we trapped and moved the ball cleanly and with purpose, which is something we haven't executed overly well this year. This game showed   how strong we can be as a team when we perform our basics, making traps and passing hard and flat to each other.
After we allowed Glebe to score two easy goals with a minute left – our worst few minutes of the game – we emerged from this encounter victorious, 7 -2 in what was possibly our best game of the season.
Best and fairest: Peter Mulcair 3, Mason Neale 2, Hayden Neale 1. Goals:  Mason Neale 2, Matt Vine 2, Hayden Neale 1, Michael Sharkey 1, Joel Westblade 1.
Sutho 3rd grade 2 Glebe 0 – Pictures thanks to Tony O'Leary
Games at Cintra are always an interesting affair: traffic, road work and parking at a premium. It was no different this time, with neighbouring Concord Oval also cordoned off as a building site and rugby in full swing next door on "hot" and windy Winter day. 
We warmed up with the sprinklers watering the garden, the dugout, the tennis court, and the occasional patch of hockey turf.
The PL3 game billed as a cracker, with Glebe sitting top of the table. Both teams were undefeated to date, and equally well balanced with some older heads and younger legs and skills. 
Paul had us briefed on a clear game plan – mark in front and win the ball, starve them of possession across the park, win the 50-50s and your individual contest! 
The game started slowly, in part due to extra water which made ball movement difficult. 
Both teams were patient on the ball. Glebe was tight in the middle. Sutho was forced to transfer repeatedly and play very wide, with Oli and Paul under lots of pressure in the middle. 
A shift to back 4 created a little more space, and as Oli came into the game, the spaces through the lines and channels opened up.
Midway through the first half, Paul spotted Tim on top of the D and hit a perfect pass from just behind halfway. Tim beat his defender and had a nice shot, but the keeper's save rebounded to Jimmy, who was on the spot to slot the opening goal. 
It was exactly the play we talked about Glebe attempting – very directly into the circle. 1-0 up at halftime and "coach" Brendo was happy with our execution of the plan. He tweaked it a bit, but more of the same for 2nd half.
As so it proved. We created more and more space wide, with our AM's and strikers carving up the Glebe defence at times. Zak was outstanding at right AM to win MotM second week in a row. He gave his opponent nightmares with constant changes of direction and excellent skill; with the ball seemingly glued to his stick. 
We defended very strongly, won the ball in front consistently, or spoiling and giving Glebe no space, especially at the back where we shut down their attack, winning the 1-on-1 contests. 
Glebe wilted under the pressure of the August "heat"; a number of cards were issued for bad tackles and backchat. 
Despite the feeling, there were 13 umpires on the field, Sutho mostly kept our cool (a couple of cards as well). After some extended periods of pressure, we slotted the 2nd goal, expertly taken by Elliot flicking into the side netting. 
We withstood the late Glebe surge, as they pressed frenetically for the last 5 minutes. Calm heads prevailed for a great Sutho win. 
We won our contests across the park, and all the young guys had superb games, with Lachie O and Elliot both playing their best games to date, and Oli, Zak, Isaac and Dan all dominant in their roles.
Another big game against Ryde next week, also sitting top 4. 
Best and fairest points: Zak 3, Lachie O 2 and Brad 1. Goals: Jimmy, Elliot.
4th grade No report   Pictures Tony O'Leary
5th grade No report   Pictures Tony O' Leary
6th grade Sutho 2 Ryde 6
We welcomed Lachlan Staples and Blake Sharp to the team today. Hope you both enjoyed the game. 
It was a tough match against our old rivals, Ryde. 
We defended well in the first three quarters and changed it up in the fourth quarter to try and boost our goal average. 
There was plenty of practice with running out from short corners from which Ryde successfully put a few away. 
David, a.k.a. Dad threw himself across the goal and made some spectacular saves. Sean was our top goal scorer today, scoring both goals.
Best & Fairest – a Krepp family trifecta: David Krepp 3, Aaron Krepp 2, Jonathon Krepp 1. Goals: Sean 2.
7th grade No report
8th grade Sutho 2 Baulkham Hills 1
Today was a good game to watch (but there was no one there to see it!) by two very equal teams. We tried to concentrate on our passing, which succeeded, but Baulkham Hills were trapping the ball as we tried to push forward.
Our midfield played particularly well, with some excellent tackling, following up and pushing the ball forward. 
During the second half, we had several short corners. Eventually, Adam Howard got one past the goalie and put us one-nil up. 
We really started to play really well after that with some vigorous running, but we got caught with a short corner against us, and Baulkham Hills scored just inside the post. 
Then, with 50 seconds left to play, as we were on the attack, the ball bounced back towards Scott Calder. He took his time, controlled the ball and flicked it up past the keeper. With 40 seconds to go, 2-1 up, the defence held out their last attack. Great result – well done all.
Best and fairest: Scott Calder 3, Adam Howard 2, Caleb 1. Goals: Adam Howard and Scott Calder.
 Juniors
U17 Sutho Blue Tongues 1 St George Randwick 3
Another wet and soggy game greeted us at Marang on Friday night, something that is becoming a regular occurrence for us. 
It was an exceptional game to watch…definitely the best game that you have all played so far this season. You held your positions, marked your players, chased after players and intercepted the ball. You talked, guided and encouraged one another. 
The score could have been a lot different if it wasn't for the hard work of the team, especially our goalie, Luke, who saved many goals. 
We were down 0-1 at quarter time and held them there until Alex scored a goal in the third quarter. This made SGR Knights worried as they tried their best to beat us. Two quick successive goals in the last quarter put SGR Knights ahead of our team. 
Hopefully, we'll continue to play like this for the rest of the season and get a win.
Best and Fairest: Claire and Luke 3 points each.
U17 Geckos 5 Moorebank 1
Friday night didn't disappoint us; very wet and windy. 
The players were eager to take the field and get this match underway.  
Sutho spent the first quarter attacking the opposition's goal line with some great passing and runs up the field. Tonight the radar was on, and we were able to go into the end of the 1st quarter 2-0 ahead.
The second quarter was not different from the first; plenty of attacking runs into the opposition half. The team showed exceptional passing and teamwork, with some brilliant goals scored.  
When the ball made its way to our defence, we held strong and cleared the ball.  
At half time we were ahead 4-1. The coach was extremely happy with the performance so far.
We scored only one goal in the 3rd quarter. But again you could see that the team was starting to gel; the passing and talking on the field were on-song, the silence was gone.  
It was great to see players working together and taking on board the coach's tips at the breaks. 
Full time was a win to the Geckos 5-1. An excellent performance by all players; so much so the coach gave every player 3 points.  
Goals: Adrian 4, Dominic 1.
U15 Metro. Sutho 1 Ryde 5
On a wet and windy Friday night, our U15 Metro side made their way out to Ryde. Coming up against the top of the table side meant the kids had to start strong!
That is exactly what they did. To start the game it was back and forth up the field with both teams getting a feel for each other, with Ryde striking first and going 1-0 up. Sutho dominated the next 10 minutes,  continuously applying pressure and creating chances. It led to a breakaway goal finished off nicely by Noah slapping it past the keeper.
Both sides went into half time 1-1.
After the break, Ryde started very strong by scoring another goal. From there on, Ryde showed their quality and the reason that they are top of the table by putting another 3 more goals and finishing the game 5-1 up.
It was a disappointing result, but we'll be sure to bounce back this week and get a win!!
U15A Geckos 2 St George Randwick 8
'Glimpses of greatness' were all that SGR allowed us today in a very tough and fast match. A strong attacking group in SGR worked hard to break up our midfield and defence to realise the score that resulted.
The two goals that we did score were solid examples of what the team can deliver. One, in particular, was an absolute classic team goal which moved through several well-directed passes to evade the opposition defensive lines before being convincingly knocked in.
Some sensational goalkeeping kept the scoreboard from running away further; a great stick save in the top corner as a standout.
The season is only halfway through for us, so we have plenty of time to improve and perhaps surprise our rivals when we meet again. Go Sutho!
Best and Fairest – Players Player: Holly Antilla 3, Ryan Mead 2, Isaiah Vassallo 1. Goals: Samir Ekermawi 2.
Under 15B Thorny Devils 0 St George Randwick 2
Although the scoreline doesn't show it, we were evenly matched with SGR today and played with great spirit and determination. 
Harley was a stand-out as the goalie and saved at least 5-6 goals (best on ground performance). 
Bailey and India ran hard as usual and we were unlucky not to put a score on the board with a few chances just missing the net. 
All in all, it was a great game and our team is growing in confidence and skills. Looking forward to next week's match.
Best and fairest: Harley Belbin 3, Bailey Peters 2, India Faber 1.
Under 15B Blue Tongues 0 Glebe 2 Pictures Phil Cullen
We put in our best performance of the year this week.
The passing between the players was fantastic and finding their mark. We fought hard staying on the opposition until we gained possession or they were forced to pass. Our players backed up each other, making it hard for Glebe to break our defence.
There were a couple of times in the game where we stopped expecting the referee to blow the whistle, we need to remember to always play to the whistle.
Being 1-nil down at half-time the game was still anyone's; unfortunately, the one break that Glebe made in the second half left our defences short and they scored their second goal from a lucky deflection.
Overall it was a great performance by everyone in the team and like every game this year the person in goals, this week being Myles done a fantastic job.
Best and fairest: Mylo 3 points, Flynn 2 points, 1 Point Myles
Under 13A Geckos 6 St George Knights 0
In the first away match this season for the Geckos, we were down two players: Jonty, recovering from a broken arm and Peter unwell and unable to play. 
Also, one of our strongest players, Kalahni, took her turn to play goalkeeper. This game was going to be a good test for our Geckos players.
The Geckos dominated the first half with plenty of shots on goal. But the St George Knights' goalkeeper and defensive backline played very well to keep the score to 1-0 at the HT break.
Coach Bollard's halftime talk highlighted his belief in every single player's capability to bring much more to the field than was evident in the first two quarters. He called for more from our mighty Geckos, and they responded immediately by scoring three goals in the 3rd quarter and two more in the 4th. 
A special mention must go to Rhydian playing up from the U11s so we could have a full team on the pitch – and he didn't disappoint. Playing against physically bigger and more skilful players in the U13As, he more than held his own and was rewarded with a goal for his bravery. 
Skye, Dominic, Rhys and Lachlan were crucial players in our win. 
On-field communication also showed significant improvement starting with GK Kalahni, Oisin and Olive at the back and Hamish, Rhys and Dominic through the middle.
Well done, Geckos. You made great progress this week.
Best and fairest: Skye 2, Dominic 2, Rhys 1, Lachlan 1. Goals: Dominic 2, Hamish 1, Rhys 1, Riley 1, Rhydian 1.
Sutho v Sutho Battle of the Lizards Trophy Match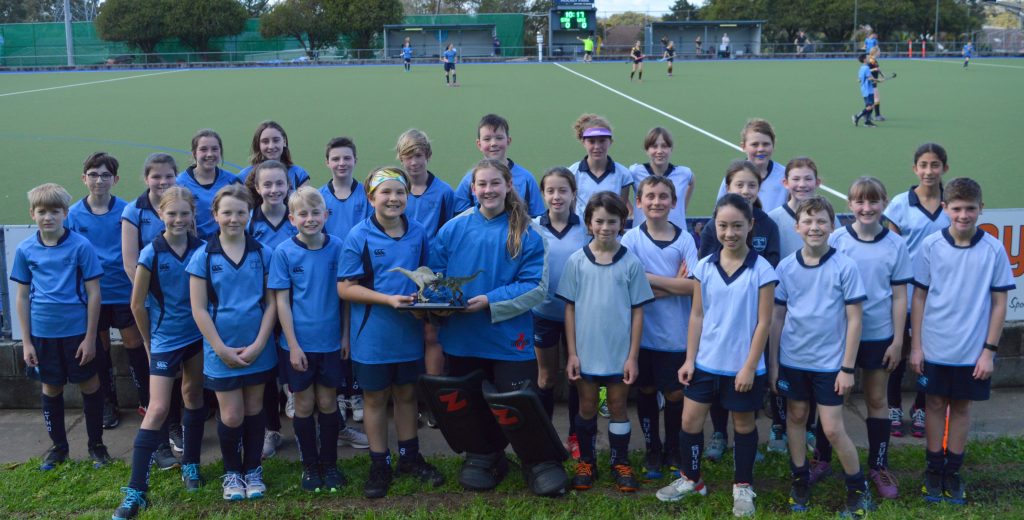 U13B Sutho Thorny Devils 2 v Sutho Bearded Dragons 0
From our Thorny Devils Correspondent: 
With four subs it took a real team effort to hold it together as players rotated through the field.  
Hayden scored in the second quarter to give the Thorny Devils an early lead, with Jack consolidating the lead midway through the third. Mackenzie in goals made an impressive save in the last quarter. 
A tough lesson was learnt with the Thorny Devils copping a penalty for not being quick enough to get 5 metres back.  
Luka impressed by showing us how it's done by passing the ball square to Julian and up to Eliana to have a crack at goal.  
The Bearded Dragons have some strong hitters, and the Thorny Devils defenders faced them head-on. 
Special mentions must go to Jack, Emily and Kaylee who work every week tirelessly to keep our opponents from scoring.
The Thorny Devils were delighted to take out the Lizard Cup! 
Best and fairest (2 pts each): Jack Margetson, Luka Collins, Jamie- Grace Pittello. Goals: Hayden Kulibab, Jack Margetson.
U11A Geckos 8 Glebe Backs 2
 This game marked halfway of this very odd hockey season. 
 Our team was keen to see if we could continue our undefeated run against all teams in the competition, which may have been more difficult, as we were missing Rowan and Thomas for this match.
 From the start, we managed to control the possession and get plenty of shots on goal. 
Our positioning throughout the game was much better than last week. However, we seemed to play too much through the middle of the pitch, rather than going around the opposition.
 In the end, we ran out comfortable 8-2 winners. Special mention to Nick Staples for scoring five goals and thank you to Ethan Choy from our B team who filled in for us and played very well.
 Best and fairest: Ethan Choy. Goals: Nick 5, Georgia 2, Sam 1.