Wiggo airborne for 4th grade – Matt Morris picture
There's a monster, huge, humungous day happening at Sutho on Saturday, with several of our very first 1st-grade men's premiership-winning team returning for Back to Sutho Day.
Sutho won its initial top Sydney men's title in 1991, but we couldn't celebrate the 30th-anniversary last year because of COVID. But – happily – the Sutho boys made it a double in 1992, so we can have a double 30th celebration on Saturday.
Our first title, won 1-0 against Moorebank at Homebush, will always be in the memories of every member of the Sutho family able to see it.
Just for good measure, on that historic day, Sutho also won the second-grade premiership and just missed out on third-grade honours.
Needless to say, the celebrations extended well beyond that night.
On Saturday, for 2022 Back to Sutho Day, our three Sydney Premier League teams are hosting Northern Districts at Tradies Hockey Park, with 3rd grade on at 12.30, 2nds at 2 pm and 1sts at 3.30 pm.
Make sure to come along and meet Sutho legends.
Donny's 400th for Sutho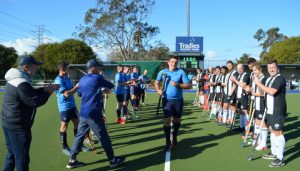 Talking of Sutho Legends, Donny ran onto home turf last Saturday afternoon for his 400th senior match for Sutho.
Fittingly, his own Sutho 2nd-grade team, opponents Ryde and even the umpires provided a guard of honour for Blake Sharp (yes, that's his real name, Sutho fans) to run onto the field.
Player since junior days, coach for men's and women's teams and always there when things need to be done, Donny's a genuine Sutho man. Congratulations.
 Just like a fine wine…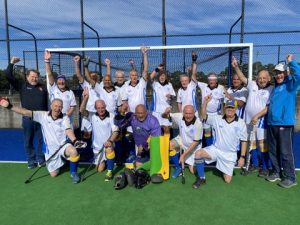 The A Division title at the Masters Over 65s Championship reported in our last Match Reports wasn't the only top NSW Masters title award involving Sutho Masters players.
The B Division title was won by Southern Highlands with two more of our Sutherland Masters Legends in that team.
Keith Millar and Ray Northwood were partners in leading six Victorians and other NSW players to win a NSW Masters medal -it's a very rare occurrence for Victorians to achieve this.
This Sthn. Highlands team also went through all games undefeated (as did Sutherland players in the Sydney South A Division team) and only conceded 1 goal to New England in the final match. Bunji, the goalie (from ACT), was outstanding in keeping a clean sheet in all the round matches.
On Friday morning the Sthn. Highlands 45s team were two players short to play their 9.30 am match.
So Ray Northwood stepped in to fill in as a striker to play a "warm-up" match before he played his own games in the 65s.
Sutherland Hockey players seem to have such depth they can play in any age group. Go Sutho!
Trivia Night helps breakout
That pandemic we try not to mention has certainly put the brakes on Sutho social gatherings over the past two years, but more than 30 people signed up for Trivia Night, held at the club on Saturday night.
Social Convenor Kristen Agius was pretty happy with the rollup, which in addition to everyone having a great time, was a handy money raiser for our Club.
Thank you to everyone who supported the night (especially those in tropical gear!) and worked to make it a success.
Top mark for top umpire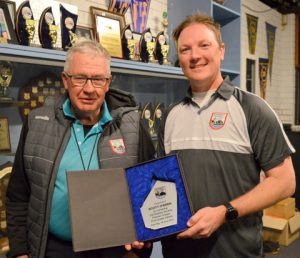 We had another landmark at Sutho last Saturday when one of the city's leading first-grade umpires, Scott O'Brien, made it his 250th umpiring at the Sydney top level.
In the clubhouse after the game, Sydney Hockey Vice-President Bruce Cook (Technical Officer for the game and pictured left) made a presentation to Scott of a plaque commemorating his achievement.
And yet another factoid: Scott's 250th first-grade officiating was also his 100th umpiring Sutherland first grade.
 Lizard battles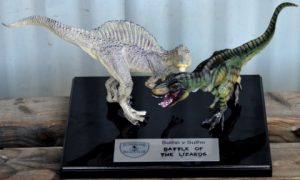 There are not one, but two Sutho Battle of the Lizards Trophy matches this weekend.
On Friday night our U17 Blue Tongues and Geckos face off for the much sought-after Trophy at Marang.
Then it's on again at Sutho on Saturday morning when our U13B Thorny Devils and Blue Tongues will battle it out.
As always, expect top hockey.
Men
All our Sydney League teams clocked off last weekend with none sending match reports. But thank you to Matt Morris for your great pictures of Sutho's 4th-6th grades' matches.
Sutho 1st grade 0 Ryde 2
Unfortunately, we came off second best again with Ryde outclassing us with precision and structured play.
It was the brilliant goalkeeping of Nathan Ackroyd that kept the score respectable.  This was helped by the strong performance of Alex Shaw as usual and the return of Mitch Wray after a long stint recovering from a hamstring injury.
Also on the bright side was the return, we hope, of Brady Anderson who showed some class upfront. Other than that, it once again proved that the young ones have a lot of learning to do just to cover the basics of simple trapping the ball cleanly and selecting better options during the game. Holding the ball without passing seems to have crept back into our game again. This cannot under any circumstances be done against quality teams such as Ryde, who found us out very quickly and turned us around most of the time by simply dispossessing us. Hopefully, the boys will have learnt something from the match and turn it around next Saturday when we meet Northern District. It is a must-win game if we are to make the semi-finals.
Best and fairest: Nathan Ackroyd 3 Alex Shaw 2 Brady Anderson 1.
Sutho 2nd grade 0 Ryde 4
We were back at home this week up against the top side in PL2, Ryde, who have gone undefeated so far.
We started strongly, but Ryde matched our game, resulting in a competitive fight over the ball.
Ryde, however, forced more short corners and converted their opportunities by scoring three short corners and a field goal in the last quarter.
There were many encouraging moments when Sutho held possession, which gives us something to work on for the next few weeks.
Sutho 3rd grade 2 Ryde 1
The weatherman started the day by forecasting rain. Little did he know that he was referring to Sutho 3s bringing the rain against Ryde.
In a physical game that had intensity from the first whistle, Sutho showed that we can compete with anyone in our league when we defend from the front, put pressure on and make the 50-50s ours.
Ralph's excellent game-long movement and short passing play was rewarded with the first goal of the game when he craftily topped a shot in a short corner routine that left the post man no option but to deflect it into his own goal.
Gilby was his usual industrial self, quick off his line to mop up multiple attacks.
Jett terrorised the right flank throughout and with a sumptuous through ball gave Huon the opportunity to slot calmly past their GK.
Sutho continued to battle with Hindy and Lachy notable examples of bodies on the line.
Daddy, perhaps looking for a rest on his first game back from Europe, saw green while Ryde picked up a green and a yellow for agricultural tackles.
They scored at some stage to make it 2-1 but don't worry about that bit.
B&F: 3 Jett  2 Hindy 1 Justin. Goals: Ralph 1 Huon 1.
Sutho 4th grade – No report
Sutho 5th grade -No report
Sutho 6th grade -No report
Sutho 7th grade -No report
Women
Sutho #1 1 Ryde 1
For our last game of the first round, we went out to Moorebank to play Ryde.
Over the last few weeks, we've taken some incredible steps forward as a team with great movement by the strikers, good positioning by the midfield and strong passes at the back. In this game unfortunately we took a little step back.
Our hunger for the ball wasn't always there and with 10+ unconverted penalty corners, the 1-1 draw was a fair result.
We are still undefeated and we'll learn a lot from this game. Upwards and onwards!
Best & Fairest: 3 points Jacqui G., 2 Iris, 1 Ruth. Goal: Amelia.
Sutho #2  8 Canterbury 0
It was an excellent game from the Sutho2  ladies. They came into the game with a focus on fulfilling the Sutho Women's goals and they succeeded.
The first half finished at 4-0; the ladies had achieved great passing completion, moving the ball wide and leading around the Canterbury defence.
The second half was even better, out-letting and transferring in all lines of the field and funnelling into the circle effectively.
The game finished at 8-0 with a hat-trick for co-captain Emily Cherry.
Best and fairest: 3 Piper, 2 Darcy, 1 Georgia. Goals:  Emily 3, Darcy 1, Chloe 1, Jo 1, Jess 1, Piper 1.
 Sutho #3 0 UNSW 2
Coming off the back of a 16-0 loss a fortnight previously, Sutho 3 were keen to put good use to the skills they'd worked on in training with mentor Patrick.
This week they also had the added advantage of some new players joining the team and there was a positive feeling going into the game against UNSW.
Right from the outset, it was clear that it was going to be a tight game.
Clear communication and tight marking in defence meant that the opposition was held scoreless to quarter time, despite some scoring opportunities.
Quick and accurate one-two passing meant the Sutho team was able to move the ball easily up the pitch and they were able to keep it up in their attacking half for significant periods.
Unfortunately, despite some good movement in the circle, the UNSW defence was able to keep Sutho out of the goal.
Back in the defensive circle, some deft passing by the opposition allowed them to go 1-0 up through a field goal.
The second half again saw excellent commitment in both attack and defence from the Sutho team. UNSW was unable to effectively utilise their "washing machine" play due to Sutho's marking and the whole-team effort in getting behind the ball in defence.
Moving the ball up the field through some clever leading and stick-on-ball skills, Sutho were eventually rewarded with a short corner.
Unfortunately unable to convert, the ball quickly found its way back to the opposite end of the field but Sutho's scrambling defence held up.
Eventually, a short corner to UNSW allowed them to go 2-0 up by the final whistle.
Despite the loss, the Sutho team walked away from the game with heads held high, having put together a strong game from start to finish.
Points: 3 Bec, 2 Janet, 1 Tamara.
Juniors
Sutho U17 Geckos 3 Glebe 0
This week the U17 Geckos were so encouraged by the fantastic response to our call out for extra players from the u15s.  Special thanks to the parents who helped us out by making this happen!
Coach Brock was thrilled to not only have a full team – but also a sub for Friday evening's game at Marang against Glebe.
The team hit the field with a positive attitude and played a great attacking game.
MaKye scored 2 goals and Piper 1, taking the team to a 3-0 win.
Special thanks to Imogen, Isabelle (who played in goals), Luke and Abbey from the under 15s.
Best and fairest: 3 pts MaKye, 2 pts Piper, 1 pt Chloe.
U17 Metro. No report. Pictures courtesy Rory Staples.
Sutho U15A Thorny Devils 1 Uni NSW 0
Aside from the cool temperature at Daceyville on Friday night, the conditions were perfect for a fantastic hockey game.
We had some outstanding efforts from everyone on the team, which resulted in a 1-0 win over UNSW.
Sarah made some great tackles, and Lachlan E and Byron made some terrific plays as well.
Thank you to Mitch and Darcey (U13Bs) for stepping in and playing fantastic games when we were short on players. A special mention goes to Mitch who scored an amazing 3rd quarter goal.
Best and Fairest: Sarah 3, Mandy 2, Hayden 1. Goal: Mitch.
Sutho U13A Geckos 4 Glebe 1 Pictures: Rory Staples
The team was off to Kyeemagh for a top-of-the-table clash against Glebe, hungry to prove that their result last time was a one-off. With no subs available it was going to take everything Sutho had, but they were up for the challenge.
Glebe cranked up the intensity right from the start, putting pressure on our defence who did an excellent job against the early advances.
Unfortunately, Glebe capitalised on a short corner to get an early lead. Unfazed by this, our Geckos matched the intensity to start controlling the pace of the game, holding off any further attacks in the first quarter and even piercing the Glebe defence to breakaway and narrowly miss out on evening the score.
Our Geckos had found their rhythm for the 2nd quarter, with sensational goals by Nick and Lauren to put them in the lead. With a strong midfield and defensive line squashing any Glebe opportunities, Sutho had asserted their dominance.
The 3rd quarter started much like the 2nd, with Sutho on the attack. Cameron was unlucky not to score with a ripper shot but was denied by Glebe's goalie.
The mounting pressure proved too much for Glebe's defence eventually, with great awareness, passing and field position leading to another two goals from Lauren and Rowan.
With a commanding 4-1 lead (despite the scoreboard doing its best to deceive) Sutho continued to perform in the 4th quarter.
The lack of subs was starting to take its toll as Glebe attempted to poke holes in the Sutho defence, but Jack W was having none of it, robbing them of opportunities with a solid defensive effort. Anything that did get through wasn't going to get far as it was quickly shut down by Zara.
By the time the final siren sounded there was nothing left in the Geckos' tank as the team had put in everything they had.
A great game with the whole team putting into action everything they have learned to outplay Glebe. A very well-deserved win: Well done, Geckos!
Best and fairest: 3 Rowan, 2 Jack W, 1 Cameron.
Sutho U13B Thorny Devils v UNSW Humpbacks. No report
Sutho U13B Blue Tongues v Cronulla RSL. No match report
 Sutho U11 Geckos 2 Glebe Wasps 0
Sutherland Geckos travelled away again this weekend to Kyeemagh for a game against Glebe Wasps, Geckos were sitting second on the table with a much-needed win to move to the top of the table.
Sutherland started strongly, dominating the midfield through some great play from Michael Chapman, well supported by Harrison Leach on the left midfield and Luke Palmer on the right.
This constant pressure was rewarded with a goal to Liam Southall – his first for the season. He happened to be in the right place at the right time and slotted it away easily from the spot.
Special mention must go to the fullbacks, Archie Erickson and Levi Cooper, who were instrumental in getting our team up the field. We struggled early, but with these two at the back, it got easier in the second half to get the yards up the field.
Sutherland was up 1-0 at halftime and mounting more pressure and field position on the opposition.
The second half started much like the first, with Sutherland pushing a high press and putting Glebe under the pump. Other than a few short corners conceded by Sutherland, Glebe was defended well in the circle.
Sutherland just about iced the game with the next goal to Michael Chapman, a reward for a dominant game in the mids.
Cooper Franks in goal was solid and did some good saves and clearances, Harry Gunner was ever reliable at the back as a sweeper and Sasha was heavily involved in the second half.
This was a great team effort with a depleted team with a few key players out. Sutherland's players definitely stepped up and showed a tonne of determination to get the win.
Best and fairest: Harrison Leach 3pts, Liam Southall 2, Cooper Franks 1. Goals: Michael Chapman 1, Liam Southall 1.