After a long delay because of COVID and then complications because of work and family commitments, at least some of Sutho's very first men's Sydney Hockey 1st grade premiership team got back together at Tradies Hockey Park on Saturday.
In our picture, from left, are one of the team managers, Bill Melchert, Grant Hollyman, Steve Cohen, Craig Turner, Mick Millar, David Bourke, Brett Shrume and coach Greg Corben. Another team member, Andrew Melchert, was there earlier in the day.
Check out the special commemorative cabinet built by Bill Melchert next time you are in the clubhouse. It's on the right of the main trophy case near the sound system.
Another big moment for the weekend was Sutho club legend Gus Demetriou turning in his 600th match for Sutho – only the third club player to hit the milestone.
Fittingly, he played his 6th-grade game to reach the magic number alongside his great mate Mark "Brookie" Brookfield, who hit 600 recently.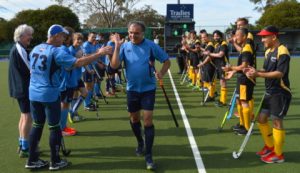 Gus was accorded an honour guard of his Sutho teammates and UNSW opponents as he ran onto the field before the start of the game.
And, watching on, was the holder of the record number of games for Sutho, John Simpson. Simmo briefly (again) mumbled something about making a comeback, but he's too heavily into marathon running these days.
So Simmo would now be feeling genuinely nervous about Gus and Brookie passing his 639 club record.
Both Gus and Brookie are actually well beyond Simmo's tally. Both also play for Sutho's Master's teams each week – but this record is for Sydney Hockey grade games – a different comp.
Meanwhile, second grade's Iain McClung had his 100th game with Sutho on Saturday afternoon.
And, thank you, as ever to our contributing Match Reporters and our photographers, this week Matt Morris and Rory Staples, who were joined by the returning Warren Sharp.
Match reports
Men
Sutho 1st grade 5 Northern Districts 0
We started slowly and looked like we were going to be in trouble at the end of the first quarter – and we were still under threat at halftime when we were leading only 1–0.  This Northern Districts team was quite different from the one we played in the 1st round with the inclusion of a number of very skilful and fast imports.
However, we suddenly switched into gear and played some very entertaining hockey in the second half and finishing a clear winner at 5 – 0.  With the Back to Sutho Day Old Boys present and cheering, it pushed the young ones in our team to greater heights to attain the result.
Hopefully, we are back to where we started the season and get back into gear for our next match against UNSW next week.  Our Sutho winner's song in the dressing shed was something to remember as the Old Boys from the '91 premiership and other more recent retirees joined the team. Grant Hollyman was cheerleader.
Hopefully, some of the culture of our previous great members and their club feeling rubbed off on the young brigade.
Best and fairest: Riley Lloyd 3 Christian Halyard 2 Angus Callinan 1. Goals: Christian Halyard 2 Michael Sharkey Riley Lloyd 1 Matthew Bennett 1.
– Peter Krepp, Manager
Sutho 2nd grade 0 Northern Districts 0
It was Back to Sutho Day so we hoped to secure another win against Northern Districts in front of a larger crowd than usual. We started well with a few short corners in the first quarter, but couldn't convert these opportunities.
As the game progressed, we created more chances in the 25 and circle but struggled to reflect our efforts on the scoreboard.
Northern Districts similarly struggled to convert their chances and breakaways.
With a 0-0 draw in sight, both sides became more desperate in the last quarter. Sutho secured a short corner at the end of the game, but with the deflection just missing the goal the result remained a 0-0 draw.
Sutho 3rd grade 7 Northern Districts 2
Sutho 4th grade 1  v UTS 8
Sutho 5th grade 3 UTS 2
Within the first two minutes, Sutho got in a quick goal from Aaron Krepp.
Then followed five minutes of back and forth pure athleticism from both sides, when out of nowhere Aaron ran the length of the field and through seven defenders to put Sutho up by 2 with an immaculate finish.
The second quarter was very intense, with Sutho trying to hold their lead and UTS trying the comeback – but no goals were scored.
The deadlock was broken in the 3rd quarter when yet again Aaron Krepp scored a one-of-a-kind flick to put Sutho up 3-0. UTS quickly scored two in three minutes at the end of the quarter.
Both teams were fighting for dear life in the final quarter, with Sutho trying to stay in front and UTS trying to equalise.
With only two minutes to go, Sutho gave away two short corners but both were saved brilliantly by our Sutho keeper, keeping the final score to 3-2 Sutho's way.
Sutho 6th grade 3 UNSW  6
Playing the top-of-the-table UNSW we were off to a competitive start and were rewarded with a 2 0 lead at quarter time thanks to a well-taken penalty corner from Kai Morris and an equally well-taken penalty stroke conversion by Lachie Cartwright.
The second quarter was played in a similar manner with the only goal coming from UNSW for a 2-1 halftime leader.
We lost our way in Q3 and let in four unanswered goals, mainly due to losing our shape in defence by not being compact enough. This made us vulnerable to counterattacks that led to goals or penalty corners that were followed up with goals.
We went into the final quarter down 5 -2.
Our shortcomings in Q3 were addressed in the last quarter and again we found ourselves very competitive and scored the third goal through Lachie Cartwright after UNSW had scored one earlier.
Given that we had several key players out it was one of our better performances save for the inexplicable third-quarter fadeout.
Best and fairest: Lachie Cartwright 3, Brooky 2, Gus 1. Goals: Lachie Cartwright 2 Kai Morris 1.
Women
Sutho Wildcats 1  RSL Anacondas 1
Wildcats had all players present for the first time this season! It was a fast game and we had most of the attacking play in the first half.
The forwards were passing well and keeping pressure on the goal circle.
After a few missed opportunities Kathy H got one in from a big cross from Lisa, controlling the ball well in front of the goalie and pushing it hard into the back of the net. Up in 1 nil at halftime.
In the second half, RSL came out firing and the Wildcats spent most of the half defending.
Our defence was solid and as usual, featuring a few great saves from our fullbacks in front of the goals.  RSL finally managed to dribble one over the line.
Best and Fairest 3- Kirsty Margetson,  2- Emily Cummins 1- Lois Scott. Goal: Kathy H.
Sutho Women 2 (ML 6) v UNSW loss 2:1
Although this was our first loss for the season, there was so much to be positive about concerning the game. We played well as a team, executed our game plan, improved on our positive communication and actually enjoyed having some tough competition.
Sutho women had turned up to play.
From the first whistle, we could all tell that the game was going to be a battle. Sutho dug in early and saved some penalty corners. Kudos to Audrey on the left post, nothing was getting past her.
Using our customary accurate short, sharp passing out wide and down the line we were able to make several attacking circle penetrations and get some good outcomes.
JJ, using her whippet-like speed, carried the ball down into the right pocket and across the baseline. As an attacking unit, we are very close to being able to slot the ball into the goal. I'm sure Coach Kristen has some drills ready for training.
On the turn-overs, Jess marshalled our front five into an imposing press formation giving very few passing options to the Whalies.
Chloe had beautiful positioning as a striker and often found space with clever leads. Young Amy showed courage well beyond her years with a high work rate, especially on the slide and kept sprinting despite an injury.
Our defensive unit really stepped up against some fast, skilful UNSW strikers. They showed patience in tackling, utilised channelling and executed some fantastic intercepts.
Elissa not only marked well but added the overlap attack to her game giving us even more options to score. Sarah J in her first year of hockey showed she has tactical thinking, can-do attitude and adaptability.
Bessie, calm as ever, was first to the ball, a wall in defence and gave some brilliant passes down the left wing. We had no trouble exiting defence with a sensible let-out set-up and Georgia using pin-point accurate passes to find the mobile midfield.
Keeper Liv kept the defence marking tight and made some great sliding and diving saves. She probably had more touches of the ball this game than all the previous games combined.
Whalies scored first off some very scrappy play within the D. The umpire chose to keep playing despite several infringements by both sides. Sutho then chose to respond by earning a penalty corner almost immediately and Em, our goal scorer extraordinaire and midfield Eveready bunny slotted a cracker of a straight shot between the goalie's pads.
The second goal by UNSW was a very powerful tomahawk slotted into the top of the goal.
Sutho 2 kept their spirits up and fought hard until the final whistle. Despite being behind, the team still played with composure and purpose. The midfield maintained an extremely high work rate and found space across the whole width of the field.
With Em and Sofie in the middle, we were able to use midfield transfers and continue to penetrate the circle right up until the final whistle.
Sofie was everywhere the whole game. She picked up so many balls in the press, turned defence into attack with a single well-timed pass and was always back in defence to mark tight.
Piper was making leads and re-leads all game – making space and attacking forward. Audrey used width in attack to have several good shots on goal. We definitely had Uni panicked in the final few minutes.
I know I am meant to be disappointed that we didn't win but the way Sutho 2 played, our improvement, communication and effort all made me a happy, happy dog!
Looking forward to our next game.  – Co-captain JoJo
Best and fairest: Em 3  Jo 2 Sofie 1. Goal: Em.
 Sutho 3 v Easts 1-0
The stars were aligned at Sutho Tradies Hockey Park on Sunday!
It was a culmination of the entire team's hard work, determination, sportsmanship and never-give-up attitude that led us to our 1-0 win over Easts.
The first half saw some great passing and leads between the team, with Hillary and Lindsay having some great runs and attacks on goal. They also made an excellent tactical run together later in the game when Easts were late to take the field after halftime.
Ebony received some great passes and showed great strength on the ball up front. It was 0-0 at halftime.
The third quarter had excellent defence by both Cath and Andrea. It's always a pleasure to watch one of our backs make a full-field run up to our attacking circle!
This quarter also saw our magic short corner converted to goal, skilfully executed by Theresa who also had a strong game in the midfield.
In the final quarter, Tamara's consistently strong effort and stick skills combined with Jade's speed and strength on the ball led to a very strong right-side attack and kept the ball in our half for much of the match.
Janet in goals kept Easts honest during the entire match and we walked away with a very deserved 1-0 win.
Go team!
Juniors
Metro
Sutho U17  2 Glebe 2
Sutho U15 Metro 5 Glebe 0
After a few weeks off, we were keen to get back onto the field and have a run.
We had a great game with everyone having fun. There were numerous intercepts, channelling, positional play, passing, tackling, injecting, goal scoring – and some great overheads being thrown as well.
After a promise from Wade (I think we've heard this before), if we were up a number of goals we could swap positions in the last quarter and have some fun.
We had defenders in the centre striker position, attackers in the defence and we all had a great time. There might be a few positional changes in the near future maybe.
We say goodbye to Jonty for the rest of the season as he embarks in his next adventure with school. We wish him well and thank him for being a valuable player of our team. You will be missed.
Best & Fairest: 3 – Jonty Austin 2 – Oisin Perry 1 – Rhys Bollard. Goals: Jonty 2 Louis 2 and Julian 1.
SEHA
Sutho U17 Geckos 7 Bankstown 0
U17 Sutho Thorny Devils 1 Sutho Blue Tongues 3
U15 Sutho Thorny Devils 3  Sharks
U15 Sutho Blue Tongues 9 Glebe 0
U13A Sutho Geckos 8 Moorebank 0
U13B Sutho Thorny Devils 4 Sutho Blue Tongues 0
Another fantastic Sutho Battle of the Lizards Trophy match, with the TDs taking the win this time.
The presentation to the teams was done by first-grader Buzz Halyard. It must have been a bit of an I inspiration for Buzz, as he scored two goals in Sutho's win over Northern Districts in the afternoon.
U11A Sutho Geckos  5 Uni NSW Pilots 1