An almost entirely Sutherland Masters team has won the State over 65s Championship for the second successive year.
It was unbeaten over the weekend matches, played at Moorebank, with an impressive 13 goals for and 1 against over six games.
The Sydney South Association Team for the NSW titles was drawn from Sutho's three Masters teams. The only player from outside them was SSHA President Rick McConnell.
The team list was David Campbell (c), Glenn Crowhurst, Noel French, Graeme Hall, Clive Harrison, Peter Hayes, Mark Hillier, Greg Kay, Rick McConnell, Peter Quinell, Robert Redding, John Ross, Don Trewin, Tony Weiss and Des Wong.
SSHA/Sutherland team players chosen in 2022 State Masters teams were:
Over 70s #1: Ray Northwood, Rick McConnell, Noel French.
Over 65s #1: David Campbell, Clive Harrison, Don Trewin, Robert Redding, John Ross, Graham Hall.
#2: Glenn Crowhurst, Tony Weiss, John Hol, Peter Hayes.
Over 55s #2: Sean Glassford.Over 50s #1: Dave Richardson.
 Over 50s #3: Raj Mavji.
Over 45s #2: Matt Brown and Brad Bollard. (Special, heartiest congratulations from everyone at Sutho, Brad. You are a genuine champion.)
Rematch
Glenn Crowhurst reports that the final of the Over 65s was a rematch of game one of the championships against Southern Highlands. The 3-1 win was a gutsy effort against some very strong opposition.
"Someone joked at the medal presentation that Southern Highlands was more like 'Southern Hemisphere,' as they fielded a number of Victorian rep players as well as homegrown talent.
"The team played well all weekend and, as is often the case at Masters Championships, spent lots of time catching up with "old teammates" as well as forming new friendships.
"The winner's plaque will soon be on display in the trophy cabinet at Sutho.
Sutho's Masters are looking to continue their success at the State 60s and our mid-week endeavours. There is still plenty of hockey to play in this 2022 season," Crowy said.
Congratulations to everyone.
Ruth helping UNICEF
For one of Sutho's Women's Convenors, Ruth Sannes, it was a big leap back from the more balmy Larapinta Trail in the Northern Territory to a chilly, wintry, 0 degrees Tamworth.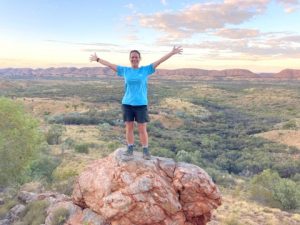 Ruth was one of a group of generous people making the 7-day trek, which begins at the Alice Springs Telegraph Station, and runs over 230km along the spine of the West MacDonnell Ranges in the heart of Central Australia. The event raises money for the United Nations Children Fund, UNICEF.
How will it help?
Just a couple of examples: $85 can provide 240 vaccines to protect children against preventable diseases like polio, tetanus, measles and tuberculosis, while $220 can provide 40,000 water purification tablets.
Many Sutho people have already supported Ruth's effort to assist UNICEF Australia's work, but donations may still be made here
Championship time
Almost back at Sutho, many Sutho juniors have been on the move for State and Primary Schools championships.
There was strong representation by Sutho in girls and boys teams at the PSSA Carnival in Tamworth.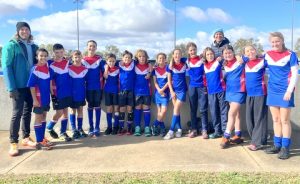 The girls' PSSA team was coached by Sutho's Janet Matthews until she became ill and had to return to Sydney. So, guess who stepped in – our intrepid trekker, Ruthie Sannes!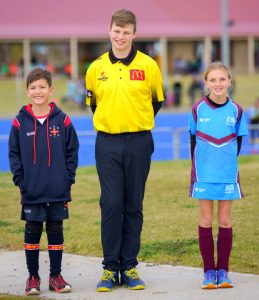 The boys were coached by Sutho's Patrick Ward. His Mum and Dad, Rae and Bernie (a former Sutho club Secretary) were there to support him.
The Sutho contingent was also able to catch up with former first-grade premiership winner  Scott Olsson, his wife Jenny and family.
Scoot is still recovering from serious surgery last year, but we hope he will be able to attend our Back to Sutho Day on Saturday, 25 June.
And we caught up with Warren Hollyman, who came across from Sawtell. Grant reckoned he was staying at the local version of the Bates Motel.
Before Tamworth on the 2002 hockey carnival circuit, many of our girls represented Sydney South in the U15s at Parkes. Cool there, too.
URGENT APPEAL – PLAYERS NEEDED
Our Under 17s Geckos need players for their next game,  at  7 pm on Friday, 17 June, at Marang.
If you are an Under 15 and are able to help the Geckos field a full team on the night, please contact Clare on 0410 410 316.
Another great success -Sutho's U11 Associations Carnival
For many years Sutho's Under 11 associations carnival has been the first taste of rep hockey for many young players – and it was yet another great success last Sunday.
Even the weather turned up for the good times. After a total tournament of 36 games,  Illawarra defeated North West in Division 1 final and Goulburn defeated Sydney South in the Div 2 final. There were very exciting semis and finals.
And, of course, we can't forget the Sutho Carnival Signature Conga Line and YMCA demos during the field watering breaks!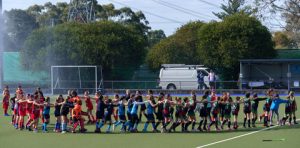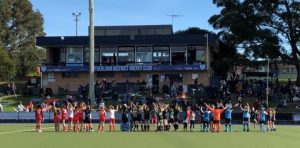 As always, it was a huge Sutho club effort to make the day such a success.
Our Junior Convenor, David Richardson, especially called out:
"Some special thanks must go to a few people that went above and beyond for the Carnival:
Peter and Trish Krepp and John Cowan for their organising of the canteen, bbq and other facilities which requires weeks of preparation;
Kevin and Jack Margetson for coordinating the umpiring, the timing for the games, the collation of all the game results, PA/announcements etc; and
The Choy family – Jason, Reka, Ethan and Lily. They were at the Club on Friday, Saturday and all day Sunday doing countless chores preparing the BBQs, facilities, grounds, working on the tongs etc etc etc – all to ensure we could all be proud of the ground and facilities on the day.
"Thanks again to everyone involved in organising the Carnival and helping out on the day – it was another successful Carnival that enhances the reputation of Sutherland Hockey Club," Richo said.
Trivia Night
And don't forget… Register now for our big Trivia Night at our clubhouse.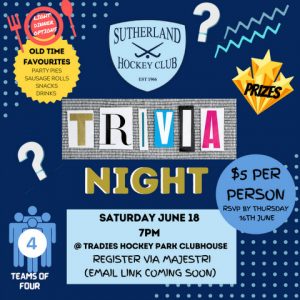 Click here to register. Don't miss out!
Match reports
Special thanks to Matt Morris for his great effort in taking terrific action pictures of the 4th, 5th AND 6th grades at Sutho last weekend.
Men
Sutho 1st grade  2 Sydney Uni 1
This was another escape to gain three very important points.  It was another scrappy performance that nearly saw us go down to another lower-ranked team in the competition.
With the return of Alex Shaw, the control at the back was much more evident.
we still managed to put a strong last quarter together to hold on for a win.  Everyone needs to find their mojo again before we play Ryde in our next match at home. Alex Shaw deserves mention for his strong influence on the game.
We will no doubt see what the boys can bring home against Ryde who will no longer take us lightly.
Best and fairest: Alex Shaw 3 Christian Halyard 2 Matt Bennett 1. Goals: Buzz Halyard and Harry Roberts.
Sutho 2nd grade. No report
Sutho 3rd grade 1 Sydney Uni 2
We started really well. Early on we linked together and got a short corner in the first 5 minutes and scored off it (using a variation we have never trained before).
After that we continued to play well through the first half, having some good attacking opportunities and keeping strong in defence.
As the 2nd half went on we didn't keep up, as Sydney Uni kept pushing. Turnovers coming out of defence and in the midfield hurt us and put us on the back foot and unable to capitalise on the chances we had.
Best and fairest points 3 Lachlan O'Leary 2 Justin Hunting 1 David Hindmarsh.
Sutho 4th grade 2 Moorebank 1
Expectations were high in the sheds at home this week, as what seemed like half our team backed up from the previous SL2 game. Will Gair was still looking for his shoes from last week and was missing in action.
Our field arrangement was back to the future with the 'old' style of halves and inners this week, just to keep our defence running silly with three forwards against two backs. Nevertheless, we held our structure well and had plenty of room to move in the attack.
After a shaky defensive start saw a goal in the back of our net, Tom rewarded Stevo with a push straight into his back after he had just saved another goal.
A great short corner flick from Jack hit the keeper's stick dead centre in the top left corner of the goal. A fantastic pass-around goal was a great equaliser for us going into halftime (let us not discuss the short corner cut short before halftime).
The second half saw us continue to scramble well and make our runs look effortless with some great passing up the wings. 2-1 up moving into the final 5 minutes saw absolute desperation from us trying to keep Moorebank out of it.
Some heroic all-in defence and great tackles in our defensive circle almost sealed it for us, but a last-minute short corner called from the other end threw us back into tension.
Richo put his body on the line and blocked the short corner shot within the 5m to secure our very first win of the season. Congratulations to all, it has been a long time coming after many close games.
We can't bring you the landmark match's B&F points and goals – blame the excitement of our reporter.
 Sutho 5th grade 1 Moorebank 3
There is the saying "sometimes you are the hammer and sometimes you are the nail!"  Saturday very much felt like the nail for SL2.
Starting with only nine players on the field and only finally gaining our 11th player at the start of the second quarter, we were much surprised to be even at 1-all.
Brock, after his hat trick in the game before, came out with a thirst for more goals and nabbed a nice deflection to take his total for the day to 4. And it was only mid-way through the first quarter!
With four players backing up from the prior SL5 game, we knew we would need to hang tough.  Stu was doing a great job keeping for two games and our young forwards, Jack and Jacob (also backing up), and Brock,  did an amazing job to still be moving and taking our leads. Adam Howard also played twice and helped strengthen our back line!
Unfortunately, we leaked a second goal, and even though we pressed hard in the final quarter to gain that elusive equalizer, after a failed attacking PC with 90 sec to go, we conceded a PC down the other end, and Moorebank converted after the siren to make the final score 3-1 against a valiant Sutho team.
For some, the end of the game meant getting on to preparing the field for the U11 Herb Fibbins carnival the next day, while the remainder stayed and assisted SL1 in the following game.
Best and fairest: 3 pts Aaron Cooper, 2 Will Newton 1  Kevin Margetson.
Sutho 6th grade 4 Briars 0 at Cintra
Whilst a young bloke was to write this report…it is an old bloke who has crafted it.
From the perspective of an old bloke, 6th grade is a development grade for our young men. And today was a brilliant example of this.
Congratulations to Jonty Austin and Isaiah Vassallo on their senior debuts. Both made significant and memorable contributions. Congrats to Lachie Hoy on his first senior Men's goal.
Kai Morris's goals are the result of his hard work to develop his game and we can all see how much he has improved even in the 10 rounds of this season.
It is so great to watch the maturation of our young men.
It was brilliant to welcome back Jimmy Northwood, whose experience was a great addition to the team. This was alongside Sean and his energy and skills, who dominated the midfield.
Ultimately, we dominated the game, but still fought hard to keep a clean sheet. This was only the second time that Briars hadn't scored a goal in a game this season – a result of a massive shift from our defensive line and a couple of brilliant saves by Isaiah in goals.
We created a lot of opportunities, with Pikey, Scotty C and other senior guys leading the way and working positively with the young blokes… and may have converted a few of these opportunities if there was some water on the field!
A week off is perfectly timed for a few of us carrying niggles and injuries. We continue to hold a position in the top 4, and are starting to build some momentum.
B&F – 3 points: Kai Morris, 2 points: Jonty Austin, 1 point: Lachlan Hoy. Goals: Kai Morris 2 Lachlan Hoy 1 Jimmy Northwood 1.
Sutho 7th grade 3 Moorebank 3. A.K.A The Stallion's Hat Trick
Heading into a big game, the stage was set.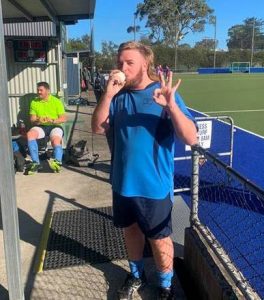 We were a few men down. Our fearless leader, Steve, was struck down with Kiwi COVID and confined to sheepish isolation. Luke is out with shoulder issues, most likely due to too many bicep curls/bench presses.
Like a Mother Hen defending her chicks, Stu was once again incredible in goals, but due to some unlucky turnovers (and stroke from multiple back-sticks), Moorebank was leading 3-0 at halftime.
Using his divine wisdom, the returning Matt Stevens was able to lead a moving resurgence at half-time, inspiring Brock "The Stallion" Singleton to step up.
Having to defend his honour before his U17 protégés, Brock led the charge, scoring all 3 of Sutho's goals to tie the game.
Some say his iconic celebration of pointing at the (empty) grandstand while running at full speed, is the fastest anyone has seen him move.
With the mullet flowing in the wind like a palomino's tail*, some say a statue should be built. Others say we will never hear the end of it.
Shout-outs have to be made to young Samir and Jacob who were seriously impressive in their first men's appearance. Holding down the centre-mid positions is no mean feat.
Jack was a rock star up the front and laid down a cracking shot on goal (for Brock to finish off), in one of the short corners.
And Matt Stevens provided concrete defence on his return from injury and his wise guidance on the field was very responsible for our structure and tight defensive positioning.
Best and fairest: 3 points  Stu 2 Brock 1. Harrison. Goals: Brock 3.
Editor: Is The Stallion the first Sutho player sporting a mullet to score a hat-trick? Records searches back to the era of Billy Rae Cyrus are proceeding. YouTube him if you are too young. No responsibility.
*And, because we're always here to help – and it relates to The Stallion's flowing mullet and might be useful for the forthcoming Trivia Night –  research was been done into the flowing hairy horsey-type thing.
Thesaurus.com says a horse's tail is made up of two bits: " The tail of the horse and other equines consists of two parts, the dock and the skirt. The dock consists of the muscles and skin covering the coccygeal vertebrae. The term "skirt" refers to the long hairs that fall below the dock."
Women
Sutho 1 (ML4) 3 Macquarie Uni 1
We went to Homebush for the top of the ladder clash with Macquarie Uni.
Our game plan was simple: play with tempo, play a passing game and bring the intensity.
The team did a great job executing this, as well as implementing things we've been practising at training.
The first goal was a beautiful run from Jacqui T on the baseline finished by Alex who did great getting into an attacking position.
The second goal was a Ruth Special slapping it from the left on top of the D during a short corner. Yas sealed the deal with a cracker shot from the top of the circle, also on short corner.
We've had a solid first half of the season. After a little break next weekend, we're ready for part 2!
Points: Jacqui T 3 points, Iris 2 Fish 1. Goals: Alex, Ruth, Yas.
 Sutho 2 (ML 6) 3 Macquarie University 1
It was a late Sunday afternoon game at Olympic Park for our ML6 ladies. And with five players out, we knew it was going to be a tough game against Macquarie Uni.
Lots of effort was needed throughout all four quarters given the intensity and pressure from Macquarie.
Locking away two goals in the first half by Em and Alex gave us momentum for the rest of the game.
Late in the fourth quarter, Macquarie got their first goal putting the score at 2-1, but Sutho kept fighting and got the third and last goal secured by Sofie.
Overall, a great team effort by all of our ML6 ladies today!
Best and fairest: 3 Bethany Domrow 2 Sofie Cherrie 1 Piper Murphy.
Juniors
Sutho U17 Metro 3 Northern Districts 0
On a cold night at Pennant Hills, the team started with many cobwebs due to the freezing weather and the fact that we hadn't played together for around a month.
However, we capitalised on the major advantages we had in possession and field position at the end of the 1st quarter with a shot from Jonty which Noah deflected in.
We came into the 2nd quarter with a different intent, connecting on passes and creating multiple opportunities. A deflection from Sienna off a great ball from Will saw the result turn to 2-0 just before the end of the first half.
Once again we pummelled the Northern Districts keeper with shots and saw a clinical finish from Noah turn the score 3-0.
The last quarter was played conservatively by the team as many were tired due to us being short numbers and fatigued from various other tournaments over the past few weeks resulting in a dominant 3-0 win.
Thank you to Jonty from the U15s who filled in for us and played a great game.
Best and fairest points: Sienna 3, Sohan 2, Lachlan 1. Goals: Noah 2, Sienna 1.
Sutho U15 Metro  0 Northern Districts 1
It was a hard and fast-paced game against Northern Districts played in the cold and drizzle at Pennant Hills, with passion from both teams wanting the win.
It looked like we were going to hold ND to a 0 – 0 draw but in the last 2 1/2 minutes to go before the final whistle, ND snuck a goal in. We continued to fight hard for the ball and try to even out the score again but as the final whistle blew, we ended up with a small loss of 0 – 1
Everyone had a great game, but the outstanding player of the night was Isaiah. Every ball that came close to him was hit, pushed, kicked, trapped and sent on its merry way.
We had some great attempts at goals and short corners but unfortunately, the post kept getting in the way and we were unable to convert.
We made spectacular passes up the sideline from the defence through to the attacks and made good use of the whole field, we talked to each other and moved about in our defensive area, we went in for tackles, marked our players and threw a few overheads too.
Best and Fairest: 3 Isaiah Vassallo  2 Justin Murray 1  Kai Fisher.
 Sutho U13A Geckos 4 Bankstown 3
The Geckos had a decisive win against this team in an earlier round, but today it was a different story.
A much improved Bankstown team put up an excellent fight which kept the Geckos on their toes.
On a cold day, it was a tense, unpredictable game with Bankstown levelling the score on three occasions.
The Geckos finally clinched the win in the third quarter. Final score Geckos 4, Bankstown 3.
Best and fairest points: 3 Ethan,  2 Jack W,  1 Nic. Goals: Ethan 2, Rowan 1, Rhydian 1
 Sutho 11A Geckos 9 Glebe Redbacks 2
After last week's 0-0 game, the team at this week's training session focused on attacking play to create goal opportunities and have players in front of the goal to finish from close range.
In the first half, we had wide distribution from the back, quick passes down the line followed by crosses into the centre to players in position to finish in front of goal.  The strong attacking raids led to a strong 4-0 halftime score.
The team also converted three short corner variations into the side corners of the goal with Luke executing his trapping and layoffs to teammates at speed.
All players worked hard throughout the game with no subs.  Our defence, led by Archie and Harrison, made flat-stick tackles and quickly passed the ball out wide to counterattack. Liam had a great game in goals making some excellent saves.
Special mention to Michael for being in a position in front of goals to receive some good passes from teammates and score six goals!
Best and fairest: 3 points Michael Chapman 2 Archie Erickson 1 Liam Southall.