Welcome back, Mitch!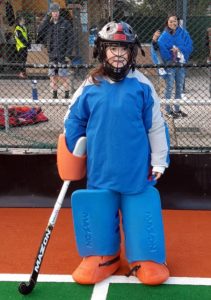 Four games of juniors – including a Sutho Battle of the Lizards Trophy match-up between our U15B sides – then our first, second and third grade men's teams:
It all made a hockey tragic's day complete to see everyone back in action at Sutho on Saturday after months of game shutdown because of COVID-19.
Our big weekend at home got underway on Friday night with Metro games away, and when 40 youngsters turned up for our first Minkey evening of 2020. It's free this year, so if you've got young 'uns who need an extra energy burn-off, Sutho's here to help…
At least our juniors got a good morning for play on Saturday, but the afternoon got progressively darker – and as for Saturday night and Sunday, even ducks would have felt hard done by.
Anyway, on to the weekend match reports sent in. Thank you to our managers and other correspondents.
Sydney Women's Hockey League
Sutho 2 University of Sydney 1
A very soggy game saw Sutho's' SWHL team take their second win against USYD on the "Sutho blue" Sydney Olympic pitch. We swam upstream to take the match win 2-1, in what was a very slow event.
We welcomed Jill and Jess, who were both assets to the team. Jill and Ruth scored our goals, while Jo defended as our Australian-quality goalkeeper.
As a team, we are still finding our mojo in attack and our positions in defence, but we are all having fun and learning to work together to find "width and wepth" on the field.
Best and fairest: Ashton 3, Han 2, Camille 1. Goals: Jill and Ruth.
Men
1st grade: Sutho 12 Sydney South East 0
Before the match, we had a presentation of shirts from retired legend players to three new players to the squad.  Matt Phillips and Jono Scott presented shirts with their former numbers to Nick Hill  5 and Riley Nilan  6, while James Mulcair presented his 7  to Riley Lloyd.
The presentations emphasised to the new players the high expectations of our 1st-grade squad.  We thank Matt Phillips & Jono Scott for their unending support, efforts and the great years and times they have given us.
The match against the new Sydney South East did not rise to great heights but being the first game for us, it was a good hit out. There were a few basic errors during the game. This was to be expected having been away from play for so long.
Matt Bennett scored 6 goals in a great start to defend his position of highest goal scorer in the Sydney Premier League 1 competition.
The return of Mitch Wray to his best after an injury-plagued 2019 season very pleasing. The young brigade of Riley Nilan, Riley Lloyd and Blake (Bill) Hernandez all played well in their inaugural 1st-grade matches.
Next week we play at home again at 3.30 pm v Northern Districts. It should allow more opportunity to smooth out more wrinkles and prepare for a big test the following week against Norwest Strikers-Baulkham Hills.
Best and fairest: Brady Anderson 3 Nick Hill 2 Mitch Wray 1. Goals:  Christian (Buzz) Halyard 1, Matt Johnson 1, Scott Govers 2, Brady Anderson 2, Matt Bennett 6.
2nd grade: Sutho 5 Sydney South East 1
After months of training and preparation, our team finally took the field and embarked on what we hope will be a premiership 2020 season. After a rather scrappy, erratic affair against the newly formed Sydney South East team, we took the three points, winning the game 5-1.
From this victory, we reflect on one moment: with the scoreline still rather tight, we aimed to tilt the balance of the game in our favour. We sought out one man for leadership, we looked to our team captain, and he was equal to the task.
From a short corner, our captain hustled his way around the defence with blistering pace and incredible movement that had never seen before. Then he lunged desperately to deflect the ball goalwards off a slap across the circle.
Our opponent's keeper attempted to parry the ball clear, with no success. The ball rocketed for goal, their defenders began scrambling but their attempts to stop this miraculous deflection were futile. It was almost, almost, a goal for the ages.
Until, out of nowhere, one SNAKE!! slithered his way behind the defence and heinously tapped the ball over a mere 10 centimetres over the line into the goal This robbed the goal and virtually erased all our captain's fantastic work.
We had scored, and the snake celebrated his goal, giving us the lead, but needless to stay, the act of this reptile has come under scrutiny, with calls for him to be dropped or benched for his actions. I guess we will see. (And just to reinforce that Sutho match reports can be genuinely educational – the scientific name for a male snake is – a nag!).
Best and fairest: Wade Tonna 3, Michael Sharkey 2, Jake Sheppard 1.
3rd grade: Sutho 7 Sydney South East 0
With a forecast of torrential rain on the horizon, 3rd grade took to the pitch for a steamy 12:30 kickoff. Being the first PL game of the year anticipation was high, and the pressure on for us to start the season strongly against a newly formed and unknown Sydney South East.
The first quarter was a tight affair with both sides finding their feet and grasping for their sticks with their freshly sanitised hands and 0-0. The second quarter saw Sutho play some silky hockey and put away 4 goals to leave the South Easterners reeling at the speed and skill on display.
During the second half Sutho continued to dominate possession and field position. We put away another 3 goals and more importantly maintained the 0 in the against-column.
A notable mention must be made of Mitch 'Duck' Scott who managed to make it to his regular appointment at Sutherland Hospital emergency department to reattach the top of his finger after last week being there for his second confirmed broken nose for the year.
Best and fairest: Isaac Olsen 3, Ollie Turner, Matt Vine and Lachie Rowlings 1 each. The goals were shared amongst the team: Brendan Sharp 2, Isaac Olsen 1, Tim Mall 1, Zak Keelan 1, Ryan Malone 1 and Matt Vine 1 on his Sutho debut.
6th grade: Sutho 3 Bankstown 6
Finally, after so much waiting (and a false start last week) we got to play a real game. We started a little rusty, but Bankstown was rustier and we controlled the game well. We held possession, moved the ball, and topped it off with a nice goal.
That was as good as it got – we got complacent, our fitness dropped, Bankstown woke up, and the slickness of the pitch begun to play tricks on us. We hung in and scored right on half time – disallowed by the ref – until it was given back to us after the game (when it was too late).
The 2nd half was big on effort, but low on fitness and execution. We let the game slip away as Bankstown kept up the pressure and we kept leaking goals. All in all, there were some positives for us to take out of the game to build upon, and some negatives we can work on.
7th grade: Sutho 0 Briars 0. Mother Nature won
It was a soggy Sunday afternoon with 7th grade making their way north to the rain-drenched Cintra pitch to play Briars. Always wonderful warming up in drizzle! In summary, the game was called off in the second quarter due to heavy rain and a waterlogged pitch struggling to drain.
We knew there was something amiss though when the 'sanitiser' provided at the pitch entry gate performed suspiciously like well-aged liquid soap that had been stored under a stairwell for a number of years following an excess supply order. That wasn't apparent on the first inspection – but after a healthy hand lathering, players found their hands were caked in a slimy soap that just wouldn't rub in/evaporate no matter the amount of rubbing. Nothing like warming up in drizzle with slimy hands and a wet slippery hockey stick!
Anyway, the game eventually got underway following a minute's silence respecting one of the Briars' players family member passing.
It didn't seem to matter that the Sutho team only had 10 players to start, there were early forays towards the Briar's circle with Sutho controlling the ball. Unfortunately, the good build-up work throughout the first quarter didn't result in a goal.
With the rain getting heavier in the second quarter, and notwithstanding Sutho now fielding a full team, the Briars found their flippers and stepped up their play, challenging the Sutho goal a number of times.
Our defence stood firm though, particularly an amazing stroke save by Phil Rowling (the team's very experienced and accomplished goalkeeper) following what seemed a harsh umpiring decision. Notwithstanding this, Phil talked up a big game and proved he has what it takes as a 7th-grade goalkeeper: he later relayed to all his eagle eye focusing on the stroketaker's pre-stroke movements, ignoring the reverse reverse psychology employed by said stroketaker, and dived brilliantly to his right to ensure a save!
With further rain, the pitch becoming waterlogged and the umpires having had enough of umpiring in the downpour, they called a temporary halt during the second quarter with the scoreline 0-0. After further review of the radar, skies, pitch and no let-up in the rain looking likely, the match was abandoned. The game may need to be replayed due to insufficient minutes played – to be confirmed.
Although there was no official awarding of B&F points, it was agreed by many post-abandonment that the defensive efforts of Andrew Chang during the second quarter, in particular, deserved points. Changy played well throughout, including throwing himself into tackles when needed.
8th grade Sutherland 0 Monterey 2
We always knew this game is going to be tough and we started just as the darkness came in. Sutho started strongly but within the first 15 minutes were 2-0 down from two penalty strokes after wipeouts involving our goalkeeper and their centre forward.
After what seemed a disappointing start, we continue to play one of our best games for a long time, holding the table leaders from last year for the rest of the game.
We played robust and decisive hockey using space and the whole width of the field.
Sutho had several chances throughout the game, with at one stage six short corners in rapid succession and some good attempts from Adam Howard at the top of the circle. Scott had chances later in the game.
We very much enjoyed having two new players to our team, and both called Luke.
If we continue to play this well, we should have a great short season with only eight games left to play.
Best and fairest: Caleb Nieuwendyk 3, Dave Lucas 2, Mark Bayley 1.
Metro
U17: Sutho Geckos 0 St George Randwick 2
It must be said first up what a great game we played on Friday night.
I know we didn't come away with a win via goals and at times it wasn't the prettiest of games, but we did come away with a win of sorts.
Our defence was our win, as a coach, I was delighted with how we managed to hold onto our formation at times under real pressure.  We went into the last quarter of the game 0-0.
However, when our form did break, the only thing I was looking for was how well we could scramble in defence. You guys showed me that you are more than capable of doing that.
Though it was messy at times, we held out countless shots at goal. THAT'S a win in my books! We could've lost 5-6-7, but they only got 2.
Dominic Craig won MVP on the day; he got it right at the start in the first quarter in my opinion when he saved like 4-5 direct shots like a boss, then continued to activate beast mode throughout the game.
So well done to him and everyone else – it was a great team effort!
The job for the weekend was that everyone should spend a little time to focus on the things they did well in that game.
We will focus on what needs work at training.
Best and fairest points: Dominic 3, Ryan 2 and Darcy 1.
U15 Sutho 0 Mosman 0 Pictures Rory Staples
After a 4-month stand down and a one-week bye, the U15 Metro team finally got to play their first game for the 2020 season: only for it to be cancelled an hour before we played. For further confusion after all the players were told, the lights at Greenhills were miraculously fixed. So it was back on!
Our U15 Metro team struggled to find their feet during the first half, going up against a strong Mosman attack who had a win up their sleeve from the previous week.
Luckily Sutho's scramble in defence managed to keep Mosman's attack at bay, and as such the score remained nil-all at half time.
We came out firing in the second half, with quick breakaways forcing the Mosman defence to switch on. Unfortunately, Sutho couldn't convert any of their opportunities and the game ended – still at a 0-0 draw.
It was great to see the team finally out on the field, with a great effort put in by everyone.
Juniors
U17 Sutho Blue Tongues 1 Moorebank 1     Picture David (or was it Natalie?) Krepp
We started our game with a full team for the first time this season and led the first half 1- 0 after a great goal by Nathan. We started to panic as Moorebank got closer to scoring a goal and stopped playing as a team.
At half time, we regrouped and played a more controlled second half. We remembered to talk to each other during the play and pass the ball around. There was great defending by Claire, Jade, James and Byron.
Luke had an exceptional game as Goalie and helped to save many goals, keeping Moorebank scoreless until nearly the end of the 3rd quarter.
Hoping you have a speedy recovery with your ankle Nathan, hope it's nothing too serious.
See you all at training again this week.
A special thank you message goes to all the parents for spectating from beyond the car park fence. We really appreciate your assistance in keeping everyone safe.
Best and fairest: Luke 3, Elliot 2, Byron 1. Goal: Nathan.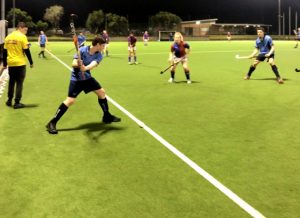 U17 Sutho Geckos 0 St George Knights 2
It must be said first what a great game we played on Friday night.
I know we didn't come away with a win via goals and at times it wasn't the prettiest of games, but we did come away with another sort win. This was our defence; as a coach, I was delighted with how we managed to hold onto our formation at times under real pressure.  We went into the last quarter of the game 0-0.
When our form did break, the only thing I was looking for was how well we could scramble in defence. You guys showed me that you are more than capable of doing that. Though it was messy at times, we held out countless shots at goal. THAT'S a win in my books! We could've lost 5-6-7, but they only got 2.
Dominic Craig won MVP on the day. He got it right at the start in the first quarter, in my opinion when he saved like 4-5 direct shots like a boss, then continued to activate beast mode throughout the game. So well done to him and everyone else in what was a great team effort!
The job for the weekend was that everyone should spend a little time to focus on the things they did well in that game. We will focus on what needs work at training.
Best and fairest: Dominic 3, Ryan 2 and Darcy 1.
U15A Sutho Geckos 1 Bankstown 6              Pictures Matt Morris
It was 'A Game of Quarters' this week, as we watched the team progress through a few distinct modes.
The first had us caught off-guard by a ready and raring Bankstown who had us on the back foot, scattering and disrupting our defensive line.  The second quarter saw us gradually switch gears and strengthen the backline to start building the game out into the midfield, but still seriously under attack.
In the third quarter, we found a bit of mojo, with some nice consistency emerging, allowing our midfield to become more involved in defensive and attacking moves.  This continued improvement pushed into the final parts of the game where we had the opposition shut down in attack and running in defence on several occasions.  Discounting the first quarter goal flurry, this would have been a much more closely contested round, with our only goal a great example of what happens when we move the ball around with purpose, finding running players in space to connect and complete the play.
As we play more as a group and open up the lines of communication in games the individual skills of each player will complement each other as a team.
Thanks to Kalahni for helping out the team again this week while we are waiting for players to return from holidays and injuries
Good effort, Geckos! Go Sutho!
Best and fairest: Mayah Tait 3, Ryan Mead 2, Amelia Domrow 1. Goal: Samir Ekermawi.
U15B Sutho Thorny Devils 5 Sutho Blue Tongues 1
Competing for our Club's coveted Battle of the Lizards Trophy is always fun and played with good spirit and sportsmanship. Today was no different.
The Blue Tongues started strongly with the first goal, but we managed to re-group and come out with a win.
A big welcome to Abby and Leah, who played their first games with Sutho. They will be assets to the team.
Harley was solid as a rock in defence hitting the ball strongly, hard and with pin-point accuracy. Bailey scored two goals and passed the ball beautifully in the circle to set up another goal from Lachlan.
Josh also scored our first goal, getting our game back on track. Victoria ran hard all match and played well too.
We are honoured to have won the Lizard Trophy and will hold the title proudly until the next time we meet our Sutho brothers and sisters.
Best and fairest: Harley Belbin 3, Bailey Peters 2, Victoria Henwood 1. Goals: Bailey Peters 2, Lachlan Duhne 2, Joshua Penrose 1.
U15B Sutho Blue Tongues 1 Sutho Thorny Devils 5     Pictures Phil Cullen
For our second game of the season, we found ourselves against the Thorny Devils in what promised to be a great game.
There was a definite team improvement, with strong showings by our midfield and defence that led to some great attacking opportunities, especially in the first half.
We took an early lead after Nicholas scoring our first goal of 2020 by converting a short corner. But by half time the Thorny Devils had fought back and equalised.
The second half promised an exciting conclusion. Both teams came out ready to win, but the Thorny Devils took advantage of our players not getting back quickly enough to help defend our goals and scored four goals. We came agonisingly close to scoring a couple of goals in the half, but we just could not get the ball across the line.
It was great to have Mylo back for his first game of the season. He held the midfield together and took aking the 3 points and Myles taking 2 points with 1 point shared by Christian and Lily.
Congratulations to the Thorny Devils on their well deserved victory; it was great to see two teams out there playing hard while having fun with a bit of friendly banter. We look forward to our next game in a few weeks.
U13A Sutho Blue Tongues 10 St George Knights 0
Our second game of the season and our first played at home at Tradies Hockey Park, saw a Blue Tongues victory over the Knights.
Great Sutho teamwork gave us a 5-0 half-time lead.
Sutho's defence held steady during the second half, holding the Knights scoreless.
The Blue Tongues continued to attack and score and, with the lead at 8-0, the mercy rule was applied and four of our players removed. Sutho's efforts continued, and they scored another two goals. It was a tremendous whole team effort for a 10-0 victory.
Players' Player best and fairest: Isabel 3, Milan 2, Louis 1. Goals: Cooper Homes 5 (10 in two games !), Louis Olsen 2, Isabel Olup 3.
U13B Sutho Thorny Devils 2 Bankstown/Sydney Uni 0
Old rivalries were renewed in what was always going to be a hotly contested game!
Thorny Devils saw plenty of action in our circle with a couple of near misses before Jamie- Grace scored midway through the second quarter.
The team went into the second half looking to stay in position and use the ball instead of their legs.  Lachlan, Julian and Luka worked hard in the midfield as the ball constantly switched sides.
A disallowed goal by the opposition had them fired up, but Mandy responded with another goal.
Some impressive defence from the likes of Mackenzie, Bethany, Kaylee and Sarah kept our opponents scoreless.
A super effort from the Thorny Devils!
Best and fairest: Luka Collins, Sarah Ejernawi, Mandy Carmody 2 each. Goals: Jamie-Grace Pittello, Mandy Carmody.
U13B Sutho Bearded Dragons 3 Moorebank 2
Sutho's Bearded Dragons came out with positive intent on Saturday playing their first game at home for the season; they were on a mission to impress. They delivered on it with a tight 3 -2 win over Moorebank Liverpool.
They came racing out of the gates when an early penalty corner conceded by Moorebank saw Isaak rocket the ball into the bottom corner.  The lead was not to be enjoyed for long, as Moorebank struck back with a counter-attack goal.
The second quarter started with some tremendous saves by Harrison, the delegated goalkeeper for the week. Sutho started to mount some pressure towards half-time, but without converting it, the teams headed to the dugouts locked at 1–1.
The second half started as the first half ended, with Moorebank unable to clear the ball from their defensive half due to some great defence from Luke.
Some great passing from Ariana in the opposition 23 led to Isaak receiving the ball at the top of the circle to take a shot. It looked like it was going to go just wide, but a Moorebank stick deflected it into the top corner for a high-quality goal that gave the keeper no chance to save.
A short corner at the stroke of 3 quarter time led to a third goal being put in the back of the goal by Isaak to complete his hat-trick for the day. We finished the quarter up 3-1, needing to be prepared to defend a 3 – 1 lead in the last quarter.
Some terrific marking from Byron kept Moorebank's best striker at bay at the start of the 4th quarter before a late Moorebank goal delivered the final 3 – 2 scoreline.  Sutho held their defence to finish the game.
Best and fairest: Luke 3, Byron 2, Harrison 1. Goals: Isaak 3.
Sutho U11 Thorny Devils 4 Moorebank 0
With round two done and dusted, our Thorny Devils had a great game with a 4-0 win against Moorebank.
They played a good game, but our Thorny Devils were quicker off the mark and dominated the field for most of the game. All the players had exceptional games, with  Griffin and Daniel working hard together pushing the ball towards our goal and Zara, Cody and Isabella. This kept Moorebank occupied, allowing Lauren to set up the ball for Evie and Rhydian who each scored two goals to give us our win. Congratulations Thorny Devils.
Best and fairest: Rhydian 3, Evie 2 and Lauren 1. Goals: Evie and  Rhydian, 2.
U11a Sutho Geckos 15  Sydney Uni/Bankstown U11B 0
On Saturday we had to travel to Bankstown to play Sydney Uni/Bankstown U11b for us to receive our' bye points'.
The game was handy for us to practice our basics such as short corners, goal shooting and positioning on the field. Our opponents were all new players who, despite the 15-0 scoreline, improved as the game went on.
We are expecting a harder game next week, and we are all looking forward to it.
Best and fairest:  Georgia. Goals: Georgia 4, Rowan 4, Nick 3, Jack W 2, Ryan 2.
Minkey
Return of the Jedi Minkies    Pictures the multi-talented Richo
It was a tremendous effort from all involved to get the Club's 2020 Minkey program launched on Friday afternoon.
COVID had thwarted the Club's earlier plans to begin it in May, so it was great to kick off 6-weeks of Minkey for 2020 finally. It was terrific to see returning Minkies and lots of new faces. There were nearly 40 little 5-9-year-olds registered and keen as mustard to get underway. Although, there were a couple of young newbies who were eager to start Minkies – until it became necessary to detach themselves from their parent's legs. But once they became comfortable, they were off like a shot with a stick in hand and enjoying themselves!
Thanks to Peter for his coordination on the day and also to the Minkey coaches who helped out. The Club appreciates the time and effort put in by everyone involved with the Program to ensure they enjoy themselves and develop their skills. It is part of the continued growth of the junior side of the Club as we develop the next generation of hockey stars.