Tyrannosaurus Rex and Spinosaurus top the Sutho Battle of the Lizards Trophy
Whenever they line up against each other, it might be the battle between the Sutho Blue Tongues, the Sutho Thorny Devils or the Sutho Geckos – but really, it's The  Battle of the Lizards.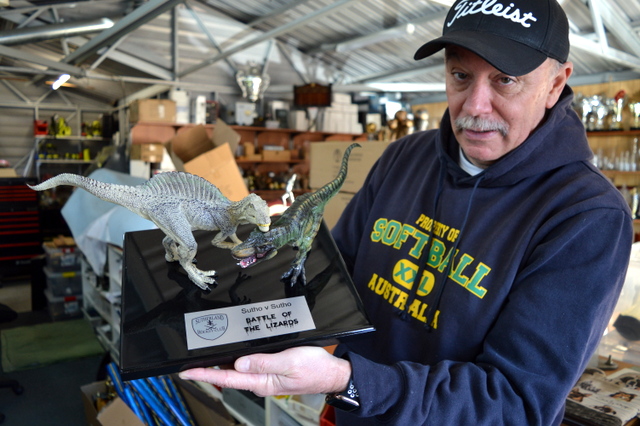 When any combination of the Sutho Lizards plays each other, the intensity goes up both before the game and during the match. But over the years, something else has been really noticeable.
When the final whistle blows, no matter which mob of Lizards won or lost, we're all still Sutho teams and part of a wonderful club. Sporting behaviour is always prized above everything else at Sutho.
And it shows. And now  it's been recognised in Lizard Territory.
Just to make things a bit more interesting, tomorrow morning, Saturday, we're having the very first Sutho v. Sutho match for the Sutherland Hockey Club Lizard Trophy. At 10 a.m in Under 13Bs, the Sutho Thorny Devils will take on the Sutho Blue Tongues. One will become the first holder the the Sutho Battle of the Lizards Trophy.
There's long been  argument between dinosaur experts about what was the biggest and fiercest dinsoaur – Tyrannosaurus Rex or Spinosaurus – but the Lizard Trophy's got that covered: there's one of each.
There's only one rule with the Lizard Trophy:
The winning team's captain holds the trophy in an after game picture – but both Sutho teams have to be in the photo. It will be published, with their game reports, in the next week's match reports.