What a spectacular weekend for hockey, and there were some great results for Sutho.
Enjoy the match reports we had come from the teams and the pictures from across the grades and juniors. Thanks you to Craig Turner, Tony O'Leary and Rory Staples for their photo contributions.
To all team managers and people sending match reports, please have them to johnmulcair@optusnet.com.au early Monday at the latest. Publishing time is around 12.
Men
1st grade Sutho 2 University of NSW 0
This was a fast, hard, top of the table match that included all the aspects of finals hockey.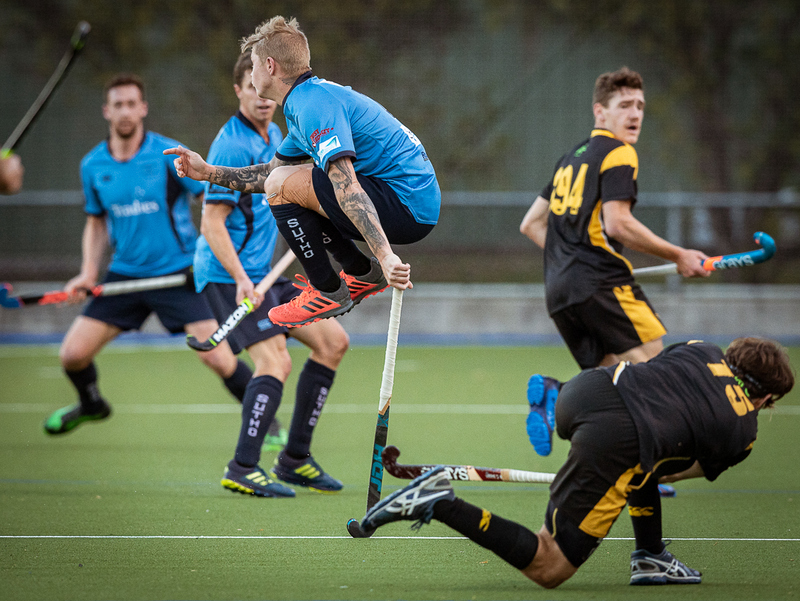 It was also a test for us, as we hadn't had a hard game for a while.  The team passed with flying colours with not only the win but a really grinding, gutsy performance.  For good measure we got some satisfaction by defeating the team who put us out of the grand final last year.
It showed us that we have the goods to win this year if we continue to improve from here and put the effort in at the business end of the competition.
Everyone in the team performed fanatically and as Spud Tait said at the end of the game he was extremely proud as coach of the performance they put up.
Riley Lloyd was given an opportunity to take part in the match and performed admirably for his first call up to 1st grade.  We have been giving this opportunity to our young talent so that they can see first hand what it's like and the work which they need to put in to achieve 1st grade standard the current group has been giving for the last decade.
Mamat Zainol showed us his skills in one of his best performances so far by turning the opposing team inside out at times and creating opportunities to score.  Also Jono Scott showed us class again by bring his best game forward on his birthday and leading from the front as captain for the game.
We have three games left in the regular competition. Next week we go to Cintra to play Briars at 5 pm, then we have the following game at Ryde and then the last round at home on the 24 August against Glebe.
B & F:  Scott Govers 1, Johno Scott 2 (& a happy birthday, plus captain for the game), Nathan Ackroyd 3. Goals:  Matt Bennett 1, Matt Johnson 1.
2nd grade
3rd grade Sutho 4 Glebe 7
After a 2-2 draw in the first round, it was always going to tough against a very experienced Glebe team containing former 1st grade and NSW players. It was made harder with a long list of unavailabilities in 2nds and 3rds. But with adversity comes opportunity, and four of our U17 Metro team stepped up from 4ths to take the challenge.
The 12.30 start at Sutho always seems to make for poor warm ups, maybe due to late arrivals, and this week was no different. That poor preparation came through in the first quarter where Glebe were first to the ball, consistently opening up our left side through well played overlaps and with more desperation in the circle slotted 2 early goals.
We grabbed one back and looked to be back in it, only to make a poor clearance with 10 seconds on the clock which was duly punished for us to trail 3-1 at quarter time.
Captain Brad let rip at the break, imploring the team to compete better, be first to the ball, and stay in the contest for the ball.
With a few structural tweaks as well, the second quarter started better and our forwards especially worked really hard and got us back into the game with great pressure that we turned into goals.
But it seemed we burned all our petrol in chasing the contest and were run over towards the end the match to lose 7-4. Considering we hadn't conceded more than two goals in a game all season, to let seven in was disappointing.
But I think our young guys learned lessons on intensity, focus and competing, especially at the back, as for the most part our forwards were good, as our four goals would suggest.
It was great to see Matt Tyler have his best game for Sutho, absolutely dominating up front  and deservedly winning 3 points. And another hat trick for Joel who has been one of the leading strikers in PL3 this season, rewarded also with a game in 2nds.
A must-win game next week to stay in top six and play finals. Thanks to everyone who doubled up across the grades this weekend.
Good luck to Dan, Kian, Scott and coach Adam in Newcastle for the All school nationals.
B&F points: 3 Matt Tyler, 2 Ralph Prince, 1 Dan Bryant. Goals: Joel Westblade 3, Matt Tyler 1.
4th grade Sutho 6 Glebe 0
The game started out well, with Sutho putting in two early goals in the first  quarter,  followed by another three goals in the second.
Glebe come out in the 3rd quarter for a highly physical encounter. But Sutho was not fazed and put in another goal in the 4th quarter, giving them a 6-0 win.
B&F: 3 Matt Quinlivan, 2 Ryan Malone, 1 Lachlan O'Leary. Goals: 2 Ryan Malone, 1 Charlie Johnston, 1 Brendon Hol, 1 Matt Quinlivan, 1 Isaac Olsen.
5th grade
6th grade Sutho 1 Bankstown 2
Playing away from home out at Bankstown on a Saturday night was always going to be a difficult game against their 1st grade side. Winning only 1-0 in our previous match to them, we knew Bankstown were going to be tough. It proved to be more of a challenge with a couple of our players backing up from other grades.
The cold weather delivered a slow start from the get go, with silly errors forcing us onto the back foot, resulting in an early goal to Banstown. This proved to be a wake up call for us, firing us up to compete stronger for the ball. The rest of the first half was a physical battle with opportunities for both sides in the circle.
Jimmy Northwood scored a cracking individual goal on the left side of the circle to equalise the scoreboard at 1-1 for us to come into the second half.
Then the high intensity continued, with both teams aiming to score the winning goal. Ultimately, Bankstown's determination got it for them and and end to the match for us down 2-1.
With only a couple games to go before finals and needing only one point to confirm our position, it was a disappointing finish to the game.
B & F: 3 pts: Andrew Hoy, 2 pts: Matt Staples, 1 pt: Will Gair.
7th grade
8th grade Sutho 0 Bentstix 1
Today we played Benstix, who in the first round in the first game we defeated 3-0.  From the table it looks like they have improved, as they were 6 points below us.  We knew it was to be a hard game and it was.
From the start they were fast and seemed to be all over the field.  We could not clear the ball from the back-line. We tried different approaches, bashing it through, wide balls and close passing – none seemed to work for long.
We held them for quite a while with David making some brilliant and strong saves.  It was during a short corner that they passed twice at the top to shoot one through.
The play continued and we fought back again trying different options but none worked enough to score a goal, although we came close.  Connor's chase of a loose ball saw his concentration on the ball but not the end of the pitch until it was too late and went flying over the surrounding fence.  True dedication!
We ended a disappointing 1-0 down.
Best and fairest: 2: Connor Crowley, 2: David Lucas, 2: Jordan Wood.
Women
SEHA Women's Premier Grade Sutho 0 UNSW 1
This Saturday we lined up against UNSW in a very intense and competitive game on a super-hot day.
We had some great build ups around the field, passing around the Uni players because we knew that they were strong in the middle. We didn't give up, despite continually working our asses off running up and down the field. We also had a few players playing out of their normal positions, but they did extraordinarily well playing out of their comfort zone.
During the game Sutho likes to play generally on the right side of the field which made it difficult to get through the opposition's tough press.
Anna our goalie was on fire saving some tough and hard shots at her, especially in the 1-on-1s. In the last seconds of full time we were rewarded a short corner which unfortunately wasn't converted.
Hopefully we will find our mojo next week.
Player points: Iris Vanhecke 3, Jess Gilbertson 2, Anna Barton 1.
Metro
U17 Metro Sutho Geckos 1 Sutho Blue Tongues 0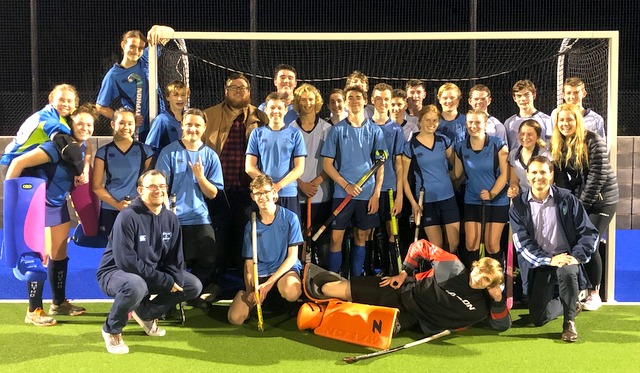 Surprisingly, the Greenhills weather gods had not shown their usual fury at hockey being played on a Friday night and there was a distinct lack of icy gale blowing across the Marang fields for the U17 Sutho v Sutho blockbuster.
That's not to say there wasn't a chill in the air – it is Greenhills – but just not the usual Arctic conditions. The Geckos had been hit with injuries and illness to be reduced to 9 players, however were thankful for Kai Morris once again stepping up and having a solid game for the Geckos. The Blue Tongues had a plethora of players in the dugout, so their physio and team doctor seem to be earning their pay.
The game started well enough, but within the first few minutes of play the Geckos found themselves down on the scoreboard to a bit of a scrappy goal to the Blue Tongues.
The good news is that the Geckos had nearly the whole game to come back! Both teams seemed to be playing a bit tentatively for most of the first half, with quite a bit of ball turned over in the middle of the field. However both teams were playing well and the Blue Tongues earned a couple of short corners, but were unable to convert.
The Geckos really stepped up in the second half. Notwithstanding being short a player, the Geckos were able to move the ball up the field and pressure the Blue Tongues defence, but were unable to get any results when they were in the circle.
At the other end, the Blue Tongues were being thwarted by some great defence. The Blue Tongues earned a number of short corners in the second half, but were unable to convert due to the pressure applied by speedy Zac C and great saves by Dom in goals. So the game finished with a 1-0 win to the Blue Tongues.
Best and fairest: 3 – Ryan, 2 – Raina, 1 – Zac (Macca).
U15 Metro Sutho 2 Mosman 1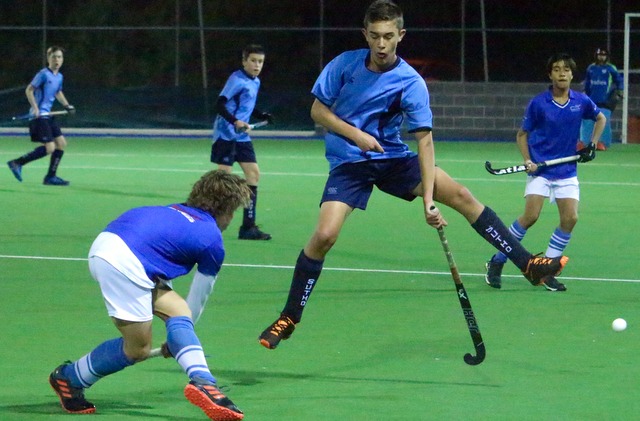 Coming off the back of a three-week break, the U15 Metro team made their way to a distant land (Pennant Hills) on Friday night to play second-placed, Mosman. Sitting in fourth place ourselves, the remaining games of the season are all important to solidifying our position in the finals.
At the start of the game, both teams looked strong.
Mosman's strong attack and ball possession were countered by the Sutho defence, not giving it to any opportunities.
As the first half drew out, Mosman's consistent pressure eventually lead to misstep by Sutho, with a failed transfer resulting in a goal. The goal seemed to rattle our defenders, leading to two defensive short corners at the end of the half. The corners were well defended, with the half ending 0-1 to Mosman.
Going into the second half, Sutho did not let the scoreboard influence their game, clearly showing their strength and determination by making meaningful opportunities in the circle.
Mosman began to fall away with Sutho dominating the play. Eventually, their defence gave in, with Byron (subbing on at attacking mid with the intent of moving back to defender) seeing a golden opportunity.
He made an overlapping play up the right side of the field, getting the ball into the corner and crossing it in. After making its way past several defenders, the ball ended up on Chloe's stick, and she quickly managed to get it round the keeper to score the equaliser.
With momentum behind them, Sutho continued their pressure upfront, raining down on the Mosman defenders.  A loose ball from the Mosman defence saw Noah run full pace at the keeper, managing to get the ball and pass it off the Lachie who slotted it in the back of the goal. 2-1!
The last five minutes of the game saw Mosman desperately trying to score, looking for the long ball into the circle, trying to find a lone striker. Luckily the Sutho defence held out, ending the game with a massive win, 2-1 to Sutho.
B&F Points: 3 Blake Shaw, 2 Chloe Antilla, 1 Byron Watson.
Juniors
Byes: U11A Geckos and U15B Thorny Devils. Forfeits: U11B Blue Tongues from Sydney Uni and U13A Geckos from University of NSW.
U15A Geckos v Moorebank
U15 Blue Tongues 1 St George Randwick 3
It was a hard fought game, with just the bare team again.
Everyone gave their best effort for the whole game. We held them to 1:1 at half time and went in to the second half fighting for a win.  Unfortunately we went down 3:1.
Toughest player of the day was Zara who played part of the second half with a broken toe.  Hope it's better soon.
Points for this week go to:  Amelia 3, Jonathon 2, Max 1.
U13 Sutho Thorny Devils 0 Moorebank 3
The TDs had the privilege to be the first game of the day on our own sun-filled home pitch.
This game was always going to be a good test for the TDs, playing the top of the table Moorebank team and wanting to get even from their loss in our last encounter.
end to end play, with both teams holding their own. There were opportunities for the TDs to score with a number of chances just falling short. But Moorebank made the most of their breaks and we went into half time 2 – 0 down.
The TDs were focused in the dugout, listening carefully to Coach Hoy's instructions, knowing they had to dig deep to comeback from such a deficit.
The second half was tough with all our TDs giving it there all, especially our middle players such as Isabel, Lachlan, Darcy, Abby and Dominic.
Special thanks must go to Finn who stepped in as goal keeper at the last minute, showing us his skills with a number of quick reaction saves. The Moorebank team were too strong for us on this occasion, rewarded with a late goal in the last minutes to win 3-0.
Great effort by all, let's dust this loss off and get ready for the local derby this Saturday.
B&F: Darcy 3, Finn 2, Dominic 1.
U11B Bearded Dragons 1 v St George Randwick 2
Sometimes you get lucky- this week we got not one, but two match reports of this crucial game – as well as some great pictures of the action. Enjoy…
The team travelled over to Kyeemagh to meet up with second places St George Randwick in what turned out to be a tough game. SGR came on to the field strongly, testing ourt the team and also Liam's goalkeeping skill early on but he managed to keep them from scoring. SGR continued to play a well fought battle against our defence before sneaking one past just before half time.
In the second half after some much improved passing up front, Nic secured a goal to even out the score but unfortunately a short time later SGR managed to squeak another through. The Bearded Dragons then tested the SGR goalie  with a number of shots before the full-time hooter went,but were unable to capitalise with a goal.
Well done to the team in a hard game.
B&F Points :-  Mandy 3, Liam 2, Jack 1. Goals :-  Nic 1
U11b Bearded Dragons 1 v St.George 2
The Bearded Dragons and St.George faced off for the minor premiership and the game didn't disappoint.  The ball moved from end to end, but due to some excellent defence neither team could score.  Liam pulled off many saves and he was helped out strongly by Lincoln, Hamish and Mandy in defence.  The first goal came late in the half for St.George and we went to the break down by 1.
The Bearded Dragons came out strongly in the second half with the mid-field and forwards pushing forward but they still couldn't manage to get the ball past the keeper.  Then with five minutes to go Nicolas pounced on a loose ball before putting it in the corner to bring the scores level.  Unfortunately with little time left on the clock St.George made a break and finished the attack off with a strong shot at goal beating the diving Liam to score the winner.
It was a great game from the Bearded Dragons who were a little unlucky to lose this one.
Best and fairest: 3 Mandy, 2 Liam, 1 Jack.  Goals: Nicolas 1