Intense Lizards: That's MY ball…
A triple serving of Sutho spirit was on show at Saturday morning's Battle of the Lizards Trophy contests at Tradies Hockey Park. A cracking game between Sutho and Bankstown topped it off.
As usual, the teams played at 100 per cent until the last second, especially those striving for Club honours. Everyone at Sutho should be proud of their skill and sportsmanship. It makes Sutho's future look good.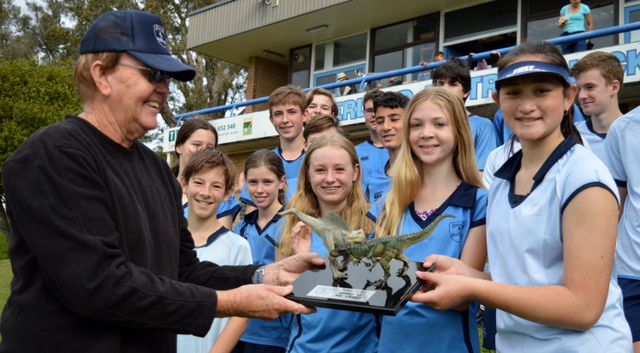 For the diary…
We have a couple of big days coming up. It's Back to Sutho Day on 29 May.
Our three Premier League Men's teams host arch-rivals, Moorebank-Liverpool Hockey Club, with the 1st-grade game starting at 3:30 pm. It should be the usual cracking game, but even more so with it being a 1st vs 2nd match. We warmly welcome you to join us from 3 pm in our Clubhouse and enjoy the Sutho hospitality.
The second event for the book is our annual Sutho Ladies Day, scheduled for Sunday, 18 July. This is the 40th year of Sutho having women's teams and so it is time to celebrate. There will be five games, with our Premier 1 team playing at 11:30 am and our Sydney Womens Hockey Lague team having its first-ever home game afterwards.
A feature of the day will be a very special event.
Match reports
Men
Sutho's First, Second, Third and Fifth grade teams had byes.
Sutho 4th grade 3 South East Sydney 1
Overall a good win by 4th grade this week, considering the numbers of players we had out to injury and the U18 state champs.
We took a couple of minutes to get going on the first quarter, but then we switched on and through a series of passes and runs up the left side of the field starting from a 16 Wiggo scored our first goal, dummying to a man on the post and putting it past the goalie.
Our second goal came from another amazing drag flick by Jack, in the side of the net just over the backboard.
Then in the 2nd quarter, we scored again, from will Lewis receiving the ball near the top of the circle, pulling it onto the back stick side and slotting a tomahawk past the goalie.
We let them into the game a little from the 3rd quarter. Dave Hindmarsh found out after a particular short corner that you can't laugh on the field. They missed the goal from the short with a brilliant save by Dave Krepp but managed to get a lucky touch in from the following long corner.
The game became more heightened, but neither team scored again. The fourth quarter turned into a very spread out game with neither team really controlling the midfield.
Congrats to Luke Mecham, Ty Stevens and David Krepp for their debut games in 4th grade, and thanks to all the 5th graders who played up with their bye.
Points for this week went to 3 Mark Bonnici 2 Jack Mecham 1 Dave Hindmarsh. All three received 2 votes, so it was decided the only way possible: a game of rock paper scissors.
 Sutho 7th grade 2 Monterey 5
It only takes one bad quarter to ruin your day. For us, on a windy Bankstown pitch, it was the third quarter when Monterey came out switched on and caught us still under the doona. Up to that point, we had contested quite well and had three penalty corners to none.
An excellent goal from B&F Scott Calder briefly had us back in the match but, unfortunately, we failed to follow up and some loose marking cost us dearly.
Still… there were some positive signs. Some passages of smart ball movement, good support, and a never-give-up attitude saw Scott get his double in the final seconds. They showed that we are becoming competitive in a tough division for longer stretches.
If one moment summed up the commitment we're working for it came late in the game down 1-5.
Young Luke had lost his man, who then beat Old Dave and was immediately eyeing off an open goal that beckoned like a Four N' Twenty pie at the footy.
But Luke had chased back and, positioning himself between striker and goal, executed a perfect tackle, denying the shot and forcing a long corner. Great stuff.
More to come, I'm sure.
Women
SWHL
Sutho 2 Bankstown 1
This week we were up against Bankstown who proved to be a challenging opponent.
We were off to a fast-paced half with Iris scoring an unstoppable tomahawk to put us up 1-nil.
Sutho kept pushing but eventually, Bankstown got through our strong defensive line and managed to win a short corner against us, with a controversial goal scored from it.
We went into the second half with a newfound intensity and managed to bounce back with an amazing goal by Camille.
Overall, we kept the pressure on Bankstown and we were very happy to come out on top with a 2-1 win, well played to all!
Points: Fish 3 Liv 2 Sarah 1.
 SEHA
Our Premier team had a bye
Sutho 2nd grade 2 Pohogs 1
It was a hard-fought match against Pohogs at home this weekend. At halftime, both teams were yet to score.
Pohogs managed to convert a quick goal in the 2nd half but Sutho kept up the hard work. We levelled it at one-all with a goal by Grace after a quick breakaway with only 2 minutes to go.
We fought hard to the very end with a short corner in the last 15 seconds providing us with our final opportunity for a win.
Andrea took the hit, Emily was on the post and we finished off the game with a second goal after the siren, securing our first win of the season!
It was a really strong game by all the ladies and a memorable first win of the season.
Players' player was tied between three of the girls, but everyone had a killer game and played their role effectively.
Best and Fairest:  2 Hillary Beehag 2 Sofie Cherrie 2 Tahlia Gibson.
Juniors
Sutho 11A Geckos 3 Sutho Blue Tongues 2
Sutho Blue Tongue Lizards started very strongly with some excellent individual goals to lead 2-0 at half time.  This was a fair reflection of the amount of attacking they did. Most were created from intercepts through the middle of the field.
In the second half Geckos responded really well to the coach's halftime talk and everyone followed instructions.
This resulted in closer marking and utilising the width of the field to create space.
There were two phases of multiple accurate and quick passes through the midfield which were then crossed into the circle and scored with finesse: Score 2-2.
With full momentum, the Geckos scored another goal and then held off the final attacking raids from the Blue Tongues to secure a 3-2 victory.
It was great to see so much skill on the pitch at this age group from both Sutherland sides.
Best and fairest points: 3 Sophie Howson 2 Ethan Choy 1 Caiden Head.
Sutho U11A Blue Tongues 2 v Sutho Geckos 3
It was a very tough Lizard Cup game this weekend in the U11As.
The Blue Tongues came out strongly, passed the ball wide in attack and marked tightly in defence. Achilles in goals played aggressively and saved many good shots.
Upfront, Rhydian attacked with purpose and scored 2 goals. Across the pitch, Cayleb and Mila controlled the defence.
Beckett, Grace and Saskia created space in the midfield and tackled back hard. Kasper and Cooper worked hard to create depth, making leads down the line.
Unfortunately, we went down 3-2 to the other Sutho team, who came out strong in the second half.
Best and fairest: 3 Mila 2 Cayleb 1 Rhydian.
Sutho U11B Thorny Devils 1 Moorebank 2
It was a chilly sunny morning at Moorebank and a challenging game for our Thorny Devils. The ball was going quickly back and forth, and there were many close-call goals for both sides. But we were defeated by Moorebank 2-1.
Hamish was our goalie this week. He worked very hard to keep them from scoring but they managed to sneak 2 past.
Imogen and Edward worked hard together setting up our one goal for Harriet to score.
Our guys played very well. It was a tough game, but they never gave up the fight, hungry for the ball to the very end  – so well done, Devils.
Our best and fairest for this week went to Imogen 3 Edward 2 Hamish 1. Congratulations, guys, well done!!!!
U13A Geckos 3 Sharks o
We can't tell you any more than that because there was no match report. Thank you to Anna Domrow for taking the match pictures.
Best and fairest Geckos: 3 Jack 2 Issy Emily. Goals: 1 each for Leo, JJ and Julian.
Sutho U13 Bearded Dragons 2 Bankstown 2
A cold, blustery morning set the scene for our clash with top of the table Bankstown.
It was the first time all season that we've had all of our players available for a game, and it made a huge difference as we were competitive across all parts of the field throughout the entire game.
After some good early signs in attack, Sutho spent much of the first quarter repelling several penalty corners by Bankstown. Eventually, early in the second quarter, the pressure resulted in a goal.
Afterwards, the play tightened up with neither side gaining a clear edge, although eventually, our mid-field became more dominant, leading to more play in Bankstown's half than earlier in the game.
During the third quarter, a penalty corner led to a beautiful backstick goal by Georgia after a set move to even the score line at 1-1.
Unfortunately, not long after this, the Bankstown team went into the lead with a goal. This was despite some great saves from Ryan in goal.
The final quarter was a tight tussle, and the game looked all but lost. But in the final minute of the game, Alyssa made a break up the middle from halfway, sending a long ball that Rowan was able to chase down and thump past the keeper into the back of the box. It sent our crowd into a joyous frenzy.
2-2 felt like a win!
Best and fairest: 3 Georgia 2 Nadia 1 Rowan.
U13B Thorny Devils 4 UNSW 0
This weekend the Thorny Devils had a road trip to meet the UNSW Humpback sat Daceyville.
After coming off a loss to Bankstown last weekend the team was determined to make this one count. They bounded onto the ground and were passing very well along with great teamwork to set up a number of magic goals by Jack , Lucus, Nic and Evie.
After a game with a huge number of short corners, the team ran off with the win and ready to play St George-Randwick next weekend.
B&F Points: Evie 3 Cameron 2 Ava 1. Goals: Nic 1 Jack Homer 1 Lucus 1 Evie 1.
Sutho U15A Geckos 6 Thorny Devils 1
Coming out of a bye in Round 5, the Geckos U15As had spent their week off well. Coach Todd, Manager Brad and more Gecko dads took the team to zone bowling for some competitive team bonding.
For Round 6, it was time to pick up the hockey sticks again and back to Sutho for a Lizard challenge.
While Coach Todd wondered whether he'd ever field a full and fit team this season, the Geckos turned their shirts inside out white and searched out their funkiest socks to take on the mighty Thorny Devils.
The Geckos started hard in attack scoring two goals in the first quarter and catching the Thorny Devils unawares. The Thorny Devils struck back, putting up a good fight in defence and allowing only 1 goal to be scored in the second quarter.
In the second half, the Geckos stayed strong in attack and scored another 3 goals. The Thorny Devils continued to fight in defence and scored an unexpected runaway goal, making the final score 6-1.
In the end, the Geckos were proud to lift the Lizard Trophy high above their heads and look forward to the next time we meet.
Best and Fairest: 3 Chloe 2 Jacob 1 Jack. Goals: 2 Jacob 2 Piper 1 Kai 1 Olive.