Gus (almost) lifts off in ballet defensive play
Getting a team on the weekend was a challenging assignment for many of our Sutho teams, with a long, long list of players either out injured or unavailable. Heading it all, and get fit soon Donk, after your surgery last week.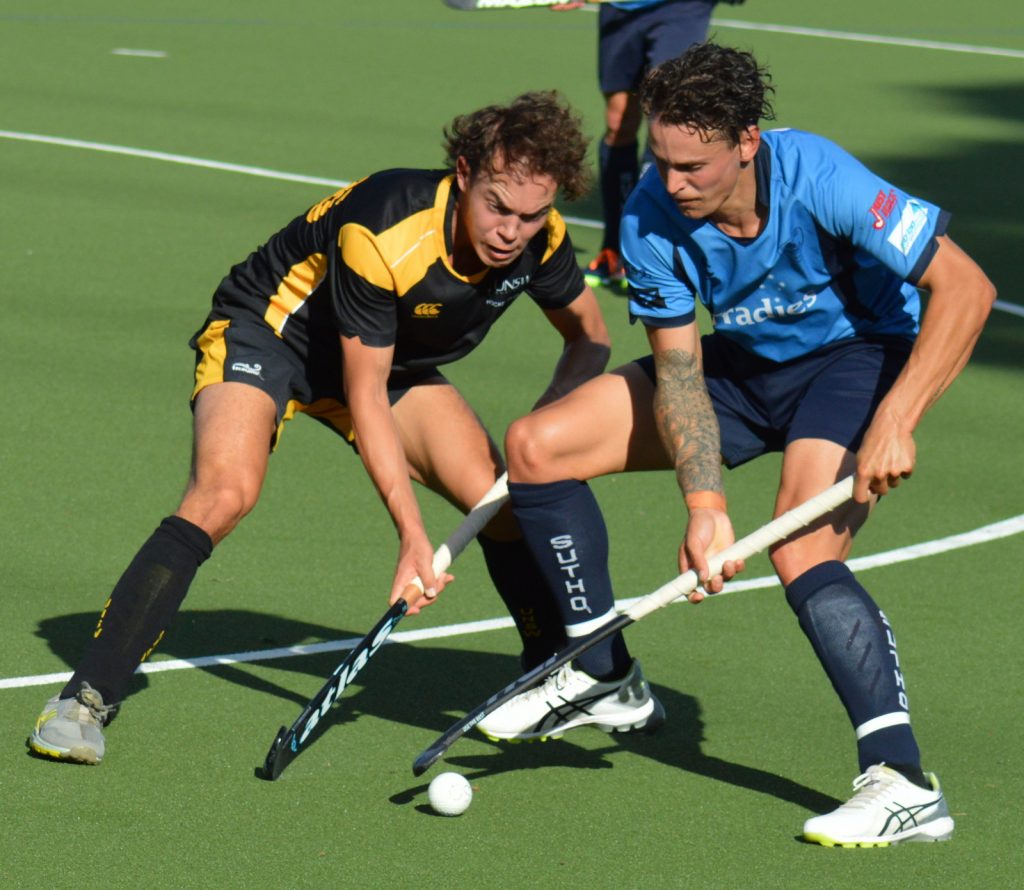 A great loss for Sutho is dynamic first-grader Jack Hayes and his partner, who have decided to return to Perth.
Our Club thanks Jack for his years of mercurial service to Sutho. A great guy who was always a delight to see play our great game.
On the brighter side, first-grade manager Kreppie advises that Luke Noblett, who has been playing in Belgium for the past few years, is close to a return to Sutho.
Nobby's return has been delayed by the difficulties linked to COVID-19 travel restrictions.
Each week we have generous contributors to our picture record of Sutho games, This week we had Rory Staples and Anna Domrow – but we are delighted to welcome new Sutho Sideline Snapper – Bethany Domrow. Check out her pictures of 7th grade: the girl's a natural (as well as being a pretty good hockey player!).
One of the great sights last weekend was our first-grade assistant coach, Blake "Bilco" Sanford, pulling his goalie gear out of mothballs to take the field again in second grade.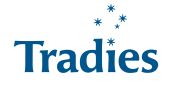 Match reports
Men
Sutho 1st grade 7 Glebe 0
Although against a weaker opposition the team played strongly, constructively and with purpose, always in control and showing their superiority throughout. Very pleasing was the quality of our young brigade showing tenacity, strength and maturity, gaining true 1st-grade status with every game.
They were Blake Hernandez, Harry Roberts, and Angus Callinan. Also especially pleasing was Michael Sharkey's performance – not only scoring 2 goals but also gaining B & F points for SHA and his teammates awarding him the 3 points.
It was also a 1st for our goalkeeper Daniel Bryant who played his entry to 1st grade in Nathan Ackroyd's absence. He didn't put a foot wrong showing at his young age that he is ready for this level when called upon. He has a future as 1st-grade goalkeeper when the time comes.
The senior group as usual showed great leadership and guided the young ones through the match, which sometimes got a little tough – mirroring the rivalry between our clubs.
We have unfortunately lost Jack Hayes who has returned to WA. But hopefully, we will have Luke Noblett back for our next match,  returning from playing in the Belgian competition, one of the top leagues in Europe.
Our next game will be a test. We play at home next Saturday against our old rivals Moorebank.  This will be a real test once again and hopefully, we can put a good show on and win on the Return to Sutho Day in front of our supporters, Life Members, old ex-members and most importantly, our sponsors.
Best and fairest: Shayne Smith 1; Alex Shaw 2; Michael Sharkey 3. Goals: Harry Roberts 2; Michael Sharkey 2; Alex Shaw 3.
Sutho 2nd grade 9 Glebe 0
Once again, that time of the week arrived; yes, it was time for another game of hockey.
For this week's endeavour, we travelled far and wide all the way out to Cintra to compete against lower-ranked Glebe.
Upon strict instruction to leave Early on account of heavy Saturday Traffic, only a mere few of us arrived on time to enjoy the sun, some 2-minute noodles and the game beforehand.
As our ranks slowly arrived in this desolate location with poor parking options, everyone prayed they were not last to arrive to be safe from the inevitable mockery. In all the excitement of seeing who would be last, a grave discovery was made – we had no speaker.
This shortcoming was the fault of our injured attacking mid, who was on time, even though he wasn't playing. To atone for his mistakes, he resorted to singing hymns and songs to raise our spirits and heighten our focus – this was not the case, and I have an ENT appointment booked next week.
After our hearing returned, our team talk & warm-up, the game would commence. It was clear from the start we were the stronger team.
Controlling possession and creating plenty of goal-scoring opportunities, our victory seemed almost assured. Despite our dominance, we only amassed one goal before halftime. We retook the field – much more focused on our game and purpose for the next term; you can say our revitalising chat at halftime certainly lifted our standards, as we would proceed to rain down goals upon our opponents.
We closed out the match as nine nil victors.
Sutho 3rd grade 6 Glebe 3
This week's game was a well-fought 6-3 win against Glebe at their home field.
Glebe started without a goalie and our strikers took the opportunity to score twice in the first quarter. Unfortunately, Glebe evened up the score at 2-2 with two breakaways before their keeper appeared at quarter time.
As the game progressed, Sutho took control of possession and forced more attacking opportunities.
Our strikers strung passes together in the circle to pile up the goals through the 3rd quarter, and we finally converted our slightly unconventional corner from the right-hand side.
A big thanks to Jake Sheppard and Matt Turner for coming down from 2nds to fill in for missing players.
B&F: T Mall 3, J Sheppard 2, O Turner 1. Goals: M Vine 2, P Newton 1, J Sheppard 1, B Sharp 1, J Hunting 1.
Sutho 5th grade 0 Ryde 1
A tough result against an always strong Ryde outfit currently sitting at the top of the table.
Our task was made even harder by the early loss of Tom with a nasty cut to the cheek (requiring a few stitches) in his debut grade game. Welcome to seniors mate, nice to have a souvenir, hey?
We played probably our best game of the season so far, with consistent work rate and focus across the pitch for almost the entire game. Ryde played their typical fast and physical style, making close marking and communication across the back paramount.
Their usual tactic of deflecting into the circle is very difficult to defend against but we frustrated them incredibly effectively and they only had a few genuine chances on goal. Some great saves from Dave Krepp kept us in the game.
Ryde put intense pressure on our outlets from the backline, but our strikers and AMs started moving off the ball to give us options and we found a way to break their press consistently, frustrating them even more.
Even though we had reasonable possession from the back and through the midfield, we weren't able to maintain any serious, consistent pressure at their end of the field and we had few real chances to score.
A couple of very soft short corners (as a life member of the fullback union I'm obligated to say that) saw them eventually score with about 6 minutes left on the clock with an "off speed" shot from a corner variation.
Positives from this game were the consistent work rate both on and off the ball, focus in all 4 quarters, solid marking and improving control of possession.
We still need to work on our ability to penetrate from the midfield to bring our strikers into the game, and maintaining consistent pressure in the attacking 25, working to get a result any time we make it into the circle.
A big congrats to both Tom and Corbyn on their debut grade games, with Corbyn playing a strong, skilled game to take the 3 points. Hopefully Richo and Matty have locked down his contract for 5ths for the rest of the season, as he appears destined for higher honours.
Sutho 6th grade  Not so many Ryde More
Sutho 7th grade  Ryde as Above (Welcome Bethany Domrow to our picture takers)
Sutho Juniors
Sutho U15 Geckos 11 UNSW Belugas 0
Sutho was not to be messed with on this late Friday night match against UNSW Belugas at Daceyville.
We dominated the match with little play in our half of the field. In the end, it was an impressive 11-0 win—a good result for some tired players.
A job well done to the entire team. Archie was filling in for Mylo in goals and doing a great job at defending the small amount of play that made it into our circle.
Congratulations to Jacob and Lachlan for scoring a hat-trick each, while Olive, Kai Fisher and Riley each bagged goals in as well.
Towards the end, the mercy rule dictated that we play with only 7 players on the field. We did a great job, not only defending but scoring another goal as well.
Thank you to Kai Fisher for playing up and helping us out. He scored a goal and did a great job on the field.
Overall a great effort for a middle of the season match.
Best and Fairest: 1 Piper Murphy 2 Olive Kirby 3 Lachlan Hoy. Goals: 3 Jacob McAllistar 3 Lachlan Hoy 2 Olive Kirby 1 Riley De Soza and 1 Kai Fisher.
 Sutho U15B Blue Tongues 1 St George Randwick 1
With only 10 Sutho players taking the field today, the odds were certainly stacked against us. But the Blue Tongues stepped up again, achieving an impressive 1-1 draw with the A grade SGR team.
Our defensive stance was solid as a rock, with Dom in goals making plenty of saves.
Byron, Katie and Lachie played above themselves with cool heads. They consistently cleared the ball out of the circle and defended numerous tough short corners.
During the second half, Brock "the Super Coach" asked Alex to play way up front in the role of the "Poacher".
This gave us multiple opportunities to score and led to us winning a short corner (right on the siren) and Lachie slotting a goal to level up the game.
What an enjoyable game to watch – a BIG well done to the Blue Tongues.
Best and fairest: 3 Dom Lenzo 1 Katie Cimilli 1 Byron Faber 1 Lachlan Duhne. Goal: Lachlan Duhne.
U15B Thorny Devils 8 Glebe 0
Our trek to Kyeemagh on Saturday was to play against Glebe. The team remained positive even though we only had 10 players.
From the start of the game, we attacked the opposition with some great passing up the field. The plan was to play wide and spread the ball but not all plans are executed, as the team consistently played up the middle.
When we did spread the ball and held our positions, space was plentiful, and the team was able to link passes together and score some great team goals.
We had plenty of opportunities to score from short corners but were unable to convert them.
Our defence held strong when the ball made its way into our half.
The team switched positions during the game to give players opportunities to play their preferred spots. Every player contributed and giving points this week was a hard task.
The team has improved significantly since the start of the season and the players should be proud of their development.
Best and fairest: Tessa 3, Luke 2, Nick 1.
Sutho U13A Geckos 1 UNSW Orcas 3
Unfortunately, it was our first loss for the season. We played hard and tried our best to continue our winning streak.
There was some great goalkeeping by Isabelle and the defenders worked hard to keep the goals out. Some good channelling by our forwards and the centre-mids worked hard to keep the game flowing.
The team was very quiet, with very little talking amongst each other but it did improve slightly as the game went on. More talking to each other will improve our positional play. Our only goal was scored by Leo. Great goal, Leo.
Best and Fairest this week was shared equally: 2 Isabelle Fletcher 2 Luka Collins 2 Luke Erikson.
Sutho U13A Blue Tongues 5 Glebe 0
We had a good warmup and started the game strongly and scoring early.
Throughout the game, we kept our positions and passed well using each other to move the ball forward.
We had lots of opportunities to score and lots of tussles in front of the goals. Four more goals were scored through persistence and teamwork.
Sutho U13B Bearded Dragons  3 Glebe 0
The Bearded Dragons dominated play in the first quarter against Glebe.
Many shots on goal by Rowan and Caitlin were either defended by their goalie or narrowly missed. Eventually, the continued pressure resulted in a goal to Evan, his first of the season.
Despite early opportunities for Glebe that were defended well by our goalie Zara, the pressure on their goalie continued in the second quarter with a short corner play 'Waratah', eventually resulting in a goal for Abby, also her first of the season.
As in the first quarter, we spent a lot of time camped in the Glebe circle for no reward. Their goalie defended well against good shots by Alyssa. And we were also not able to get that elusive short corner.
During the third quarter, Glebe ramped up their play. It was evenly matched, with neither side gaining the upper hand – and much of the play was in the midfield. There were some well-controlled runs by Arianna, Caitlin, Abby and Ryan.
The final quarter, like the first two, contained several just-wide or defended shots on goal. Our players were hungry for more goals.  Eventually, Alyssa scored our final goal with a couple of minutes to go.
It was good to see so many players applying constant pressure and keen to score goals.
Good defence at the back half by the ever-reliable Bridget, Jack, Nadia and Georgia.
Best and fairest: 3 Abby 2 Evan 1 Bridget.
 Sutho U13B Thorny Devils 1 v St George Randwick 2
This week we played a strong St George team at Kyeemagh.
Unfortunately, we were a few players short but Ethan and Audrey from the U11s kindly offered their time to play with us.
We played a great game and certainly held our own throughout.
The game was only decided by one hit of the ball and we went down 2-1. We should be very proud and take some positives from our performance.
The best and fairest and goal scorer was Lucas.
Sutho U11A Geckos 7 Glebe 0
The first half had many free hits to the Geckos taken by attacking midfielders which allowed its defence to mark our limited players in attack.
This reduced the available space and amount of open shots on goal.
Through some great skills, Sutho had several attacking short corner opportunities. Executed very well, they resulted in a 3-0 score at halftime.
In the second half, our attacking midfielders and forwards left the free hits to the defence. This enabled more attacking players to be available for passes.
Passes made out wide were followed up with excellent crosses and shots on goal.  Towards the end of the match, the Geckos had all the attacking play and many open play shots on goal.
Special mention to Caiden for showing some great skill down the left sideline followed up by accurate crosses into the circle.
Sophie followed up on her matchwinning defensive effort last week by scoring a hat trick, while Mitchell stopped many Glebe free hits to maintain pressure.
There were some quality attacking plays displayed by the whole team. This can be used against the stronger sides this season.
Points: 3 Caiden Head 2 Mitchell Elkin 1 Lincoln Sharwood.
U11B Thorny Devils 5 Sydney University 0
Another beautiful Saturday morning for hockey.
Our Devils played another excellent game with a 5-0 win against Sydney Uni out at Lidcombe.
Darcey, Hamish and Edward each excitedly scored a goal each, while Imogen scored 2 to give them the win. Each week, the kids get better and better playing together as a team. Each eagerly wants to control the ball.
A shout-out to our umpires and ur parents for getting the team to the game each week. This brings me to the best and fairest for this week: Hamish 3 Imogen 2 Isabelle 1. Congratulations guys !!!