Gus Callinan on the burst in second grade.
We have a few gaps in our usual match reports this week and we're putting it down to Mothers Day being the centre of attention.
The Big Day on Sunday was certainly the theme on Saturday, with DJDomrow punching out the Mum-themed music and inviting players to the mic to pay tribute to the most important women in their lives. And in keeping with the occasion, our second and third-grade women players got byes so they could fully celebrate.
Thank you to all our match reporters who filed their stories – hope to see more of you next weekend. And particular thanks, as ever, to our photographer-contributors Anna Domrow, Craig Turner (love the main shot, CT), Matt Morris and Rory Staples
We have to issue a spoiler alert!! Or maybe blood sugar spike alert: Second grade's pre-match song, starring George Michael, is included in this report.
Also, keen-eyed readers will note in our 6th-grade coverage that Ray Northwood and Brookie are not wearing their trademark caps. We will investigate whether it is a seasonal change or there has been a hat heist.
It must be reported that some of Sutho's stars of the future are on the pitch. Minkey's underway each Friday evening. Last week they were proudly showing off their new playing shirts. As you can see, some will grow into them!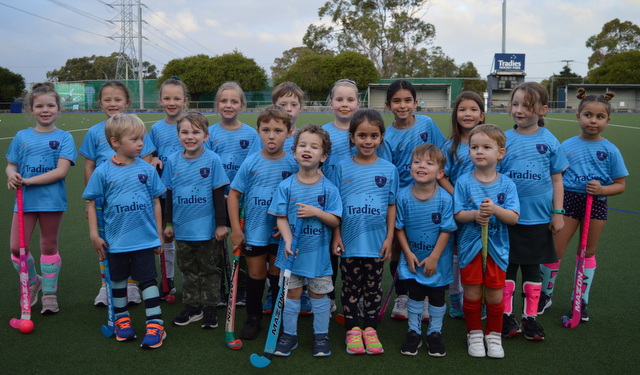 Match reports
Men
Sutho 1st grade 1 North West Strikers 2
This was always going to be a test for the team playing last year's premiers.
NWS came out fast and hard, controlling the game before we got moving.  We paid the penalty of going down 2 goals in the 1st quarter.  We looked a bit disjointed and they made the most of it not letting us get into our groove.
The 3rd and 4th quarters saw us come out fighting, during which Brady Anderson scored one of his trademark tomahawk goals. We continued to press but although close with penalty corners and close play in their circle we just couldn't score.
On any other day, we might have converted a number of our attacks but it just wasn't to be.  Strikers'  goalkeeper made some amazing saves when most goalkeepers would not.
I guess we can say that they were at their best and we were not – so hopefully next time we meet we can turn the tables on them.  We have a break this week with a bye.
B &: F Brady Anderson 3 Mitchell Wray 2  Michael Sharkey 1. Goal: Brady Anderson
And thanks to the ball kids for their great work. Jack, Isaak and Cameron are pictured with Matt Johnson, Kieran Govers and Matt Bennett.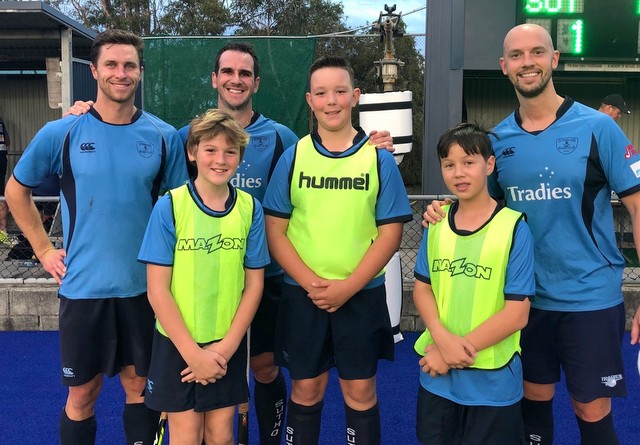 Sutho 2nd grade 2 Strikers 0
As another beautiful Saturday arrived, we readied ourselves for another thrilling contest; we would for this game face off against second-placed North West Strikers for a good old top of the table clash.
With the sun glowing down on the eternal fields of Sutho, our team arrived with some notable inclusions. For this game, we welcomed back our leading stroke taker, and we also welcomed a returning first-grade striker from injury – very eager to impress and secure a second-grade spot for the rest of the season.
Our preparation was impeccable; the song of choice this week quite simply soothing & elegantly chosen. (Enjoy it if you can, Sutho fans)
George's legacy lived on in the 2nd-grade dressing room…
Everything seemed to be exactly right – until we took the field. Within minutes of the WARM-UP, one of our starting strikers and resident team barber managed to injure his ankle (still to be confirmed what the damage is). Despite the confusion about his injury, the contest commenced, and our team took early control.
Shifting the ball from left to right, we aimed to move the ball through our defensive mids and back out wide to our wing-halves and into our attacking legions. Our AMs opened the attack to larger pockets of space down the sidelines, cutting in-field to create significant concerns for our opposition. Our traditional front three provided plenty of room and opportunities of which we wisely converted into corners or shots on target.
From one of these corners, we earned ourselves a penalty stroke – cue the returning stroke taker to place the ball into the net effortlessly.
Momentum was on our side; we could smell more goals when suddenly, on the break, through the centre, & no one around him, our young and fearless centre-half, so often reliable when through on goal, fronted with a lonely goalkeeper in a one on one. He ran with great speed, swerving left and right. He reached the keeper with the killer look in his eye and glory on his mind.
Curiously, he fell to his left when taking the shot, striking the outside of the post, and missing what seemed to be a certain goal.- Possibly, he was still thinking of George Michaels'  Careless Whisper from the warm-up, and it distracted him – what else could it be??
Through the second half, we maintained our dominance, despite a few nervous moments. But ultimately, we pulled the match in our favour with our second goal – which came off an elegant reverse-stick pass across the circle for an uncomplicated tap in. We emerged victorious 2-0.
B&F  points: 3 Angus 'Gus' Callinan 2 Matty Turner 1 Riley Lloyd. Goals: 1 Mason Neale 1 Hayden Neale.
Sutho 3rd grade 2 Macquarie University 2
Sutho had their work cut out for them facing a former PL2 Macquarie Uni Team.
From the first whistle, the Sutho defence was put to the test for most of the first quarter, rarely making it out of our own half.
A few quick passes from the back through the wing halves saw a few counter-attacks that looked dangerous. Despite having less of the ball, Sutho found themselves up 1-0 in the first quarter with a successful counter-attack converted by Matt Vine.
Later in the half Macquarie equalised with a perfectly executed corner deflection at the left post.
Through the second and third quarters, Sutho slowly began to take more control in the match producing a number of great opportunities. But Macquarie managed to pull ahead in the third quarter with a corner against the run of play.
Undeterred, Jimmy Mulcair in his comeback game managed to force a stroke from a very frustrated Macquarie keeper less than 30 seconds after the Macquarie goal.
Viney stepped up the spot and slotted the pill top left of the backboard – perfectly executed.
The fourth quarter saw much more space as both teams tired. We each had our opportunities. A special shout out to Dave Hindmarsh on his 3s debut and taking out the 3 points.
The final score was a well-fought 2-2.
Points: 3 Dave Hindmarsh 2 Mitchell Scott 1 Brendon Hol. Goals: Matt Vine 2.
Sutho 6th grade 2 UNSW 6
We had a hard-fought match. UNSW out strong with them getting a few shots early on, but the defence handled it beautifully. Then they got a quick goal from the baseline, followed by disappointing sixteen which allowed an easy goal.
Uni started hard in the second half, pushing us deep into defence. Then a strong hit-out from the sixteen allowed Kai scored a great tomahawk, which secured him the three points for the week. Our only other goal was scored by Phil after poor defence by Uni.
After that UNSW really opened up and got a few more goals before full-time, with a final score of 6-2. Sutho really needs to hold the defence for the final few minutes.
Best and fairest: 3 Kai Morris 2 Lachlan Todd 1 Sean Ryan.
Sutho 7th grade 1 UNSW 10
The auguries were not good. Expectations that an early Sunday morning match would conflict with a Uni student's lifestyle were dashed when all 15 of our opponents were hitting up at 9.20am.
We were still awaiting a few stragglers 25 minutes later. It had the makings of a Mother's Day massacre against one of the gun teams. And so it proved to be; well-beaten 10-1 by UNSW, as their relentless midfield, deadly striking and overall pace found us wanting.
Though we were remarkably within touch down 1-3 approaching half time, by the last quarter we were leaking goals like a gushing rusty gutter in a storm. Despite the valiant efforts of our goalie Big Dave and his new pads, we simply ran out of legs.
Still, we took the match as a learning experience, especially for our younger guys – watching how Wales used their run-on overlaps, control of passes, and efficient tackles. These things we can definitely improve upon in our own game.
The match, however, was not without an individual Sutho highlight, when a self-described 'energy conserver for the big moments' scored his first goal of the season.
What a sight to behold as Brock came sprinting back to halfway, high-stepping and fists pumping; so fired up that he received a mild language-warning rebuke from the umpire. Pretty sure he didn't hear it.
But that's the sort of enthusiasm that's infectious. Keep at it boys; if commitment and enthusiasm count for anything, a win will come our way.
Women
SWHL. Sutho 4 Mosman 0
Another great win this week for our SWHL team over Mosman.
The warm-up started with Zara telling us all that we won't need to put our bags undercover as she promised there would be no rain.
Once on the field, the first quarter was scoreless, although a few attempts were made as Mosman held us out. The second quarter we started our attack with some great passes from Iris allowing Chloe A to put the first point on the board.
Then not long after Amelia scored our second goal with a deflection after some good stick work. Hanna played with intensity bringing the ball from the back of the field up into the circle to allow opportunities for the team with Chloe A scoring again. Iris scored a cracker of a goal from a tomahawk landing in the top right of the goal.
In the fourth quarter we slowed down, but Liv in goals kept the encouragement going and kept us all in our positions. All round a great effort by all players.
Points: 3 Hanna 2 Chloe A 1 Jacqui G.
SEHA. Sutho Premier 2 Esquires 3
It was a sunny Saturday afternoon when the Sutho Prem ladies travelled to Moorebank to play against Esquires. Always a tough game, but with last week's win still fresh in our minds we were ready.
We all wore white bands to support Paris and her mum in supporting the Ovarian Cancer Research Foundation. Thank you Paris for allowing us to be a part of it.
We started the game well – but unfortunately Esquires were the first to score.
We fought back with a lot of good talk, great passing, hard work off the ball, plenty of chances before Em ran a long corner into the circle, shot at goal and Kristen deflected it into the goal. Whoop! Whoop! It stayed 1-1 for quite a while.
At the end of the third quarter we had a short corner. With our double battery set up we fooled them all by going L1 and scoring the 2-1. Super pumped we started the fourth quarter. We were playing well before –  now we stepped it up. I couldn't be more proud of our team. We ended up losing 2-3 – very disappointing after we played such a great game.
Points: 1 Kristen, 2 Ruth, 3 Paris. Goals: Kristen 1 and Ruth 1.
Sutho Grades 2 and 3 had byes. Superb timing for Mothers Day.
Juniors
Sutho U17 Metro 1 Northern Districts 0
It was a scramble before we started the game looking for a playing shirt and a pair of shorts for one of our players.
Thankfully the boys were able to borrow some gear and we were able to head out onto the field ready to go. Luckily this wasn't an indication of how we were going to play our game.
Northern Districts put up a hard, fast and skilful game and we had to step up to match their ability. We kept the game scoreless for the first half. We had some good attempts at goal but unfortunately, we were unable to get past the goalie.
The second half was our best half.
We returned to the field with more determination and more 'want for the ball'.
Our passes were better, we listened to what Shayne said to us at half time with trapping, passing and supporting each other and working more as a team. But more importantly, we talked to each other more.
We kept the pressure on Northern Districts, and with 75 seconds to go, we finally put our first and only goal for the night past the goalie.
It was a great goal from Louis, who stayed back and filled in for us after playing his own game. Keep up the great work.
Best & Fairest: 3 Sohan Mavji 2 Jett Austin 1 Thomas Bryden. Goal: Louis Olsen.
Wally Award (weekly team award): Blake Shaw – for turning up to the game in his training shirt and not his playing shirt. A close second was Lachlan S for not having his shorts. It was a tough choice!
Sutho U17 Geckos 0 Bankstown 3
With Bankstown 4th on the ladder and the Geckos 5th we were expecting a tough game, and a tough game we received.
The first quarter saw Bankstown come out playing a fast attacking game, but our midfield and defence held strong, limiting shots at goal. With Liv on song in goal, Bankstown found it difficult to score.
It took a great short corner for Bankstown to score and take the lead. Just before the end of the quarter, we had an opportunity to equalize through a short corner ourselves, but unfortunately, it wasn't to be and we went into quarter time one down.
The second quarter again saw Bankstown come out attacking to try and break our defence. We had our opportunities but we just couldn't get the angles right to get that elusive goal. With under a minute to go in the half, Bankstown was lucky to get a short corner which again through a great set play they were able to score and we went to half time 2-nil down.
Going into the second half with a couple of position changes saw more attacking opportunities for the Gecko's but without using the width and finding players in the gap like last week we found it difficult to create the scoring opportunities.
Bankstown again could not get through our defence to get a clean shot at goal and it took another great set play from a short corner for them to take a 3 nil lead.
In the last quarter, we were able to find some gaps in the Bankstown defensive line with a couple of breaks to attack their goal but the Bankstown defence was always able to get back before we could complete the final piece of play.
While we were not at our best today our defence was as good as ever and the only real opportunities Bankstown had to score was through short corners, on which they were able to capitalise.
Best and fairest this week: Joshua 3 points, Harley 2 and Nicholas 1.
Sutho U15B Blue Tongues 1 Moorebank 11
Today we were up against the Moorebank U15A team and we could not be prouder of how the Blue Tongues played.
At half time, we were only 4-0 down with our defensive play being exceptional, gutsy and the best we have seen this season – great job Blue Tongues.
In the fourth quarter, Dylan found an open gap and took the fast break into the circle, winning a penalty stroke for the team.
Dom took the penalty and was cool, calm and collected as he put the ball in the back of the net like a true professional.
Special thanks to Jack Gunner for stepping in to make sure we weren't a player down today. Also, a shout out to Brock for his coaching and his strategic planning on our attacking and defensive approach today.
Best and fairest: 3 Dylan Hughes 2 Dom Lenzo 1 Hayden Kulibab. Goal: Dominic Lenzo 1.
Sutho U13a Geckos 3 Glebe 2
With a full team and even a reserve, we were looking forward to getting onto the field today.
A stronger Glebe team showed us that we had to work hard for our win.
The first quarter remained scoreless with some saves from Isabelle and the defenders. Good to see you put your goal saving skills to work today, Issy.
Jude managed to put 2 goals past the goalie, one each in the second and fourth quarters, while Eliana scored a goal in the third quarter.
Two goals from Glebe in the last quarter saw them narrow the score but we managed to keep our lead.
We played well using our new zoning system.
We need to remember while we're playing, we need to look up to see who's available to receive the next pass and work on passing the ball up the field rather than to the opposing team. Keep up the great work.
Best & Fairest:  3 Darcy Matthews 2 Jude Lyons 1 Luke Erikson. Goals: Jude Lyons 2 Eliana Domrow 1.
Sutho U13 A Blue Tongues 2 Sharks 2 
It was an early Saturday out at Marang and the Sutho Blue Tongues were ready to play.
We had played the Sharks before so we knew that it would be a tough game.
Our first half was mainly in the Sharks half and were down 2-0 at half time.
And our second half we were playing strong and passing around the field better and in the last quarter, we scored our goals to tie the scoreboard up. In the end, we drew 2-2.
Best and fairest: 1 Kalahni Crews 2 Amy Whetters 3 Kai Fisher. Goals: Cooper 1 and Amy 1.
Sutho 13B Bearded Dragons 3 UNSW Humpbacks 0
On a warm and sunny morning at Daceyville, the Bearded Dragons got off to a flier with an early goal from Georgia.  The team then kept up the great momentum for the rest of the quarter with a goal from Rhydian, playing up from the 11As, that rounded off the set to take a 2-0 lead going into the short break.
The next two quarters were much closer with UNSW tightening up their defence to cut down opportunities and many shots on goal by our players missed narrowly.
There were some nice saves by Zara in goals.
The score remained unchanged until the final few minutes of the game when Rhydian made a nice move up the right side from halfway tight against the line. He pushed the ball up to Rowan deep in the right forward line who delivered a perfect ball into the centre where Alyssa smacked the ball into the box for the finisher.
Overall, a good team performance with all players across the field making great contributions to the win.
Best and fairest: 3 Alyssa 2 Jack 1 Caitlin.
Sutho 11A Geckos 4 Cronulla RSL 0
Some strong defence from Cronulla RSL in the middle of the field made it difficult to create open goal scoring opportunities.
After passes out wide down the right side to open players, some good crosses to the centre opened goal scoring opportunities.  Most of the attacking raids through the middle of the field were eventually stopped by Cronulla RSL.
In the second half, Cronulla RSL again defended the centre and crowded their defensive circle,  resulting in attacking short corners for the Geckos.
There were a few plays where the ball was initially passed out wide through short passes which then created a lot of space for our attackers down the sidelines.  Some great persistence by attackers following up on rebounds from their keeper extended the lead.
Overall a lot of attacking opportunities against some well-drilled defence.
Best and fairest Points: 3 Sophie Howson 2 Audrey Paige 1 Mitchell Elkin.
Sutho U11B Thorny Devils 4 St George 0
Another beautiful Saturday morning for our U11b teams. Another tough game for our Devils, but they managed to defeat St George with a 4-0 win.
Getting the first goal in was a challenge for our team, the ball just didn't want to go in the goal.
Darcey just came along and she smashed it in followed shortly by another.
With our Devils on fire Hamish put in 2 more goals giving us the win. It was a good game for both sides, St George playing a good defence.
A big thank you to our umpires today and to St George. Today's best and fairest goes to Darcey 3pts Hamish 2 and Griffin 1.  Congratulations guys !!!
Sutho U11A Bluetongues 0 UNSW 2
Our first visit of the season to Daceyville was to take on the top of the table UNSW, a team that looked bigger and older than us.
We were struggling for structure in the first half and came under a lot of pressure with a barrage of penalty corners. The defence held strong, led by Achilles who made a series of great tackles and clearances and good saves by our goalie. We were pleased to have held UNSW to two goals.
A strong talk from Hannah at half time saw the team come out with better structure and greater energy in the second half.
We were passing and using space much better and managed to prevent any penalty corners.  A scoreless second half was something to be proud of. Next week it's back to Sutho to take on the Geckos!
Best and fairest: 3 Achilles 2 Kaspar 1 Theodore.