Hi, Sutho fans.
Sorry about the briefness of this week's match reports; I'm guessing many usual team reporters were so chilled by the arrival of winter that their fingers may have frozen to their computer keyboards. Anyway, we have far fewer reports than usual.
Thank you to the team managers/reporters who put in the effort.
Particular thanks to our photographers who braved the challenging weather: Matt Morris (bad luck about the lack of reports for your matches, Matt), Rory Staples, Jo Momsen and Melissa Elkins.
One of the hot spots over the weekend was the Belgium v Spain men's game in the international FIH Pro League. The skills were breathtaking, none more so than two of the three goals scored by Belgium's Tom Boon. Check out some highlights here. If you have a Kayo subscription, the whole match is available.
Coming up: Not many sleeps now until the big annual Under 11 Herb Fibbins Carnival at Sutho. It's for Associations' teams next Sunday 5 June. For many kids, it will be their first taste of representative hockey and a day to remember. The day before, next Saturday 4 June, there will be a working bee at the club.
June 18: Trivia Night at Sutho.
June 25: This year's Back to Sutho Day. We host Northern Districts' 1st, 2nd and 3rd-grade men's Premier League teams. We will also celebrate the 30th anniversary of Sutho winning its first Sydney 1st-grade men's title with a special commemorative unveiling in the clubhouse. We're hoping there will be a good rollup of the players from that initial first-grade premiership team.
Sadly, as previously noted, we haven't had much in the way of match reports from teams, but thanks to those that helped out, here we go:
Women
Sutherland (1) 2 MosHarbour 1
Sutho1 stepped on the pitch on Sunday with three of its core players suffering illness.
The dedication and commitment of these players to show up and give their best efforts is exactly what Sutherland women's hockey is all about.
Hannah and Donk managed the situation with compassion on the sideline as they rotated the bench frequently throughout the game.
Sutherland started really well against an evenly matched Mosman team.
The opening goal in the first quarter was slapped in by Alex and then finished with a beautiful touch by Meaghan.
In the second quarter, Sutherland managed to get some short corners, the last converted when Alex perfectly executed a strike that buried the ball in the corner pocket.
Mosman came out all guns blazing in the second half and continued until the final whistle.
Their efforts were rewarded with one goal, but Sutherland matched their tempo and fight. They continued to have good opportunities in the circle and strong defence from the first line.
The communication from both teams was excellent. The final score was 2-1 to Sutherland.
Best and fairest points: Alex 3 Marina 2 Meaghan 1. Goals: Meaghan and Alex.
Sutherland (2) 3 vs MosHarbour (4) 0
It was great to play at home this week, with plenty of Sutho supporters on the sideline to cheer us on.
Sutho had several players out; a big thank you to Kiara for stepping up to help and a special shout out to Audrey and Lauren, who played their first game in Women's!
MosHarbour were a competitive side and rattled us a bit in the first half with their intensity.
With 1 goal locked away, we began to build momentum, and by halftime were playing our game.
Another two excellent team goals secured our 3-0 win.
Best and fairest: 3 Piper Murphy 1 Emily Cherrie 1 Audrey Fuz 1 Jess Cherrie. Goals: Jess Cherrie 1 Sofie Cherrie 1  Elissa Hughes 1.
Sutho (3) 0 Bentstix 9
It was a nice, sunny and windy morning for an early start at Sutho Tradies Hockey Park.
A few withdrawals with sickness before the game saw Sutho take the field with ten players, with Liv filling in as goalie. Steph arrived during the first quarter to boost the team to 11.
The great defence saw Sutho trailing by only 2-0 at the first break. We held the opposition in the second quarter and were unlucky to score for themselves. Unfortunately, just before halftime, Sutho was reduced to 10 players, with Hillary sustaining a concussion after a shoulder to her head.
Sutho was positive and defended gallantly against a running opposition, with Liv saving numerous shots and Sutho scrambling on the goal line to keep the ball out.
After more contact from the opposition, Andrea was knocked down, injuring her shoulder. However, as we were already short on the field, she stayed on to support the team. At the end of the 3rd quarter, the score was 5-0.
With many injuries, playing short and with such a physical game, the score unfortunately ballooned in the 4th quarter. Sutho just ran out of stamina but continued to support each other.
The final score didn't reflect the commitment and teamwork shown today. Hopefully, we can rally the troops to field a team next weekend with some reserves.
Best and fairest: 3 Kiara 2 Jade 1 Andrea.
Juniors
Nothing like a Sutho v Sutho Battle of the Lizards clash to get our club's hockey weekend off to a flying start.
And so it was when our U17 Thorny Devils and Geckos fought it out Marang on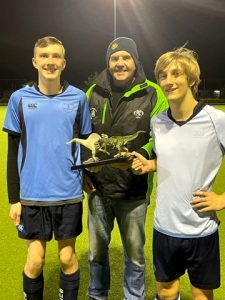 Friday, with a team named after a lizard winning.
The previous week at Marang we had another top-of-the-food-chain lizard trophy match, with the presentation made by our highly valued major sponsor, Tradies' chairman, Dennis McHugh, who was well rugged up for the occasion. Thanks for braving the cold to show your support, Dennis.
Now, back to last Friday's epic.
U17 Thorny Devils 3 Geckos 1 – Battle of the Lizards Trophy
On another Friday night at Marang that was awash with a sea of Blue with plenty of supporters and four-legged mascots, the final, much anticipated Lizard Cup between the U17 Thorny Devils and U17 Geckos took place.
Several U15 players were borrowed to make the teams even.
It was a wonderful game with end to end hockey. Great saves were made by both goalies.
The teams were very evenly matched and the result could have gone either way.
The final score was 3 – 1 to the Thorny Devils who scored some lovely goals off set plays on penalty corners that they have been diligently practising.
Best and fairest points: Kai 3, India 2, Lochie 1. Goals: Kai 2, Lochie 1.
Sutho U15 Thorny Devils 5 UNSW 0
It was an excellent game from the Thorny Devils on Friday night against UNSW under the lights at Marang Parklands Hockey Fields.
We scored our first goal not far into the first quarter, giving us the lead. We kept up the good work throughout the rest of the game, managing to score another four goals by full time, leaving the final score at 5 nil.
Despite being short a few teammates, we were still able to win through great gameplay and amazing teamwork.
Awesome game Thorny Devils!
Best and fairest: Lachlan H 3, Rose 2, Lachlan E 1. Goals: Lachlan H 2, Lachlan E 2, Dominic.
U13B Blue Tongues 5 Glebe 0
On Saturday, the Sutho Blue Tongues took on Glebe at Sutho. After our close loss last week, we were keen for a win.
We started the game strongly, with Darcy scoring a goal in the first quarter,  flicking the ball over the goalkeeper into the net.
We dominated during the game with the majority of possession and mostly kept the ball down their end. Our midfielders were linking well with our strikers, and after tonnes of pressure, the goals started coming in, with Gemma scoring a tap in and Immy scoring from a firm slap to take us 3-0 into halftime.
We felt good, but we made sure not to release the pressure and keep attacking, with two more tap-in goals from Gemma coming in the second half to get her a hat trick and bring the final score to 5-0.
Our attack was exceptional, as was our defence to keep Glebe to 0. A fantastic effort from the whole team.
Best and fairest points: Smrithi 3 Saskia 2 Skye 1. Goals: Gemma 3 Immy 1 Darcy 1.
Sutho U13A Geckos 3 St George 1
It was a sunny day at Kyeemagh as Sutho went up against St George in an exciting game.
In the first half, we had many shots on goal, but the St George goalkeeper was showing control of their box and not letting in many shots at all.
By the start of halftime, the score had gone up after both teams had scored some excellent goals. Our team also did extremely well with our passing wide and getting into our attacking circle easier.
Great match in the end, with a score of 3-1 our way.
Best and fairest points: 3 Nic, 2 Jack H, 1, Thomas. Goals: Nic 2, Lauren 1
Sutho U13B Thorny Devils 3  Cronulla RSL 0
The Thorny Devils returned to Sutherland this weekend to play against the local Cronulla RSL team.
After a tough game the previous week the team ran on the field determined to have fun and use the skills they have been working on at training, and, gee, what a great game it was.
The Devils were working together passing the ball really well. We had some great shots at goal before Lucas launched a shot straight into the goal and this boosted the teams' spirits. Multiple shots resulted in  Mila scoring two more goals in the second half.
The game finished with a tense short corner for Sutho after the full-time buzzer had gone, but unfortunately, RSL would not let a fourth goal be had with some great work by the RSL goalie.
The team should be really happy with the game.
B&F points: – Ellie Robertson 3, Caleb Mao 2, Beckett Hollyman 1.
Men
Sutho 1st grade  2 v Glebe 3
Well, I guess it had to happen. In a match we should have/ needed to win, we crashed.
Although we missed Alex Shaw the team should have been better than Glebe but went to their level and did not maintain the high levels achieved to date when playing all the top teams.
A loss never hurts and the young ones needed to come down to earth and realise they have a lot of work to do if they want to reach the semi-finals.
So back to the drawing board and hopefully come back stronger next week.
Best and fairest: Riley Lloyd 3 Michael Sharkey 2 Harry Roberts 1, Goals: Blake Hernandez 1, Michael Sharkey 1.
Sutho 2nd grade 3 Glebe 2
We were back playing under the lights at Homebush this week, with the game live-streamed by Sydney Hockey.
Our first quarter started on a positive note, as our continued pressure on Glebe's midfield and defence led to many chances in the '25.
Brendan Sharp scored a deflection off a ball from Peter Mulcair, but Glebe struck back with a breakaway goal to bring the score to 1-1 at halftime.
We went into the third quarter with a plan to go "in-out-wide" around the field and scored two short corners out of three for a 3-1 lead. Glebe scored their 2nd goal in the fourth quarter but Sutho were able to retain the lead for an important win.
Best and fairest: Blake Sharp 3, Chris Goodman 2, Peter Mulcair 1. Goals: Brendan Sharp 2, Peter Mulcair.
Sutho 3rd grade 3 Glebe 2
No match report.
Best and fairest (Sydney Hockey): James Mulcair 3 David Hindmarsh 2 Sohan Mavji 1. Goals: James Mulcair 3 Matt Quinlivan 1.
Sutho 4th grade 2 UNSW 5
No match report
Sutho 5th grade 2 Briars 6
No match report
Sutho 6th grade 2 Norwest Strikers-Baulkham Hills 1
No match report.
Sutho 7th grade 5 Manly-Gordon North Sydney 0: Forfeit