Dave Krepp relaxing on Saturday arvo keeping Ryde out in 5th grade
We got off to a freezing, wet start of hockey last weekend when our Minkey kids toughed out some awful conditions for their weekly hitout at Sutho late on Friday afternoon.
Understandably down a bit on numbers because of the conditions and sniffle season, the kids really impressed with how keen they are. They all came off at one stage, with the adults cowering under shelter thinking, "Finally, we get to go home and get dry and warm."
But – NUH! The kids were just coming off for a drink. Then back into it!
Here are Sutho's little champs in action.
And just to show it doesn't all have to be serious learning at Minkey, a couple of the girls got to practice some moves while waiting their turn at learning hockey skills: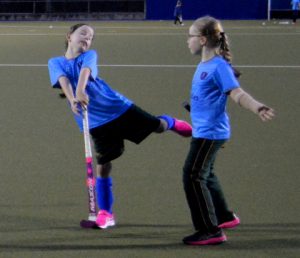 Elsewhere at Sutho…
Five of our young Sutho women headed off to a very chilly Armidale to compete for Sydney South Hockey association in the NSW Under 18 women 's titles.
Congratulations to, from left, Piper, Amelia, Chloe, Audrey and Taylor, whose team had a brilliant State Championships in Division 1.
Sydney South finished second in their pool on goal difference and only lost their semi-final to eventual gold medal winner, Goulburn.
A special mention must be made of men's first-grade goalie Nathan Akroyd, who turned in a brilliant game against Norwest Strokers at Olympic Park on Saturday night. Akers' efforts were instrumental in keeping the scoreboard to  0-0.
Check him action in Sydney Hockey's Livestream match highlights package here
Next weekend our men's Premier League teams are again away, this time to Glebe. Home Sydney League men's games on Saturday are against UNSW, Briars and Gordon-North Sydney.
In SSHA women's games at Marang on Saturday afternoon, the Sutho Wildcats line up against RSL Gold, while Sutho Blue will play Tartan Tarts. Our SEHA ladies will be up bright and early on Sunday morning for an 8.30 game against Bentstix.
Later on Sunday, our SWHL Metro League women's teams play MosHarbour sides.
For your diary:
5 June: Sutho's big annual U11 Herb Fibbins Associations Carnival, which will see teams from near and far participate.  To ensure Sutho is sparkling clean, the day before, 4 June, there will be a working bee at the club.
And do you reckon the kids have a good time??? Last year's evidence:
June 18: Trivia Night at Sutho. Details to follow.
June 25: This year's Back to Sutho Day. We host Northern Districts' 1st, 2nd and 3rd-grade men's Premier League teams. We will also be celebrating the 30th anniversary of Sutho winning its first Sydney 1st-grade men's title with a special commemorative unveiling in the clubhouse.
Match reports
Men
Sutho 1st grade 0 Norwest Strikers 0
This was another great result for this young team, especially with captain Mitch Wray out injured – we missed his leadership. We also had Michael Sharkey out with Covid and Riley Nilan missing with an injury.
This once again made us lean on our 2nd grade – and see  Taz Nyrhinen and Isaac Olsen make their first-grade debuts.  Both played in the NSW U18 Championships last weekend.
This match against the Strikers was not one of our better performances – in fact, it was scrappy. We escaped with a draw, showing true grit in the effort to stop NWS. It frustrated them no end.
Special mention must be made of Nathan Ackroyd for his great performance in goals again. Alex Shaw also showed his usual strength in defence. Both are an integral part of this team.
Hayden Neale turned in his best performance of the season, while his brother-in-arms, Mason, ended up with a high shot at him – which hopefully didn't result in a broken finger.  Hopefully, we can continue our great start to the season so far next week when we meet another arch-rival, Glebe at Homebush.
B & F:   Nathan Ackroyd 3 Alex Shaw 2 Hayden Neale 1.
2nd grade No report
3rd grade No report
Sutho 4th grade 0 Ryde 3
It was another tough match for Sutho's 4th grade this week, against Ryde.
With many people unavailable, more than half our team had already played 5th grade. However, the aim was to stay patient, remain composed, and opportunities would follow.
It was a tight tussle in the early stages of the match with both teams struggling to retain possession. However, later on in the match, Ryde was awarded a short corner, delivering the first goal of the game.
Our intensity did not drop and we continued to fight. With one quarter to go, we managed to create some opportunities, being awarded a few short corners. One short corner appeared to have been a cracking goal to potentially create a 1-1 draw but was unfortunately disallowed, believed to be too high above the backboard.
In frustration, we failed to maintain focus and let in two quick goals, resulting in a 3-0 loss. It was a disappointing finish to an exciting match.
Sutho 5th grade v Ryde No report
Sutho 6th grade 0 Ryde 4
This was a game that provided us with the opportunity to jump into second place with a win against Ryde.
Unfortunately, we were well beaten on the scoreboard. We played well and were composed for most of the match except for the second quarter when we let in three goals. The last came 30 seconds from halftime.
The halftime talk was about maintaining possession as we did in the first quarter, then trying to build pressure upfront by winning free hits and passing back to the midfield when nothing was on rather than just giving it away.
We managed to implement this strategy for the most part and created several clear chances and earned a handful of short corners. However, we couldn't convert.
Eventually, a late counterattack goal by Ryde in the last minute of the match gave it the 4-0 win.
We next go to Pennant Hills for a must-win v North West Strikers. Hopefully, we can get a full-strength squad to that game.
There were plenty of good efforts across the park outside of those who got the points, including Ray Northwood,  Luke Dumrow and Lachlan Hoy.
Best and fairest: Brooky 3, Shaun 2, Gus 1.
Women
Sutho 1 and 2 – byes
Sutho 3 v UNSW
Sutho 3's game against UNSW had no umpires and was played as a friendly, so not sure how that pans out officially.
The team travelled to Cintra to play UNSW 2B. We knew as a team we had come a long way from our first-round match against them and were looking forward to playing them again. We were also grateful and excited to welcome Alex and Marina to the team for the day!
Things hit a snag early on when we didn't have an umpire. After a nervous wait and negotiations, we were able to take the field for a shorter match with Les Wilde once more stepping up as emergency spectator-turned-umpire until our match umpire could arrive.
Our training drills and teamwork delivered some great passing and strength and pressure on the ball from all players throughout the match. we kept UNSW to a 0-3 scoreline at half-time.
We had a few opportunities and circle entries but unfortunately just couldn't get the ball over the line against the strength of the UNSW defence.
With no umpire by half-time, it was clear this was going to be a friendly match but both teams continued to play great hockey.
We earned ourselves three short corners with some tenacious work from the midline and attackers but unfortunately couldn't convert them. Then, with 1 minute to go, UNSW was awarded a corner of their own – It was all-in from both teams and on their second attempt, their ball found the goal.
Sutho 4 and 5. No reports
Juniors
U17 Metro: bye
Sutho U17 Geckos  5 Sutho Blue Tongues 0
It was a great game played by the Sutho Blue Tongues on Friday night, we utilised skills from training and worked together as a unit which resulted in a 5-0 win against our fellow Sutho Geckos.
We greatly appreciate the U15 players who stepped up and filled in for our team. Congratulations Luke who received 3 points as best and fairest in the annual Lizard Cup, Ryan with 2 points and Claire receiving 1 point.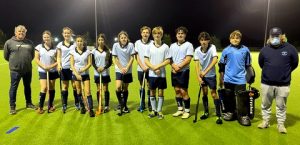 Sutho U17 Blue Tongues 0 Sutho Geckos 5
Friday night's game was Sutho Geckos vs Sutho Tongues at Marang hockey fields.
It's always a good game when you're playing against your own club. Both teams played great hockey and their sportsmanship was amazing.
Not long into the game it started raining and didn't stop.
The first quarter started off well, considering we only had nine players as Chloe Burne, Audrey Fuz and Piper Murphy were away for the NSW Under 18 State Championships in Armidale.
The team was lucky enough to have two Under 15' fill in for us. Sam Vagelatos played in goals and made good saves, while Sarah Ekermawi played right striker and did some nice running with the ball.
The second quarter had both teams attacking and defending the ball. Owen had some great runs with the ball as well as great tackles.
There was a lot of defending in the third quarter the team did so well running back in defence. Jordan was a standout in defence making great saves.
The fourth quarter had Jacob and Eliana running a lot in our 25 and circle stopping the hard and fast balls being hit by midfield MaKye. There were some shots on goals, but unfortunately, they didn't go in.
Well done to the Geckos who played well as a team and were very encouraging to each other.
This week's best and fairest points went to 3 Jordon Mackintosh 2 MaKye Williams 1 Eliana Huemer.
Sutho Metro U15 2 Northern Districts 4
The score didn't reflect the game that we played;  we played together really well.
The majority of the game was spent in the Northern Districts' half with quite a few missed goal scoring opportunities.
We passed the ball between each other well and when we built up from the defence & threw the ball around, we looked unstoppable.
There were some good leads through the centre from Jonty and Justin while Zara and Rhys held up in the defence.
Kai had an awesome game and didn't miss a trap or pass all night… it must have been the red clouds before the game!!
Don't forget that what we practice in training we need to try to put into our game.
Best and fairest:  3 Julian Krepp 2 Kai Fisher 1 Justin Murray. Goals: Jonty Austin 1, Louis Olsen 1.
U13A Geckos 1 UNSW Orcas 3
The Geckos were up against one of the stronger teams in the competition and we were missing several of our players.
Although we created some chances in the first quarter UNSW caught us on the break and scored three goals.
We dominated the game in the second half and UNSW barely got into our 25.
Our passing was good and we pressured hard. We had lots of opportunities to score but the ball wouldn't go into the goal until the last minute when Ethan scored.
Best and fairest: 3 Ethan, 2 Nic, 1 Lauren.
Sutho U13B Blue Tongues 1 UNSW 2
Sutho Blue Tongues took on UNSW at Daceyville this Saturday and despite being short a couple players, we looked confident and energetic in our warm-up.
The game began and we were dominating with possession and territory on the field, with multiple pushes down the sidelines that allowed us to penetrate the circle and shoot at goal.
However, their defensive strategy was paying off, with limited success on our shots.
Our short corners appeared to be giving us the best chance at goals and sure enough, Lincoln managed to put one away into the back of the goal just before halftime.
We continued to dominate in the second half, but with our team being a player short and not having the subs that the opposition had, we evidently started getting tired.
With 5 mins to go, UNSW managed to get a few corners back-to-back and put to quick goals in to win the game.
Despite the result, I couldn't fault the effort of the players and I know if we play with the same intensity and with subs through the rest of the season, we will score goals and win games.
Special thanks go out to Joel for coming up from U11s to not only fill in but play amazing hockey. Also thank you to Carlos for putting his hand up last minute to step in as goalkeeper;  we wouldn't have been able to put up as much of a fight without him.
Best and fairest: Harriet 3 Lincoln 2 Imogen 1. Goals: Lincoln 1.
Sutho 11A Geckos 0 Moorebank 0
This really close, end-to-end game made it exciting to watch.
Moorebank's defence was very strong and they passed the ball out well from their backline, putting pressure on Sutherland's defence.  We made some attacking raids in the first half by passing the ball out wide and then finding support players upfield.
The game was even with both sides defending short corners very well.
Michael had some good shots on goal which were saved by Moorebank's keeper. Cooper coming back into the team tackled really well, including marking their main player.
Our team in the second half was able to move the ball upfield and was stopped via some excellent tackling from Moorebank.
Special mention is made to Archie for his great defence and excellent ball distribution out wide.
Moorebank always had at least one high striker and Harry in goals made some fine saves from close range shots to keep us in the game.
Overall, an excellent effort from the team right through to the final whistle.
Best and fairest: 3 Archie Erickson 2 Harry Gunner 1 Levi Cooper.