Lincoln shows how to relax at Sutho when you get tyred
It was a mixed bag for our Sutho men's teams at the weekend as three packed up for the season and five continued their runs to the finals.
For those who were on the sidelines, Sutho's 6th, 7th and 8th grade teams went down fighting. Quite properly, we have picture galleries to go with their final games reports for the year. Thanks for being part of Sutho, boys, and look forward to seeing you again in 2020.
As Piles reported:
6th grade finished 5th with 10 wins and 8 losses, 5 points behind 4th place;
7th grade finished equal 5th (6th on goal difference) with 8 wins and 10 loses, 10 points behind 4th place; and
8th grade finished 6th with 6 wins, 2 draws and 10 losses, 18 points behind 4th place.
As he said, Sutho sends a massive thank you to Phil Rowling, Bryn Davies and Matt Stevens (6th grade), Mark 'Brookie' Brookfield (7th grade), and Mark Bayley (8th grade) for looking after the sides this year.
Sutho's first semi
Next Saturday, Sydney Hockey League (in which our 4th-8th grade teams play), kicks off the 2019 round of Sydney Hockey men's semi-finals.
Sutho's 4ths, which finished fourth, will line up against third finishing University of NSW in the elimination semi.
The game is scheduled to hit off at 4.15 pm on the Olympic pitch at Homebush.
Schools Gala Day
Before we get onto the match reports, don't forget the forthcoming annual Sutho Primary Schools Gala Day. Details are here: https://bit.ly/2XCtCcF
Match reports
Despite the previously mentioned mixed bag of results, all our Sydney Hockey League teams got to play at home on a sunny, spring-like day to round out the season.
Thank you once again to our photo contributors Tony O'Leary and Craig Turner, who amongst other contributions, ensured that 4th grade had the biggest photo exposure in the club with two galleries. Anyone would think their offspring were taking part! Thank you also to Rory Staples for his U15 Metro and U11 v Bankstown match pictures.
Sutho 8th grade 0 v Ryde 4
Our last game was against Ryde, who have been on top of the table throughout the competition. We knew this was going to be a difficult game!
As we started, the play is pretty even in the middle of the pitch, flowing through both halves.  They win a short corner and slip one through.  We are able to give as good as we got.  We have the skills and the fitness, when we passed we looked so much more in control and had them worried.
The play continues and we concede another goal from a short corner. In the end, the majority of their goals were from short corners.
We troubled them on a few occasions and were getting very close with a few shots, but unfortunately it was not our day.
Best and Fairest:3 Dave Lucas, 2 Mark Bayley, 1 Jordan Wood.
Sutho 7th grade 1 Ryde 6
It was the final game of the year and, like a few other Sutho grades, we came up against first placed and undefeated Ryde.
Even though our semis dream was gone, we still wanted to go out on a high – but it wasn't to be.
We started very quickly and enthusiastically and had the leaders under pressure after scoring after 10 minutes with a great goal to Declan Coman.
However,  we gave up four reasonably soft goals before half time and were obviously under pressure to come back from there.
But showing the grit that we learned through the season we really gave it a shot but came up short. We actually had about 763 opportunities in front of goal but just couldn't take our chances and ended up losing 6-1.
Our 3 points went to the impressive Andrew Chang, 2 to Michael Duanni and 1 to Sean Ryan.
Hope to see everyone back next year as we have the basis of a good team to give it a shake in 2020.
Sutho 6th grade 3 Ryde 0
Sutho put on a fantastic warm sunny game for our last game of the season. We were locked into 5th place, so the game was one last opportunity for us to show how far we've come this season and put in  a big effort against 4th placed Ryde. And we did.
After a tense start, we settled into the tight contest and begun controlling the ball and the tempo of the match.
This led to some sustained offence, and a quick play from Tim to put us up 1-0. It was a great time for him to get his first for the season.
Ryde were rattled a bit but weren't going to lay down and responded by playing more physically on and off the ball. But we were able to match it and mature enough to keep our heads. Our positive play gave us a few good chances and Lachlan capitalised on two of them to give us a 3-0 lead at half time.
Ryde were fuming about losing to a non-finals team at half time and came out stronger after the break. Our defence had to step up and they did. Mitch & Josh shut down the middle, Bryn & Glen held their high strikes, and the wily vets Matt R and Matt S kept their wide mids contained and frustrated and let them know about it.
Ryde kept pushing but they couldn't beak our defensive effort or midfield possession and we finished 3-0 winners, and got to sing the song one last time. Great win boys!
Points: 3 Matthew Rowling, 2 Mitch Rowling, 1 Lachlan Cartwright.
5th grade
No report
Sutho 4th grade 3 Gordon North Sydney 0
Gallery 1 from Tony O' Leary- and there's another from CT at the end of Sean's report.
The 5 pm game on a wintry Saturday afternoon at Pennant Hills is always a challenge for us, but our 4th grade team was quietly confident in the sheds before the game after a few weeks of constructive and successful games.
We also reminded ourselves that although we were playing 3rd placed GNS and needed at least a draw to guarantee finals. We had lost 0-1 to them in the first round in a game which was evenly matched and determined by a very good shot at goal in one of their few opportunities for the match.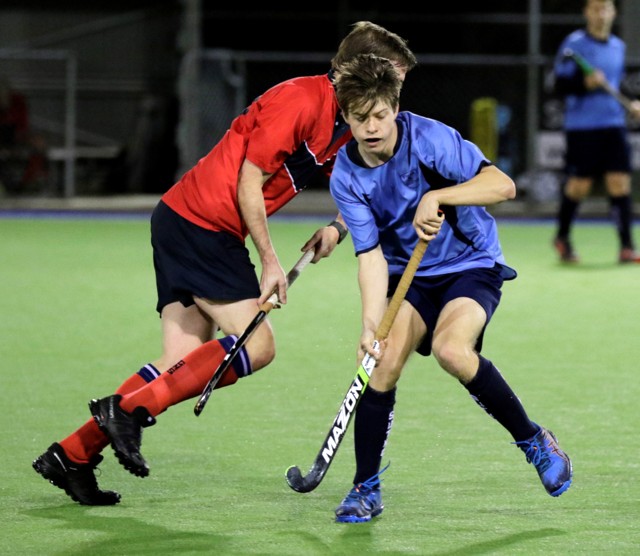 The game was tight for the full 68 minutes, with GNS applying aggressive frontal pressure every time we had possession of the ball in our defensive half. In fact, they played a style which we hadn't faced so far this season and dominated possession in the first quarter.
Despite numerous penetrating passes into our defensive circle and missed deflection opportunities, we managed to stay in the contest the frantic first 7-8 minutes and, in one of our very few forays into their half with the ball in our possession, won a short corner.
A cunning dribbler
The initial flick from Joel was stopped but the ball was slipped to Elliott at the top of the D who cracked the ball at the keeper and had us cheering as it dribbled between his legs and into the back of the goal.
At 1-0 up, we were then able to start exerting some pressure of our own.
GNS continued to look for the long ball into the circle with our defenders constantly countering to mark their strikers who were always on the move, leading and recycling back to our baseline.
We worked out that it was often their midfield overlapping behind our defenders as the strikers posted up to the top of the circle/23.
Stevo's constant talk was outstanding and he directed our midfielders to tighten up where necessary. We had a few more opportunities, as did they with a couple of shots being deflected off our goal line by our senior (aged) defenders.
We were still 1-0 at half time but felt that we had managed to get the game on an even keel. Although they were still penetrating our circle, our defence was solid and, more importantly, our possession and passing began to penetrate their defence and create opportunities of our own.
There was no change to the pace or intensity of the game in the third quarter. Again we created opportunities, as did they.  Again we missed and they did as well.
The stage was set for a season-defining last quarter and it didn't disappoint. Our defence continued to mark their strikers, our midfield turned up the heat on their midfielders when they had possession and our strikers worked hard on the counter attack.
With 10 minutes to go, Joel won possession around the half way line, accelerated and beat a couple of players, leaving their defender isolated at the top of the circle.
No yellow card
Although the player in GNS' last line swung his stick hard and collected Joel's stick at the top of the circle, Joel kept control and calmly dragged left and tomahawked the ball into the back of the goal. It was an outstanding solo effort which should have also resulted in a yellow card… unfortunately not.
At 2-0, we had a bit of scoreboard breathing space but certainly GNS kept applying the blowtorch.
Their press was still meaning our out-letting was tight and we managed to work the ball up the left hand side of the field with a series of passes from Charlie to Ollie with Huon receiving the ball about 5m off their baseline.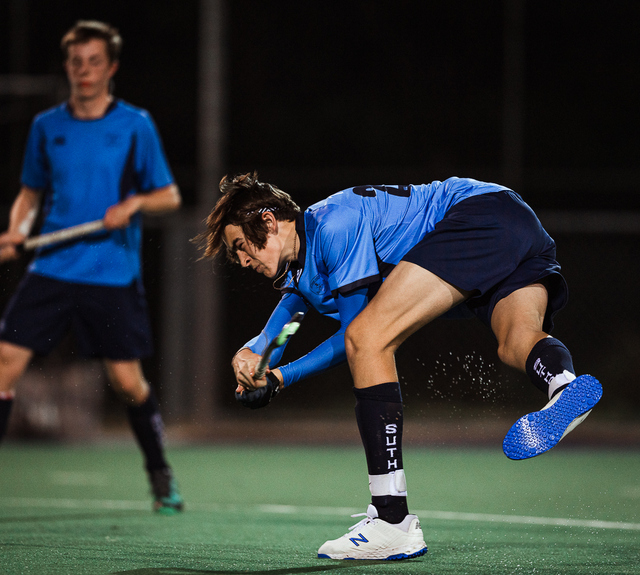 Huon cracked the cross to the spot where Matt Tyler was waiting, and like all good strikers had his stick on the ground and deflected the ball into the back of the goal.  3-0!
Despite only having 5 minutes to go, GNS did not put up the white flag and kept the pressure on. With 3 minutes to go, our defence retrieved the ball and, in looking for options, our most senior defender took his eye off the ball and completed an air swing pass.
Unfortunately, there was a GNS player only a couple of metres away. But our defender didn't panic (like the rest of the team apparently did) and calmly dived at the ball – which had rolled into the circle – and slapped it down field, deflecting off the striker's stick and making it dangerous.
Hyperventilating
The senior defender sprang from the ground, dusted himself off and commented to his hyperventilating keeper that it was all part of the plan to advance the ball down the field.
Once we had handed out the oxygen masks to resuscitate a few Sutherland players (and spectators) – we managed to get through the rest of the game without any further incidents.
A sensational team effort under pressure – clean slate maintained and Finals participation secured!  A great way to enjoy Pennant Hills during the season.
B&F: 3 Jason Stevens, 2 Huon Bollard, 1 Sean Kelly (for his story telling!).  Goals: 1 each to Joel Westblade, Matt Tyler and Elliot Stark.
CT's gallery just to round things off.
Sutho 3rd grade 4 Macquarie Uni 1
Off to Pennant Hills for the 6.30 pm game against 10th Ranked Mac Uni, who we drew with 2-all last time at home. This was a danger game, where a win would see us confirm a finals spot and keep the chance for 3rd spot alive. With a number of boys helping out 4ths in the game before, there were only 10 in the change room, which was probably good given how small they are. After plenty of banter, much of it aimed at Angus's music, we hit the warm up aiming for intensity from the opening whistle, only to then wait ages for the umpires, then the clock.
Eventually the game started and Mac Uni probably had the better of the first 5 mins, with a couple of soft corners conceded, but no harm done. Sutho then switched a gear and scored for a 1-0 1st qtr lead. Two quick goals in the 2nd quarter and the game was pretty much done. We talked about keeping up the pressure and finishing the game off.
Another early goal and 4-0 up. But despite numerous chances we couldn't add to that tally and with growing fatigue, conceded late in the game.
At least we sang the song with effort this week, although the acoustics don't work as well outside! Semis booked, we now play our final round game against 4th placed Syd Uni with a win or a draw enough for 3rd spot on the ladder, and 4th placed our likely worst case finish (pending F&A). Get to training this week boys, as we continue to build for finals.
Points: 3 Tim, 2 Jay, 1 Nick. Goals: Joel 2, Matt 1, Tim 1.
And a bonus: Nic Rose burst into prose, so here goes with what he did compose:
Well Saturday had finally arrived, which was an important day for our 3rd grade men's team who needed a win to safely secure a place in the finals.
Sutho started the game fairly strongly, especially when we had to make the long trip out to Pennant Hills for a cold 6:30 pm game. The first quarter was mainly in our favour except for the occasional failed pass due to the need to adjust to the fast and bouncy pitch.
However, the game continued in our favour through hard work and determination to win 50/50 balls, eventually leading to the final outcome of a 4-1 victory. There is no doubt that the team played harder than the previous weeks to obtain this well-earned result which has sealed our place in the finals.
Points: 3 Tim Mall, 2 Jay Kelly, 1 Nicholas Rose.
Sutho 2nd grade
Maintaining its consistent performance, no report.
Sutho first grade 1 Ryde 3
This match was played at 6.30 pm at Ryde which was not ideal, but this is by no means an excuse for the result.
The team actually played some excellent hockey but did not capitalise on the many opportunities created.  It's the old adage if you don't score goals you don't win games, and the team which scores the most wins.
We had at least 9 short corners and only scored 1. This is usually one of our weapons which works, but unfortunately didn't on the night. There were numerous other circle penetrations and balls crossing the goals and not being put away.
So we have our work cut out for the coming final series if we want to win the premiership. The team has the ability to go all the way, though it's now down to the players to want it enough and to show up and let everyone know who they really are.
We play our last round match at home next week end against Glebe. A win will maintain our 2nd position on the ladder, then lead to a semi-final against Moorebank the following week.
B & F:  Kieran Govers 1, Alex Shaw 2, Scott Govers 3. Goal: Matt Johnson
Metro
U17 Sutho
No report
Sutho U15 3 Glebe 1
The 15s Metro had a home game this week and it was nice after two long trips to Pennant Hills and Ryde. Starting the game off with a good, intense warm up (best one of the year) the team was looking to secure their spot in the semis.
Sutho came out hard and fast against Glebe and played a strong style of hockey. We dominated much of the first half only to have our hard work undone by a piece of magic from a Glebe player beating multiple players and slotting into the bottom corner. It put Glebe up 1-0 at half time.
Sutho came out into the second half with a focus on a slightly more attacking style and slight change in the formation.
This proved vital, making an instant impact through a lovely tomahawk goal. The next two goals were excellent team efforts, demonstrating what we had been trying to put together all year. And for it together at the right time of the season is a big thing! Sutho completely dominated the 2nd half to come back from 1-0 down to win 3-1.
Points: 3 Chloe Antilla, 1 Matty Rose, 1 Grace Matthews, 1 Corban Marinos.
Juniors
Sutho U17 Geckos 0 St George Randwick 4
Similar to some other teams, the Geckos were down a few players this week, but we were grateful that a contingent from the U15 Thorny Devils filled in to help us out.
The team had a loss to the higher ranked St George Dragons, but after a fairly lacklustre first quarter the Geckos lifted themselves to play good solid hockey for the remainder of the match.
The difference seemed to be finishing in front of goals. The Geckos probably created a similar number of chances, but we just didn't take ours.
In the first half the ball was pinging from end to end very quickly: a great save by Sean in goals, then a great penetration into SGR's circle immediately afterwards by Dominic, then SGR scored off a short corner, followed by the Geckos nearly scoring from a quick break!
The Geckos were only down a single goal at halftime, but SGR quickly doubled their lead in the first few minutes of the second half by one of the best tomahawk goals I've seen in years. SGR wasted some strong goal scoring opportunities by stubbornly trying to score every goal from a tomahawk.
The Geckos played well in the second half and the remaining two goals scored by SGR were against the run of play. The final score was a 4-0 loss.
B&F points: Macca 3, Sean 2 and Zach C 1.
Sutho U15A Blue Tongues 1 Moorebank 1
What a fabulous outcome this week for a team badly affected by various injuries and, again, no reserves and a second half being played with only 10 players on the field. A huge thanks to Finn and Liam who filled in for us. We really appreciated that you left your teams game to help us out.
We fought hard in the first half with many opportunities to score but we just couldn't get it past the goalie and we were trailing 0-1 at the half time break.
We managed to even the score in the second half with a great goal off a short corner from Amelia and held Moorebank at a 1-1 draw until the final hooter.  Those last 10 minutes were agonising!!
A great game was had by all and everyone should be complimented on their game play.
Thanks to Joshua for playing the first half with your eye injury; hope it's better soon.  You certainly helped our team towards their draw.
Points: Amelia 3, Max 2 and Jonathon 1.
Sutho U15B Thorny Devils 4 Glebe 0
What a nice way to finish the regular season.  The win was good, but it was great to see the whole team turn up with good attitudes and team spirit.
We started out well and did not spare too much time before bagging our first goals, but it wasn't without pressure from Glebe who managed to have us on the back foot on several occasions, really pressing us in our D. However a good team effort kept those attacks at bay, along with some nice goalkeeping by Kai Struve who rotated into this role for this week.
A highlight for the game was the repeated attacking approaches on goal that were a result of 2, 3, 4 and 5 pass combinations that seemed to have crept finally into our game.
Lots of positive talk on the field encouraging each other into the spotlight was nice to see, and I think that even the other team would have liked to see Ezekiel knock in a goal after several enthusiastic, but unlucky attempts.
Good game, great season, well done Thorny Devils!!!
Go Sutho!!
Best and fairest: 3 Blake Mottershead, 2 Nathan Brown, 1 Ezekiel Yung. Goals: 2  Nicholas Cullen, 1 Lile Roche, 1 Nathan Brown.
Sutho U13A Geckos 0 SGR 0
For the first time this season, the Gecko's did NOT win. Instead we drew 0 to 0 with SGR.
It was almost like there were two Sutho teams playing today. The Sutho team during our first half was slow, did not use our structured approach and did not want the ball. But in the second half, we played a lot better with more desire and determination to win the ball and the game.
Rhys Bollard played a great game and even did an overhead pass over the top of a crowded defensive line.
Tomas played another great game and Holly took on board Brad's feedback at half time and changed her game to get in front of the defenders and win the ball in the circle.
The good news is that we have finished the minor round undefeated and had a very timely "wake up" call to get us ready for the finals.
Best and fairest: 3 Rhys Bollard, 2 Tomas McCowan, 1 Holly Antilla.
Sutho Under 13B Thorny Devils 3 St George Randwick 2
This being the last round before next week's knock out semi final, coach Hoy's TDs needed to be tested. We were up against a tough opponent in St George – and in our last two encounters the TDs had gone 3-2 and 2-1.
What made it a bit more interesting is we usually boast a 4 player bench, but due to sickness and two of our players being called up to assist the more critical U15B game, for the first time this season we had no substitutes. The coaching staff primed the TDs on what is was going to take to sustain the whole match without a break, and in true TD fashion they  took up the challenge.
They came out of the blocks dominating the possession and constantly pushing the ball forward within 25 yard line. Thomas rewarded with a goal and then Lachlan smashed a penalty goal from the spot.
Players such as Lachlan, Lucy, Dominic, Ken and Darcy showed great determination and game awareness with plenty of great passing to our forward line of Amy, Izzy and Thomas. There were a number of opportunities for the TDs to go further in front, but we just couldn't seem to finish it off with St George's defence scrambling well. TDs led 2-1 at the break.
The watermelons went down quickly in the dugout (supplied by Nathaniel all season). With faces red and sweaty the break was well received by the TDs.
We needed to consolidate our great first half play, but knew that St George didn't like the scoreline and would come out fighting.
The TDs scored in the first 10 minutes of the second half to put us up 3-1 with 20mins to go. Some great lead up passing to Thomas gave him his second goal
Our back line of Steven, Nathaniel, Ken and Jacob in goals were strong all game not allowing too many balls through.
St George scored their second goal with under 10 minutes to go: 3 -2. With the TDs showing a bit of fatigue you could feel the momentum shift as St George could sense a draw or a possible win. It wasn't to be as the TDs held out, even with a nail biting late short corner to St George taken after the full time siren. They held their nerve for a well deserved win.
Well done to all our TD players this season. No matter the result in the finals you all improved your individual games and came together as a team. Thank you to all the parents for being so consistent with training and game attendance and to our legendary coach Andrew Hoy whose commitment – not only to our TD team but SDHC – is outstanding.
B&F: Dominic 3, Thomas 2, Lachlan 1. Goals: Thomas 2, Lachlan 1.
Sutho U11A Geckos 9 University of Sydney Gold 1
The Geckos went into the match today needing to win and win well to stay in second place on the ladder. They succeeded at doing both!
The Geckos played as a team today with everyone doing their fair share of the work. Rohan and Jude both had outstanding games, proving that training does pay off.
Julian, Emily and Luca all worked hard in the midfield chasing down loose balls and turning defence into attack.
Eliana played well up front combining with Jude and Rohan to score a few goals between them.
Kaylee and Bethany were solid at the back and sent many solid slap hits up the sides to waiting mid fielders.
Jack provided the strength in the short corners and scored himself a couple of goals.
Luke had a quiet game in goals, but when called on kept the other team out.
The Geckos now head into the semi finals with heads held high and a desire to play well. Hopefully all the great teamwork and training pays off.
Best and Fairest: 3 Rohan, 2 Julian, 1 Jude. Goals: Rohan 2, Emily, Luka, Eliana, Jude 2, Jack 2.
Sutho U11 Bearded Dragons 9 Bankstown 11B 1
The Bearded Dragons were back at the home ground to meetup against Bankstown for the last game of the season before the finals. Although their previous encounters with Bankstown had been successful, the team ran on ready for whatever was thrown at them.
During the first half the passing and calling for the ball between the team was excellent. This helped capitalise in scoring 6 goals and left Myah as our goalie with not a lot of action in the home goal.
The second half started quite well but then turned scrappy, with a few shots of goal plus some lengthy penalty action. Then Bankstown again tested the defences and was able to sneak past for a goal in the first 10 minutes of the second half.
During the final session the team focused, with a few attempts at goal before Griffin finally scored his first goal seconds before the full time buzzer went.
Time for the team to rest up ready for what will be a tough game next week.
Well done to the team.
B&F Points: Griffin 3, Myah 2, Harrison 1. Goals : Jack 3, Nic 2, Harrison 2, Mandy 1 and Griffin 1.