As part of its COVID-19 safety management, Sutho is live-streaming its first and second grade matches against Moorebank on Saturday. Seconds start at 2 pm, firsts at 3.30. The link to the action is: https://livestream.com/accounts/9457344/events/9269657. Our picture shows one of the camera platforms used to stream our games at Ryde last weekend.
Costly, but happy about it
Last Sunday our Sydney Women's Hockey League team had another happy win. But one of the team's keen fans decided before the game that there would be a donation of $100 for every goal our ladies scored.
Well, that turned out to be expensive, with the girls in Blue cracking in no less than nine – count 'em – nine.
Most of the players didn't know about the pledge until after the match. Then, just to add to the generosity, they did a whip-around – with the result that more than $1000 was donated to this brilliant charity.
If you would like to add to the donation, or you know someone who could do with Beyond Blue's help in these difficult times, go here: https://www.beyondblue.org.au/
Watch Sutho on live-stream again this weekend
Going to hockey matches is pretty much a no-no in these times of COVID-19, so Sutho, in partnership with Ryde, live-streamed our first- and second-grade games last weekend. The appeal of watching from home on tv, laptop or phone was obvious despite the late notice of the link. There was an audience of some 1900 people for first grade and more than 1100 people for seconds.
The usual big clash will be on next weekend against Moorebank, and again, it will be available to Sutho fans on-line: https://livestream.com/accounts/9457344/events/9269657
Apology
Sorry to everyone for the late publication of our match reports this week. Unfortunately, a house move and unexpected work deadlines got in the way. Life getting in the way of hockey – what next!
The good news is the high level of readership – we're averaging more than 1000 views a week on the website.
Thanks once again to all our dedicated contributors of reports and pictures. Thank you especially for the pictures: Rory, Tony, Anna, Luke, Phil – you make it all possible!
Match reports
SWHL
For the first time in Sutherland Hockey Club's history, which dates back to 1965, we have a team in the Sydney Women's Hockey League (SWHL). It offers the highest level of women's club hockey in the Sydney region. We have the chance to make our mark.
Being part of SWHL creates an unprecedented opportunity for us to grow the women's side of our club. It offers our young, talented ladies a pathway from juniors to a high level of competitive women's hockey.
Sutho's inaugural SWHL team represents this pathway and made up of an equal mix of youth and experience. Our young players are challenged to play a faster, tougher type of hockey, with our experienced players giving back to growing the club and imparting their wisdom on our young guns.
Last Sunday, our SWHL team set out for their Round 6 clash with Canterbury on a cool, windy evening at Sydney Olympic Park. They were undefeated and sitting on top of the table.
Most of the team did not know that an anonymous supporter had pledged $100 for each goal scored to Beyond Blue.
We started strongly, passing the ball around, setting the press early and forcing many turnovers. This produced two goals in quick succession, from a drag flick from our token Kiwi and captain, Ashton, and a tap-in off the goal keeper's pads from Kristen.
We turned our focus to creating triangles and zig-zagging up the field, resulting in many attacking opportunities. We continued scoring goals: Hannah returned the favour to Kristen by snaking her goal, Camille with a textbook, top net short corner deflection and Megan with a tap-in after a great save on the line by Canterbury. Megan's goal was also caught on FaceTime for her family in the UK to see.
Our defenders, Felicia, Jo, Kayla, Jana and Zara, transferred the ball around the back well and kept their cool when cleaning up any Canterbury breakaways.
Amelia joined the goal-scoring list with a beautifully timed finish. Hannah and Ashton continued the scoring, each picking up their second for the match. 
Late in the last quarter, we were awarded a short corner. The ball was passed back to Zara as the injector; her shot was stopped on the line by a Canterbury defender's foot. Ashton finished off the game by scoring the stroke and taking home a hat trick.
The final count was nine goals and a $900 donation to Beyond Blue from our dedicated supporter. Then the team added more, bringing the total to over $1000! All in a Sunday evening's work and for a great cause.
We continued our unbeaten streak and next week have a well-earned bye before taking on the competition's second- and third-placed teams to finish off the short season.
We give a big shout out to assistant to the coach, Sarah Dredge, for her support off the field and her bad attempts at humour on the sideline. #suthowomens.
These pictures show our SWHL ladies in action the previous weekend. Thanks to Domrow Photography Inc.
South East Hockey Association Women
Sutho 1st grade Arangas 2 Esquires 3
Our team went down 3-2 in a hotly contested battle with the tough Esquires.
We converted textbook team goals, assisted by Hannah and finished off by Cath and Ashton.
We stuck to the game plan and built on the skills practised in training, so we walked away feeling accomplished and knowing we should have won the game. 
Best and fairest: 3 points strongly deserved in defence going to Felicity, 2 Hannah and 1 Emily.
Sutho 2nd grade Arangas 1 Sharks 2
In our 5th game of the season, we continued to see an improvement that has developed week after week. 
It was a super-strong tackling and passing game by Sutho, as well as plenty of scoring opportunities from both teams. Sutho took their opportunity and ran with it, resulting in a goal.
It was an exciting game which came down to the wire; overall a fast-paced, continually moving game.
Well played girls, great to see 100% effort from everybody and with gameplay like this, we're sure to get a win soon.  
Best and Fairest: Liv Coxsedge 2, Tahlia Gibson 2, Georgia Cherrie 2. Goal: Kaylah Gibson.
Sutho 3rd grade Arangas Wildcats 0 v Easts 2 
It was another wild and cold game this week. 
Wildcats have had a rough season, with many of our regular players out each week with injuries, illness, old age or a better offer. Thank you to all the players who have filled in for us and welcome to the new regulars. 
Easts scored early to be up 1-0 at quarter time. Wildcats defended well for the next two quarters and had some episodes of good attacking play. These included a couple of scoring opportunities that just weren't finished. 
Easts scored their second goal in the last two minutes of play. The score doesn't reflect the game as it was very even throughout. 
Best and fairest: 3 Jo Momsen, 2 Vicki Earle. 1 Megan Squires. 
Men
First grade: Sutho 1 Ryde 2
The expected battle to turned out to be precisely that in this meeting between two of the three top teams on the table. 
 We were unlucky not to at least salvage a draw, or won, had we been more on target with our goal shooting and, to some degree, some basics in trapping the ball cleanly at crucial moments in attack. Effort, determination, commitment and the will to win can't be questioned. All the team bleeds blue when it comes to playing for their club. 
It was another good experience for the young crew, showing what they need to sustain every week if the team is to be a real threat for the final series. 
Takeout from the game was that Ryde threw everything they had at us and only managed to score two goals – from our mistakes. The first came from a breakaway after one of our attacking corners when we were caught napping. The other resulted from a penalty corner given away with 4 minutes to go when we were locked at 1 – 1. 
So, not the result we wanted, but we know we can take them when we are at our best. We were also missing Kieran Govers, who was unwell and getting over an injury. 
The match was live-streamed. Feedback has that it was very well received, delivering our families and supporters the opportunity to watch their team playing under our current Coronavirus circumstances.
Best and fairest: Mitch Wray 3, Nathan Ackroyd 2, Matt Johnson 1. Goal: Scott Govers 1 (penalty stroke).
Next week we will again be playing a top three match against old adversary, Moorebank.
First and second grades will again be live-streamed.
Sutho 2nd Grade 3 Ryde 2
Last weekend we travelled to Ryde to face some old rivals. We were confident after a solid 7-2 win against Glebe, but so was Ryde, having the previous weekend beaten last year's premier, UNSW 5-2. A rough and close contest was expected.
What made this match even more memorable was it being live-streamed. Some of our team was excited and others anxious; maybe that's why one forgot their socks once again.  
Our game plan was simple, make our traps and passes, use our midfield and be patient. Sounds simple enough, and in the first half, we followed this plan well, engaging our midfield and pushing the ball wide to our attacking-mids and onto our strikers, using their pace against Ryde's slower defence.
We performed well across the field to earn a two-goal lead into half time, despite some rather worrying moments which forced some brilliant saves in goal and desperate scramble defence efforts.
For the second half, we aimed to take our energy and scoreboard dominance into the next 36 minutes of hockey and secure this win. Alas, this half was different. A higher and more aggressive press from Ryde, combined with our very high and very cheap turn over count saw us on the back foot for most of the half.
With this pressure eventually, Ryde managed to slot a goal, giving them all the momentum. Extraordinarily, despite this immense pressure on our team, we managed to win a short corner through our counter-attacking play and hustle from our strikers.
Expertly converted, we held a 3-1 lead, providing security, but more work was to be done. Ryde came out of the blocks again full steam ahead, forcing us into our half and defence becoming our number one priority for the remaining few moments of the match.
Still, significant commitment in goals, combined with our desire and fight to hold off the onslaught from Ryde helped us emerge victorious, with the final score 3-2.
Best and fairest: 3 Damon Arapa, 2 Wade Tonna,1 Ian McClung. Goals: 1 Joel Westblade, 1 Angus Callinan, 1 Mason Neale.
Sutho 3rd grade 0 Ryde 1
Harking back to olden days pre-premier league when 3rds were always at 12.30, Sutho PL3s play at 12.30 on Saturday every week! This throws up some challenges and has meant at least two guys in our PL3 squad can't play this season due to Saturday morning work.
Add Saturday morning traffic and an 11.30 arrival, and away games like Ryde mean a pretty early departure for most of us.
Another hard and fast affair was expected this week as two top of the table, undefeated teams came together. The forecast Antarctic conditions were absent and instead we applied the sunscreen, as the wind again meant they watered everything except the pitch.
After a really solid hit out at training, we expected to be primed, but warming up in the nearby pre-school car park, the boys seemed flat, and the team talk didn't cut through.
And so it played out.
Despite playing well in patches, and creating probably the better of the chances, we couldn't finish today.
This was evident from the warmup when we couldn't get a decent shot on goal – and so it was in the game – they either went wide or straight at the keeper. It took us the entire 1st quarter to get the speed and bounce of the turf.
I hate blaming the pitch, but it is an advantage playing (and training) on a field so unique, with a carpet-like pile that is super fast and bouncy, that exposes any technical issues, as were quickly found wanting, both in flat passing and trapping.
By the 2nd quarter, we had got into the game but conceded on an expertly taken corner; that was the difference for the match.
As you would expect, both teams had periods of dominance, without ever really getting completely on top, and it always felt we were one good passage of play from levelling the score, but we couldn't execute in the circle.
What was encouraging was we were nowhere near our best (Paul suggested 70%) but still ultra-competitive, and so need to take the key lessons from this match.
It was noticeable the level of intensity and lack of room, especially in the midfield, compared to our previous matches, and something we need to learn from and work hard on at training.
Add to that our finishing options, with no-one on the post, our straight shots were poor, and our corners misfired this week. But all things that can improve on what is still a solid platform that caused Ryde lots of problems.
The post-game injury toll was pretty grim – a broken knuckle, a fractured rib and a twisted knee – and that was just from the queue at the stairs to fill in the 50 question QR code Covid-19 entry form.
Paul wasn't originally listed to play, carrying an injury from last week, but needed to suit up mid-game to cover the casualties in our backline; a significant effort to play more than half the game injured. Both Lachlans did as well. It will be interesting to see who we can get on the paddock for next week.
Finally, Tim's 250th game was one, that in his own words, he wasn't keen to remember, despite having moments of real class, but a great achievement. Well done, Tim!
Next week Moorebank, at home – a massive game for us. Those that are still moving get to training, and hopefully, with a few back from injury, we can regroup for a big home game.
Points: 3 Dan, I each to Lachie O, Zak and Brad.
Sutho 4th grade 5 University of NSW 3
Fourths made the trip out to Daceyville for a 2 pm start on a sunny yet cold and windy day. Our match was preceded by a 5th-grade game that gave us a clear signal that we needed to stay out of the verbal contest and focus on executing our game plan. A few key insights from Wiggo, playing against his alumni, proved very useful in setting us up for success. 
One could be forgiven for thinking the game might start slowly, as our on-field warmup was hindered by about 15 mins of pitch watering on our end of the field that still managed to leave half of it dry. However, that was not the case and Sutho started with a bang.  
Lachlan 'Nibbles' Prentice skilfully picked up a pass down the left edge, pulling it back from the stripe of the sideline near halfway. After jagging through a few Uni defenders, he slotted a well-executed shot to the bottom corner. Shortly after, a right-side movement saw Wiggo with the ball in the circle similarly finding the corner of the goal. 2-0 up after 5 minutes, not bad.
Hmmm. Not so good
However, the second quarter was not our best. A few key turnovers in our own half saw us put ourselves under pressure and concede a couple of goals through deflections, and levelling up the scores.  
What happened next could have had two interpretations, so in 1990s Goosebumps style, feel free to choose your own adventure: 
1. Fresh off a trademark 2-hour pre-game stretch, our left AM artfully dummied a cross into the circle from the left attacking edge, over committing the UNSW defence. A spin move, followed by another spin move, saw an attacking line open up to pass to a well-leading Huon Bollard. A deadly flat pill was slammed into the circle, travelling so fast that the well-placed deflection from the top of the circle found the top netting of the goal before the defence could even react, or
An old, poorly bearded and injured left AM found himself helplessly in the attacking 25 with the ball, lost for options. A desperate attempt to pass the ball into the circle resulted in a complete air swing. Embarrassingly regathering, he twirled around aimlessly in search of options. A second swing at the pill saw it actually connect with the stick this time, rocketing off into the circle toward a similarly flailing attacker. A stumble was turned into a well-camouflaged dive, with the resulting mis-trap sending the ball flying miraculously into the goal. 
 Perhaps what really happened was a mix of those. Regardless, it was a cracking goal and Sutho took the lead. This was again met with a UNSW response from another deflection in the circle, and while the scoreboard was heating up, so was the chit-chat on the field. 
However, we stuck to the game plan and stayed quiet while a number of the opposition went for trips to the sideline to cool down. 
Wiggo stepped up again with the crafty mind game play calls on the next short corner. Surely the defenders wouldn't expect the short option to an injured Sutho player using only one hand? An attempted drag flick resulted in a deft push that bobbled its way into the corner of the goal. 
Back in the action a few minutes later, Wiggo then slotted his second goal for the day to send us up 5-3. 
Our defenders then took control of the game, with Stevo, Jack, Will and Richo instrumental in slowing the game down and playing it out smartly to hold 4th grade's first win of the season. A timely reward for a team that has been highly competitive all season without getting the result. Strangely, there are now 5 teams in the competition with just a single win.           
Special mention goes to Jason 'Stevo' Stevens playing his 200th game for Sutho with a fittingly mature and organised performance. Stevo has tirelessly doubled-up goalkeeping performances throughout his career, and this week was no exception. 
With a string of junior premierships under his belt as a coach as well, he received a lovely post-game acknowledgement from Richo, who presented Stevo with a 200-game medal. Though Richo quickly took back the medal as it was actually his own. 
Notable mentions also to Seb for his first 4th grade appearance, and to Nibbles for breakout performance. 
Best and fairest: Lachlan Prentice 3 Huon Bollard 2 Jimmy Northwood 1
Goals: Seb Etheridge (1), Darren Pike (2), Huon Bollard (2) 
B&F: 3 pts Darren Pike, 2 pts Seb Etheridge, 1 pt Huon Bollard 
 Sutho 5th grade 5 UNSW 7
The wind was blowing, blowing hard and cold at Daceyville as 5th grade took to a highly regulated UNSW facility for a 4th (Sutho) vs 5th (UNSW) match up.
The first challenge was to get the field wet (and safe) but those "smart cookies" at UNSW figured it out…eventually.
After that, the game was a blur – 12 goals in total and I'd be lying if I was to claim I recall the order of the goals, let alone describe how they were scored. I recall that our goals were mostly from open play and counter-attacking at pace; UNSW scored 6 of their 7 from penalty corners (no comment re the awarding of these PCs).
The other piece was that we were down 3-5 at ¾ time and got back to 5-all within the first few minutes of the final quarter…but then (well, it was taken out of our hands so to say). In the end, it was an entertaining game, an arm wrestle, and one where the defence was not the winner. We slip to 5th and have a couple of tough games ahead. 
B&F: 3 Darren Pike, 2 Seb Etheridge, 1 Huon Bollard. Goals: Seb Etheridge 1, Darren Pike 2, Huon Bollard 2. 
Sutho 6th Grade 1 Glebe 3
We had at least 60% of players in our team who were injured – and that was before they'd even taken the field. Torn calf muscles, ankle issues and cramps were the specialty of the day, but those who were injured fought through the pain and played.
It was a very even match and we played well but were unfortunate not to finish with a win… maybe next week.
Again we had plenty of practice with running out from short corners.
Glebe was successful with one. Their other two goals were scored off deflections.
We were trailing 0-2 at half time, came out with a burst of energy with Declan scoring our only goal within the first five minutes of the second half.
Rest up boys, and hopefully, we'll have a healthier starting line-up for next week's game.
Best & Fairest: 3 Cameron Bayley, 2 Matthew Stevens, 1 Jonathon Krepp.
Sutho 7th grade 3 Glebe 3
No match report, but from an eagle-eyed observer:
Best and fairest: 3 points Adrian Collins, 2 points Lachlan Todd and 1 point Mitchell Rowling. Goals: 1 each for Mitchell Rowling, Declan Coman and Lachlan Cartwright.
8th grade: Sutho 0 UNSW 1
Another tough game on a blustery morning at Daceyville where competition was fierce and the atmosphere electric.
We had an outstanding game and everybody played as well as they could. Uni scored only in the fourth quarter with a short range shot that left Phil with no hope.
With 10 minutes to go we pounded their defence with everything we had but simply couldn't get through.
A special thanks to Phil. Filling in as goalie, he did an outstanding job on numerous short corners that we all defended so well.
It was hard to choose the Best and Fairest but after much debate Adam Howard one point Luke Domrow two points and Mark Bayley three points.
If we continue to play like this our results will change for the better. 
And, because your editor was a bit distracted last week and missed posting it, here's a gallery from 8the grades previous outing.
Juniors
Unfortunately no report from the U17 Battle of the Lizards match, but Rory Staples was on hand to snap the action, as he was in the U15 Metro game.
Sutho U15 Metro 5 Glebe 2 
The U15 Metro team went out onto the Greenhills pitch with "Positive Vibes Only" (Quote Oliver Bollard 2020) for their match against Glebe on Friday night.
This was potentially the wrong message to begin with, as our players were probably doing too much vibing and not enough hockey playing, conceding an early goal to Glebe. This goal ended up being our saviour, waking us up and remembering where we were and what we were meant to be doing. The team started to put together meaningful attacks, working their way up the field as a team, leading to many short corners and two goals within the half. 
The halftime chat was positive, with the team only having to continue playing to their strengths and focusing on the game.
This chat, however, also apparently fell on deaf ears, as Glebe managed to score a goal early in the half.
Again, this goal was the wakeup call that we needed, and soon the entire team began to put in all the effort they could. Sutho scored two consecutive goals in rapid succession, reaffirming their lead and control of the game.
Unfortunately, Chris managed to cop a short corner hit directly to the knee late in the half, resulting in the amazing sight of Mason carrying him off the field in his arms.
In the words of Chris, the team went on to, "avenge their fallen teammate", scoring one more goal before the end of the game, taking the final score to 5-2. 
It was not only a great win for the team but also a great game of hockey. All the players should be proud of themselves. 
Best and fairest: 3 Grace Matthews, 2 Tom De Soza, 1 Amelia Kirby.
Goals: Tom De Soza 2, Chris Goodman 1, Oli Bollard 1.
U15A Sutho Geckos 0 Sharks 1 Sutherland 0. Thanks for your pix, Phil
It was 'back and forth' play today with the Sharks bringing their strong running game to our home turf. We kept up the pace and it was a very evenly contested match for the whole game, with neither side giving in.
We managed to get some solid shots on goal but were unfortunate to narrowly miss each time. It was good to see plenty of action for the forward group. Our midfield worked hard and was backed up by a solid defensive line to make opportunities hard for the Sharks.
We continued to encourage wide play to go around our opponents, rather than straight through the middle, and if we implement this more, the scoreboard may have been flipped in our favour.
It is good to see individual skills improving, with some impressive tackling and trapping getting noticed from the sideline.
Thank you to our parents for taking the COVID-safe guidance this week. We acknowledge the frustration in this unusual scenario, but these are unusual times, and if we can do our bit, our kids continue to get opportunities to play.
Go Sutho!
Best and Fairest: 3 Tomas McCowan, 1 Ryan Mead, 1 Kai Morris, 1 Camille Rogerson.
U15 Sutho Blue Tongues 0 Moorebank 8
The scoreline does not reflect how well we played or the closeness of the game. It was our most consistent game all year with a strong performance in all four quarters. We were able to break their defence several times but were not able to capitalise on these attacks.
Moorebank's attack was fast and hard-hitting with some goals coming from lucky bounces and deflections;, there are just some goals that can't be saved.
Christian once again showed why he is our best defender, preventing Moorebank on numerous occasions from making their shots; while Mylo had an exceptional game in goals making some of the best saves this year and on more than one occasion putting his body on the line.
 It safe to say this was our best team performance for the year and everyone can be proud of the effort they put in, although Moorebank did deserve to win the game they had a lot of luck on their side to get 8 goals.
 The points this week was easy with Mylo deservingly earning 3 points, Christian 2 with Ezekiel 1.
Sutho Under 15B Thorny Devils 1 Glebe 4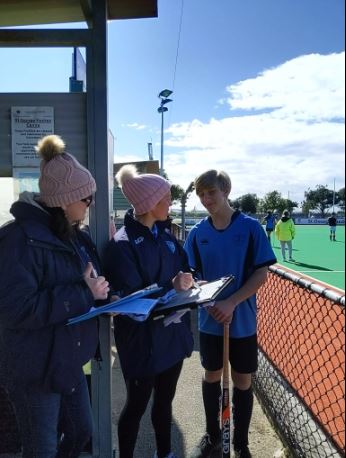 With both our Coach, Hannah, and our stand-in Manager, Fiona, wearing their matching pink beanies, the Thorny Devils headed to Kyeemagh to play Glebe.
Unfortunately, we lost 4 goals to one but as usual, the team put in 100% and tried their best.
Lachlan received the three points for intercepting and passing the ball wide and through the circle. Jacob ran hard all game and received 2 points with Abby receiving one point for disciplined skills in defence.
Best and fairest: 3 Lachlan Duhne 2 Jacob McAllistar 1 Abby Struve. Goal: Bailey Peters.
Sutho Under 13A Geckos 2 Glebe Redbacks 0
The Geckos headed out to a very windy and cold Kyeemagh. With Coach Bollard absent from the sideline this week, our Geckos were entrusted to the amazing coach Ruth. 
The first half was a tight battle with both teams regularly swapping possession of the ball. There were quite strong tackles from both sides. The Geckos were unlucky not to be a goal or two up at half time but full credit must go to the Glebe Redbacks' backs and goalkeeper for several skilful saves. Half-time score 0-0.
The half time break saw coach Ruth bring out the whiteboard to reinforce what we had practised at training. This proved to be a masterstroke with the Geckos responding immediately in the 3rd quarter with two goals within a few minutes of each other, orchestrated from combination passes that had the dugout 'high elbowing'.
It was a difficult day to play hockey, but every Gecko gave the best of themselves for the team which is so pleasing. Great effort Geckos.
Best and fairest: 2 Oisin 2 Dominic 1 Skye 1 Olive. Goals: Peter 1, Lachlan 1. goal
Sutho U13A Blue Tongues 3 UNSW 0
At training, we worked on moving the ball up the line rather than through the centre of the field. I think we did that in the game. It opened the game up and gave us opportunities to score.
Our backs had a solid game, keeping Uni out and getting good ball up the sideline to the halves.
Luke, the 3 point winner, made a big contribution all over the field. Louis had his eye in hitting 2 cracking goals – one off the back stick that the Uni goalie is still looking for. A great team effort.
Best and fairest: 3 Luke Callaghan 1 Jack Fisher 1 Archie Groundwater 1 Louis Olsen 1 Leo Matthews. 
Goals: Louis 2 Isabel 1.
Sutho U13B Thorny Devils 2 Glebe Strikers 0
The first half of the game was played almost exclusively along the left of the field. Glebe's crowding made it hard for the Thorny Devils to find their usual groove.
Jude made a dramatic first goal attempt but the goalie's helmet got in the way. Things picked up near half time with Jack scoring the first goal. It was followed soon after by a Julian goal.  
A position change for Jamie-Grace showed us that she is handy in centre mid-field.  
A solid win for the Thorny Devils but focussing on how to capitalise on their possession will give them plenty to work on at training in coming weeks. 
Best and Fairest, with 2 pts each: Jack Margetson, Julian Krepp, Jamie- Grace Pittello. Goals: Julian Krepp, Jack Margetson.
Sutho U13B Bearded Dragons 1 UNSW 2
The 13B Bearded Dragons were looking to bounce back after a 2-0 loss to the Sutherland Thorny Devils last week but went down to a strong UNSW team 2-1.
We beat them in the first round of the season, so they seemed to be looking to get revenge early. But some fantastic circle and short corner defence managed to keep UNSW out during the first quarter; a special mention to Luke who put in 110% and seemed to be at every tackle making sure UNSW couldn't get the shot away
The second quarter started as the first ended with UNSW going on the attack and finally managing to break our defence to go up 1-0. The rest of the quarter was a tug of war with neither team able to convert.
The third quarter sparked hope in the Bearded Dragons after an inspirational half time speech from coach Darcy. We managed to turn the game on its head and pin the ball down in our attacking end. We piled the pressure on, and with 30 seconds to go, Isaak hit a point perfect ball from halfway to Harrison's stick on the top of the circle. He turned and put the ball past the goalkeeper to bring the scores level at 1-1.
We continued immense pressure into the fourth quarter but were unable to convert. With a counter-attack, UNSW managed to beat our defences to go up 2-1. We wrestled for the last 5 minutes to try and level the scores, but it was too little too late.
It was a valiant effort from our team. All facets of training seem to be coming together nicely, but Saturday just wasn't our day.
Sutho U11A Geckos 11 Geckos Glebe 3
Our team faced a much improved Glebe team today and the scoreline didn't really reflect the feel of the game.
There was plenty of end-to-end action, but our team managed to take our chances when we had a shot on goal and defended well when we needed to.
We are on a great undefeated run, but we still have plenty to learn.
Importantly the teams seem to be enjoying each other as teammates, keen to improve and having good fun.
Best and Fairest: Ryan Apte. Lots of goals today. Scorers: Nick 4 Ryan 3 and Georgia, Thomas, Rowan and Sam 1 each.
BATTLE OF THE LIZARDS TROPHY MATCH
Sutho U11 Blue Tongues 7  Sutho Thorny Devils 1
We met up against the Thorny Devils in the highly anticipated Lizard Cup.
To begin with, the match was evenly contested through the middle, but we were able to break through this midsection with some accurate passing from Jack to Lincoln through to Mila who won the first short corner. Although it was not converted, we were able to remain on the attack, and again through accurate passing and ball control on the left from Caiden, got a ball into some space which Audrey got her stick to resulting in the first goal of the game.
The TDs were then quick on the attack and were immediately able to get the goal back within minutes. They were strong through the centre, but we were able to get the ball wide out onto the right with a terrific pass from Lincoln through to Mila who drove it square into the circle to Ethan who was positioned perfectly to put the next goal away.
Our defence was tested this week and although the TDs had numerous shots on goal, Grace in goals this week, did an outstanding job, clearing the ball and with the help of Alex, Lincoln and Sophie at the back, passing the ball wide, then down the sidelines through to Audrey, Mila and Jack in the mid.
Caiden was on fire, finding the space and using every opportunity put her way, was able to score 5 goals. Sophie did a great job throughout the game calling players into position and letting them know who to mark. She also used her speed to keep the ball in the field of play and keep us on the attack. Jack once again controlled the ball from the centre.
Everyone in the team played outstandingly for the final score of 7-1. B&F points this week go to Grace, Sophie & Alex.
And from the Thorny Devils…
U11 Sutho Thorny Devils 1 Sutho Blue Tongues at Sutherland 
Our second home game of the season and it was our turn to battle for the Lizards Trophy.
The game started and it was a true battle; the ball moving up and down the field, as well as wide – just like at training! Both teams were tackling hard, passing the ball to each other well and shots on goal being saved at both ends of the field.
Rhydian scored our goal, and things were going well for the TDs. But then the Blue Tongues took control and scored a few quick goals.
This was the TD's first real test for the season, and we didn't respond well to being behind. We lost focus, our ability to work as a team, and our confidence in each other – plenty to reflect on.
Next week will be equally challenging as we take on first-placed St George. It will be interesting to see how we respond to another very demanding game, and hopefully, we have built character to face it head-on. 
B&F: 3 Zara, 2 Lauren, 1 Hamish.  Goal: Rhydian 1