Sutho's Ray Northwood pictured in action last Saturday in the Sutho 6th-grade v Easts match. Ray has been picked in Australia's Over 70s team for the Masters' Hockey World Cups to the played in Tokyo, Japan, from 19-29 October.
Congratulations to all the Sutherland players chosen in Australia's teams for the international Masters event of the year:
Over 60s: Shadow players Dave Allen, Trevor Nichol. Over 65s: David Campbell (Vice-Captain), Don Trewin, Robert Redding, Clive Harrison. Over 70s: Noel French, Ray Northwood.
While on Masters, while we have got back to a week of dodgy weather,  several of our Sutho ladies have been enjoying the sunshine in Western Australia where they are competing in Australian Masters titles.
As of yesterday, they had won 4 from 4 games and have a final on Friday.
Sutho ladies in the Sydney South team are Lyn Smith, Lisa Cummins, Vicki  Earle, Julie Singh,  Karen Hodgkin, Fiona Earle, Megan Squires, Kathy Hails and Lois Scott.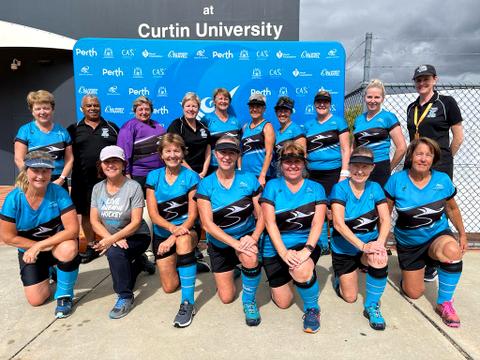 Back to last weekend match-wise, we're nearly back to normal transmission. Most of our men's and women's teams played last Saturday and Sunday – having to adjust, of course, to rather unusual sunshine – while Sutho's juniors had a final weekend off with school holidays.
They're back next weekend.
But not before Minkey gets underway for 2022. Lots of excited youngsters will be sleeping in their Sutho gear on Thursday nights after Minkey hits off at the club on Friday night.
For all the Minkey details, click here:
And of course, we can't resist showing the 2021 littlies ready for action, complete with their Tradies playing shirts, which are again part of this year's package.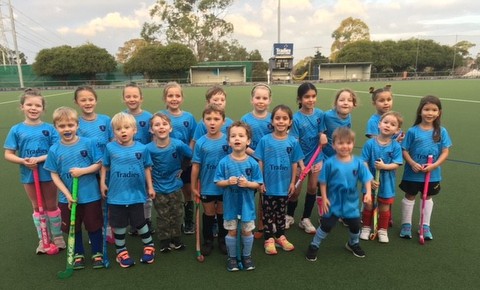 And finally, before we get to the match reports, a reminder that Sutho is hosting Briars next Saturday, April 30, in our Premier League grades.
Match reports
Thank you again to our fantastic photographers who make such a difference to Sutho's match reports. Patrolling the sidelines last weekend were Matt Morris, Craig Turner and the Domrows – Anna and Bethany and Luke.
Men
Sutho 1st grade 4 Northern Districts 0
This was a game which the team had to consolidate their consistency after the 1st 2 games playing top 4 contenders.  Northern Districts are regarded as one of the so called weaker teams in the competition and once again the younger brigade had to maintain a level of excellence and show their ability to maintain a high level and allow themselves not to slump or take for granted any team in the competition.  We did that and won the match 4 – 0 fairly comfortably for our 1st win of the season and the 1st win for these young players at 1 st grade level.. It was unusually hot during the match creating some fatigue especially among our U21 contenders of which there are 6 who had to go to selection training Friday night for 3 hours and again Sunday morning in the wisdom of HNSW who show no thought for the players well being when most of selection contenders from all clubs are playing in their respective 1 st grade competition matches on the Saturday.  The Northern Districts goalkeeper had a phenomenal game stopping shots from all angles. As described by our players, he would stopped 40/50 shots to ours of 3/4.  So full marks to their goalkeeper who just happens to be in the U21 Australian squad as I understand. A special mention for Mitchell Wray who played his 1st game for the season after earlier injuries and to boot was nominated as B & F internally by the team.  His leadership was really great and to show the respect and culture among this 1st grade squad Nathan (Ackas) Ackroyd who was captain for the last 2 years decided that "Spray " should be captain and approached both JC and I before the match and asked for this to be passed on at our before the match team talk .  What a tight bunch of guys and a culture, 2 nd to none.  As said earlier we  literally pummelled their goals only to be turned back by their goal keeper time and time again.  Once again other than "Sprays" display of leadership and control at the back, we couldn't really give special mention to any one else other than to say they played as a team and are getting better with every game.  Hopefully this team will do us even more proud as they mature and go forth in the competition.  The next 2 weeks will not be easier as we play Briars at home next week and our old nemesis Moorebank the week after.  Believe it or not, the week we play Moorebank, HNSW are once again having selection trials Friday night and Sunday morning.  Hopefully our boys will come out of this with something to show and be unscathed thereafter. Peter Krepp Manager.
Sutho 2nd grade 3 Northern Districts 1
Saturday's game saw 2nd grade making the drive up to Pennant Hills. It was much appreciated that some players came from Wollongong and further.
We put up a 2-0 lead at the end of the first quarter, but Northern Districts got one back in the second to put the pressure back on.
There were many encouraging opportunities in the 25 and circle, but we couldn't consistently convert them into positive results.
However, Brendan Sharp scored off the keeper's pads following a great play. The ball had been worked up the field, through the defenders, out wide, and into the circle.
This put us ahead at 3-1, and we came away with the three points.
Best and fairest: Daniel 3, Peter 2, Iain 1.
Sutho 3rd grade
After a week off, 3rd grade made the trek out to Pennant Hills for a 12.30 start. The conditions were perfect for hockey.
The game began with a quick start for Sutherland with Jimmy and Ralf scoring goals in the first quarter.
The second began with a plethora of missed chances, mainly from atrocious tomahawk attempts, before Huon scored 2 goals and Jimmy pinpoint hit into the top left corner.
The second half began slowly in terms of goals.  The Northern districts players were leaving acres of space for our midfield, but we struggled in front of goal, hitting the post and just missing numerous times.
The 6th goal and Huon's third came when attempting a cutback pass from the baseline the defender accidentally deflected the ball into his own goal. This delivered the easiest and worst hat trick goal ever scored.
Tim Mall rounded out the scoring with a solid shot in the 4th quarter. The 7-0 victory allowed the 3rd graders to sing the team song for the first time this season.
Points: 3 Jett, 2 Jimmy, 1 Huon. Goals: 3 Huon, 2 Jimmy, 1 Tim M, 1 Ralph.
Sutho 4th grade 0 USYD 1
With several players coming off from playing the game before ours this was always going to be a test of fitness for our Sutho boys.
We kept strong in defence and had plenty of opportunities in attack, but we couldn't find the result even with USYD two men down and with four consecutive short corners. We held strong though until a short corner after the siren saw a miracle defection find the back of our net.
Whilst we may not have come away with the result the performance we put on showed that there is plenty to like from this team as we move forward in the season!
MOTM: 3- Will Gair 2- Aaron 1- Nick Tisdale
Sutho 5th grade 2 St George Randwick 2
On a beautiful Saturday – some would say it was a cricketer's dream – we had a nice, blue sky, beaming sun, and a flat, dry deck.
But we had to put in an hour of intense hockey.
We made a strong start before, in the blink of an eye, Matt Stevens hobbled off with what was self-diagnosed as a torn calf (still to be confirmed), and we were playing one sub down.
An unfortunate set of events and an iffy player standing in front of Kreppy in goals led to the first goal to St George. Although Chris soon dazzled all the St George defenders to have them standing still as he put away a nice tomahawk into the bottom right corner to level the game.
The match continued to tug-of-war back and forth with Dave Krepp making some beautiful saves in the goals for us, deflecting the ball left and right, while Aaron –  obviously being inspired by this – doing the same up the other end at striker.
St George pulled ahead 2-1 just before halftime, which meant we needed to step up our game.
The second half continued to be a battle of the giants before we got a short corner, and the chance was on.
A very strategic 'yours' call from the multi-talented trapper Luke – who could obviously sense what was coming – led to a quick-thinking Kai to lay off to SL2 debutant Jack Treharne.
Jack unleashed the ball into the bottom corner swindling the St George defence and putting the game back in the balance.
St George, playing old school, smacking the ball up the guts to their fast, skilful strikers, almost got back ahead but for a gallant effort by Jono Krepp, chasing down the lone striker and making a beautiful clean tackle to stop the attack.
Overall, Sutherland's defence was brilliant with superb marking and tackling throughout the day, and a huge effort in goals by Dave Krepp whenever the defence made a slight error. The game came to a close without a winner at 2-2.
Sutho 6th grade 0 Easts 0
The forecast for the week was for wet weather, which thankfully turned out to be at night, not at 3:30 pm, Saturday, at Kyeemagh. The sun was out, and the sunscreen was applied aplenty.
The curse of COVID and other non-hockey reasons meant that instead of 3 subs as named, we only had 1. A few had played earlier in the day, with a couple due to back up for 7th grade – ultimately, we were a little light on… but thankfully it seemed that this also applied to our opponents, Easts.
The game started with a battle for possession, with our experienced backline seeing plenty of action early on… including Darren with only one fully fit hamstring.
Our best chance to score came from a penalty corner in Q1, with Kai drag flicking one on track for the top-left bin, only for the GK to get a stick to it at full stretch. Then on, it remained a high-intensity battle of the midfield, with our backline remaining composed, but also acknowledging that we don't possess the most lethal of frontlines. It is what it is.
In the end, a nil-all draw was a fair result, but it nearly wasn't… we all believed we earnt a PC in the final minute, only for our cries to be waved away – and the next thing we concede a dubious PC with only seconds on the clock.
Thankfully, Easts didn't execute well with the shot on goal striking Piles' hamstring, so we held out.
The young blokes Kai, Nick and Lachie continue to develop and impress, while the usual suspects RayRay and Brookie, continue to roll back the years with displays of skill and class.
A big thank you to those who turned up early to help, Luke and Jordan, and to Matt the GK for leading the way in keeping a clean sheet.
B&F – 2 points: Matt Brown, 2 points: Piles, 2 points: Ray Northwood.
Sutho 7th grade
No report
Women
Sutho1  Briars
No report
Sutho2 3 Briars 0
Another win for Sutho 2 ladies.
It was a great game for Sutho 2 on Sunday, after heading out bright and early to Cintra to face off against Briars.
We were off to a slow start but managed to secure a two-goal lead in the second quarter.
Then, some sister magic from Jess and Sofie Cherrie created a goal in quarter four to secure the win.
If we keep seeing our continued improvement, we are sure to be in for a great season!
Best and fairest: 3 Emily 2 Georgia 1 Jess. Goals: Milan, Emily, Sofie.
Sutho 3&4 had byes.
No report from the Wildcats.
Juniors
Junior competition resumes next weekend.