It was great to kick off the 2022 Minkey Program on Friday afternoon after the Covid-affected program of last year.
It was terrific weather, numbers were good, and the little Minkies were bouncing around very eager to get onto the pitch.
Peter Krepp was there directing traffic and it was a well-oiled machine of Nicole, Pete, Stefan, Bev and Lachlan putting the Minkies through their paces.
There was some early warm-up and fitness work, followed by some drills and fun activities.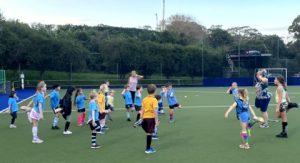 It was good to see the returning Minkies picking up from where they left off last season and attacking the drills with gusto.
The new participants in the Minkey Program all had a huge smile on their faces at the end of the session and were very keen for the next Minkies session this Friday.
There are still some opportunities to join Sutho's 2022 Minkey program. Click here for all the details – and see you at Sutho next Friday afternoon!