Our Cherrie girls might have been Covid-isolated at home, but in true Sutho-beats-the-odds style, they were able to watch the action at Tradies Hockey Park on Sunday afternoon.
In the first-ever live-streamed game at Sutho, the ML6 Sutho v UNSW match went out live on their lounge room TV. Other viewers were as far away as the Netherlands.
Club stalwart Luke Domrow has put a huge effort into delivering live streaming for Sutho. This is rapidly becoming a standard communications tool that we believe has significant value to our club, our players and supporters and our sponsors.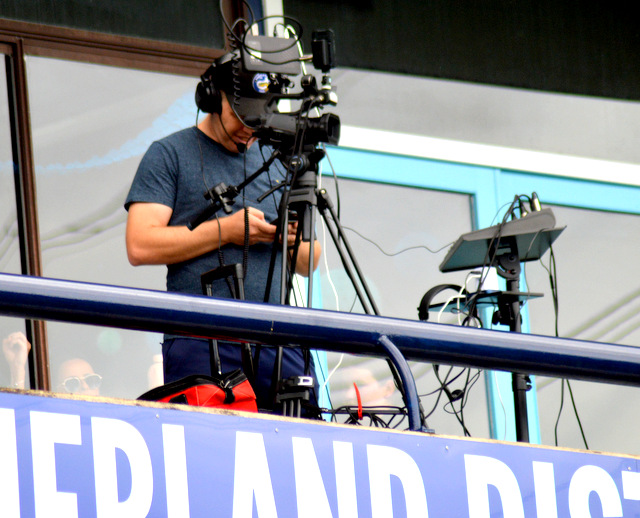 Luke's two cameras – one with him on the balcony and the other operated by Elissa Hughes on the sideline, captured match images. The expert commentary was given by Darcy Hunter, Kathleen Pittello, Hannah McClung and Craig Turner.
It was a pretty impressive debut and congratulations are due to all involved, with a special mention to Sydney Hockey and Sydney Womens Hockey League on the admin side.
The next live streams from Sutho are scheduled to be our men's Premier League matches against Briars at home the weekend after Easter.
Back to the day of firsts, it was debut time for Sydney Women's Hockey League matches at Sutho when our ML4 team notched up a 3-0 local derby win against Cronulla Sharks, while our ML6 team drew 2-2 with University of NSW.
On Saturday our men's Sydney Hockey Premier League teams were home and hosting UNSW, with a  highlight our very young first graders holding on for a 1-1 draw against highly credentialled opponents.
Yes, Sutho fans, with the actual dry hot weather we even had to water the pitch at Tradies Hockey Park headquarters on the weekend. After the deluges of the past months it was lucky the pumps and irrigation system remembered how to do it.
Apologies for the late publication of the Match Reports. My picture editing software was extremely unwell.
Thank you for their picture contributions to Anna, Amelia and Bethany Domrow, Craig Turner and Matt Morris (three men's and one women's game!)
Match reports
Women
Sydney Women's Hockey League
ML4 Sutho1 3 Cronulla Sharks 0
Sutho's first SWHL home game! The sun was out and shining for our game against the Cronulla Sharks.
The game started quickly with a very early goal from Marina. From the beginning our defence worked well, building strong transfers to push the ball up the field.
We continued our attack with two more goals in the first half, finding that we succeeded when we approached the goal as a team.
The team made improvements in the second half including strength in our press and earning more short corners.
Overall we had a great game and are looking forward to our next one 🙂
Best and Fairest: Zara 3, Amelia 2, Yasmine 1
Goals: Marina 1, Kristen 1, Jess 1
Thanks to Bethany Domrow for her pictures.
ML6 Sutho2  – 2 UNSW 2
This season has a lot of firsts for our Sutho Women – including our first-ever Sydney Womens Hockey home games on Sunday.
It was Another sunny day for the women's game and the ladies were pumped to go out in front of their home crowd.
Thanks to COVID we were missing a third of our team so this game included a few debutants and some awesome ladies who stayed back to help and play their second game. Big thanks to all of them.
We played hard in the first half, producing a lot of attacking play. We were able to get a few attacking penalty corners but weren't able to convert these into goals, unfortunately.
Unluckily for us, two breaks by UNSW put the score to them 2-0 by the end of the first half.
The second half was much better for us. The ladies put in a lot of fight – we started moving the ball more effectively from our defence to our attack, linking up much better.
We scored 2 goals for ourselves and kept the UNSW team out, finishing the game 2-2.
The team showed a lot of promise with just a few things for coach Kris to work on in this young team.
We didn't get match reports from our other ladies' teams, but Matt Morris snapped a couple of pictures of the Wildcats in action at Marang. Thanks, Matt.
Men
Premier League
Sutho 1 1 UNSW 1
What a great result.  Showed tenacity, determination and commitment from this young team. For the second week in a row, when we thought we were thrown to the wolves in having to play 2 of the favourites in the PL 1 competition we came out smiling and what a showing of our junior brigade.  I believe that both Ryde and UNSW thought it was going to be a forgone conclusion that they would win after hearing that Sutho had lost 8 1st graders at once.  Well Ryde found out it wasn't as easy as they thought it was going to be and UNSW came with an expectation to win easily and were held to a draw.  To boot they also had 2 Australian squad members and about 4 state under 21 players in their team. I believe we are developing a strong culture in the "junior"  boys/men and hopefully creating a team to carry on the strong tradition of our 1st grades during the last 3 decades. I really can't single out any one player from yesterday's game other than to say every one of them did what they were asked and are all willing to listen and learn from the coach JC, senior players and Spud our coaching director.  The tenacity of the team started to show in the UNSW team as they were becoming frustrated and more frustrated as the game went on.  The mental toughness of our boys began to show as UNSW started playing "tough" and couldn't break us which eventually resulted in Riley Lloyd scoring a smashing goal into the top of the net. It was a good game to watch for our spectators and our 1st home match which unfortunately was not live streamed for members to watch the high quality game and the entrée of this young squad. Hopefully this will come in future matches.
We now have a two-week break for Easter and our next match v Northern Districts at Pennant Hills. Then 2 home matches v Briars and Moorebank. Peter Krepp
Pictures – Craig Turner
Sutho 2
No report
Pictures thanks to Craig Turner
Sutho 3rd Grade 0 UNSW3 0
It was a pleasure to play in the sunshine after so long in the grey rainy blur of the recent month/s. Our team was missing a large number of players to Covid isolation and holidays however we felt like there was a good opportunity to seek out our first win of the season against a strong UNSW team.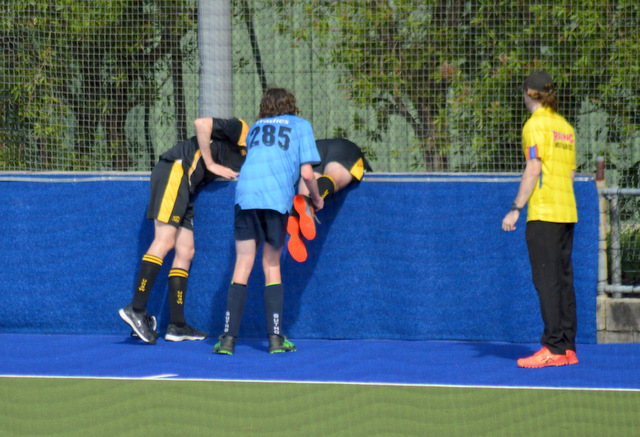 Our first quarter was probably our best part of the game. We controlled the play well and missed a few goal opportunities.
As the game went on, the turnovers increased as our fitness started to fall away. This was frustrating, but we did have some good moments of patient ball control.
After a lot of back and forth and some missed goal opportunities the game ended in a nil-all draw, which seemed to be a fair result for both teams. A big thank you to all players that filled in and stepped up for the game.
Best and fairest: Ralph Prince 3 points, Aiden Taylor 2, James Mulcair 1.
Sydney League
Sutho 4th grade v UNSW  No report
Pictures thanks, Matt Morris
Sutho 5th grade UNSW No report
Sutho 6th grade 1 UNSW 5
Round 3 and we finally stepped onto the field for our first game of the season after two forfeits by our opposition.
The sun was shining, which seemed like a rare event, so much so that the importance of applying sunscreen in such situations had been forgotten.
Our rustiness was apparent as we misplaced many a pass, mis-trapped those that were on target or decided to just pass the ball to the opposition. It all meant we put ourselves under pressure and presented a very good UNSW team with opportunities.
They took those early opportunities and were up by 2 goals at the first break.
A quick drink, a rev up by the experienced heads and we got back in the game in Quarter 2, with Kai scoring a brilliant solo goal.
This was assisted by his teammates making good leads to make the defenders make decisions and create space for the ball carrier. 1-2 at halftime.
The second half was a battle, with each team struggling to take full control of the game.
A missed trap in front of the goal allowed UNSW to notch another goal in their column and our heads dropped a bit.
Our lack of match fitness showed in the final 1/3rd of the game and UNSW scored two more, one in the final minutes of the game. Not the start we were looking for, but plenty of positives to build upon. Bring on our next game.
B&F: 3 points: Kai Morris, 2 Piles, 1 Byron Watson. Goal: Kai Morris (1)
Sutho 7th grade UNSW No report
Pictures thanks to Amelia Domrow and Matt Morris
No matches were played because of the school holidays.
No matches next weekend because of the Easter break.