It's not often that you get to report that a first grade match is abandoned because there aren't umpires.
But that's what happened last Saturday when our 1st grade women's team got the message that their game against University of NSW was canned because of a lack of whistle blowers. In first grade! The upside was that there was enough time to miss the trip to Moorebank; the downside was that neither team gets any points from the abandoned match. Dunno.
We're a bit thin on match reports this week, although we haven't heard of any power outages that would have prevented some of our usual correspondents for sending their team news. Maybe next week will be better.
Thank you to Tony O'Leary for his pictures of the 6th grade match, in which he got action shots of every team member. One is our feature picture of the week (above) – The Long Arm of the Rowling.
It would have been good to have a match report to complement Tony's work.
Anyway, on to what we did get, with all matches played on a perfect winter sunny afternoon.
Match reports

Men
1st grade Sutho 5 North West Strikers 2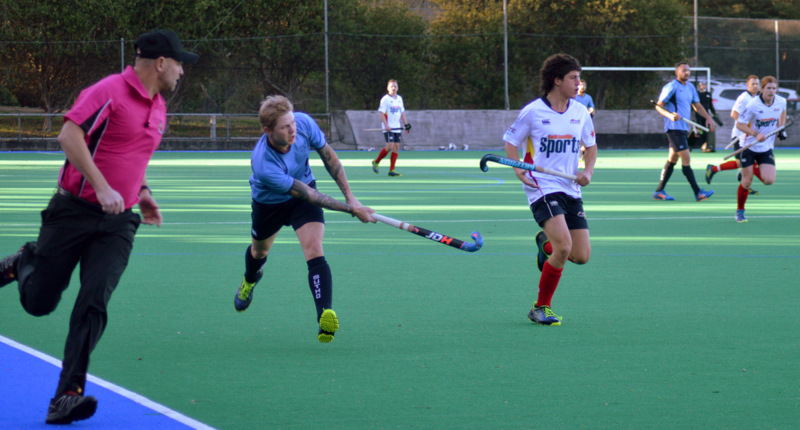 The match was a high quality, fast and hard game.
Sutho still had Kieran Govers out injured and Harry Roberts sick.  We will not , unfortunately, see Luke Noblett or Cameron Parsons this season again at this stage through injuries which will most likely keep them off the field.
This result was a great turn around from the previous meeting between these two teams, which NWS won.
Ackas, as always, played extremely well in goals and really makes it hard for opposing teams to get past him.  Benny has really got his goal scoring Mojo back, having scored some 10 goals in the last 3/4 games.
Zac Nhyrinen was called up from seconds and played extremely well, putting on some excellent moves on and defending strongly. Brady, having just returned from the U21 Nationals, was sharp in an all-round good performance and having one of his best injury free seasons for some time .
In all it was a strong performance by everyone and hopefully there is even more improvement and sharpness to come for the business end of the season which is now coming close.
B & F: Brady Anderson 3, Nathan Ackroyd 2, Jack Hayes 1 . Goals:  Mitch Wray 1,  Cameron Buesnel 1,  Matt Johnson 1,  Matt Bennett 2.
 2nd grade Sutho 3 NW Strikers 1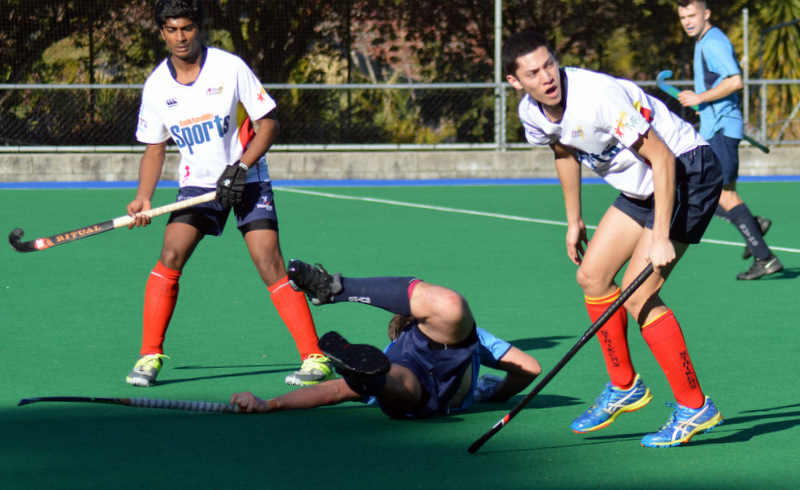 An excellent performance by the boys against an always tough NWS opposition.
Again we created a significant amount of chances and this week we were able to capitalise and put three away. The boys played for the entire 70 minutes, which was great to see., to deliver a final result 3 -1 win.
Points: Blake Hernandez 3, with a special mention to Blake for his first starting 2nd grade game. He had a hell of a game, Iain McClung 2 and Michael Sharkey 1. Goals: Brendan Sharp 2, Michael Sharkey 1.
3rd grade Sutho 1 NW Strikers 1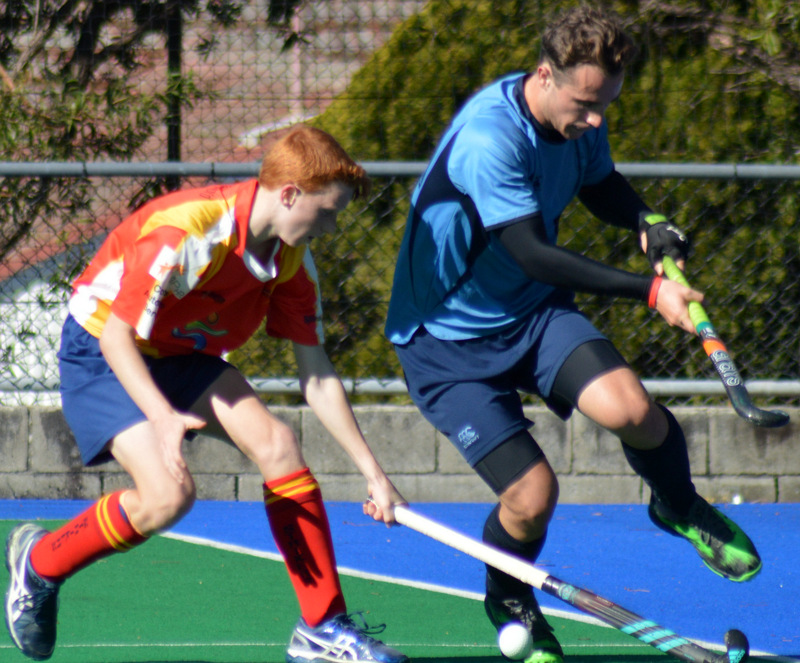 On a beautiful Winter day at Sutho, two of the youngest teams in the comp took to the field in front a massive crowd, (a few parental drivers), with both teams desperate to keep their finals hopes alive from the bottom half of the very congested table.
After a nil-all result in the first round, another tight tussle was expected. Sutho welcomed back Stevo, our worldly man of much travel in goals, and old man Bollard in the midfield from his mid-season rep carnival hiatus.
Sutho dominated the 1st half, so much so that NWS didn't have a shot: Stevo's only touch was to clear a cross. Our midfield was working very hard, and Mac was dominating as the central pivot up high. However, we didn't create a lot of chances, with corners probably our best efforts in the first half, and those were poorly executed/well defended.
The half time talk was fairly positive – more of the same but specific on our execution.
Mac beat most of their team from the hit-off, and earned a corner and had their striker yellow carded on the way. Again, we didn't execute.
From that point, although we did lots of good things, NWS came back into the game, pressing us harder than the 1st half. Eventually they forced a turnover at the back which they calmly slotted to take a 1 nil lead from basically their first shot.
This annoyed our goalie, who had implored us to stop fiddling at the back all game, and it enthused NWS. As we pushed more forward, the game opened up and gave them a number of chances. Mac had a couple of close shots, one off a corner, another from a break away, but we couldn't convert.
Another defensive blunder was averted when Stevo sneakily deployed the quick release ejector button of his helmet, which rolled across the circle from his position on the ground, forcing the umpire to stop play and award a free hit, just as the NWS striker was about to score and Jay was contemplating giving away a stroke.
Yellow cheese
Mason was disappointed that the NWS hacking of Mac's stick was going unpunished, so he showed NWS what a proper hack looked like and saw the green triangle turned into the yellow cheese when he rather loudly aired his frustration with decision.
Late in the game some good passing and transferring saw Turner running through the midfield. He spotted a shimmering bald spot high in the circle, drove a thunderous pass towards the right post where Braddlepops clumsily tripped towards the ball – this clever deployment of uselessness put the goalie off so that the faint touch diverted past him for 1-1.
Sutho's excitement was tinged with regret, as they knew they would never hear the end of this!
A frantic last couple of minutes where both teams tried to hand the game to the other with rushed intercept passes culminated in a collision in the Sutho defensive circle, which saw one of the NWS players concussed but somehow no corner was awarded and another draw was the end result.
Amazingly, both teams live to fight another day, and with three games left and only 2 wins for the season (5 draws), Sutho can still make semis if we win our last three games. 2 more goals in those last 2 draws and we would be sitting in 5th, instead of 9th.
Points: 3 Mac (they keep hacking me) Dunn, 2 Matt (Back to AFL next week) Turner, 1 Brad (4 goals for the season from DM) Bollard. Goal: Brad
4th grade Sutho 0 NW Strikers 1
The leadup games had gone well – 2nd and 1st grade both recording good wins, and 3rd grade a solid draw. It was now down to the mighty 4ths, to finish the day off with a win!
From the start we possessed the ball well through our midfield, just as we had discussed prior to the game. The leading from our strikers was effective, and we were turning good field position into multiple circle penetrations.
Unfortunately a surprising umpiring decision midway through the first half resulted in an unexpected turnover in favour of NWS with our team committed forward in attack. NWS reacted quicker than us and reaped the rewards as their centre striker broke through our defence and slotted a shot just inside the post.
A goal against the run of play was disappointing, nevertheless it seemed that if we kept our composure and continued as before, our chances would surely come.
The half time talk at 0-1 down was positive – our pattern was good, we just needed to construct better quality opportunities in the "D". Be patient, keep moving the ball, maintain the midfield running off the ball, and continue to build pressure on the NWS defence.
As good as our ball movement and field position might have looked, sadly our execution in the attacking "D", whether from free play or penalty corners, wasn't good enough to crack the NWS defence in the 2nd half. We finished the game at the wrong end of a 0-1 score line, and NWS had their first win in 6 games. They certainly enjoyed their evening visit to Sutho!
Result: 0-1 loss. Points: B Hol 3, S Kelly 2, C Turner 1
Sutho 5th grade
No report
Sutho 6th grade
No report, but thanks to Tony O'Leary for his great pictures.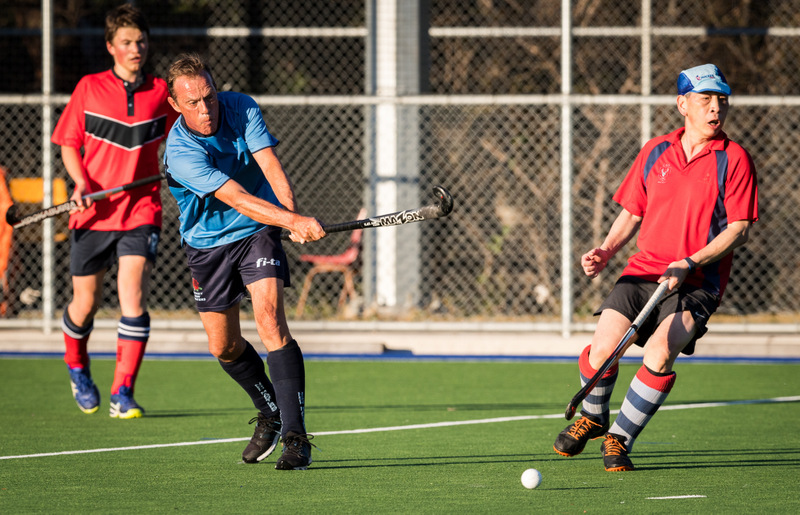 7th grade Sutho  2 Monterey 3
This week was always going to be tough one against the table leaders and we started off confidently and playing well.
With two players that didn't turn up we formed a new structure that unfortunately lead to 2 goals through the centre of the field.  My fault .
Two goals in 30 seconds both 50 metres passes and tap in for Monterey. So after playing some really good hockey we went into half time 2-0 down. A quick talk from a senior player changed the format which worked better in the second half.
A flukey goal from Monterey saw them 3-0 up but with 10 minutes to go Damian scored two very quick goals with some lovely play from our forwards. The last eight minutes was extremely hard and everybody ended up on their last legs and exhausted with a final score of 3–2.
Fantastic effort from everyone and we really know how we can play with two games coming up this weekend.
Three points to Damian Seager, 1 point to Cameron Bayley, 1 point to Steve Harvey and 1 point to Caleb Nieuwendyk. Two goals to Damian Seager.
Women
Sutho 1st grade
Game cancelled because – quite extraordinarily – there were no umpires. The only upside was that our women players were advised before they set off to Moorebank for their game.
Sutho 2nd grade
No report
Sutho 3rd grade
No reports