Yaz getting some high flying action in ML4. Picture: Bethany Domrow
There were plenty of landmarks for Sutho last weekend, most notably the fielding for the first time of two teams in the top-ranked women's comp in our city – the Sydney Women's Hockey League.
We debuted in SWHL's Metro League Grade 6 in 2020 and won successive promotions until we started last Sunday in ML 4. But, importantly, it was also the first time a second Sutho ML team, in sixth grade, took to the field, with plenty of Sutho juniors guided by more experienced hands.
Strategically, both teams are crucial to our emerging female players staying with Sutho. Historically, they have left our club because we could not offer them the chance to play in SWHL. Doing so and developing opportunities further is obviously a high priority for our club.
Both ML teams had handy wins. Reports follow.
Diary time: Next weekend is also a biggie at home.
Next Sunday both women's ML teams are at Tradies Hockey Park for the first time ever. Get down to show your support.
Sutho 1 plays a big local derby against Cronulla Sharks at 1.30 pm, while Sutho 2 plays University of NSW 5 at 3 p.m.
On Saturday, Sutho's three Sydney Hockey men's premier league teams will be home to UNSW.
We're rebuilding, mostly with emerging local talent. We had an always tough first outing for 2022 last Saturday against Ryde. The final score of 0-1 against an expected top four team was regarded as a pretty good outcome.
The Saturday schedule of matches against Uni of NSW is 3rd grade 12.30, 2nd grade 2 pm, 1st grade 3.30 pm.
Match reports
Sadly, we don't have many match reports this week. It must be early season exhaustion, so all Sutho fans will be looking forward to a better read in the rest of the season (That's HINT-HINT managers!!).
Women
Sutho One  7 Gordon North Sydney 0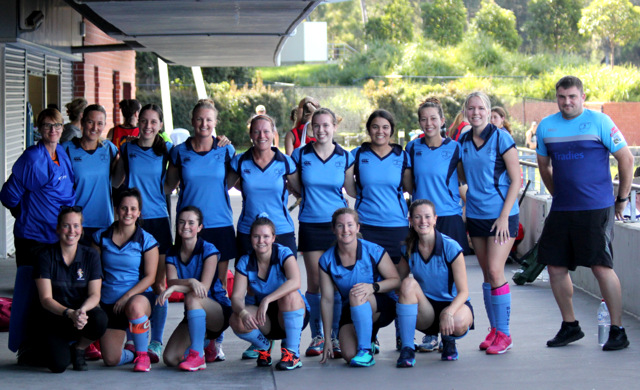 What a wonderful start for Sutho Women's One team in its first game after promotion to Metro League 4!
The sun was (finally) shining, and it was a cracker of a day to play hockey. It was the first game of the season; there were a few butterflies in the tummy, but it was a great start with a 7-0 win.
As the quarters progressed, we saw the team stringing together some great passes to build play up the field, resulting in numerous goals.
Congratulations to our best and fairest: Marina 3 points, Yaz 2, Jess 1.
We're looking forward to Game 2 at home next weekend!
And we have not one, but two picture galleries from the ML4 game, the first from Bethany Domrow, the other from Craig Turner. Thank you both.
The first gallery is Bethany's pix:
Now, over to CT:
Sutho Two 8 Ryde 0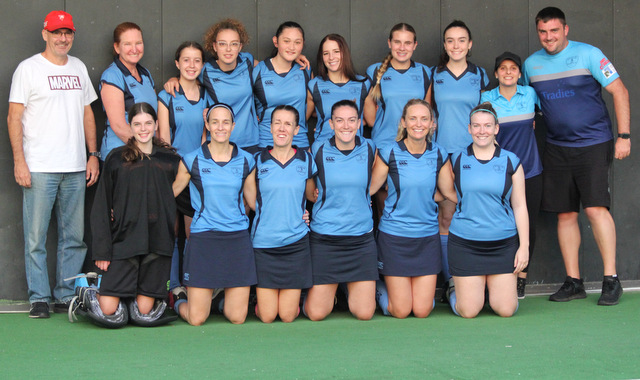 A great first game by our ML6 team at Olympic Park with an 8-0 win against Ryde with numerous goal scorers.
Such an amazing team effort by all of the ladies, especially our debutants playing in women's!
We can't wait to see what the rest of the season brings us.
Best and Fairest: Meaghan 3, Sofie 2, JJ 1.
Sutho Blues 4 v Tartan Tarts 1
We began the season with a bye in Round 1, so Round 2 was Game One for us! As a newly formed team, this was also our first meet for many!
We welcome 12 new or returning players to the club in the Sutho Blues team. Welcome to Sarah , Larissa , Brigette, Michelle, Mel F, Brielle, Meagan, Amanda, Sam, Natalie, Victoria, Nikki!
As we prepped for the game, there was much excitement and trepidation.
We began with a warm welcome from our Women's Convenor, Jo Momsen, and a briefing about the 'new' rules from Umpire Bridget Crowley.
We predominantly attacked for most of the game. Our halves did an awesome job of keeping the ball out of our defensive goal for most of the match. Showing some great teamwork, we certainly had opportunities.
Best and fairest: 3 points each for Michelle Earle and Brigette Crowther, 1 Meagan Patmore. A huge thanks to Liv for her great talking as our goalie.
Our four goals were scored by Mel F, Michelle, Meagan and Jill. Tartan Tarts' only goal was scored off a short corner.
A huge thank you to our Women's Convenors, Ruth Sannes and Jo Momsen, for helping to make this team a reality!
Juniors
Sutho U15 Metro 0 Briars 3
The difficult conditions of extreme winds and having four players out challenged our team before we even hit the field, but we stepped up and tried our best as a team.
The first half saw us play with only one reserve, and in the second – none. But that meant no rest time.
We played our hardest hockey, trying to beat Briars,  a tough team to beat, but unfortunately went down 3-0.
The strikers played well and worked hard, there were some good shots at goal, but unfortunately, we could not convert them.
Thank you to Leo Matthews and Luka Collins for filling in for us. Also, thanks to Jonty for coming to support us from the dug-out.
Good luck to Jonty and Justin, who are playing in Newcastle this week in the U15 National Championships.
Best and fairest: 3 Zara Matthews, 2 Hamish Draganic, 1 Louis Olsen.
Sutho U17 Thorny Devils 1 Moorebank 8
The Thorny Devils were on a roll after an 8-0 win over UNSW last Friday. They had a switched on, high energy warm-up and came out firing against Moorebank.
Jack scored a clever goal from a rebound in the 5th minute, which rattled Moorebank, who are used to dominating this age group.
The Devils continued to work as a team, using clever short passes up the sideline and scrambled in defence.
Unfortunately, Moorebank quickly regrouped and played good quality hockey where they valued possession and used patience.
Kai did a great job organising our attackers into a fall away press – a new skill for many of our players – and it was a very proud coach who witnessed their teamwork, communication and support of each other on the field.
Liv was again back in goals and made many terrific saves.
The final scoreline of 8-1 didn't really reflect the quality of hockey played and the rapid improvement of the Thorny Devils. We had several players making their first appearances for Sutho, with some even playing their first-ever hockey games.
We certainly have some improvement to make on positional play, fitness and skills, but given the team's positivity on the field, communication and enthusiasm, this will be a rapid improvement.
Best and fairest: 3 Liv (GK), 2 Cooper 1. Max. Goal  Jack.
– From Coach Jo
Sutho U15 Thorny Devils 0 UNSW Belugas 0
This was the Thorny Devils' first Friday night match of 2022 and our second game of the season. Played in challenging conditions, it was a nail biter.
Aside from the wind and light rain we had at Marang, it's a shame we didn't score, but thanks to our defence, neither did they, leaving the final score at 0-0.
We need to work on a few things at our next training session. Notably, we did have a couple of nice short corners in both offence and defence.
We had some great saves by goalkeeper Sam and some great slaps from Bronte in defence.
Thank you to Nicholas and Georgia for filling in and also for making some nice plays throughout the game.
Best and fairest: 3 points Bronte F, 2 Mandy C, 1 Lachlan H.
Sutho U13A Geckos 7 St George 0
This week we faced St George with players absent due to Covid and holidays. Thankfully, Audrey and Michael came to play with us.
We played a strong, attacking game from the start, which resulted in many shots on goal and an early lead.
We tried to keep to our game plan throughout by sticking like glue to the other team while using as much of the pitch as possible.
In the end, we had a comfortable win with our goal scorers being Ethan (1 goal), Jack G (1 goal), Lauren (2 goals), Rowan (2 goals) and Nic (1 goal).
Our best and fairest: Nic with 3 points, Lauren with 2 and Edward with 1.
Sutho U13B Blue Tongues 3 Glebe 0
The Sutho Blue Tongues headed down to Kyeemagh on Saturday morning to take on Glebe Hornets. It turned out to be a very entertaining match.
We started strongly, dominating in their half and managed to score our first goal of the season through Gemma.
With constant pressure, the second goal didn't come long after, with Evan putting it away into the bottom corner.
Hamish was strong in defence, helping his brother Griffin in the goalkeeping gear. His goal-line saves kept their attack unable to put one in the back of the net, so we went into halftime 2-0.
We continued to dominate in the second half, utilising our right and left midfielders, Kasper and Imogen, out wide to attack their defence with great sideline runs. Meanwhile, in the other half of the field, we continued to keep them frustrated with Carlos and Lincoln defending strongly.
In the last quarter, Gemma once again managed to tap the ball in amongst a scramble of players to get a double for the day. Despite a late short corner against us, everyone put in an effort to get back and protect the goal at all costs! A fantastic effort and a great display of Sutho's spirit. I couldn't be prouder of them.
Best and fairest: Gemma 3, Evan 2, Kasper 1. Goals: Gemma 2, Evan 1.
U13B Sutho Thorny Devils 0 Moorebank 3
We played an experienced Moorebank team on their home turf.
We took a while to wake up for the early morning game, but by the second half, we started to pull it all together.
Caiden and Elle had a half each in goals. Sophie, Cayleb, Achilles and Mila tried their best to score that elusive goal. Unfortunately, we went down 3-0 to a stronger team.
Best and fairest: 3pts Mila B, 2pts Lucas R, 1pt Caiden H.
Men
Sutho 1st grade 0 Ryde 1
This was our first match of the season, as the opening Sydney Hockey Premier League round for Sutho was a bye.
Our team was also virtually unrecognisable from those of the last few seasons, which had included many State, Australian and premiership players.
We are in a transitional period, regrowing our 1st-grade team aiming to emulate the past few decades of excellence, premiership-winning teams and representative players.
To do so, we now have no less than eight homegrown juniors in the squad. It shows the benefits of all the hard work devoted to our junior program.
Saturday's game put us in the line of fire first against Ryde, a top-four contender.
It was a great blooding for our juniors under the fantastic guidance of the remaining senior players.  The guidance of these senior players – namely Alex Shaw, Nathan "Ackas" Ackroyd, Matthew Bennett, Michael Sharkey and Mitch Wray – is invaluable, and the benefit for the younger brigade is phenomenal.
Ackas played a great game in goals stopping one after the other and negating Ryde. He took the B & F points.
Every one of the Sutho junior-graduate players played their hearts out on the day and we could not have asked more of them. It augurs well for the club as we held Ryde to a hard-fought loss of only 0-1.
Close to the end we nearly snatched a draw, when Buzz Halyard fired a rocket at the Ryde goalkeeper who miraculously glanced it over the backline.  He admitted to Buzz after the game that he didn't even see it -and only luck stopped it from going in.
Sutho's effort even surprised Ryde – and also the umpires – who asked who many of our players were.
Hopefully, we can replicate this effort next Saturday in our first home game of the season when we line up against UNSW, who are also tipped for the top four.
Making it even harder will be that six of our juniors will also be required at NSW trials for U21s both Friday & Sunday – either side of the 1st-grade match – which is a hard ask by Hockey NSW.
It will be a great day for our 1st match of the season at home and for spectators to see what these kids can do.
B & F: Ackas Ackroyd 3, Alex Shaw 2, Zak Keelan 1.
Sutho 4th grade 0 Ryde 3
As 4th grade's Round 1 game was washed out last week, this was our first match of the season.
Some wise words from Jack Mecham indicated our tactic going into the game was to fall away when the opposition was attacking in their defensive half, and it worked well.
Ryde was constantly putting us under pressure forcing a few short corners, but we managed to hold our nerve and keep them scoreless at halftime.
The discussion at halftime was to continue with our tactic and to stay patient, knowing our opportunities will come. The 3rd quarter started well, and we managed to create a few chances to score, but unfortunately didn't fully execute. Then, unfortunately, Lachie Staples injured his knee and we were down yet another member.
Late in the quarter, Ryde scored with a tomahawk, hitting the post and into the goal. However, we maintained our intensity and continued to fight hard. The last quarter saw the field open up more and we created a few more opportunities. Unfortunately, Ryde scored their last 2 goals from breakaways in our attacking 25.
Ultimately, the boys fought hard and the scoreline truly did not reflect how well we played. There were both positives and negatives to take away for future games.
Best and fairest: 3pts: Jack Mecham, 2pts: Mark Bonnici, 1 pt.: William Gair.
Sutho SL 4 won on forfeit by Bankstown.
Sutho SL 5 1 UNSW 4
We didn't get a match report, but it can be reported that there was an almighty cheer when the boys managed to crack in their goal.
And, we did get some match pix from Bethany Domrow and your editor. They show, amongst other things, furniture arrangement and, if you look closely, a UNSW stroke shot being seen off by goalie Stu and the post.