Goalie Stu Hammond gets a great clearance away against a Moorebank short corner in 7th grade. Picture: Bethany Domrow.
8 a.m. last Saturday at Hockey Park, and Sutho hit off in their U11 game against Moorebank, getting the youngest players onto their home ground for the first time in 2022. And for a long time since mid-2021, thanks to Covid.
There was a mix of learning and some games that may have surprised spectators with their high standard. It looks good for 2022 and beyond.
And, of course, it rained, as our headline picture shows. And to show that the downpour didn't worry the Sutho and UNSW kids, water fights broke out for the enjoyment of all. Check out some of the action:
Match reports
Now, on to the match reports. Thank you to the team managers and coaches who provided them. Unfortunately, several weren't sent – despite gentle harassment. The deadline for match reports is Sunday night. Let me know if there are issues, please.
U11A Geckos 2 Moorebank 0
The Under 11 Geckos got off to a flying start to the season. The kids arrived early and were very keen to play well for fill in Coach Adam.
Switched on from the whistle, Sutherland dominated the early exchanges with some very skilful play from our midfielders. As a result, Moorebank was on the back foot, allowing Michael Chapman to score a great goal from the top of the circle: Sutherland up 1-0.
The Geckos' fullbacks had a great game, and with Harry Gunner and Archie Erickson clearing all the loose balls, Moorebank continued to struggle to penetrate the circle. 
Nearing halftime with all the possession, Sutherland saw another goal to Michael Chapman. Our other midfielders, Luke Palmer and Krishang Prabhu supported him well with some great passes.
The second half was the complete opposite of the first. Moorebank gained more possession and started to penetrate our circle.
 Alex Stekhov had a superb game in goals, saving a couple of shots. Joel Kooner should also get a special mention as our saviour at the back on numerous occasions.
Levi Cooper's work rate and positional play were excellent, while Liam Southall and Harrison Leach played well for their first-ever games.
Moorebank had several chances in the second half and many short corners. However, Sutherland did very well to keep them out and return a clean sheet.
 We won 2-0 in front of a loud home crowd.
It was a very pleasing result.
Players' player (best and fairest): 3pts Michael Chapman, 2pts Joel Kooner, 1pt Levi Cooper. Goals: Michael Chapman 2.
There were two other junior matches at home on Saturday morning; both U13B clashes against Glebe and UNSW. Sadly, we didn't get match reports from all, but here is the action from the matches. The first was dry…
But that all changed, thanks to Mother Nature, or La Nina, both of whom have made it pretty soggy in Sydney. But there was dry, too, thanks to our fast-draining synthetic pitch.
Under 13B Sutho Blue Tongues 0 UNSW Humpbacks 0
During the 1st half, the Blue Tongues controlled the game in the opposition half with Mitch in goals not getting any play-time.
Then the rain came in quickly and abundantly with the players and umpires doing well to play in the rain. Soon it was too difficult to play in the puddles and we had an extended break leading to halftime.
The players stayed warm playing in the puddles until the umpires started the game again.
The 2nd half was a reverse of the 1st, with the UNSW Humpbacks controlling the game in our territory.
We maintained a good defence with the midfield getting the ball up to our strikers any chance they could.
Overall a very competitive game which led to 0-0.
Under 13A Sutho Geckos 4 UNSW Orcas 1 
An excellent first game by the under 13As Geckos with a win of 4-1 against UNSW.
We started the game off strongly, attacking and keeping possession of the ball. 
Working as a team, we passed and created space to get the ball in the attacking 25, getting a few short corners before Nick got an impressive goal.
Lauren (our correspondent!) scored the second goal not long after that. We kept marking well, and by the end of the first half, it was 2-1 our way. 
We were so lucky that the rain held off out at Daceyville.
We played as a team and tried our very best, and that paid off as Jack Gunner, our player of the day, scored a fantastic goal, followed by Rhydian finishing a top game with a quality goal.
Good job to all. See you at training.
Best and fairest: Jack G 3 pts, Nicholas 2 pts, Edward 1 pt
Thanks to Sarah and Gethin. 
 U15 Sutho Metro 1 Ryde 2
The weather held off. We were able to play without a drop of rain falling.
Ryde was quick to start with the hope of scoring a fast goal or two, but we managed to hold them to a 0-0 score for the first half.
There was lots of good movement and structure within the team.
The third quarter saw Ryde score two goals, giving them a 2-0 lead, but we headed back onto the field determined to even the match in the fourth quarter.
Jonty scored our only goal for the game, and we finished the match 1-2.
Justin and Jonty made some good tackles, and there were some solid attempts at goal by Louis. However, it should be said that the score doesn't reflect how we played our game as a team.
 Best and fairest: 3 points Jonty Austin, 2 Justin Murray, 1 Jamie-Grace Pittello.
 U15 Sutho Blue Tongues 7 UNSW Blue Whales 0
After a very rainy day, we were lucky to play in dry conditions.
The match was the first Friday night game under lights for many in the team.
We mainly played Q1 in our attacking half; we were eager to get into the circle. We won five short corners, with Amy scoring to make it 1-0.
In Q2, we passed better, with Rowan scoring the 2-0 and Matilda the 3-0, while unfortunately, Harrison put one in just after the halftime whistle.
After a good halftime chat from Darcy, the team went out for Q 3 with new vigour. Harrison took the scoring to 4-0 off a short corner, following it with a field goal (5-0).
In Q4, our only objective was to pass to a blue shirt, which we did. Leo scored the 6-0 goal and, after more passing, Tully took it to 7-0. 
Sam, Emily and Jack defended on the line to keep the ball out of our goal – right up to the last seconds of the game. 
It was a great game that also produced some solid ideas to work on at training. Onwards and upwards: go Blue Tongues. 
Big thank you to Sam and Rowan for filling in. 
Best and fairest: 3pts Imogen, 2pts Emily Carey and 1 pt Leo Matthews.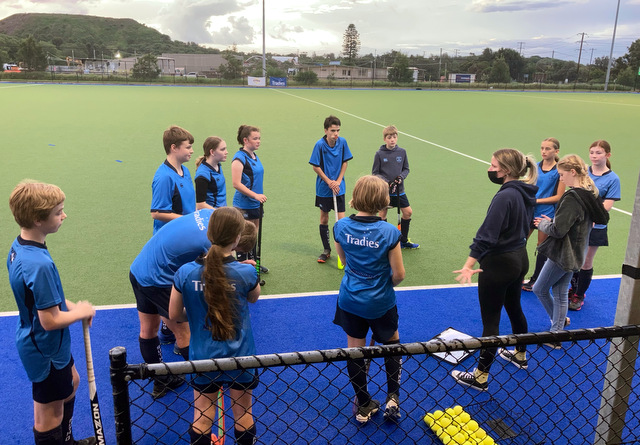 U15 Thorny Devils 0 St George Dragons 7
Thankfully after ten months of waiting, (Ms) La Nina took the morning off. So, we were all 'GO' for the Thorny Devils' first game of the season on the new turf at Kyeemagh. 
It was refreshing to hear the sounds of ball on stick whilst listening to the sounds of the nearby airport back to its full glory.
The opposition Dragons were older, quicker and full of U15 NSW talent. Our team was still learning each other's names, let alone new positions amongst our heavily COVID-impacted lineup. 
There were positives that the 0-7 scoreline did not reflect:
Some great saves from Sam at GK

Some good slaps from Bethany at Centre Back, and

Some great tussles from Byron and bursts from Mandy.
It was also good to see new people in Sutho Blue for the first time and some back again after missing the previous season.
We managed to grab a short corner attempt in the final seconds, allowing some of our warriors to try injecting and lead positions for their first time.
Watching this team improve over the coming months will be exciting. We must offer a special thank you to Adrian for filling in for our COVID isolated coach. 
Best and fairest: 3 pts Byron F, 2 Sam V and 1 Mandy C.
Thank you to Luke Domrow for the pictures.
U17 Sutho Geckos 0 St George Dragons 7
The Geckos were fortunate the rain eased off for their game at Kyeemagh against the St George Dragons on Friday night.  
With one player out with a (non-hockey) injury and several others unable to attend, the Geckos, unfortunately, took to the field one player short against a fully loaded team of Dragons!  
They did well to hold the Dragons to just one goal in the first half, but things changed quickly in the third quarter when one of Sutho's new members, MaKye, sadly took a hit to a finger and was taken to hospital.  
The incident affected the remaining players and left us two players short on the field. That was evident in the end score of 7 for the Dragons to the Geckos 0.
 All the Geckos should be applauded for a fantastic defensive game keeping the Dragons to 7 goals.  
This week, 3 best and fairest points went to Chloe Byrne, 2 to Eliana Huemer, and 1 to Owen Laycock.  
Sadly no photos to share this week as the only photos are of MaKye's injury and definitely not G-rated!
 U17 Blue Tongues 0 Moorebank 7
On Friday night, we had our first game against Moorebank in our first game as a new team. 
It was a tough game. Moorebank scored four goals in the first half, but our team worked better together in the second half, and they only scored two more goals. 
Everyone tried their hardest, and for our first game together, we got better as the game progressed.
 We were down a few players. Amelia's sister Bethany Domrow from U15 played for us and did a great job. Thank you, Bethany.
Mylo Collins played goalie.
The best and fairest points were Haylee McNally 3 points, Ryan Mead 2, Amelia Domrow.
Men's and Women's Hockey.
The ladies hit off next weekend. Our men had byes in Sydney Hockey Premier League grades 1-3.
In its Sydney League, 4ths had a late forfeit from Briars.
Thank you to Sideline Eye Bethany Domrow, who got some shots of the action between 7th grade and Moorebank.
6th-grade Sutho 2 Moorebank 2
We all know how much a win against Moorebank is coveted by everyone who dons a blue shirt, so this was a disappointing result after taking a 2-0 lead at halftime.
For the first game of the season, we showed some encouraging passages of sustained defensive pressure, some good passing, and a few incisive runs into the circle from Chris and big Luke playing at striker.
Moorebank came out in the 3rd quarter with a change of attacking strategy and renewed hunger
And we let ourselves down with a couple of periods of lapsed concentration and ball watching that saw some loose marking and some cheap turnovers of possession in crucial field positions.
Positives from this game were some periods of excellent defensive pressure across the pitch, and some nice ball movement in patches.
But we need to work on making this effort more consistent through all four quarters and work on repeated effort after dispossession or missed tackles.
Nonetheless, some promising signs for the season ahead. Big congrats to Chris and Elliot on their debut grade games.
7th Grade Sutho 1 Moorebank 2
The first match of a new season featured some old(er) faces and some new ones.
We were missing quite a few of our stars from last season but, as always, someone steps in to fill the gap. A big Sutho welcome to Stu, Tushar and Aaron.
The match itself proved to be an arm-wrestle, with the final score of a 1-2 loss being established in the second quarter. As the match wore on the legs grew tired but organisation and structure improved, which enabled us to repel numerous Moorebank attacks.
Brock "The Stallion" Singleton (love the new hair) gave us one of his trademark sprints, and Connor "The Goal Sneak" Crowley duly obliged in typical fashion.
Ray scored a "Cranky Man" (umpire's words) green card but was one of our best.
Congrats to Howie for another B&F 3-pointer. The heavens opened five minutes from the end but didn't detract from the joy of playing hockey again.
It's great to be back in SL5!