Sutho's first SWHL team: Back, left to right: Camille, Amelia, Zara, Megan, Kayla, Jana, Grace, Wallace the Dog and proud team mascot, Ashton, Jo. Front: Kristen, Mel, Ruth, Hannah, Felicia.
It was a historic day for Sutho on Sunday when our first women's Sydney Women's Hockey League team ran on to the field.
SWHL is the top women's hockey competition in Sydney, just as Sydney Hockey's Premier and Sydney Hockey Leagues are for our men.
And making it even more special, this year is the 40th anniversary of Sutho fielding its first women's teams, the Arangas. We will be celebrating that when public health matters improve.
Our SWHL team, made up of women aged from 13 to experienced, made its debut against Macarthur-Bankstown, matching up at The Crest at Bankstown on a crisp but sunny morning. In a great start, we were on the scoreboard quickly and ran out 7-1 winners. Ashton collected the historic first goal for Sutho.
Sutho is starting in 6th grade of SWHL. A vacancy had arisen and we were offered the opportunity to fill it. With a lot of work from Sarah Dredge, Jo Momsen and Luke Domrow, we have taken the first step in realising an ambition for widening opportunity for our Club's girls and women players.
Of course, Sutho will continue to field teams in local South East Sydney Hockey Association competition where we have three teams this year. Now, on to…
Match Reports
So it's been a long time coming, but Sutho players finally got back on to the field last weekend for a rather uneven start to our long-delayed season.
On Friday night we kicked things off in the Metro League with our Under 17s and followed up on Saturday with a full round of junior games. At home, we welcomed Glebe juniors before our first and second grade men's and women's teams played friendlies against each other. Well, fairly friendlies – it was pretty competitive stuff.
We had a bye in the Sydney Hockey Premier League comp in which our first, second and third grade men's teams play, while Sydney League – for 4th to 8th grades – hit off next weekend. So too does the Sydney East comp in which our women's teams play.
But the biggie last weekend was the inaugural match for Sutho in the Sydney Women's Hockey League or SWHL. It's the equivalent of the top Sydney men's comp and we haven't played in it previously  – although we have long wanted to.
A vacancy arose in 6th grade and we delighted to take up the opportunity. Sutho played its first match in SWHL on Sunday morning and turned in a 7-1 scorecard against Macarthur Bankstown.
Our Club thanks everyone for the way crucial COVID-19 ground entry and use requirements were observed. We liked the way proud parents watching through the fence were socially distanced!
Talking of match reports, they should be sent to John by Sunday night, please. Otherwise, let him know of any problems.
SWHL
Sutho 7 Macarthur Bankstown 1
Sunday 19 July was a significant day for the Sutherland Hockey Club. Some 40 years on from our first senior women's team, the Arangas, making their first appearance, a different group of women started a new journey, officially entering the Sydney Women's Hockey League.
The early morning fog at Bankstown had lifted to reveal a beautiful Winter morning, though damage from the bushfire season was clearly visible around the venue. Everyone had checked in, team numbers sorted, positions set, speeches complete, and it was time for the 2020 SWHL season to finally get underway.
Sutho started well securing multiple penalty corners and dominating possession. Ten minutes in, the team was up 3-0 thanks to some superior flicks and hits from Ashton.
Held possession
Sutho continued to hold possession well in the second quarter. The press was effective, and Hannah controlled the midfield, stealing possession regularly and moving the ball towards the opposition's goal. Camille deftly turned a rebound in front of goals securing her first SWHL goal.  At half time, Sutho was up 5-0.
Bankstown lifted their intensity in the second half, while Sutho's focus shifted towards effective passing and support play. The team's ball movement was good, and everyone was learning their role. Zara was strong on the left edge, with some great possessions, and Mel was winding back the years with some good tackles and passes at the back.
Bankstown secured a penalty corner late in the game and scored, giving Sutho some things to work towards for next week. The final score was 7-1, and Sutho's SWHL journey began strongly.
Our team is a good mix of youth and experience, each player sharing a vision to help create more pathways for future Sutherland women players. Next week the team moves to the main Olympic pitch at Homebush where they come up against Sydney University.
Best and fairest: Hannah 3, Amelia 2, Mel 1. Goals: Kristen 2, Hannah 2, Ashton 2, Camille 1
U17
Sutho Blue Tongues 1 St George Randwick Dragons 3
We played our first game together in the cold and rain on Friday night against St George Randwick  Dragons at Marang.
Although we went down 1-3  it is was definitely not a reflection of how we played as a team. We scored the first goal, which gave a big boost to our confidence. We continued to hold them out but they followed through with their goals.
We practised the skills that we've been shown at training by our First Grade coaches and Dave, while our short corners – both in defence and attack – worked like a dream.
We were very quiet in the first half with lots of focus on the gameplay and very little team talk, but if we remember to talk to each other on the field we'll show more improvement as the season goes on.
Many thanks to our fill-in players Lily, Megan and Zara from the 15Bs. You certainly helped us out.
Best and fairest: Byron 3, Jonathon and Kai 2 each. Goal: Kai.
U 15B
Sutho Thorny Devils 2 Glebe 5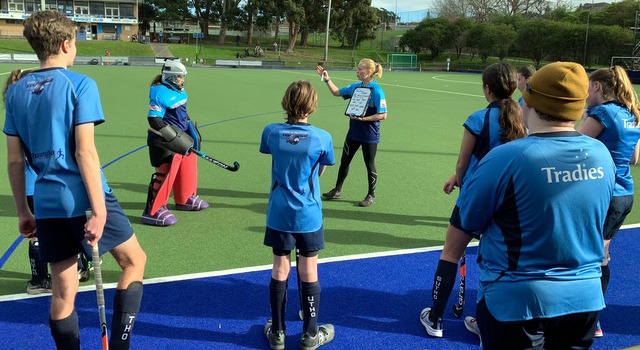 Coach Hannah's words of wisdom – Picture: Tony Duhne
It was a great effort from the Thorny Devils today for their first game of the season. A big thank you to Amy and Julian for filling in for us. Unfortunately, Glebe took the points and defeated us 5-2.
Joshua and India showed their grit and determination and ran really hard all game. Victoria had her first go at goalie and stopped a number of certain goals to keep the scoreline competitive.
Nayah and Owen found the back of the net with one hard-fought goal each.
The passing to each other was good and will only improve as we start to work together and bond as a team.
Best and fairest: Joshua Penrose 3, India Faber 2, Lachlan Duhne. Goals: Nayah Goncalves and Owen Laycock 1 each.
Sutho Blue Tongues 0 Moorebank 6
Pictures – Phil Cullen
With spectators watching the game from outside the grounds, Jo was impressed with the level of social distancing, right down to the water bottles on the sideline.
The 0-6 scoreline certainly wasn't a reflection of the effort the team put in. From the outset, it was a fast-paced game with Moorebank on the attack and our defences holding until they scored their first goal from a freakish shot that stunned us all.
After conceding three more goals before half time, with a couple coming from favourable bounces, the players could have been forgiven for giving up at the break.
But to their credit, they came on for the second half with a new level of enthusiasm and went on the attack, which almost resulted in a couple of goals – but unfortunately, we just couldn't get the ball into the net.
By the final quarter, the pace of the game and no reserves caught up with the players and Moorebank finished off with two more goals.
It was a great team effort from everyone that made allocating points difficult – with the exception of Liv, our goalie. She was the standout performer and an easy decision for the Sutho player of the match.
Best and fairest: Liv 3, Nicholas 2, Christian and Myles 1.
U13A
Sutho Blue Tongues 13 St George Dragons 2
 In our first game of the season, played at Kyeemagh, it took a few minutes for the team to wake up and then switch into top gear.
The goal-scoring by Sutho saw the score reaching 8-0 by half time.
Most possession in the second half was in the Sutho circle, making the teamwork harder for the ball.
Due to our big lead, the mercy rule was applied, removing four of our players. This allowed the Dragons to score two goals and make the final score 13-2.
Best and fairest: Louis Olsen 3, Tully Johnson 2, Cooper Holmes 1. Goals: Cooper Holmes 5, Kai Fisher 4, Louis Olsen 2 and Archie Groundwater and Tully Johnson 1 each.
Sutho Geckos 4 Glebe Redbacks 1
With the 2020 season back in full swing and our only trial match way back in the second week of March, coach Bollard had our Geckos primed and ready to go for Round 1 after a full month of training.
A big thank you to Jack for allowing us to play with a substitute replacing our much loved Jonty who suffered a broken arm after a mountain bike accident.
The Geckos started and finished well with a number of our goals coming from three or more combination passes. This pleased not only the dugout but the limited parent spectators on the Sutho hill.
Well done to all our Geckos for your patience and resilience in getting this season started.
Best and fairest: Two each to Kalahni Crews, Hamish Draganic and Olive Kirby. Goals: Peter Rast 2, Hamish Draganic and Jack Margetson 1 each.
Under 13B
Sutho Bearded Dragons 3 UNSW 2
Our Bearded Dragons got their season off to a cracking start on Saturday with a 3-2 win over UNSW.
Making the trip to Daceyville for the first time this year, Coach Darcy was eager to see the team put into game situations some of the skills they have worked on at training.
Half time saw the scores locked at 1-1, with Alyssa getting Bearded Dragons' score by smashing the ball into the back of the net.  Some excellent defensive work kept the Uni team at bay for much of the first half.
Shortly after half time, Harrison put home a good goal to get us in front and the pressure was on to keep that lead.  A further goal from Isaak after some smart play near the circle, then a deft shot from an acute angle and we were up 3-1.
Uni fought back with a goal of their own to bring the score back to 3-2 and that is where the scores remained until the full-time whistle.
The team has meshed together really well in their short time playing together and it was evident with magnificent passing and leading from all players.
This team is improving every week and will continue doing so.
Best and fairest: Abby 3, Alyssa 2, Caitlin 1. Goals: Alyssa, Harrison and Isaak.
Sutho Thorny Devils 5 Glebe 0
Our Thorny Devils were keen to get out and play their first match of the season.
Jude scored the first goal of the game with Julian and Hayden adding to the tally in quick succession.  Julian scored a further two goals, making for a decisive win.
Jamie- Grace put into practice what's been drilled at training; those in the attack are the first line of defence. Emily was fearless in the midfield, regularly hustling against a much bigger opponent. Jack at the back was clearing the ball out of the danger zone and feeding it to the midfield.
All in all a great first game for the Thorny Devils!
Best and fairest: Emily Carey, Julian Krepp and Jude Lyons 2 pts each. Goals: Julian Krepp 3, Hayden Kulibab and Jude Lyons  1 each.
 U11A
Sutho Geckos 10 Glebe Red 2
Thanks to Rory Staples for his pictures.
It was very pleasing to see hockey back and for our team to finally take the field.
We started the season well with a very strong 10-2 win over Glebe Red. This was helped by Glebe's goalkeeper, unfortunately, arriving 15 minutes late. By that stage, we had snuck a few goals in.
All players contributed to the performance. It was exciting to see some nice passing moves happen that we had been practising at training. We hit the goal post many times, so the score could have been higher.
We are all looking forward to seeing our team improve, learn more about hockey as the season goes on and have a good time together.
Best and fairest: to be advised. Goals: Rowan Southall and Nicholas Staples 3, Thomas Mulcair 2, Georgia Coxsedge and Jack Homer 1.
U11B
Sutho Blue Tongues 5 Glebe Hornets 0
Our Blue Tongues played the Glebe U11B Hornets in their first competition game and had a convincing win, with all players contributing to the great result.
Thanks to Mila who stepped up and played goalie – managing a few brilliant saves to keep Glebe for all the match.
Our goals came from lots of passing, players holding their positions and excellent teamwork.
Best and fairest: Audrey, Caiden and Ethan.
Sutho Thorny Devils 1 Moorebank 2
It wasn't as cold as one would expect for an 8 am game at Moorebank in mid-July; which helped with the temperature screening after the development of a COVID-19 hotspot just down the road! We technically had the bye, so South East Hockey Association arranged a game for us against the A team who also had a bye. So we had a game of hockey to play – yay!
After a slow start getting warmed up and learning what our positions are, the game started, and we were very competitive, obviously building on our practice match at training on Thursday.
Griffin was solid in goals, making some good saves; Lauren dominated central midfield and distributed the ball well to her teammates; Zara and Evie threatened down the flanks; Achilles was full of running; Cody, Hamish and Rhydian worked hard for the team; while our newest recruit, Isabelle, built her confidence while learning the game.
The team had a good number of chances to score more, which was very encouraging for an 'A' vs 'B' team game. Our goal came after some great team play, with Achilles at the end to slot it home.
Bring on the season proper. Overall, we passed the ball around well, worked well as a team, and had fun in the sun. Back to Moorebank next week for another 8 a.m. game, this time against their B team.
 Best and fairest: Evie, Hamish and Griffin. Goal:  Achilles Vagelatos 1.\