"I missed that!" So Hayden had a little lie down. Sutho v UTS 2nd grade.
Umpiring on the up and up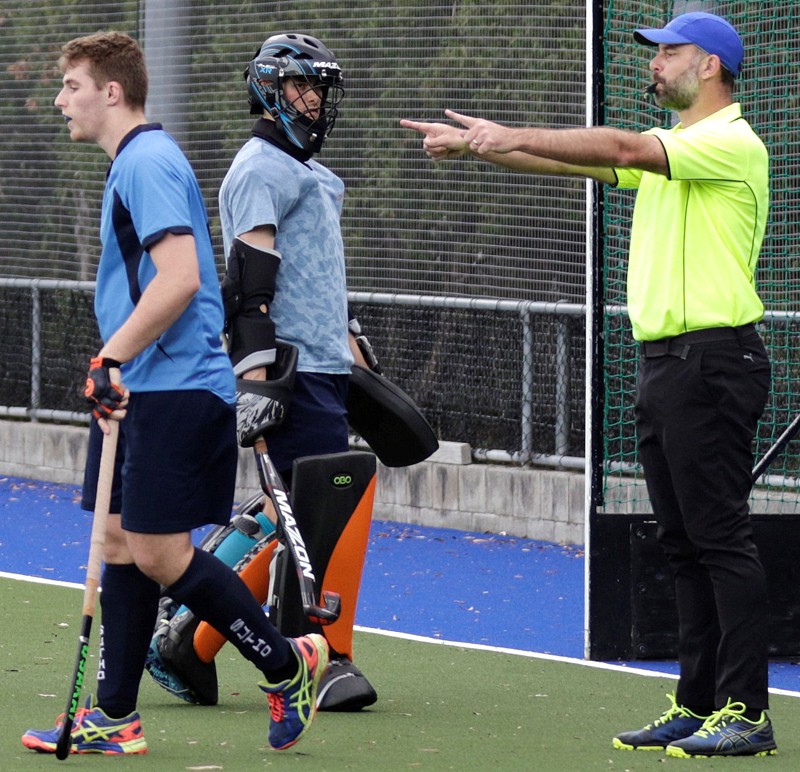 It's good news that umpiring is having a resurgence at Sutho at both senior and junior level.
Really encouraging is the number of junior umpires taking to their field with a more experience umpire to learn the job.
Helping out with officiating now are Blake (Bilko) Sanford of former first grade goalkeeping fame in senior men, while Lachlan Cartwright is umpiring in both senior men's and women's matches.  Hayden Neale, pictured above reclining in our feature pic, is umpiring senior women. Congratulations and thanks to all for their contributions.
Anyone who would like to take up the whistle is invited to contact either Andrew Hoy or Craig Turner, who will be happy to help.
Many thanks to Sean Kelly and his company, Natural Fencing, for providing the high-viz yellow shirts for our Sutho umpires.
And just to show he's putting his mouth – or is that whistle – where his mouth is, here's a picture of Piles in action in the bright yellow at Sutho last Saturday afternoon. Looks quite official, doesn't he?
Men
1st grade (Sydney Premier League)
Sutho 6 Sydney Uni 1
The match started slowly, but with Sydney Uni coming out like there was no tomorrow and went to a 1-0 lead.
Very soon we settled down and got to business and evened the ledger and then took command of the match. The final score was kind to Sydney Uni at 6-1, but this could have blown out had we have been on target a little more.
Kieran and Scott Govers, together with Harry Roberts, were out for this game.
However we had Joe Huston and Alex Shaw back together with replacements Jake Shepherd and Zac Nyrhinen coming in to the side and acquitting themselves very well.
All in all a pretty lacklustre game and a lot of work and improvement needed for us to win the big one at the end of the year.
B&F:  Shane Smith 3, Matt Johnson 2,Matt Bennett 1. Goals: Matt Bennett 3,  Matt Johnson 2, Jono Scott 1.
5th grade (Sydney Hockey League 1)
Sutho 3 vs Sydney Uni 0
It was a quite cold Saturday night at Sydney Uni's home ground for our 8 o'clock game – if you were wearing shorts and a t-shirt!
Coming into the match, Sydney Uni were at the bottom of the table and so we were hoping to make a statement performance. We started off quite strongly, but couldn't seem to put the goal in the back of the net.
Our opponents also started quite well – not the team we expected to be playing based up their standing on the table – so we were in for a tough game.
We finally broke the deadlock and went up 1-0, then things started to fall into place a bit more, with some great passing, communication and vision from the whole squad.
It led to us winning 3-0, with  two goals to Nic Donni and one to Mat Jones. Special mention to Nic and his backstick "pass" from the baseline that somehow ended up in the goal.
Alongside the many positives of our game going forward was the rock-solid defence which at times was grateful for Gilby's critical saves. Great win boys, let's keep the balling rolling in two weeks' time!!
B&F points: Will Gair 3, Gilby Gough-Fuller 2, Nic Donni 1.
8th grade (Sydney Hockey League 4)
Sutho 3 Manly 2
It was another hot Saturday to play a game of hockey and a middle of the table clash.
The game started well with both sides putting each to the test, but early on Manly scored – then scored again. From then we knew it would be an uphill battle.
We fought hard to wrestle control, with Cameron doing a fantastic job in the middle directing the game.  We had the width and speed up front.  A half time talk to bring that extra effort and away we went.
We are lucky to have an agile goalie who can move well both on his feet and across the ground.  David pulled off some great saves to keep us in the game.
We start the second half strongly with some great passing plays from all.
Then Cameron started the scoring from a short corner, followed soon after by Edward scoring during play. We were slowly extending our control on the game but it was definitely not total control with Manly fighting back.
Our third goal was scored by a deflection by Scott.
This was a hard fought game that tested both teams in the heat and the more consistent team won the match
Best and fairest: 3 Cameron Bayley, 2 Caleb Nieuwendyk, 1 Edward Weaver. Goals: Cameron Bayley, Edward Weaver and Scott Calder.
Sorry we can't share too many other men's match reports – we didn't get them all. Maybe after Easter.
We might be skinny on other match reports, but we do have some fine pictures taken of second and third grade matches by Craig Turner. Thanks CT.
Other matches
Before we get to them, the results of the other Sutho men's games were:
2nd grade – 4:1 win over UTS
3rd grade – 6:0 win over UTS
4th grade – UTS forfeit
6th grade – 3:0 win over Sydney Uni, and
7th grade – 0:4 loss to Manly.
Pictures
2nd grade vs UTS
3rd grade v UTS
Women
1st grade
Sutho 0 Pohogs 0
The Arangas travelled out to Bankstown to take on the Pohogs. We were missing Iris and Jo, but Kiara kindly agreed to play for us and then back up for second grade the next day.
The game began in warm conditions and the teams were evenly matched, with a great first quarter from both teams. We regrouped at the first quarter time to discuss running harder and faster and picked up the intensity in Q2.
At halftime, with the score at 0-0, our aim was to keep possession of the ball and not throw it away cheaply.
The last two quarters were extremely hard-fought, with excellent efforts from both teams' defence. ensuring that there were only about four short corners played out in the match.
The goalkeepers from both teams kept out the shots on goal and, although we had the majority of possession, we were unable to score.
Although it was a nil-all draw, our post-game chat focused on the excellent communication, effort and increasingly-accurate passes throughout the game. We are gelling well as a team and look forward to continuing to improve our game as the season goes on!
Player points: Amanda Hoddinott 3, Felicia Swift 2, Paris Barnard 1.
Other games:
2nd grade Waratahs – 0:3 loss to UNSW
3rd grade Wildcats – 3:0 win over UNSW Black
Juniors
Metro
Under 17 Metro
Sutherland 2 Ryde 0
Late on Friday night our Under 17 metro team made the journey out to cold Ryde, to see if they could pick up where they left off after last week's convincing win over Glebe.
After a slow start to an always fast paced and skilful Ryde team, Sutho started to hold possession of the ball with smarter decisions and hard running to create space. Still, even with this possession we attempted, all too many times to break down Ryde through the middle of the pitch.
This led to easy turnovers and counter attacks in the favour of Ryde.
With the half looking to end with no goals for either team, the deadlock was finally broken thanks to some good fast ball movement going wide then back in and exposing a small gap across the circle to the back post where our striker showed great composure to finish the perfect ball into the circle.
The second half started the same as the first half, another slow start forced our team deep into our defensive half, but we managed to hold out a strong Ryde attack.
After adjusting to playing a fourth player around the back, our switch out of defence caught Ryde by surprise and bought us back onto the front foot of  the game.
The game then turned in a 50/50 contest with our one goal lead in danger.
After some brilliant ball movement and decision-making led to a quick break down the side of the pitch, with attacking midfield and strikers combining to finish a fantastic bit of play with a great slap hit into the bottom corner.
The game finished 2 – 0 in our favour, making the long drive out to Ryde on a Friday night all worth it.
Under 15 Metro
Sutho took the three points after a forfeit.
Under U17
Sutho Geckos 8 Glebe 0
After a late start to the game, the Geckos were eager to start. Having 10 players this week was the most players we have had on the field this season.
It was a slow start to the game and we found ourselves defending from the start.  Glebe had early opportunities through short corners, but our defence held.
Once we gained our rhythm at the end of the first quarter, Geckos were 1-0  ahead.
Our team managed to control the ball in the second quarter and converted some brilliant goals through great team work and an individual one-on-one with the goalie.  At half time the score was 4-0 Geckos.
Half time was full of banter from the players and back on the field we had our opportunities through numerous short corners, but we were unable to convert: this is something to work on at training.
Glebe  were becoming frustrated by the quick clearance from our defence to attack and the pace of the game was fast.  Three quarter time was 5-0 Geckos.
A quick drink break and back to battle.  Geckos were always pushing forward through great team work. The team after just a few games is gelling quickly.
The final score was 8-0 Geckos with Adrian having an early mark from the game due to the mercy rule.
Best and fairest:  Zac Coles 3,  Adrian Martin 2,  Charles Weaver 2. Goals:  Ryan Deeth 1, Raina Misfud 1, Zac McGrath 1,  Adrian Martin 5.
Thanks to Gary Thomas for umpiring, as we didn't have an allocated umpire.
Under 15s in action
U15B
Sutho Thorny Devils  4  Glebe 0
"GO GO GO and keep the pressure on" was the message for today as the team ran onto the field in warm conditions for our first home game of the season.
This is always a tricky round at the beginning of the break, and we looked like we would be short on players before Darcy Matthews showed Sutho pride by helping out in goals before his U13B game straight after ours.
With a full team and no subs, we exactly delivered the message, with constant pressure on attack, and a convincing backline that shut-down all of Glebe's advances. We were able to get a quite consistent flow of goals to come away with the win.
As a new team still getting to know each other, it was refreshing to see some good passing, and positive talk on the field. I am sure this will strengthen over the next rounds to make the Thorny Devils even stronger as we move through the season.
Go Sutho!!
Best and fairest: 3 Victoria Henwood, 2 Blake Mottershead, 1 Nathan Brown. Scorers: Nicholas Cullen 1, Victoria Henwood 1, Alex Russell 1, Kai Struve 1.
U15
Sutho Blue Tongues 1 Moorebank 5
It was our first game for the season following a bye last week and it was made harder with a few players away and sick.
We played well as a team and the score doesn't reflect the effort that everyone put in.
Thank you to the U13 players who stepped up and filled in for us, and also to Lisa who filled in as Coach.
Looking forward to improving our skills more at training this week.
U13A Sutho Geckos 6 Glebe 0
The team finished off before the Easter break with a strong win.
Highlights included two players scoring three goals each,  while the team played extremely well with a very solid defensive effort once again.
Chris Goodman recovered from dental surgery to score his three goals, while also passing the ball out wide.
Holly Antilla also played well at striker, positioning herself near the post and putting  the ball in the back of the net three times as well.
The team will enjoy a nice Easter break then come back full of energy and enthusiasm for the rest of the season.
Best and fairest:  3 Chris Goodman, 2 Holly Antilla, 1 Jonty Austin. Goals: Holly Antilla 3, Chris Goodman 3.
U13B Sutherland Blue Tongues 2 v Moorebank 1
The Blue Tongues were keen to show Coach Todd what he'd missed last week – and they didn't disappoint!
The team is improving each game with some impressive hockey on display, including their trapping – which is pleasing to watch considering the number of young and new players.
The older and more experienced players are stepping up to provide structure and guidance, particularly in defence.
Difficult to single out players today because they all played well and contributed to our win… but it would be difficult not to acknowledge Owen's cracker of a goal!
Areas for improvement include spreading out across the field, holding positions and looking for the early pass.
A well deserved win, Blue Tongues!
Best & fairest: 3 Owen Laycock, 2 Tully Johnson, 1 Kalahni Crews (almost worth a hit on the knee – ouch!).
U13B Thorny Devils
No match report, but they have a gallery:
U11a
Sutho Geckos 4 v Glebe Backs 4
The game this week was a tough one for the Geckos. Even though Glebe had one less player on the field they got around the Geckos to score the first goal.
About half way through the first half our team started to work as a team and had a few near misses at goal before Jack snuck the ball past the keeper to tie the scores at 1 all.
Unfortunately we couldn't get any momentum going and Glebe scored again…and then again, making it 3-1 at half time. The Geckos were now playing catch up – something many of them are not used to doing.
After an inspiring chat from coach Kevin at half time, the Geckos came out ready to fire. They started to pass the ball more and create space and opportunities and before long Emily scored taking the score to 3-2.
The Geckos weren't giving up yet and Bethany was able to make a number of good saves in the goals to prevent Glebe from running away with the game.
Glebe scored again taking the score to 4-2 but then quick goals from Julian and Emily tied the score at 4 all.
The Geckos earned a number of short corners in the dying minutes but just couldn't quite manage to convert any of them into a goal. The score remained 4-4 – a fitting result for a close game.
Best and Fairest: 2pts each Bethany, Luka and Jack. Goals: Emily (2), Jack, Julian.
U11B Sutho Blue Tongues 4 Glebe 0
What a great game our Blue Tongues played against Glebe.
Our goalie Thomas was on fire defending the goals, and our kids played a fantastic game working as a team passing the ball to one another. We are extremely proud of their efforts today.
So let's give it up today for our best and fairest with Ryan 3pts, Rowan 2pts and Harrison who was kind enough to come fill in for us today 1pt.
From all the Blue Tongues we give Harrison a big thank you.
That's all from us,  Go Blue Tongues!
U13B
Sutho Thorny Devils 11 vs Glebe 0
Sutho Thorny Devils 11 vs Glebe 0
After a tough game in round one, the Thorny Devils were looking to record our first competition win.
We had talked in training and before the game about concentrating on improving our basic skills, so it was very pleasing to see our team do just that and put away a few early goals.
As the first half went on, more Sutho goals went in but the teamwork wasn't at the level we were hoping for.
Our halftime team talk was taken on board by our players, resulting in a much better second half team performance.
Great for the Thorny Devils to get our first points of the season. Our players had a great attitude this week and we look forward to continuing to improve our game throughout the season.
Best and fairest: Riley 3, Finn 2, Darcy 1.
U11B Bearded Dragons
The team's opponents were short of numbers, so it is hoped the match will be played on 27 April.
U11s in action