Welcome back, champs. National champs. Congratulations to the Sydney South Sharks women's team that took out their division of the national Masters Games in Perth last week.
They won their final 4-2 against Ducks Nuts, a Western Australian team that included a number of rep players.
Sutho reps in the SSHA Sharks team, pictured below, were: Lyn Smith, Lisa Cummins, Vicki  Earle, Julie Singh, Karen Hodgkin, Fiona Earle, Megan Squires, Kathy Hails and Lois Scott.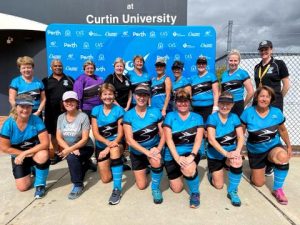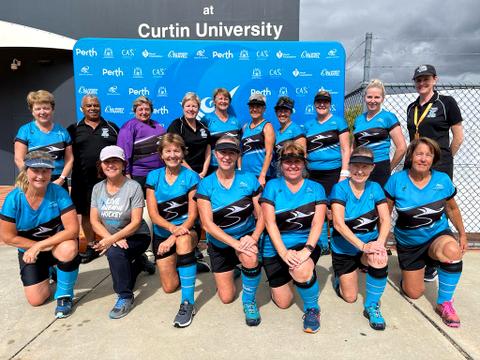 We're aiming for extended coverage of this great achievement in a future edition.
There was a big Sutho turnout at Marang on Friday night, including a closely contested (aren't they all!) Lizard Trophy match between our U17 Sutho Thorny Devils and Sutho Blue Tongues. Reports from both teams are in the juniors match reports below.
The next tussle for the Lizard Trophy is at home next Saturday when the U15 Thorny Devils and Blue Tongues battle it out.
Sutho Minkey 2022 also got underway on Friday night at Sutho with a great turnout of youngsters launching their hockey careers. There are a few places left in the program. For details and coverage of Friday night's Minkey launch, click here
It was a pretty miserable morning at Sutho on Saturday when many of our juniors finally got back on the field after an extended school holiday/Easter/etc break.
The canteen was doing a great trade, keeping our wonderful volunteer cooking and service brigade busy.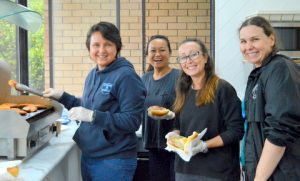 While their Mums were occupied, the kids took the opportunity to work up some strategies for future games on the clubhouse whiteboard.
Sutho hosted Briars in men's Premier League grades 1-3. We won all three, but a particular landmark was the first livestreaming of all three games.
Luke Domrow and Co. had test live-streamed a Sydney Women's Hockey League ML6 a few weeks ago, but this was the premiere for men's Premier League games.
Here are some pictures of the streaming setup, with Luke Domrow getting balcony cam ready, Sam V looking after sideline vision and commentary team Aaron Krepp and Craig Turner – who were joined later by Bob Rowling.
And, as we get into it again, thank you so much to our fantastic group of photographers who support the match reports each week: Matt Morris, Anna, Bethany and Luke Domrow and Rory Staples.
Match reports
Men
Now, it's beyond memory when we led our Men's match reports with the doings of 7th grade,  but last weekend was special – very special: The boys had their first win in 601 days. So over to our match reporter, Steve Harvey:
Sutho 7th Grade 1 Bentstix 0
Umpire Bruce Cook summed it up: "I wouldn't have predicted that result at the start of the match."
He had a point. It had been 601 days, and a time once thought of as pre-COVID, since we had won a game. And yet, somehow, on a balmy April night, we found a way to record a remarkable 1-0 win.
The match began in a familiar pattern. We defended grimly but effectively for pretty much the entire first quarter with a bare 11 players against a team with five subs.
Everything changed early in the second quarter when some sweeping ball movement saw Brock slot a stunning goal against a defence that had over-committed to attack.
The confidence we gained from this was however soon tested when Phil, with no one within cooee, went down like a shot duck. Although he had more tape than an Amazon delivery on his right leg, the 'good' left calf suddenly couldn't deliver. Down to 10, we made it to halftime and regrouped.
The second half was pretty even with regular Bentstix attacks repelled by stout defence and a tireless midfield. On one leg, Phil bravely returned and lurked in the Bentstix circle.
A sign the hockey gods were in a perverse mood came with 10 minutes to go as a Bentstix shot pinged off the post, flew across our goal and – amazingly – exited safely over the backline.
From there, the final minutes seemed like a frantic eternity. But in the end…absolute joy. High fives everywhere. A team photo was called for. It is bloody great to win.
Max points to Jordy Wood – everywhere, all at once.
Minor points to Ross Crowley – a rock at right back; Scott Calder – calm in both attack and defence; and Brock Singleton – the finisher.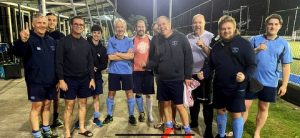 Very happy 7th grade after their rather delayed victory
Sutho 1st grade 4 Briars 1
This match was, as expected, a reasonably hard game, as Briars played a rather spoiling game earning them several yellow and green cards and as many as 2 players off at times for bad tackles.  It also earned us 2 penalty strokes during the game one of which hit the post at great speed. One of the yellow cards issued to them will even carry into their next match for 10 minutes.  Not a good display of professional hockey at this level.  I guess special mention must be made to their goalkeeper who played brilliantly and thwarted shot after shot. However, even with the spoiling tactics our boys held their nerve as a young team and weren't drawn into this level of hockey which showed in the end result at 4 – 1.  It is the 1 st time we had almost the full 1st-grade squad together. It was not easy to keep a disciplinary control on our game plan and we need to ignore what others try to do to us and maintain our own game and discipline.  As a young team moving forward we have improved out of sight already and hopefully will keep doing this and become a genuine contender for a semi spot at the end of the year and then who knows what could happen.  As individuals in the team, once again I would not like to single any one player out for special mention as they all did their jobs well. Harry showed some tenacity and skill throughout the game resulting in his 2 goals with a 3 rd going wanting on his penalty stroke which hit the post. Alex Shaw as always showed his strength and control at the back as did Ackas ( goalkeeper ) and Spray as captain. Riley Nilan played an excellent game all over the field marred only by an unfortunate card. Our next match will be against Moorebank at home next weekend and once again will be a real test against a top 2 contender.  No one is now taking us easily thinking we are a young inexperienced team because of our results.  So we'll see how we fair against them. Peter Krepp, Manager. B & F: Blake Hernandez 1, Harry Roberts 2, Alex Shaw 3. Goals:  Matt Bennett 1, Christian Halyard 1, Harry Roberts 2.
Sutho 2nd grade 6 Briars 1
After travelling to Pennant Hills last week it was good to be back at Sutho.
We started strongly with a 3-0 lead at the end of the first quarter. Over the game, we held possession of the ball the best we have all season.
Our ball movement across the pitch put Briars under significant pressure, which led to lots of penetrations into the 25 and circle. A number of those came from Taz at right defender for his first game at Sutho, whilst Mason capped off his hat-trick with a stroke.
Briars eventually got one back in the fourth quarter, but Isaac scored soon after in the last quarter to see us finish the game at 6-1.
Best and Fairest: Hayden 3, Mason 2, Taz 1. Goals: Mason 3, Isaac, Matt Vine, Hayden.
Sutho 3rd grade 4 Briars 2
Sutherland 3rd grade set out to continue their undefeated streak into the fourth round of the season on what looked to be a gloomy and overcast morning, taking on Briars at home.  
 Sutherland started the game strong, with Matt Vine converting a stroke in the second minute to give Sutho the lead 1-0 early into the game. Sutho remained strong through the midfield, denying Briars the opportunity to enter the defensive 23 with their long game to their attacking line.
The Sutho defensive line reinforced the midfield. Some well-timed quick tackles, followed by quick offloads from David Hindmarsh resulted in turnovers and attacking opportunities for Sutho, building pressure against the formidable Briars team. A quick turnover and break away from Briars was met by Gilby at the top of the circle, quickly shutting down that attacking opportunity, keeping Sutho in the lead to the end of the first quarter. 
 Sutho started the second quarter strong with several early penetrations into the Briars 23 care of some swift transfers through the midfield by Ralph Prince and Tim Mall. Briars' Alan Charlton capitalised off a penalty corner early in the second quarter with a well-positioned hit into the bottom equalising the score to 1-1. Briars continued with the pressure with another attacking opportunity which was again met at the top of the circle by Sutho's goalkeeper. Sutho replied with some strong attacking opportunities made by James Mulcair and Matt Quinlivan. 
 The second half started with Sutho well in control and many shots on goal which were defended by Briars' goalkeeper. Some great vision from Jett Austin, finding a pass to link up with Matt Quinlivan and scoring a deflection off the keeper's pads brought Sutho to 2-1. Briars found an equalising goal late in the third quarter with an open player to draw the match into the final quarter. Tim Mall and Ralph Prince continued to show their skill and experience through the midfield. A hard slap in from Aiden Taylor, finding the stick of Matt Quinlivan and into the backboard. A final and fourth goal for Sutho off Tim Mall's stick found the back of the net and secured the victory for Sutho's 3rd grade.  
 Points: 3 Matt Quinlivan; 2 Tim Mall; 1 Gilbert Gough-Fuller.
Sutho 4th grade
Sutho 5th grade 0 Bentstix 5
Dear Sutho,
My name's Pat and I'm an ex-junior returned from 7300 days in the wilderness. Had I been better informed I may have returned as a Bentstick because they played quality hockey on Saturday.
Armed with a scintillating midfielder who pirouetted like a Bolshoi and picked out forwards running never-ending three-dimensional leads they put five worthy goals on us. Whichever way those sticks are bent, they find their mark more often than not.
There is real cause for optimism within this squad though. Byron played a sensational game in the back. If he's around you can leave your house unlocked; safe as an OH&S inspection all game.
Kev and I talked all game, had fun and looked good doing it. Will, Aaron C, Adrian, Elliott, and Aaron K showed poise and skill on the ball.
As the season unfolds, I'm certain combinations are going to evolve through the midfield.
Which Jack and Kai, with a combined height of seven metres, will benefit as we learn to feed the strong, skilful, and covetously young-legged twin towers. Lachlan started the game with incisive runs until an injury stole him but to each cloud its lining as Sean valiantly took the field, keeping his dream of a one-thousand game season alive. If anyone has an unsubmitted game card it's S-E-A-N.
So as the twilight sky set behind the muddy creek, sun's rays reflected off discarded tyres, and E94 powered fish avoided hooks, the Pres enjoyed a sausage roll and leant forward to wonder, presumably, "What dreams may come?"
Ps: What happened to inners?
Pps: And can anyone teach me what a fullback does?
Best and fairest: Patrick Ward 3 Byron Watson 2 and Aaron Cooper 1.
Sutho 6th grade 1 Monterey 3
After waking up to heavy rain and dark skies, thankfully the rain cleared out and the weather was perfect for hockey. Not so much was the state of the field, as we ran out onto a dirty and slippery Bankstown pitch to take on Monterey.
Monterey proved themselves to be better than anticipated and scored early on the break, with a little luck.
From that point on, the battle intensified with the ball moving up and down the field. We did settle and continued to build pressure as a result of great passing, but we were up against what seemed like an unbreakable wall of Monterey defence.
Going into the second half, the battle continued, and we struggled to break down their defence. The stress continued to build, including some dodgy passes including an awful Father to Son pass.
As we pressed to try and score, we pushed too many players forward but that left us a little exposed, which ultimately lead to Monterey scoring a second. We continued to pile on the pressure chasing a goal and Monterey also continued to hold us out, and they also changed, playing the long ball down into our defensive 25. This resulted in the 3rd goal; very sloppy.
After some dwelling on the previous goal, we made little advances forward, too wary of the fourth point against us until some well-constructed passes sent the ball into the back of the Monterey goal. With little morale gained from this we struggled to put any more points on the board and after some last-minute struggle, left the field defeated and frustrated.
All-in-all it was a good game for one played on such a dodgy field,
B&F. 3 points: Phil Rowling, 2 points: Andrew Hoy, 1 point: Lachlan Hoy. Goal: Kai Morris 1.
Women
Sutho Women 1: 2 Glebe 2
After a good 2-0 win against Briars, we returned to Cintra to play Glebe, who clearly came to play.
 We got off to a good start controlling possession and executing the way we wanted to, transferring around the back and pushing forward.
Glebe decided to hit long on a number of occasions and apply pressure to our back four with a strong press. We weathered the storm and held our nerve despite the strong pressure applied and controlled possession well, pushing forward a number of times. 
Glebe had been able to get bodies behind the ball slowing us up in their quarter and holding us outside of their circle. With less possession, Glebe managed to get the first two short corners which we handled well. 
 When we kept our structure and width, we were able to control the ball well, dictating play in an otherwise tight affair. Ruth's talking in attack and defence never stopped and helped keep our flow. We managed 1 short in the first half, won by Marina, which led to a well-taken goal by Alex. 
Glebe did almost sneak an equalising goal at the end of the first half with a long ball into the circle that was looking for a faint touch and we almost got it.
 Glebe defended strongly again in the second half, and we showed a lack of patience upfront as the game wore on, with turnovers. We were able to hold the ball in Glebe's half more generally and shifted well around the middle of the field but the number of Glebe bodies behind the ball proved frustrating for us.
Alex surprised everyone in the third quarter, including herself, with a pass in the goal circle (I'm sure she wouldn't call it a shot) that went untouched into the goal.
 To Glebe's credit, they got bodies behind the ball all day and kept us out of the circle more than we would have liked. They were first to the ball in the second half on a few occasions and the comeback was no surprise. We did create a few more chances in the second half but ultimately didn't draw another short corner until the fourth quarter.
Glebe managed to nab two field goals showing a bit more hunger after Alex had made it 2-0.
 We have had many easy games in the past few seasons, but Glebe challenged us with the score ending up at 2-2. We probably had the better of the play but didn't come away with the win. 
 Points: 3 Alex, 2 Zara, 1 Marina. Goals: Alex 2.
Sutho Women 2: 5 Glebe 2
On Sunday Sutho 2 played an amazing game against Glebe. From beautifully executed basics to great runs towards goal, the Sutho women never stopped.
Glebe's tactic was to hit the ball up every time and Sutho strikers were there for a press, supported by the mids and defenders ready to run it up or clear it.
Sutho 2 came into this game ready to play their best and they did excellently getting a 5-2 win!
Well done to points winning players: Chloe Burne 3, Jay Jay Pittello 2, Bessie Domrow 1.
Goals: Chloe Burne 3 Jay Jay Pittello 1 Jess Cherrie 1.
Sutho Women 3: 0 Dolphins 10 
It was a beautiful sunny day at Sutho Tradies Hockey Park. The ladies were ready to go but there was no umpire so thanks to Les Wilde for stepping in to be our umpire for the game.
We started with only 11 players thanks to Mel and Bridgette for coming and helping out the team today.
When the game finally started the ladies were full of running and were on the back foot in the first quarter saving numerous short corners and were courageous in defence. At quarter time score was 3-0 against them.
A huge defensive improvement in the 2nd quarter and the team pressured the opposition goal with great teamwork. When we played wide there was plenty of room to run. Half time score was 4-0.
In the 3rd quarter, the ladies never gave up and continued with a positive attitude even though the score against them was increasing. They continued to support each other and started to struggle in the heat with limited subs.
The 4th quarter was great and towards the end of the game, you were able to test the opposition defence with a few short corners but were unable to convert.
Ladies, you are a great bunch and are so positive and supportive of each other. Keep being positive and remember Hockey is not just about winning but building friendships and having fun.
B&F – Kath 3, Anna 2, Hillary 1.
Sutho 4 (Wildcats) 0 RSL Anacondas 1
With over half of the team in Perth (great win, ladies), Wildcats had lots of subs.
We played a great game with lots of opportunities to score, but unfortunately, we didn't get the last touch. Lots of effort and great passing.
Thank you all who helped out, we would have had to forfeit without you.
Sutho 5 Blues: 1 Tartan Tarts 5
In a challenging game, the scoreline was not quite reflective of our performance. Speed, fitness and injuries were our enemies! Fighting to the end, Sutho Blues held our positive attitude and supported each other.
Best and fairest points: 3 Michelle Earle, 2 eq Meagan Patmore, 2 eq Brigette Crowther. Goal: Nikki Young.
Juniors
On a surprisingly warm Friday night at Marang there was a sea of Sutho Blue as a total of five Sutho teams were playing.
The last game of the night was a close-fought Lizard Cup between U17 Sutho Thorny Devils and Sutho Blue Tongues.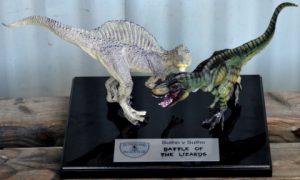 And, because these games are so hotly contested, we have match reports from both the Blue Tongues and the Thorny Devils.
Sutho U17 Metro Blue Tongues 0 Sutho Thorny Devils 1
This was the first Lizard Cup of the year and it was a very tough game. The match against the Thorny Devils was a close game 0-1.
Down 4 players and with no subs, the defence had their hands full and the strikers were unable to hit the back of the goals.
Overall everyone played their best and they should all be proud of themselves.
The team's best and fairest points for the match were Amelia Domrow 3, Fletcher King 2, Haylee McNally 1.
U17 Sutho Thorny Devils 1 Sutho Blue Tongues 0
This was our first match back after an extended school holiday break and the Thorny Devils had all our players able to attend for the first time this season. As we had plenty of subs and the Blue Tongues were a player short, the team unanimously voted to lend them a player.
It was a great game with both teams sharing possession and having several shots at goal. The Thorny Devils managed to slot in a lovely goal in the first quarter – Zemina with a great final deflection to have the ball fly past the keeper.
The Thorny Devils showed some lovely ball movement, stringing several passes together to advance the ball upfield. Our defensive line again tackled strongly and shut down the opposition attack.
The score remained at 1-0 after a very close, well-played game.
Points: 3 Cooper De Reive 2 Zemina Irani 1 Zara Cathcart.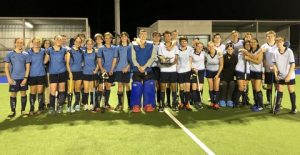 Sutho U15 Metro 6 UNSW 6
After having a month off with no games due to State Championships, Easter and school holidays, we were ready to get back onto the field and have a run.
We couldn't have asked for more perfect conditions for our return match – no rain or wind – and we all came together and played well as a team.
Louis was on fire tonight, scoring a hat-trick. He went in for a fourth goal but it, unfortunately, hit the crossbar and didn't quite make it in. Hamish had a fantastic game covering the AM area and Justin was strong playing CM.
Best and fairest: 3 Hamish Draganic 2 Justin Murray 1 Louis Olsen. Goals: Louis 3, Jonty 2, Justin 1.
Sutho U15 Thorny Devils 0 Sharks 3
After the Easter break, school holidays and many people recovering from Covid 19, the U15 Thorny Devils were back in the field ready to have a great game and secure a win against The Sharks.
In the first quarter, our defence line was very strong, but the Sharks managed to slip a goal in.
The rain persisted and the Thorny Devils persisted in trying to get ahead.
We managed to secure some good opportunities, but the ball spent a lot of the time in our court. Towards the end of the game, the  TDs played better together, however, we ended up losing 3-0.
We are confident that Andrew, our wonderful coach, has better strategies and ways that we can improve and next time defeat the Sharks.
Best and Fairest: 3pts – Domenic L, 2pts – Sarah E, 1pt – Bethany D.
U15 Sutho Blue Tongues 3 v Glebe 0
This game felt like a re-start of the season, our second game after having 4 weekends off.
We travelled to Kyeemagh and were reminded that air travel is back in full swing. The planes overhead made it hard to hear Darcy's inspiring team talk. We warmed up in the rain (for a change!)
Quarter 1 started well. The team was passing well and got a short corner. Emily had a cracker of a hit. Glebe's goalie saved it.
In quarter 2 we listened to Darcy's instructions to get a mid-field transfer happening. And when we did we looked fantastic. Plenty of play in the opposition's half.
We went into halftime 0-0.
The start of Quarter 3saw us drop a little in play. But plenty of encouragement saw us win a short corner and after a one-two with the goalie, Leo scored the 1-0!
We started the last quarter with renewed vigour.
Another beautiful mid-field transfer saw the ball go from the left side of the field to the right, up the line, a run along the baseline, with the ball being dropped back to the spot where Imogen was waiting with her stick down to tap the ball in, 2-0!
And just before full time, after some good hassling from Tessa, Harrison got the ball and scored the 3-0.
Great game Blue Tongues, ready for the Lizard Cup next week.
U13A Geckos 5 Bankstown 1
Our team did really well, beating Bankstown 5 – 1 at their home field. We scored three goals in the first quarter and two in the second. Bankstown scored right at the start of the second quarter.
We had four goalscorers this week with Rowan (2), Jack Gunner, Thomas Mulcair, and Nicolas Staples.
Points this week went to Edward (3), Rowan (2), and Jack Wilson (1).
Under 11 Sutherland Geckos 3 Glebe Redbacks   2
On a very wet Saturday morning at home, Sutherland Geckos came out super keen to restart the season after a very long Easter break. All the team got to the field early for a great warm-up and team talk and it helped.
Sutherland started the game very well and dominated early exchanges in the midfield, with both Joel Kooner and Michael Chapman creating many chances early in the half.
The game was only 5 minutes in when Archie Erickson deflected a nice ball into the goal from a short corner. He was in a great position to score on the right post.
Sutherland's dominant midfield kept the pressure on Glebe, which led to another goal a few minutes later, nicely set up by Luke Palmer on a run down the right side of the field and a great cross to Michael Chapman who slotted away Sutherland's second goal.
Sutherland did very well in the first half when there were no chances in the D: they played for the short corner, which pleased the coaches and this tactic paid off with  Cooper Franks putting away the third goal from another short corner.
Sutherland was up 3-0 then became somewhat complacent and Glebe pounced on this to get a goal back before the halftime break. Sutherland went to the sheds up 3-1.
After a pep talk from the coaches about concentrating and switching on early in the half, Sutherland started the half like they did the first and again dominated the midfield and some great 16 yards hit outs from Archie and Levi, meant that Sutherland was getting the field possession that they needed.
Sutherland's right side in attack was causing Glebe all sorts of problems with Archie at the back moving the ball down to Luke and Michael in plenty of space on the wing, Luke Palmer was very unlucky not to score with 3 shots on goal missing to the right.
The game's possession shifted to Glebe's favour and they started to pile on the pressure to get that important second goal to make it anyone's game with 15 minutes remaining, but this is where Sutherland's defence stood up and saved them the game. Harry Gunner in goals kicked several shots on goal away, while Levi Cooper and Archie Erickson in the backs were clearing all loose balls and making some big tackles on the Glebe strikers who kept coming for Sutherland right to the end.
Sutherland showed some great composure and scramble defence to hold on for the win 3-2. Also, a great effort by the first time players Harrison Leach, Alexander Stekhov and Liam Southall to stick to their positions and get some vital touches and tackles on the ball.
Best and fairest: Levi Cooper 3pts,  Archie Erickson 2, Harry Gunner 1. Goals:  Michael Chapman 1,  Cooper Franks 1, Archie Erickson 1.