It's the big event in any of our junior age divisions when Sutho comes up against Sutho.
And so it was last Saturday when the Sutho U13 Blue Tongues and Thorny Devils did battle.
Honour (and perhaps some bragging rights) were at stake, but the game was played at high intensity with matching levels of fine sports behaviour. After 100 per cent effort from both teams the only proper result was on the scoreboard: Sutho 1 d Sutho 1. Congratulations to the players, their coaches and managers for the way they played the game.
It's Sutherland Mazda's M Day 2018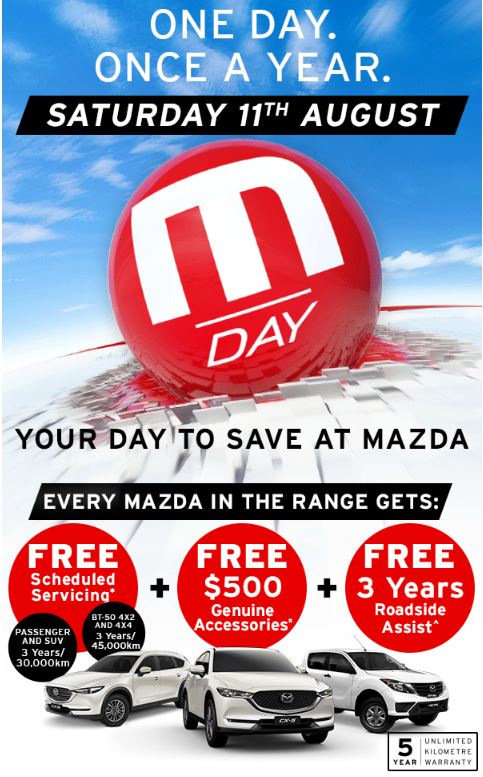 Your timing is brilliant if you are looking for a new or used car. Our sponsor Sutherland Mazda is having its annual M Day on Saturday – and it's a day when the usual great deals are topped by some once a year goodies. Don't miss out.
Men
1st grade Sutho 9 Briars 3
Finally with a virtually full strength team we performed & outplayed Briars in all facets of the game.  It was only our lack of concentration which allowed Briars two of their three goals.
We generally showed composure, commitment and all round team work to start a roll towards the finals in a few weeks time.  Once again Matt Bennett has scored 3 goals and has certainly got his hunger back for the game at the right end of the season.
There were several good performances and it is getting harder to separate the B & F players as it takes all of them to create the harmony the team is beginning to feel again as they did last year.
Next week we will see the return of Jono Scott, happily married during his trip overseas.
We are playing Ryde at Ryde at the great time of 8 pm Saturday. This will be a good test, as they will certainly be a contender in the final series.
B & F:  Cameron Buesnel 1,  Scott Govers 2,  Alex Shaw 3. Goals:  Matt Phillips 1, Christian Halyard 1, Brady Anderson 1, Scott Govers 1, Kieran Govers 2, Matt Bennett 3.
2nd grade Sutho 6 Briars 1
With only three players unavailable, the team looked pretty strong. Jimmy and Bourkey are carrying injuries but played strongly.
The team had trained well and took the good form into the match. Macquarie Uni played well but Sutho's defence held firm. The final score was a 6-1 victory and their goal came via a highly contentious stroke.
Harry started the scoring in the first few minutes and goals came at regular intervals. Jimmy scored a hat-trick and Bourkey got a double.
Jimmy would have got 4 if Brendo's knee hadn't got in the road!!! He had to be assisted from the pitch and the bruising was immediate. Fortunately X-rays revealed no break and we are hopeful he will be playing on Saturday.
Jimmy got the 3 points, Bourkey got 2 and Gav 1. A pleasing performance with the team team playing a controlled game and defending enthusiastically. Gav was most pleased.
3rd grade Sutho 3 Macquarie Uni 2
See the combo 3rd-4ths gallery shot by Tony O'Leary under the fourth grade report
At the end of the first half we were up 3-0 with very strong defence and very strong attacking plays. Added to this was a great goal by Riley Lloyd on the baseline flicking the ball past the keeper's shoulder into the side of the goal
During the second half our defence had become very shaky with them scoring 2 goals for the score to become 3-2,. We held on to the end with some strong but unsuccessful counter attacks to keep it at their end of the field for some time to keep us to a 3-2 lead and a much deserved win.
In this 3rd grade win we had a much younger side than usual with four debutants: Luke Arapa, Zak Keelan, Huon Bollard and Matt Quinlivan – and three of them made up our front line.
Overall, it was a great display of hard work and teamwork for a much deserved win we have been unlucky not to have in previous games.
3 points Riley Lloyd and 1 each to Jay Kelly, Nick Rose and Hayden Neale.
4th grade Sutho 1 Macquarie Uni 0
Maquarie Uni showed strength and agility throughout both halves which took us by surprise as they were coming 9th.
During the first half, we were all over them. We had multiple opportunities in the circle and even scored somehow (Brady Machin).
Our defence was strong throughout the half and we luckily did not concede thanks to Sean, while Zac, our goalkeeper, did some amazing saves and brought us out of trouble many times.
Our attacking side had many opportunities to score but we stuffed them up. Jono had the chance to score with a 1 v 1 against the goalkeeper but unluckily he missed his chance. We were strong through the middle and threw the ball into great spaces but sadly we couldn't convert them into goals.
Overall, 4th grade played higher than its normal standard and I think we showed this by a 1-0 win. Hopefully this will push us to work hard to make it into the semis.
5th grade Sutho 7 St George 2
The marquee match at Sylvania this weekend was 5th grade, where Sutherland (1st placed) went up against St George (3rd) , again featuring the 5 Rowling brothers, in front of a bumper crowd that almost reached high single figures.
A big shout out up front to Mark Bayley and Tim Crismale who stood in and did a terrific job umpiring – no word if our umpires have been found yet.
We began with excellent intent and put STG to the sword with goals to Phil – back post tap in (1st min), Eythan – short corner (5th min) & Matt – around the back deflection (10th min). Then we packed up shop and let STG attack for a bit. This wasn't a bad idea, as Piles, Tom, Daz looked very comfortable at the back, and I'm sure they enjoyed being involved in the game but the lack of defensive contribution from everyone else during this time wasn't great.
It wasn't until STG found a way back to 3-2 we kicked back into gear, snagged another goal and went into half time up 4-2 and in a dominant position.
We played the second half at much calmer, controlled pace and motored to the finish. Mitch Russell and Mitch Rowling kept it tight in the middle of the park, Lachie Rowling and Ty gave us speed on the outside and the strikers got to the posts only to miss their traps.
Highlights were watching Geoff try to decide if he wanted to claim a goal after kicking it in, Lachie C getting a goal for the non-Rowlings, watching Daz's overlapping runs down the sideline and Dan standing tall at the back to watch it all unfold.
Excellent effort boys, well played.
Points: Eythan Rowling 3, Lachlan "No Goals" Rowling 2, Matt Rowling 1. Goals:  Matt Rowling 3, Eythan Rowling 2, Lachlan Rowling Cartwright 1, Phil Rowling 1.
6th grade – no report. 
Sutho 7th grade 1 UNSW 2
Again this was going to be a tight game and a must win to stay in the finals. The team played with a lot of enthusiasm and plenty of running and after having most of the ball during the first half we let one slip by and went 1-0 down.
Half time talk was again about passing and controlling the ball as per normal and again as nearly every week we improved in the second half but lost a second goal to short corner. Ten minutes before the end we pulled one back and tried as hard as we could to get another one but the score remained 2-1  in the end.
We have now missed out on the finals but tried exceptionally well throughout the season and just seem to have little luck in scoring the goals we needed.
We seem to have played against some amazing goalkeepers and the standard of hockey in SL5 this year was awesome.
Most of our players have had a season of improvement and I will be looking forward to playing with all of them next year. One more game to go at Lidcombe in two weeks and we will all be working hard to finish on a win.
B&F: 3 points to Alex Doyle, 2 points to Adam Palmer and 1 point to Scott Calder. Goal: Darren Shaw.
Women
1st grade Sutho 2 Uni NSW 1
After finding out this was our one and only chance to get a win registered against last year's premiers, we were very motivated to win.
The game didn't really go to plan with patches of scrappy panicked hockey, a few defensive penalty corners, and a goal scored against us.
Fortunately, our determination and ability to regain control of the game was able to get us through. A well fought 2-1 win was achieved in the end.
Players points: Bronte Ryan 3, Katie Short 2, Iris Vanhecke 1. Goals: Kristen Agius 1, Iris Vanhecke 1.
3rd grade Sutho Wildcats 3 v Glebe 0
For probably only the second time all season Wildcats had two subs! Although some players are still injured and others sick, and most of the team still recovering from the Masters championships, everyone was keen to play.
Pressure was on to score early. The first 10 mins was spent in our attacking circle with lots of messy shots at goal. Lisa finally managed to get one in. It was mostly an attacking half with lots of corners (not converted) and frustrated full backs even came up to have a shot (still not converted) Half time score remained at 1 nil.
The second half started out with a little more intensity.
Wildcats had most of the possession with Glebe managing a few fast breaks only to be lose the ball with our halves and forwards breaking down the play. With 10 minutes to go, Wildcats had scored another two goals, one from a right wing cross to Kath who picked up the ball and found the goal, and the next scored by Gemma.
Overall not a strong game from Wildcats with many chances missed. Hopefully we are getting ready to peak for the finals!
Best and fairest: 3 Elise Cummins 2 Lois Scott 1 Kathy Hails. Goals: 1 Lisa Cummins 1 Kathy Hails 1 Gemma Rawlings.
Juniors
U17 Metro Sutho 8 def Glebe 3
Our intent for this game can be summarised as excellent ball control in defence, smart transfers through the midfield, and some great leading and passing from our striker group – a reasonable recipe for success when executed well! Fortunately Sutho put all the elements together in this game, played some very good team hockey, and secured an excellent result against Glebe.
We played well in the first half, and had a scoreboard advantage at the break, however we really took our game up a level from the start of the 2nd half and raced to a 7-1 lead. Glebe scored a couple of late goals, but by then the result was well and truly in our favour.
Helena was in superb form, her smart leads, aggressive running and determination in the "D" set the tone for our strikers, and she was rewarded with three goals. On top of that her defensive work rate when we didn't have the ball helped generate numerous turnovers to our benefit.
Blake, in his first run at striker, used his high work rate to advantage in making many great leads, and was then effective with the ball. Great first effort! Superstar striker Nic Donni was a little subdued this evening after illness, but he still combined well and was a danger to Glebe whenever he was on the ball and near the "D".
Across our midfield we had excellent contributions from Riley, Hayden, Matt and Harry – all were strong in their positions defensively, led and passed well when we had the ball, interchanged positions to find space, and effectively moved the ball from defence into attack.
Naomi, particularly, showed great composure in the midfield, always making herself available for the ball out of defence, and then making the simple off loads that kept us moving forward.
Rylee, Luke, Braydan and Brenna (GK) were a solid back four. Rylee and Luke close marked when required and provided an option to move the ball wide whenever possible. Braydan varied his distribution effectively from centre defender, finding our midfielders whenever possible, and throwing the occasional long bomb when the opposition looked vulnerable.
Brenna in goals had a fair bit of action, particularly on corners. She defended positively and talked effectively.
Certainly a positive and encouraging performance as we move into our last three games leading up to finals.
Player's B&F: Helena 3, Blake 1, Hayden 1, Naomi 1. Goals: Helena 3, Nic 2, Hayden 1, Harry 1, Matt T 1.
15B Sutho Blue Tongues 9 Glebe 0
The Blue Tongues were ready to go with a full team for the home game match against Glebe. This was our  fourth game against Glebe, who we won comfortably against in the few games so the focus was on playing our own game and passing the ball.
The Blue Tongues had a great game, taking the win this week. The team scored a few quick goals to take the lead early and played well throughout the match, keeping the ball up the attacking end for most of the game.
Well done to the team for great teamwork and well done also to our goalie, Holly, who had a quiet game in goals this week.
Best and Fairest: 3 Points: Hannah, 2 Points: Charles, 1 Point: Holly.
Under 13A Sutho Geckos 9 Bankstown 0
Pictures thanks to Rory Staples
The Geckos were playing the bottom placed Bankstown team and it was pleasing to see that Bankstown had improved from the previous clash. The game wasn't as lopsided as the scoreline suggests, with quite a bit of the play in the centre of the field, rather than down near the Bankstown goal.
The Geckos started the game quite well, controlling the ball and taking it down to the baseline, then finding players available in the circle – very pleasing to see the players bring to the game what Raj had them practising at training.
However, the Bankstown goalkeeper was a star – she made quite a few great saves in the first quarter of the game before the Geckos eventually found a way through via Tomas positioning himself on the back post to put some polish on the excellent lead up work with a goal.
The relief of eventually scoring our first goal was quickly washed away by Bankstown forcing a mistake in the Geckos' circle. However the two short corners that followed were well defended and I'm sure Sohan in goals was pleased to see a bit of action.
The Geckos second goal resulted from some excellent lead-up work by Corban forcing the turnover and then off-loading to Lachlan to earn his first of four goals. After the restart the Geckos quickly earned a short corner and their next goal. Noah's push-out on the shortc orner was fairly ordinary, but the Geckos managed to recover the ball and get a shot on goal – this was saved by the keeper. Noah then made up for his push-out by pouncing on the ball and scoring a goal. The next goal resulted from some terrific lead-up work by Matty with Lachlan scoring, which meant 4-0 at half-time.
Although the team was in a strong position, there had been regular basic errors throughout the first half, particularly many missed traps. However to the team's credit, we talked about these errors at half-time and there was a significant improvement with passing, trapping and marking in the second half.
It was particularly pleasing to see better passing within the mids (Corban, Bree, Noah and Fletcher) and then out wide and up to the wing strikers – something that should hold the team in good stead in the finals.
The team managed to score 4 more goals before dropping off two players for the last 5 minutes made life a little more challenging for the Geckos (as the defence and strikers had also switched positions). Matty still managed to find the back of the net before full-time to bring up his second goal.
Best & Fairest: Matt Rose 2 pts; Fletcher King 2 pts; Lachlan Staples 2 pts. Scorers:  Lachlan 4, Matt 2, Tomas 1, Noah 1 and Corban 1.
U 13b Sutho Sutho Thorny Devils 1  Sutherland Blue Tongues 1
Thanks for his pictures to Matt Morris
'Victory for Sutho' is the only way to define today's one-all-draw to a worthy opposition, with both teams fighting hard for points and not giving the other team the inch that would have secured an outright claim on the competition points.
A change-up in our mid field rattled and disrupted the heavy attack we experienced in our last game against the Blue Tongues, and we certainly had them running more than our previous exchange.  This change was solidified by another week of solid, measurable improvement across the entire field in the three key areas for success, intensity, skill and teamwork.
Huge leaps in performance by Bailey today, with some surgical precision in tackles and trapping.  Josh was on fire down the line, and when given an opportunity up front in a striking role, put some real pressure on an impressive Blue Tongue goalie.
Also an impressive game and huge commitment in attack and defence from Amelia who put our equalising goal on the board.  Harley has risen in skill, fitness and dedication to the team to become a very valuable asset, with too many examples of clean traps to count, and hits that would make a grown man dive for cover.
As always, Jana was the gatekeeper in defence, with some excellent assistance from Nathaniel, showing his stopping power in several successful challenges for the ball.
Some more work in breaking up play in the middle to utilise the wings to their full extent should see us charge into the last five games of the season, proud that we have shown so much growth through the year.
Go Sutho!!
Best and fairest: 3 pts : Harley Belbin, 2 pts : Bailey Peters, 1 pt : Owen Laycock. Scorer: Amelia Domrow – 1
And from the Blue Tongues bunker!
Blue Tongues 1 Thorny Devils 1
Today's game was against our fellow Sutho brothers and sisters.
It was well fought in the spirit of great sportsmanship and enjoyment of the game of hockey.
The result was a close 1-1 draw with both teams showing great skill and determination. We continue to improve our skills so we can go out wide and pass the ball to each other.
Best and fairest: 3 pts: Chris Goodman, 2 pts: Zara Matthews, 1 pts: Mayah Tait. Scorer: Chris Goodman – 1.
And, to finish,  a GIANT GALLERY from the big clash
U11B Sutho Bearded Dragons 4 def Moorebank Blue 1
It was a cold and windy morning at Bankstown but the Bearded Dragons braved the conditions to take on a hugely improved Moorebank Blue.
Good goal keeping from the Moorebank goalie kept us scoreless for quite some time until Rohan nabbed his first goal of the season.
Passing drills at training are paying off with one particular play moving the team up the field in four quick and precise passes to the D where the shot at goal went in, but unfortunately, was high. Even though it didn't end in a goal it was great to watch from the sideline and gave spectators a glimpse of the team's capabilities.
Another great game and another great win with fantastic team work from all the players. Good job Bearded Dragons!
Best and fairest: 2 pts each to Kaylee, Jack and Thomas. Scorers:  Emily 2, Rohan, and Thomas.