Our first and second grade women's teams delivered some engrossing hockey on home ground at Tradies Hockey Park  on Saturday.
Firsts stayed top of the table place after a tough 1-1 draw against Cronulla RSL. Sutho launched wave after wave of attacks on RSL for the last quarter of the game, but just couldn't crack equally determined defence to get in a winner.
In second grade, Sutho looked gone for all money at 0-3, but fought back with great determination to 3-3 and look a chance. But the more experienced Pohogs put it away by the slimmest margin: 5-4. It would have been great experience and learning for our young team.
There was a full slate of games from early morning, with our junior teams welcoming opponents from Moorebank, St George and Glebe.
We can't forget, as in the classics, "thank everyone in the canteen." It was a very busy day. Our new kitchen is going very well.
There were no Sydney Hockey Association senior men's matches this weekend.
U18s in action at Lismore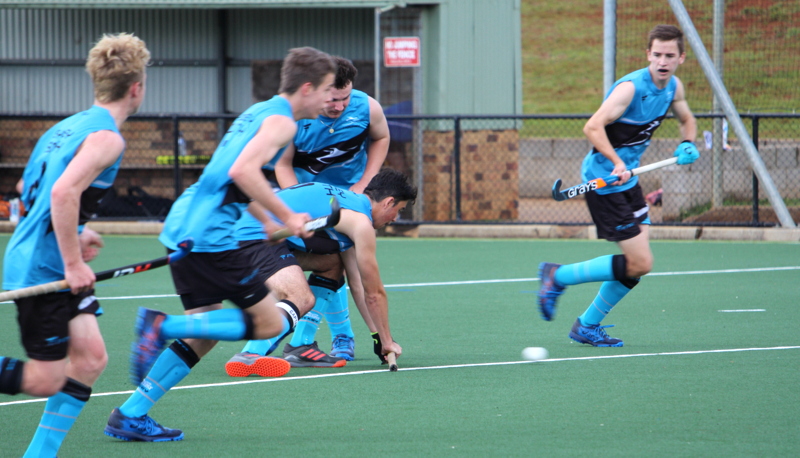 Thanks to Rory Staples for his pictures of the boys' games. We'll publish more next week.
On the reps side, Sydney South – with a big representation from Sutho – finished sixth in the Under 18 State Boys Championships at Lismore over the weekend.
Craig Turner and Lee-Anne Callinan also coached and managed – describing it as an "absolute pleasure" to be part of the team.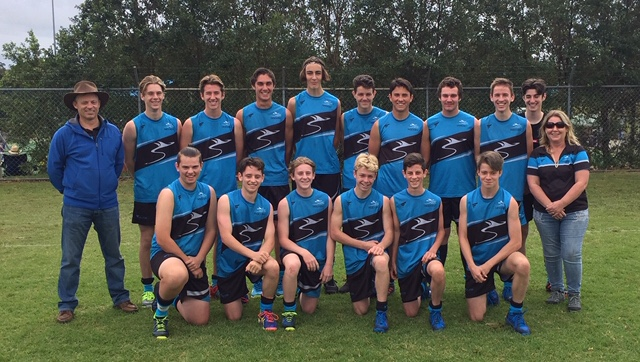 Here's how CT saw it happen:
It was an outstanding effort from Sydney Sth U18 boys to finish 6th in Div 1 at State Champs in Lismore over the weekend.
Day 1 had us straight in the deep end with games against Met South West and Northwest Sydney – both teams were semi finalists in 2018 and sure to be tough opposition
The boys played out of their skin against MSW and had them under all sorts of pressure from the start. Unfortunately MSW scored on a breakaway and we finished 0-1. Much more damaging was the injury to Blake, as he was out for the rest of the tournament!
It's often the second game of the day that sorts the pretenders from the contenders – and we were up against Northwest. What a brilliant game of attacking hockey! Northwest came from behind to snatch a 3-3 draw – and we definitely staked our claim as contenders!
Must win match
Day 2 we started with a must win match vs Illawarra – and we delivered our most compelling display against a team also playing for a spot in the finals. The 3-1 win capped a fantastic display of controlled hockey, with Illawarra getting their goal in the last minutes of play with the result already beyond doubt.
Our last round game was against last placed Far North Coast. We played a strong first half to be up 2-0 at the break, but from there  lost the plot somewhat to concede 3 goals! We salvaged a draw with a late goal, but the result didn't affect our final pool placing after Northwest had managed another come from behind win against Illawarra in the preceding game.
On Day 3 we played New England for 5th spot and after a fairly even first half, player exhaustion set in and we finished with a 2-4 loss.
It was a superb Championship effort by our team, playing some brilliant end-to-end passing hockey. We also had multiple individuals lift their standard of play to new heights, and our experienced players stood up game after game and showed their class against some of the best players in NSW.
For myself as coach and Lee-Anne as Manager, it was an absolute pleasure to be part of this Team and this State Championships.
Once again, thanks to Rory for the pictures.
Sutho Match Reports
On to the match reports – and lots of picture galleries from our home games at Tradies Hockey Park:
Women
First grade
Sutho 1-1 RSL
This week's game was a difficult one against RSL. We knew that the game was likely to be a challenge as they possessed some skilled players who would control from the middle.
RSL made fast passes form the start, and scored the first goal. Unfortunately, this was our first goal conceded this season, however we counteracted and were able to score a goal from a penalty corner shortly after. RSL's attackers played out wide, allowing us to take advantage of the inner channel and attempt some longer passes. We needed however, to work on our trapping skills and passing directly from player to player.
We gained a fair few more attacking penalty corners and opportunities in the circle, however we lacked speed and intensity, and therefore had a poor conversion rate. We also got a little rattled around the 3rd quarter as the game got rougher and more urgent. Our structured press in attack remained constantly strong throughout the whole game, and we repeatedly caused RSL to turn over the ball in our attacking quarter.
Ultimately, the score ended up 1-1, a tough game which left us with some things to work on at training this week. Great to have a bigger crowd watching this week, and also many puppy mascots to cheer (bark) us on.
Goal: Kristen Agius.  Player points: Cathryn Johnson 3, Liz Halyard 2, Paris Barnard 1.
Second grade
Sutho 4 – 5 Pohogs
What a beautiful Saturday to play hockey! With voting done for another 3 or 4 years (well, for most people!) It was time for a great game.
Second grade played Pohogs at 2 pm at Sutho.
The game got off to a lazy start with a 5 minute first quarter!
We found our groove about half way through the second quarter. There was some great teamwork from the team. Janet did some great saves in the goals. It was a rough game with second grade needing to be tough on the ball, but we banded together and pushed through strongly.
The goals scored were team goals and two even from the many short corners.
Intensity increased
In the last five minutes, Pohogs scored again to go up one and the intensity from Sutho went through the roof. Unfortunately we couldn't score again with the final score being 5-4 loss.
The goal scorers were Sarah Morris 2, Sarah Rose 1 and Hillary Beehag 1.
Points were awarded to Theresa Wilde 1, Sarah Morris 2, and Sarah Rose 3 points and the $25 gift voucher thanks to Tradies.
Great effort from all.
Well, someone did ask: "What are Pohogs? After consulting Dr Google, as you do, the Urban dictionary revealed: 'Any of a small species of small cute things of an indeterminate shape.'"
Just here to help.
Third grade
Sutho Wildcats 2 – 1 UNSW3 Gold
Wildcats lined up against UNSW at home and had a hard-fought 2-1 win: we scored the winning goal four minutes from time.
We would like to thank Janet Matthews for playing goalie and Liz Wu and Kathleen Leech for filling in.
Best and fairest: Karen Hodgson 3, Emily Cummins 2 and Chris Hagan 1.
Juniors
U11A
Sutho Geckos 5 – 0 Moorebank
After their first loss of the season last week the Geckos were looking to return to their winning ways. The Moorebank team we played in the pre-season trials has improved greatly and were by no means easy to beat.
The Geckos got off to a great start scoring just a few minutes into the first half and had many shots on goal. But the Moorebank defence kept the goal tally to 1 until a few minutes into the second half when the Geckos took control of the game and scored 4 more goals.
Our midfield was strong this week with Julian, Luka, Jude and Luke defending brilliantly and moving the ball up the field to waiting forwards in attack.
Jack, Emily and Rohan did their job at the front well and had many shots on goal – if only the Moorebank keeper wasn't so good!
Kaylee and Bethany were solid at the back, not letting anyone or anything through their defences and turning defence into attack with some great hits up the sidelines to waiting midfielders.
Eliana had a quiet game in goals, where she made one good save and practiced her game watching skills.
Best and fairest: 3 Julian, 2 Luka, 1 Jude. Goals: Jack 2, Emily 2, Luka.
U11B
BlueTongues 1 – 0 Moorebank
Today our Blue Tongues had a 1-0 victory over Moorebank.
Both teams played a great defence, unfortunately Moorebank just weren't able to get any goals past our goalie for today, Caitlin.
Every player played as a team and it was an exciting game to watch.
Congratulations Blue Tongues.
Our points for this week go to Alyssa 3, Ryan 2 and Jack 1.
Congratulations guys and well done team: GO BLUE TONGUES!!!!
Sutho Bearded Dragons 6 – 1 Glebe
This week saw us make the long trek into Glebe, to find a park near Jubilee Park…and a hockey field.
With both our Coach (Rory) and Manager (Greg) away this week, the team was professionally managed by young Lachlan Staples, with some assistance from Andrew Hoy.
Hamish was a last minute withdrawal, so Lachlan didn't have to worry about subs and we were left with 8 players ready to fire for their first ever game on grass.
The game was slow to get going, with periods of play resembling a golf course being played by weekend hackers, with grass moving greater distances than the ball.
Once the team realised that big hits and pushes were the way to go, and not fancy backstick passes, we started to find a groove and put the ball into the goal.
Lincoln was our goalkeeper and he was a rock, holding off a couple of attacks by Glebe.
One of the most enjoyable moments was the several goals scored at the end of a string of passes, especially the final goal scored by Harrison from an excellent pass from Griffin (who was having a tough morning dealing with the grass) – the highlight being the encouragement by the entire team towards Griffin after his pass; very touching and signs of a great team spirit.
Best and fairest: Liam 2, Mandy 2, Griffin 2.
U13A Sutho 3 – 0 Saints
On a glorious Saturday morning at Sutho for the top of the table clash, Sutho were looking to exert authority early and maintain our unbeaten run.
We dominated field position and possession for most of the first half, camped inside Saints 23. But Saints congested the area with 11 behind the ball, and made in very hard to get decent shots in.
A number of earlier corners were saved before Chris hit the post for Peter to tap in. Sutho worked hard for the rest of the half before a couple of late goals just before half time, the first a nice break away for Pete to get his double, and the third a scramble around the goals that was slotted by Lachlan.
The second half was completely different.
Saints opened the game up, and it became end-to-end.
They nearly scored a number of times except for excellent saves by Isaiah in goals and a miraculous behind the keeper goal line effort by Lachie. At the other end, we didn't have the same impact, as our team tired. But we held Saints out and got the points.
Lachie and Zara were excellent in defence with clearances and general control. Chris and Lachie were everywhere. However, everyone contributed to a good team effort.
Thanks to Kaylee and Emily from the u11s for helping us. Well played, girls.
Best and fairest: 3 Lachie, 2 Chris, 1 Zara. Goals: 2 Peter, 1 Lachlan.
U13B 
Sutho Thorny Devils 2 – 0 Uni NSW 
The sun shining on election day, with coffee in hand and three U13B TD players in the back seat chatting about all things, it made the trek out of the Shire to Daceyville all the more enjoyable.
We decided to make a slight change to our training schedule last week, extending our time by 30 minutes. A big shout out to all our parents, and thank you for rearranging your schedule to make this happen.
This seemed to be a masterstroke by coach Hoy with our players primed, focused and more vocal on game day.
The exciting addition of Thomas to our team and a full player roster, Simon (AC) had a good problem of making sure our bench rotation was on song.
Coach Hoy's TDs pressured the UNSW defence from start to finish with numerous shots on goal, but with only two getting through – by Lachlan and Riley. Our midfield, backs and goalkeeper Jacob did extremely well scrambling and not allowing UNSW to score.
Amongst our BF players, special mention must go to Isabel who played out of her skin and deserved a goal, also Abby and Lucy winning one on one's and pushing the ball forward.
Well done to all our players on the win.
B&F points: Thomas 3, Darcy 2, Riley 1.
U13B
Sutho Blue Tongues 6 0 Glebe
It was a beautiful autumn day down at Sylvania where the mighty Blue Tongues greeted a much bigger opponent, Glebe.
However, after the first minute of the game, the Blue Tongues were a more dominant and spirited outfit than their opposition.
They peppered the goals with shot upon shot, penetrated the 'D' time after time until finally, after 5 minutes, Tully scored a beautiful 'tomma' to go 1-0 up.
The Blue Tongues held better field position that would have made any General proud. After five short corners in a row Kai slotted in a cheeky tap-in off a Cooper thunderbolt from the top of the circle to go 2-0 up.
Glebe struggled to get out of their defensive half, unable to penetrate the Sutho defensive wall. Milan led by example and supported Bailey and Declan to get the job done at the back.
Olive blitzed the right side and linked well with the strikers to earn yet another short corner.
After a strong and accurate push out by Kalani, great trap by Tully and then a slap from Cooper at the top of the circle rattled the goals to go 3-0 up.
Goal on debut
The screws were tightened even further when Tully converted another short corner. The Blue Tongues launched another attacking onslaught, with our debutant, Skye, knocking in her first goal for Sutho.
The first half ended 5-0.
The second half saw the Blue Tongues play a more expansive and controlled style. Coach Todd was happy to see his team regularly linking 5 to 6 passes together. The goal again was peppered and the Glebe keeper did well deflecting shot upon shot.
Skye capitalising again to knock in her second of the game to go 6-0 up. She was as proud as punch and rightly so!
Blue Tongue players were leading into space, trapping and passing in the one motion, which proved the value of practice.
Best and fairest: 3 Skye, 2 Myla, 1 Olive.
U15B
Sutho Blue Tongues 7 – 0 Glebe
Another amazing victory for the U15B Blue Tongues. After a slow start to the season they found their groove with a 7-0 win against Glebe.
We started a little slowly, with the coach thinking she was watching a ping-pong match as possession was continuously handed back to the opposition. After a few minutes we remembered our game plan and valued possession with short stick-stick passing up the field.
Glebe had a few amazing shots on goal early in the first half but some great saves by goalkeeper Hugo with strong support from our defensive line of Lily, James and Max kept our opponents out.
Amelia and Johnno linked up beautifully in the midfield the whole game and were able to distribute the ball left and right to keep Glebe defence guessing and our strikers plenty of chances the enter the circle.
We went to half time with a 2-0 lead with great goals by Zara and Dom.
With the half-time coach talk shortened due to an impromptu enthusiastic singing of "Happy Birthday" for Lily, Blue Tongues took the field for the second half in high spirits.
Wonderful passing all over the field, close marking in defence and a tight press in attack meant they held possession for most of the second half. Our discipline and commitment meant the goals flowed freely with 5  being scored quickly in the second half; 2 more for Dom giving him a hat-trick, 2 to Max on debut and 1 to Josh.
The umpires invoked the mercy rule, which meant we went to 10 players. The coach then moved the players around to rest weary legs and give players a go in different positions on the field.
All in all, great teamwork by the Blue Tongues.
Best and fairest: Lily 3, Zara 2, Dom 1. Goals: Dom 3, Max 2, Zara 1, Josh 1.
Report by Max and Zara
Metro
U15 Sutho 2 – 2 Manly – Gordon North Sydney
On Friday night at Greenhills the U15 Metro team took on Manly/GNS looking to bounce back from a loss the previous week.
After a good warm up, the intensity was set from the start and it showed with the first 10 minutes being a tight contest with neither side taking a step backwards.
It took 10 minutes for the deadlock to be broken with a good counter attack resulting in the first goal of the game, giving Sutho a 1-0 lead. However, shortly after Manly/GNS levelled the score to be 1-1 at half time.
The second half started with a dominant Sutho outfit dictating the game.
The build up to our second goal was excellent, resulting in a well-worked team goal that gave us a 2-1 lead with 10 minutes to go. But with 5 minutes to go, a failed substitution resulted with an extra player on the bench, which meant that Manly/GNS were able level the score to a 2-2 draw.
Overall a solid performance from Sutho.
Best and fairest: 3 Issac Olsen, 2 Blake Shaw, 1 Sohan Mavji. Goals: Lachie Staples, Matt Rose.