First grade players pause before their match against Briars at home last weekend to remember the great contributions made to Sutho by Life Member, Denis Walker, who passed away the previous week.
Syd South holds U15 titles ranking
Sydney South Hockey Association held  its place in the top tier at the boys Under 15 State Championships played at Macarthur Hockey Complex.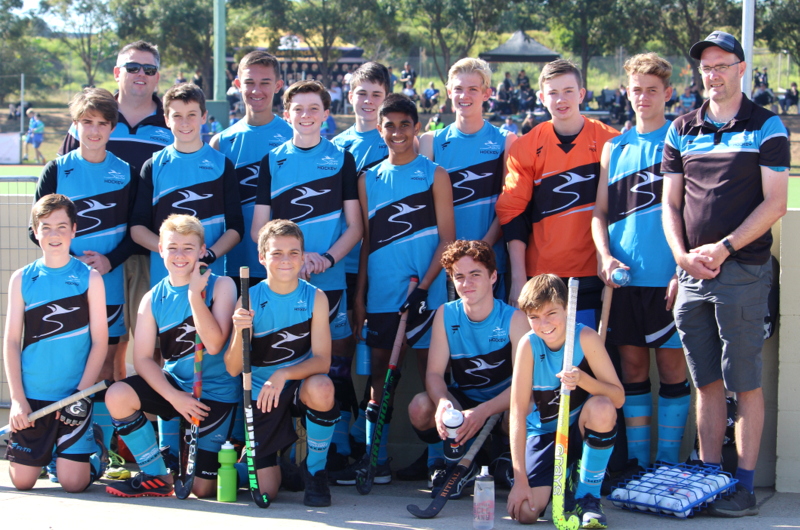 The SSHA U15s, with its ranks filled by all but one Sutho player, did extremely well against Association teams. Sutho contributed 11 from its U15 Metro team, James our keeper from 15As and Kian from 17 Metro. Isaac Olsen was captain and did a great job leading the team.
On day one, they beat Central Coast 4-2 before going down 3-4 to Tamworth. Disappointingly, this loss was at the last minute and the team had got back from 3-1 to 3-3.
Coach Brad Bollard observed that the team bounced back.
"We were competitive the next day against both semi-finalists, where we fought hard. And if we had won our last round game against Parkes we would have finished 2nd and played semis. But the following day we  couldn't hold out Newcastle and Parkes.
"A 1-0 victory over Grafton in a classification match was a well deserved result to end the titles."
Congratulations from all at Sutho the boys and thanks from everyone to coach Brad Bollard and manager David Olsen.
Thank you for the pictures to our highly travelled snapper, Rory Staples, who even backed up to send in action shots from the Under 11B Bearded Dragons games against St George. (Maybe he couldn't  resist a Dragons v Dragons match-up?).
Men
First grade
Sutho 8 2 Briars
This was, aside from allowing  two goals in by Briars, the best showing of our 1st grade team this season.  Also taking in to account of losing Mitch Wray and  Shayne Smith thru injuries having to with draw late in the week.  The cohesion, skill, work rate , commitment and the speed at which the team demonstrated its class was great to watch.  If they keep improving from here they will be hard to beat this year.  All bench players, played really well when called upon to join the team on the field showing the depth we have coming through the grades.  Matt Zainol showed us his skills which mesmerised the position at times and to boot he scored a great goal in his debut.  Kieran Govers played his best game of the season and led by example as captain in Mitch Wray's absence and showed his class once again as a driving force in the team.  We now head in to next week's match against Ryde at Sutho 3.30 pm with out 4 regular 1st graders available which will be a testing time for the team.
B & F :  Scott Govers 1, Matt Phillips 2, Kieran Govers 3. Goal scorers:  Matt Phillips 1, Mamat Zainol 1, Matt johnson 2, Brady Anderson 2, Matt Bennett 2.
3rd grade
Sutho 1 2 Ryde
It was a hot game for the final weekend of Autumn, with 12.30 sun scorching the Sutho turf. The 1 v 3 match up v Ryde was always going to be tough and exciting, made more challenging by a number of late withdrawals due to injury and illness. Thanks to all the guys who doubled up at short notice.
This lack of organisation showed on the field, with Sutho's horrible warm-up reflect in a shambolic first quarter, only held to together by some brave scrambling defence. Q2 saw both teams settle into a structured arm wrestle, with good defences shutting down both attacks and limiting really good chances on goal.
Sutho earned an early corner, and tried to improvise on the changes in personnel only to see us turn over and Ryde travel the length of the field and score. That really hurts. 1-0 down at the break as we looked for shade and water behind the dug-outs.
The 3rd quarter saw us start well and force a number of opportunities, especially on the fast break. Tim "I'm back for good from the UK this time guys" Mall earned a corner and Angus slotted a lovely behind the back deflection on the post (massive points for style), to level the scores.
Ryde probably had the best of the last 20 mins, as Sutho tired but were defending fiercely. Then Ryde attacked, did a full 360 indoor spin flick past 2 defenders and the keeper from 1 foot of the right hand baseline that hit the inside of the far post and went in, to the astonishment of everyone on the field. More style points than Angus – sorry Gus.
A tough, well fought game, showing even with our rotating squad of 30 + players we have the depth be a real threat this season. Defence gets all the KPIs this week, but a solid team effort. We must get to training with a good attitude in coming weeks and post-June long weekend to turn potential and promise into points.
Points: 3 Brad, 2 Daniel in goals, 1 Jay. Goal: Angus.
4th grade
Sutho 0 0 Ryde
The way that match reports work in 4th grade is that the person who gets the B&F solitary 1 point is forced to write it. But, this? This is the first time (I think) someone has ever gotten the 1 point AND the 3 points  and still has to write the match report. So here comes the first ever 4-point review. This is what happens when there are only 2 names voted for with a count of 13 to 1.
Ryde anywhere, either home or away is never an easy game, and knowing they were sitting 6 wins from 6, made it even harder. The game started strong from both sides; equal early possession and a few sneaky counters from both teams. From the first 5 minutes of the 1st quarter, Sutho and Ryde knew it would be a battle of who breaks first.
Sutho had plenty of early breaks down the right-hand side, with some choice runs from Googs, working well with Jimmy in the corner or linking up with Ollie, and after a few persistent runs, we finally broke first and got ourselves a repeat set of short corners. With far and few in the game, we knew we needed the early blow and narrowly we let them slip. End of the 1st quarter loomed and Ryde had made a few runs down their left flank but could not seem to break the Sutho scramble at the back. Stevo pulled off one or two kicks at the back and shouted his commands, but Ryde still couldn't seem to break through. 1st quarter 0-0.
Ryde fights back
The 2nd quarter began in the same way, both teams pressing each other for the ball. We pressed harder, won a bit of free space on the right, but just when we needed to, we could not capitalise on the shots or corners. Again, late in the half, Ryde began their usual fightback and came close to a goal, but an easy slide to Stevo stopped the Ryde attack there. Half time 0-0.
The second half was good, but nowhere near as strong as the 1st. Ryde's tempo seemed to be at an all-time high and their pressure began to put us under. A few times from the backline on a 16, Charles rose to the occasion and cleared the ball beautifully with a choice overhead. Well done, Charles!
Yet, it was the dying moments of the 3rd quarter and into the 4th quarter that the real action began.
Ryde were now dominant in attack, even though possession was still close to 50/50. A wayward trap from the mids meant the ball broke through to a Ryde player to feed it to their attacker. One-on-one with Stevo, there was only one thought going through his mind – the voice of Sean: "Do not take the player out!!!" So, true to Sean's words, Stevo made a brilliant sliding save, making sure he got the ball clean!
Career-best save!!!
And yet, the pressure still remains. A few defensive short corners against us, we really had our backs against the wall. Huon made a fantastic baseline stick save after Stevo over-committed to a dive, but hats (and literally his helmet) off to him, after he made an initial save on the left post of the goal, to spring up, dive back to his right, knock his helmet off and pull out the glove save of his career to stop what can only be called a sure goal.
With neither side being able to break the deadlock, it will be the first time I ever say a 0-0 score line against Ryde seemed fitting. Bloody good game my dudes! We will get them next time!
Points: 1 Jason Stevens 2 Charles Johnston 3 Jason Stevens.
8th grade
Sutho 2 1 Northern Districts
We were playing on a Sunday after a week's break, up against Northern Districts who are currently 9th on the table.We have a slightly different positional line up.
Right from the start whistle we put pressure on them. If they had the ball we pressured them and it worked quite well.
We were passing well, spreading the play wide with Jordan, Connor and Edward taking the play down the wings. One one of the attacking runs Jordan showed his skills and slipped one into the goal.
At centre forward were Gary and Declan. On one of Jordan's runs from the wing he breaks through and passes to Gary and we score again.
The boys at the back had their work cut out for them. Northern Districts put us under pressure a few times but our solid defence kept them out. Mark was working like a Trojan supported by Ross, Steve and Andrew.
David was solid as ever diving left and right keeping that ball out of the net, not to mention his wise half time talks.
Our midfield were superb! Cameron, Caleb, Kevin, Ross and Sean controlled it.
This was a game where everyone had a hand in the game, as you can see by the comments above. It was a truly fantastic game to be part of.
They scored a lucky goal to bring the final score to 2-1.
Best and fairest:  (Spread across more players as it was such a team effort): 3 Cameron Bayley, 1 Steve Harvey,  Jordan Wood, Sean Hails. Scorers: Jordan Wood, Gary Busby
Metro
U17 Sutherland vs Briars
Last Friday, our team finally reunited to continue our season where we left off six weeks ago.
With not much time nor training to prepare for this match, due to the recent State championships and school tournaments in which almost all of our squad had played a handful of games in the past few days, we were unsure how we would go against a tough opposition such as Briars.
It was such a large break since our last game, so we had decided that this would be a fresh start – so  our season restarted today.
The game commenced with Briars being the dominant side they were the last time we played them, holding possession well and making our team work hard to gain possession of the ball. However, when we did have the ball, we played a very smart style of hockey, holding possession and controlling the tempo of the first half.
Alas, after a good first half both attacking and defensively, Briars managed to snag a cheap goal two minutes before half time.
The second half came around, with Briars playing as a dominant force once more. Our team managed to hold out some good chances and began to work ourselves back into the tie.
Eventually after a good spell of possession and fantastic ball movement, we equalised with a very well executed short corner.
Briars soon broke the deadlock after, trapping us in our own half and overturning the ball as we sent to switch the play across the field. Our team didn't lose hope and played very aggressive style, holding possession and penetrating the circle many times, looking more dangerous as the game neared its end.
With a few minutes remaining we bought the game back to 2 goals each and the game finished soon after as a draw.
This was a very good effort from our team, given how tired they were. Plenty to work on, but it was  a good return to the season for our team.
Juniors
U11B
Blue Tongues 0 USYD 1
 Today our Blue Tongues were defeated by USYD Blue by 1 nil, although Uni were short players our team were able to spare them players, so we could have a game.
Overall everyone played a great game. Roman was our goalie for this week. Thank you to our players who took turns playing for USyd.
At the end of it, our best and fairest this week goes to Alyssa 3, Rosanna 2 and Ava 1.
Great work team.
Under 13A
Sutho Geckos 12 0 UNSW
 With no coach or umpire and short on players, the Geckos were up against it today.
However, the team worked together to achieve a fantastic victory beating UNSW 12 to 0.
Firstly, a massive thank you to Peter Tait for umpiring the game, running some pre-game drills and providing some good advice on how to structure the team with less than 11 players.
Jonty played a "cracker" game today, not only scoring 3 goals but passed the ball across the D many times to set up other goals as well.
Peter Rast also scored three goals which included shots at goal when the ball was in the air.
Given the scoreline, we needed to take players off the field and give our defenders a good run in attack.
Zara (our usual defender) scored 2 goals and enjoyed her run up forward. Chris and Holly played really well both scoring 2 goals.
Best and fairest: 3 Jonty Austin 2 Peter Rast 1 Zara Matthews. Goals: Jonty Austin and Peter Rast 3 goals each, Holly Antilla, Chris Goodman  and Zara Matthews 2 goals each.
U13B
Sutho Blue Tongues 0 2 Moorebank
Coming off a 6-0 win, Sutho was ready to best Moorebank, having already drawn to them in the practice round and beaten them in the first round of competition.
Unfortunately, in the first half of the match, Moorebank scored two goals. In the second half Sutho tried hard to keep Moorebank from scoring further and succeeded.
The final score was 2-0.  All Sutherland players played a great game and did well.
Mylo as goalie, had some great saves which earned himself player of the match.
Bailey, Kai and Milan all played exceptionally well and tried their very best.
Hopefully next week Sutho will come away with a great win.
 Under 13B
Sutho Thorny Devils 7 1 Glebe
This round was our first time out to Kyeemagh this season. With the jet aeroplanes taking off just across the river, coach Hoy's TDs had their sights set sky-high.
A massive thank you to super star Ruth who coached this week in Andrew's absence.
This game saw the TDs show their true potential.
Shots on goal were aplenty, with Dominic and Finn each getting a double, with Amy, Riley and Thomas notching one each.
The goals were great but what really made coach Hoy smile was the assists and team work in moving the around the field.
Jacob, Nathaniel, Ken and Steven proved to be rock solid in defence with Glebe's attack constantly being shut down.
Isabel dominated in the middle working hard with great determination to win the ball then pinpoint pass to our forwards.
Abby and Lucy showed great skill with their short passes allowing us to control the game. Lachlan used his knowledge of the game helping to guide his team around the field. Liam as keeper had several saves to keep Glebe to a single goal.
Great team work win TDs, well done…
B&F points: Dominic 3, Lachlan 2, Thomas 1.
U17
Sutho Geckos 2  5 St George Dragons
It was a terrific first half of hockey by the Geckos, but St George just had too many fresh legs and overpowered the Geckos in the second half to take the win.
St George earned an early short corner at the start of the game, but it was very well saved by Dominic in goals. The Geckos immediately bounced back with some excellent fast passes up the field from Raina to Macca and onto Adrian who dragged around the keeper and slotted in a backstick shot into the goals – the whole movement was a joy to see.
Unfortunately St George struck back with a goal from a short corner which had been controversially awarded by the umpire at the other end 1 second before quarter time.
Goals were again traded in the second quarter to make it 2-2 at half time. Both teams had created a number of chances in the second quarter, but the defence continued to hold tight.
The Geckos did not hold their structure well during the second half and St George seemed to control large parts of the half.
Notwithstanding, there was excellent scrambling by the Geckos defence to continually thwart the St George attacks.
The Dragons ended up scoring 3 goals in the half, with 2 from short corners – which meant that 4 of the 5 goals scored by St George were off short corners.
The Geckos attack of Adrian, Max and Macca did manage to put pressure on St George throughout the half, but further goals eluded the Geckos.
They fought to the end with Raina earning a short corner in the final minutes, but the Geckos weren't able to convert that into a goal.
B&F points: Zara 2, Macca 2, Raina 2.