Just before we get to the match reports, it's worth noting that we had two players score four goals each in their matches last weekend.
It's not often any players collects four, but first year Sutho U11B Blue Tongues player Isabel did it in the team's 5-4 win over Moorebank, as did Fiona Edgar in the Sutho Wildcats 3rd grade women's team win. Congrats, girls.
And don't forget to have a look at the great pictures gallery that Tony O'Leary shot during the U17 Sutho-Briars Metro game. Just for something entirely different, they are all in living black and white. Yes kiddies, before colour there was this stuff called black and white and it often produced memorable images. Thanks, Tony.
Thank you also to Matt Morris for his pix of the Sutho U13B Thorny Devils' game.
And in late breaking news, what is probably a first for Sutho, Piles filed his fifth grade report direct from his flight at 36,000 feet. We are glad he interrupted his journey to tap out the words on his iPad, no doubt causing service issues for the swarm of flight attendants pressing him with amuse-bouches and to select from either vintage or non-vintage Champagne. Go Piles!
 Women
First grade Sutherland 2 Esquires 2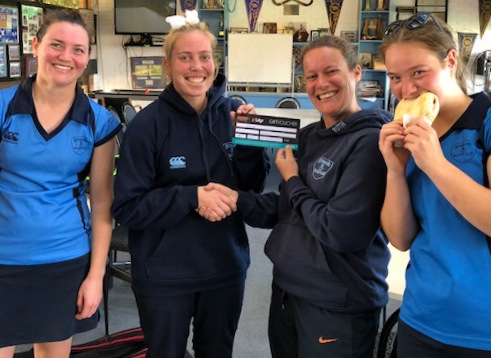 Unlucky is one way to describe today's game.
We worked together as a team and we wanted the win but unfortunately only came away with a draw. The score line didn't reflect our hard work.
Our team goals were 'basics' and 'passion'. Our basics across the park were fantastic in the game, with effort to make every trap and every pass count.
Throughout the game we brought the 'passion' – fighting to the final minutes to win 50/50 balls, tackles and positive outcomes. We walked off with our heads held high.
Player points: Hannah Burrell 3, Katie Short 2, Paris Barnard 1. Goals: Suzanne Hol 1, Clare Callinan 1.
Second grade no report
Third grade triple header Sutho v Sutho at Sutho
Sutho Wildcats 5 Sutho W 2
An exciting day for Sutho women's hockey. This season saw enough new players join the club to enter a fourth team into senior women's competition. The team was placed into 3rd grade meaning two teams in this division. So it was Game On: Sutho v Sutho at Sutho!
Wildcats 3B (being the more mature team) were a little nervous watching the very enthusiastic 3W (being the much younger team) run through their warm up routine. However, Wildcats would not be pressured into anything other than their usual approach to warming up. Wildcats had no subs again this week and had players playing out of their usual positions. However, everyone gave 100% and it was a fast, exciting game.
The game started at a fast pace and 3W were passing the ball around very well. Wildcats halves Kirtsy, Vicki and Kathleen were kept on their toes in the first 15 mins, breaking down the play with some great tackling.
Wildcats strikers were working well upfront and eventually a corner was awarded.  First goal of the match came off a short scored by Fi. 3W continued to put the pressure on showing great skills and speed on many occasions getting around Wildcats players.
Our full backs Meghan and Lois and goalie Jules kept them scoreless. The second goal for Wildcats came from another short corner scored by Fi. Half time: 2-0 to Wildcats.
For the first 10 mins of the 2nd half Wildcats remained calm and played controlled hockey and were rewarded with another goal scored by Elise. 3W increased their intensity and with lots of cheering form the sidelines scored the next two goals.
Tiredness set in for Wildcats in the last 15 mins and they settled in to defend the circle, but in the last two mins with some persistence in the forwards managed another goal.
The evenness of the game is not really reflected in the score. It was a good consistent game, with Wildcats coming out on top on the day. We look forward to our next battle at Sutho Ladies day in round 12 in 2 weeks' time!
Best & Fairest 3 Fiona Edgar, 2 Elise Cummins, 1 Lois Scott: Goal scorers Fiona Edgar 4,  Elise Cummins 1.
Metro and Juniors
U17 Metro v Briars
Sutherland 8 def Briars 2
The icy wind in the first half of our match at Greenhills last Friday night seemed to be to our team's liking as we raced to a 6-1 lead over Briars at the break.
As the wind dropped in the 2nd half, so did some of our intensity around the ball, and we just didn't get the same circle penetrations as in the first half.
Maybe we play better in cold, miserable weather? There's a good chance of more cold weather over the next few weeks.
Players B&F: Brayden 2, Rylee 2, Blake 1, Lachlan O'Leary 1. Goals: Harry 4, Joel 3, Nic 1.
U17 Sutho Blue Tongues 2 vs UNSW Marlins 0
Showing up to a game on a Friday night is hard enough, let alone for an 8 pm game in 12˚C weather out at Daceyville.
Despite the icy conditions, and the slightly delayed game, the U17 Blue Tongues turned up in force. Sutho started out strong, managing to score two well-worked goals within the first three minutes, one deflection by Max and a solid field goal by Josh.
After the initial excitement from the goals, the cold seemed like it was getting to the players of both teams, with the play slowing down significantly. Sutho kept up their strength, with the ball barely getting into their defensive half, ending the half with a 2-nil lead over UNSW.
The second half progressed much like the first, with Sutho showing their dominance and ball control.
Despite numerous attempts, a sneaky keeper change by UNSW saw Sutho's efforts go unrewarded in the second half. Although not to give UNSW all the credit, Sutho played their part in keeping the score at 2-0.
There were a number of missed deflections and open goals by Sutho, as well as one brilliant save … by one of our own.
The game ended with a 2-0 lead to Sutho, a good win for the team.
Points: 3 to Lachie Prentice, 2 to Kye Rowley and 1 to Josh Ko.  2 Glebe 0
Sutho U15A Geckos Glebe 0
After beating Glebe 9-0 in round one, and having not played for three weeks due the bye and long weekend, we didn't have high expectations for our Saturday morning sojourn to Lidcombe. Everyone arrived at the new ground, even some that were not expected, and we took to the bouncy new turf.
The early start (we normally play Friday night) and winter blues (a few colds and runny noses) coupled with a greatly improved opposition made the game a challenge. While always in control (James didn't make a save in goals), we played too direct and couldn't get past the energetic Glebe defence and strong goalkeeping.
We did manage one good movement which Luke was able to sweep past the keeper on the left post for 1-0 at half time lead.
At times in the second half we played much better, with good use of the AMs and better width and higher strikers, but still took the wrong options around the goal or were poor with our finishing. We did manage a second goal from a direct shot from Oliver on a corner, although had a number of disappointing attempts on other corners – more practice needed.
Keeghan was excellent in the middle at the back, and consistently turned Glebe pressure into attacking raids, and was deserving of the 3 points.  Zac M was also very strong and Adrian created many opportunities up front.
We will need to be better next week for the top of the table clash against St George.
Points: 3 Keeghan, 2 Zach M and 1 Adrian. Goals: 1 each to Luke and Oliver.
15B Sutho 0  Bankstown 1
The 15Bs were in for a tough match against the top Bankstown team, coming back from a loss the last time they met.
Bankstown got in early with a quick goal in the first half, but the Blue Tongues stuck to their game plan, blocking Bankstown through the middle where they were strong.
Sutho had a great game with more shots at goals, but weren't able to get the points on the scoreboard.
Tom had a an excellent game in goals, with many impressive saves.
With fantastic teamwork and great passing, the team made sure Bankstown scored just one goal, which was a massive improvement from their last match.
We'll get them next time!
Under 13A Sutherland Geckos 2 Glebe Redbacks 0
This was a top of the table clash. Glebe were undefeated in the competition (although a loss to the Geckos in the trial match) and the Geckos had only lost to Glebe 2-1 in the first round.
Both teams started well with some good passing combinations to move the ball up the field. Both created opportunities in the opposition's circle, with both goal keepers pulling off some great saves. The teams could therefore not be separated at half-time with a 0-0 scoreline thanks to Grace's goalkeeping.
Notwithstanding the Geckos having no reserves, I think this worked in our favour with a real team effort for a dominant display in the second half.
Both teams were still creating opportunities, however it was the Geckos who scored not long after half time.
Some long passing from the defence to Matt to Fletcher and then onto Noah caught Glebe napping. Noah was able to sneak the ball through the keeper's pads and the ball then took an eternity to roll over the goal line – it was going that slowly and with the defenders converging, we're not sure whether Tomas may have had to give it a little nudge to get it over the line – although Noah was very quick to claim it!
The Geckos' marking through the middle requires a bit of tightening, however the passing through the mids was very good, with Corban managing to set Tomas up for another goal, but some great keeping saved Glebe.
Matt soon made one of his characteristic head down barnstorming attacking runs through the middle resulting in him drilling home a great shot from the top of the circle. That made it 2-0 and although the game opened up to good chances at both ends, no more goals were scored.
Which as it turned out was a good result for the Geckos as we were down to 10 players for the last 5 minutes of the match following Noah getting a cork in his thigh after a clash in the Glebe circle. So a challenging game of hockey with the Geckos coming out on top.
Best & Fairest: Grace Matthews 2 pts; Matthew Rose 2 pts; Corban Marinos 2 pts.
 Under 13B Sutho Blue Tongues 0 UNSW 0
A very close and challenging game with UNSW resulting in a 0-0 draw. Liam took the shot of the game and it only just missed the goals.
It was great to see Cameron Sprod take the field again. Also, a big thanks to all the parents who helped run the canteen this week.
Best and fairest: 3 pts: Liam Blumire, 2 pts: Max Lewis, 1 pts: Lachlan Duhne.
U13B  Sutho Thorny Devils 3  UNSW 3
'So Close' to a win today, only to be denied in the last 30 seconds by a determined Glebe.  That said, this week saw a turnaround in performance from our team which has set a course of good fundamentals and hopes to stay true to it for the following rounds.
It was pleasing to see plenty of deliberate passing and controlled play, allowing for those magic moments to happen and get some points on the board.
Some improvements in game play awareness, and positioning ourselves for attacking and defensive modes has returned, and with some fine tuning, will help our drive forward to the opposition D.
Creation of opportunities was evident in attacking Glebe in the strike zone, resulting in plenty of short corner opportunities. An expansion of that eagerness into the rest of the field by 'moving into space' and looking for good quick passes should assist in the momentum towards the goal.
By taking control of the whole field and making the other team do the running, we will place the odds in our favour for victory.
A great effort, and positive attitude today by the team, and great to see players turn up for the game to support their mates, even when they can't get out into the action for themselves – impressive team spirit!
Go Sutho!!
Best and fairest: 3 pts : Owen Laycock 2 pts Bailey Peters 1 pt. Kai Morris. Scorers: Mackenzie Shaw 2, Owen Laycock 1.
Under 11 B Sutho Blue Tongues 5 Moorebank 4
Another early morning game out at Lidcombe for the Blue Tongues and they brought their A game.
Isabel opened the scoring with a great goal in the 12th minute, followed by another three from her and one from Jude.
Playing one player down, the team managed to hold on and secure a win after Moorebank made a comeback in the second half.
Great defence by the whole team and awesome job at goalie by Skye. Well done guys!
Best and fairest: Isabel 3 points, Jude 2 points and Skye 1 point.
U11B Sutho Bearded Dragons 9 Glebe Strikers 0
It was an early start at Daceyville this week but conditions were perfect for a good game of hockey.
It wasn't long before the ball thumped into the back of the goal to open the scoring and we went into the break 5 goals up.
Half time talk was focused on holding positions and spreading the ball wide and Emily did this well with some good passes out to the wings.
Special mention goes to goalie Bethany who worked on her game focus in a game where  she unfortunately saw no action.
Best and fairest: 3 pts Thomas Blackman, 2 pts Riley de Soza, 1 pt Kaylee Rule.
Men
1st grade bye
2nd grade Sutho 3 Easts 0
The match started at 6:30 and it was a cold evening. We had 4 players out injured and luckily Adam and Mason were able to give us two excellent subs.
The first half was quite even and we went to the break with no goals having been scored by either team. Sutho picked things up in the second half and the final score was a 3-0 win.
Highlight of the game was an outstanding performance from Damon in goal. He repeatedly and confidently rejected all of Easts' scoring attempts. He got the 3 points. Shippy got 2 and Iain got 1.
Goal scorers were Harry, Mason and Iain.  Coach Gavin was particularly pleased with the result because Easts are a formidable opponent.
3rd grade Sutho  1 UTS 2
Arriving at Homebush on a freezing night, (and having Brady potentially jeopardise any chance of future third grade selection), we proceeded to give Jimmy Northwood a final game send off in the only way third grade knows how: by conceding an early goal.
After a tough first half of not doing anything at all, Mac assessed the 10 people standing around the top of the circle ready for the post-buzzer short corner. He surmised that the best possible option would probably be to not use any of them and just have a shot. Goal! Bring back the hit. 1-1,
UTS quickly realised (despite scoring about 100 goals against us over our last three match-ups), that this night was different.
This was a new, tougher Sutherland third grade team: months of fighting at the bottom of the table had taught them how to scrap it out. Panicking, UTS screamed at each other every time they had possession of the ball to go for a short corner. Unfortunately, this switch-up worked for them. 2-1.
Points: Jay (Diving like a French striker) Kelly 3, Jason (I'm off to Europe, boys) Stevens 2, Jono (I already played 4th grade and have a dimple imprint on my hand ) Rose 1.Goal:  Mac Dunn
No match reports from 4th, or 6th grades
5th grade  Sutho 2 Monterey 5
Well it finally arrived, after winning our first 9 games and scoring lots of goals and conceding very little, we finally lost a game.
The team turned up to a windy Daceyville field ready for our second game against 5th placed Monterey. Rory and Tim C completed the trek from Olympic Park where they played 6th grade to help us.
The previous game against Monterey was a tough encounter and we benefited from them losing a player to a red card and we came home strong.
This time around, we started OK, our mid-field battling for ascendency against a couple very skilful opposition players. We certainly created some good chances early on, but conceded on the counter and then a little later to be down 2-0, which was a strange sensation for us in 2018.
Just before half-time, Geoff dispossessed their most skilful player in the middle of the park and then some great passing and movement off the ball saw us get one back. Some Bob Rowling magic at a short-corner got us back to 2-2 at half time.
The second half was an arm wrestle, with some tough decisions giving Monterey the upper-hand and we conceded some pretty soft goals. A couple of cards to Eythan and injuries to our two  Mitchs halted our momentum, with strong performances from the defensive unit, Tom and Luca, to keep us somewhat in the game mid-way through the second half.
To compound the disappointment, we missed plenty of really good chances to maintain pressure but today was not our day. In the end, Monterey wanted the win more than us.
It was a sobering and timely reminder that we need to execute on all opportunities and that just turning up isn't enough to win this competition. A big thanks to Rory for playing GK for us and to Tim C who chauffeured Rory from Olympic Park to Daceyville. We will bounce back against Glebe next week.
B&F: 3. Tom Hausman, 2. Eythan Rowling, 1. Andrew Hoy. Goals: Eythan Rowling, Geoff Noy
7th grade Suth0 1 Ryde 2
With our number one goalie relaxing in Perth, Darren Shaw stepped up to take his place and did a great job in goal.
But that was helped by the high-performance from seventh grade this week as we all played exceptionally well against a team just above us on the table. With great tackling and exceptional hockey, some very good passing and good defence, we kept Ryde to one nil at half time from one of the short corners.
During half time it was hard to pinpoint any deficiencies in our play as everyone was playing well. We went back on and for the first 10 minutes we were all over Ryde with Adam Howard scoring from a short corner and more pressure on their defence by our forwards.
With 12 minutes to go it was looking like a draw and then Ryde scored one of their normal jammy goals leaving Darren no chance for a save.
And excellent performance against a rough and dangerous team from Ryde, and one we are looking forward to playing at home later in the season.
Great defence from Ross Adam and Mark with a special mention to Jordan and Matt on the right hand of the field who both played well.
3 Points to Alex Doyle, 2 points to Cameron Bayley and 1 point to Darren for is efforts in goal and one goal to Adam Howard.