Sutho's Shayne Smith, pictured in the first-grade tussle against Moorebank, will coach Metro U17
After a challenging process for players and selectors, Sutherland's Under 15 and Under 17 teams for the 2021 Sydney-wide Metro competition have been selected.
Our Club thanks everyone who nominated and participated in the trials and to those who helped behind the scenes and on the trial days to ensure a productive and smooth process.
The selectors said the standard of hockey at the trials was at a high level and they were pleased with the efforts of all participants. All in all, it made the selections very challenging.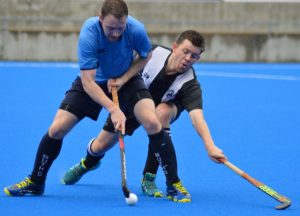 Premier League coaches
Sutho is exceptionally pleased to announce that Shayne Smith has been appointed Coach of the U17 Metro team, while Wade Tonna will be Coach of the U15 Metro team.
Shayne and Wade both play in our Premier League teams and have significant coaching backgrounds. This means they will be passing their skills and experience to the players to further develop their hockey skills, game awareness and team approach.
The  Metro competition organising committee has not yet confirmed when the Friday night competition will begin,  but early/mid-March is expected.
Congratulations to those that have been selected and good luck with the season ahead.
2021 Sutho Metro teams
U15: Jonty Austin, Rhys Bollard, Thomas Bryden, Amelia Domrow, Hamish Draganic, Christopher Goodman, Zara Matthews, Tomas McCowen, William Newton, Louis Olsen, Oisen Perry, Camille Rogerson, Mayah Tait, Isaiah Vassallo (GK). Coach: Wade Tonna.
U17: Jett Austin, Oliver Bollard, Tom de Soza. Jonathon Krepp, Max Lewis, Corban Marinos, Grace Matthews (GK), Sohan Mavji, Noah Palmer, Blake Shaw, Lachlan Staples, Lachlan Todd, Byron Watson, Thomas Bryden (U15 and part of U17 squad), Christopher Goodman (U15 and part of U17 squad). Coach: Shayne Smith