Congratulations to Southern Sydney Hockey Association Under 18 girls for taking out the NSW State Championships Division 2 crown.
Men
6th grade
Sutho 1 def by Ryde 2
Sutherland were aiming for three on the trot against Ryde last Sunday. They came out with their A game, starting the better of the two teams and controlling possession well.
Sutherland's midfield dominated early exchanges with great ball movement from Phil Rowling and Alex Hailes. This extended pressure led to a great goal by Cameron Bayley to give Sutho an early 1-0 lead.
Towards the break, we were given a few short corners that we squandered and missed a golden chance to go in to the sheds further ahead.
After the break, Ryde came out the more determined and applied constant pressure on Sutherland's defence which was doing remarkably well to hold on courtesy of some great saves from Dave Lucas and some desperate goal line defence from the fullbacks.
Sutho's resistant defence finally succumbed to an equaliser from Ryde and they soon showed their ascendency late in the second half with the winning goal with only 10 minutes remaining.
Ray Northwood was outstanding at the back with many clearances and all of Sutherland's midfield contributed to a solid display in which we were always in the game right up until the final whistle.
Ryde are proving quite the nemesis for Sutherland, knocking us out of the semifinals last year and also taking the points today.
Sutherland have a chance to get their season back on track when they face Baulkham Hills next Saturday in a must-win game to keep in touch with the top four.
Best & Fairest Ray Northwood 3, Dave Lucas 2, Caleb 1. Goal Cameron Bayley.
Juniors
U15 Metro
Northern District 5 – Sutherland 0
We battled with the Friday night traffic to get out to Pennant Hills to play Northern Districts.
It was going to be a tough ask with a number of regular players missing and our super sub (Ollie B) from last game out with a broken ankle, but the guys hung in and are improving each week.
Northern Districts started strongly, pulling out to an early 2-0 lead. The game started to even out after that with Northern Districts going into half time up 3-0 with Ash, Keegan, Luke and Luca doing a great job in defence.
The 2nd half was move evenly fought with play going back and forth, but unfortunately with Northern Districts scoring 2 goals.
Elliot played well again, as did Huon, Paris, Ben, Zach, Max and Oliver T, all doing a great job moving the ball up field with some improved passing to give us some goal scoring opportunities.
Daniel was kept busy again and after a slow start played well and banged into the opposition's big forward a few times (benefit of playing Rugby League for eight years).
The highlight of the night was the scream from Paris when one of the local Kookaburras swooped across the field and knocked her stick as she was running up field.
Big thank you to Zach, Luke and Keegan from the 15As for helping out this week. Thank you guys, very much appreciated.
U13A
Sutho Geckos 13 def UNSW 0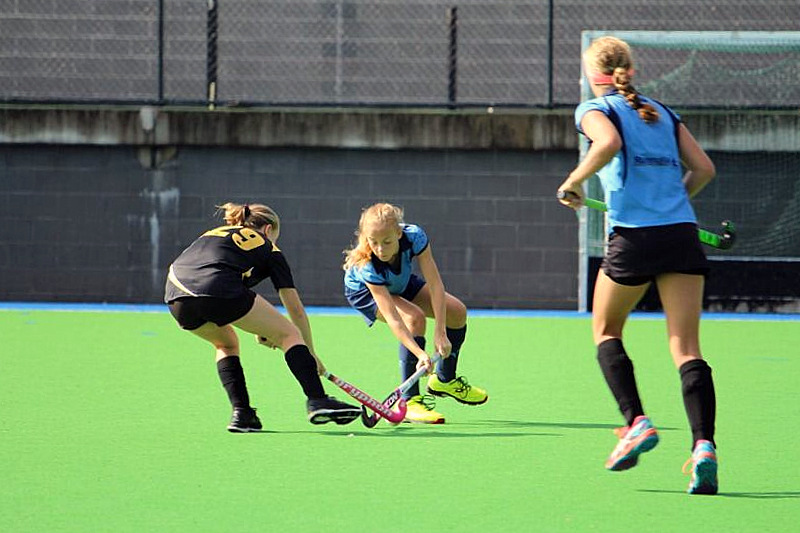 Pictures: Rory Staples
Another away win for the Geckos, however it was a difficult game due to the not-so-strong opposition. There were patches in the game where UNSW defended well, however most of the game was spent in the University's quarter with the Geckos pressing for goals.
Chloe Antilla opened the scoring for the Geckos from a well-executed short corner with Shontae Salmon a few minutes into the game. That was followed up by a goal to Matty Rose finding a way through the goalkeeper's pads.
The Geckos were having quite a few shots on goal throughout the first half, but the UNSW goalkeeper was excellent with many, many saves.
It was therefore pleasing to see the Geckos players drawing and passing to score the teams third goal: Nick Sullivan dribbled the ball into the UNSW circle, drew the defender and passed to Chloe Antilla, who then drew the goalkeeper out from the goal before passing to Lachlan Staples to slot the ball into an open goal.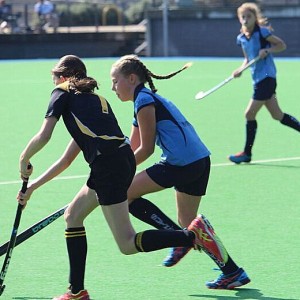 With a score of 6-0 at half-time, it was time to give the defenders a chance to get involved in the game, so the strikers and defenders were switched.
It wasn't long before Amelia Kirby had scored three quick goals by positioning herself in the right place to clean-up the ball off the keeper's pads and receiving fine crosses from Bree and Matty.
The mercy rule came into play when the Geckos hit an 8-0 lead and then again at 10-0.
This meant the Geckos played the last quarter of the game with only 7 players on the field with no goalkeeper. Notwithstanding, the Geckos were still moving the ball around the field well and managed to score four more to finish with 13 goals.
Best and fairest: 2 – Nick Sullivan, 2 – Amelia Kirby, 2 – Thomas Bryden. Goals: Chloe Antilla 4, Amelia Kirby 3, Matthew Rose 2, Lachlan Staples 2, Tom de Soza 1, Chloe Holmes 1.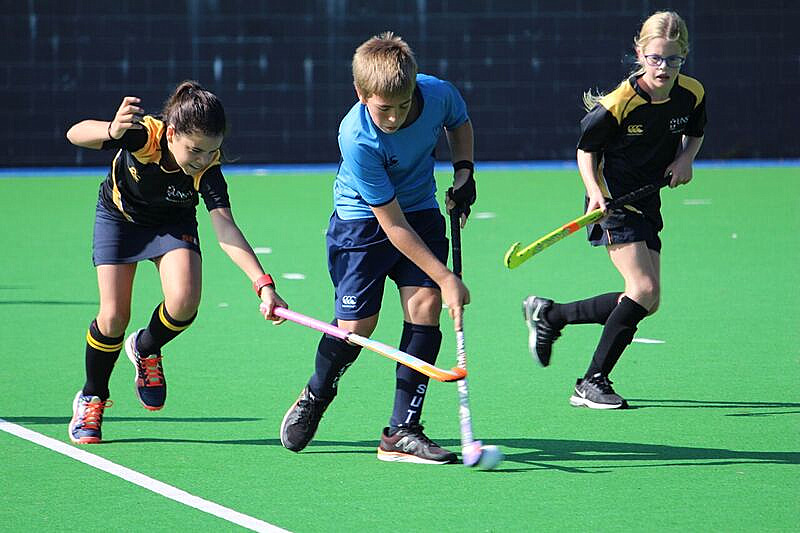 Sutho Monitors 5 beat Moorebank 0
With Moorebank a relatively unknown quantity at this level, as it has been some years since they had a team in 13A's, and our team affected by injury and illness, it was going to be an interesting encounter.
Isaac offered to play keeper, which released Grace on the unsuspecting opposition at left striker, and we had a rejigged midfield. Zara bravely stepped up from U11 to give us some cover on the bench.
We played to our game plans, and maintained good pressure, despite being a little lost in the middle at the start. A number of close chances in attack went wide or were saved, before Grace pounced at the post to score.
At first we thought it was disbelief at her reaction to scoring her FIRST EVER goal, but instead she had copped the goalie's stick in her face in the act of scoring, but was OK, and Grace promptly moved to left back for the rest of the game.
Jett scored a good goal from a run from midfield before Kaylee finished a great team goal that started at the back and promoted through an excellent run and pass from Kayla. 3-0 at the break.
The half time talk was very positive. The on field chat was excellent, the passing was getting better, and we were controlling the game. For the 2nd half our "assistant coach" took control of the rotations, and had us subbing every 3 minutes, with some interesting changes that I think all the players appreciated, giving them opportunities in different positions.
That saw Zara at left striker and she ran onto a deft through ball and slotted past the keeper for a fantastic goal, to complement her earlier goal in U11s – what a day! Kaylee scored the final goal to complete a well earned double.
A solid game by Isaac in goals, with some excellent clearances, as well as a strong effort by Angus at the back wielding his brand new stick.
Noah also had a good second half working in the middle.
Best today were split evenly between Grace, for awesome positional talk at the back and solid defending, and Tahlia and Jett for their tireless efforts in the middle.
Next week the Geckos.
Best and fairest: 2 Grace, 2 Jett, 2 Tahlia
Goals: 2 Kaylee, Grace, Jett, Zara
Prior Week:
Sutho U13A Monitors 9 beat  UNSW 0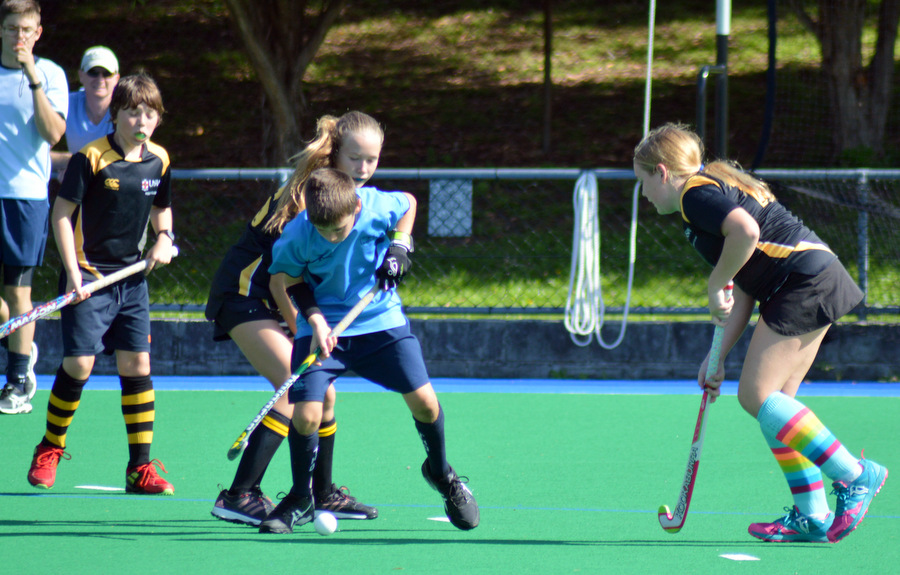 What a drama – we turned up at Daceyville for the earlier U11 game only to find the Defence Forces games scheduled, and I wasn't going to argue with those guys. Once everyone had arrived at the ground, and after a lot of phone calls we luckily were able to move the game to Sutho at the last minute.
A very slow start, as we were drawn in to UNSW's congested play.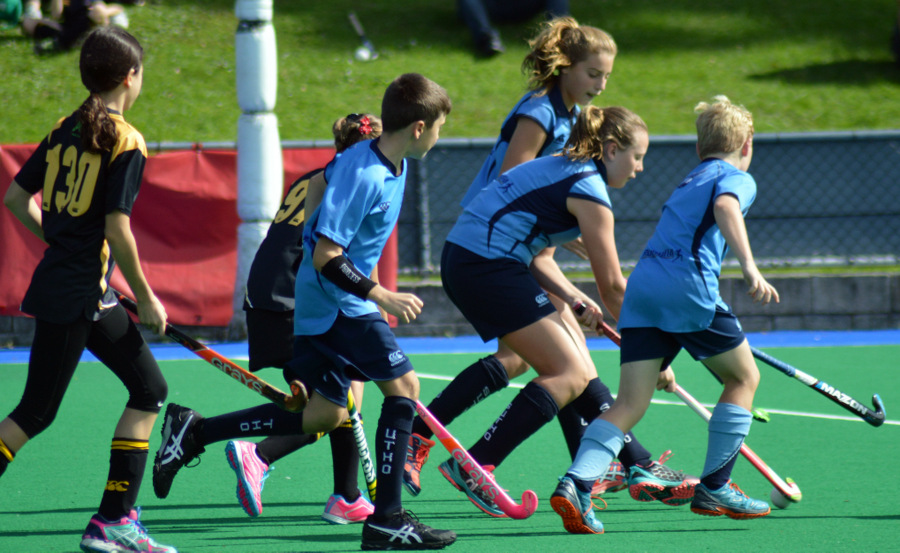 We discussed passing wide and passing around the keeper. This worked a treat, and we were able to open to the game up and score some fantastic 2nd half goals. Most pleasing was some of the short passing interchanges on either flank and out of the back, as well as the transfers around the back that really opened up the play.
Thanks to Lachlan for stepping in to umpire at last minute, and to John for the great photos in last week's newsletter.
Goals: 2 Isaac, 2 Jett, 2 Oliver, 1 Tahlia, 1 Kaylee, 1 Lily
U13B
13 May Thorny Devils 0 lost to Moorebank 5  
Well, we finally got to play again after last week's game being rescheduled to a later time in the draw due to a double booking issue with the field.
We had a full team this week but our coach Dakota was playing the State Champs so Peter Tait thankfully stepped in to cover for him.
The first half was not a great start , we had very little attacking opportunities and our defence was a little messy at times. This resulted in a first half score of 4-0.
The substitution strategy for the first half didn't help, so we changed it and decided to substitute players in blocks of five for the second half.
This clearly helped the flow of our game and with a few extra pointers on defending and attacking the quality also improved.
We showed some great defending through the backline and we had our fair share of attacks on Moorebank's goal but just couldn't quite find the back of the net on each occasion.
In the end the score line was 5-0 to Moorebank. Unfortunately, it was a loss but all our players should be proud and encouraged by the vast improvement they showed in the second half. Things should only get better.
Well  done Thorny Devils!
Best and fairest: Luke Gilfillan 3 pts, Myles Hanrahan 2 pts and Blake Mottershead 1 pt.
29 April Sutho Thorny Devils 2 lost to St George 7  
Finally Round 1 arrived! It seemed to take so long to get here but it was a beautiful day and the Thorny Devils were hoping to make a good start.
Things looked promising and through a break up the side line break Hannah K landed one in the back of the net. It was 1-0 to the Thorny Devils!
Unfortunately we couldn't hold the lead for long and less than 2 minutes later St George had equalised and then less than a minute later had taken the lead back. Now all of a sudden we were 2-1 down!
Our biggest first half problem was working out our substituting of reserves. With five players on the bench it was complicated and confusing and didn't allow us to build any real momentum. Hopefully with some tweaks it can get better.
At half time though the score was still 2-1,  we were still in with a chance.
In the second half the substituting issue seemed to settle down a bit but St George were simply too good; they had a couple of key strikers who just dominated and before long they scored again. Our keeper, Nick Cullen, was playing a terrific game but was kept very busy with attack after attack and before we knew it St George were 5 -1 up.
We never gave up hope  and made some nice breaks up the field but just weren't able to capitalise. On the other hand St George did, and were soon 7-1 ahead.
We did manage, however, to finish on a high with our second goal being scored by a stampeding charge by Myles H with less than five minutes to go. And that's were the game finished  7-2  in favour of St George.
We have plenty of work to do at training next week, but we're confident things will improve.
Best and fairest: Nick Cullen 3, Sofie Cherrie 2 and Mackenzie Shaw 1.
Goals: Hannah Kernohan and Myles Hanrahan.
U11A
Sutho Geckos defeated Glebe Red 3-1
With this game being the Geckos' first experience on grass for the season, it was always going to be a big challenge. Notwithstanding, they  were up to the task and put in a creditable team performance.
Getting the ball out wide and good passing ensured great momentum and saw the Geckos score three goals (Finn Willie 2, Zara Matthews 1). With tireless tackling and strong defence, the Geckos restricted Glebe to only one goal and came away with a good win!
Great work Geckos!
Best and fairest: 3 Amelia Domrow, 2 Darcy Matthews, 1 Rhys Bollard, 1  Zara Matthews.