Sutho is excited to announce that Kookaburra and NSW Waratahs player Kieran Govers will be returning to our club this weekend to join our 1st Grade team for the 2017.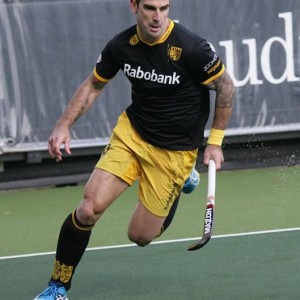 Kieran first played for Sutho as a young upcoming player in 2005 and then made various appearances for our club over the years when he wasn't away on Australian representative duties.
Kieran has won gold medals as a Kookaburra at the World Cup, Champions Trophy and Commonwealth Games and a bronze medal at 2012 London Olympics.
Picture: Kieran Govers
Match reports
Men
3rd grade
Sutho 3 beat UNSW 0
Round 8 – Deferred game from 14th May, played Tuesday 23 May.
With half the world away for U18s on the 14th, we had deferred our Sunday home game at Sutho to 8.30 at Daceyville on a Tuesday night.
As a consequence, most of the team were u18s, except for the one old guy in the middle. He kept reminding everyone this was a home game, and we don't lose at home!
The grand final replay felt slightly odd on a Tuesday night between teams running 11th and 9th.  With Sean still nursing a nasty black eye from last weekends' game, he steered us around from the dugout.
The opening encounters were fairly even, with both teams a little nervous at the back and forcing good saves or cover defence to make amends for poor turnovers.
Midway through the half some excellent build up play saw the strikers pass around the defence for Hayden to slot the goal. 1-0 half time and Sean was happy with the movement on and off the ball.
We were getting Jay into great position on the  right side overlap, and building some good pressure around their circle, but we needed to be quicker  in our transfers and alternate between the wide ball and AM channel.
The second half was fairly clinical – down to 12 men with Jimmy nursing a hammy, the back five played unchanged and showed great composure against the UNSW fast attacks.
The midfield worked really hard and found some excellent spaces, and worked with the Strikers to put their defence under pressure coming out from their end, something we do pretty well.
This paid off, with Mac and Harry forcing a turnover on the fast break for which we were awarded a stroke, which Mac expertly converted.
The final goal was a work of art.
Under pressure at our end, a chain of tight, short passing on the right eventually released the midfield into space, and each successive pass committed the next defender until the ball was thrown square past the keeper for a lunging Hayden to knock in off his backstick.
And that summed up a pleasing aspect of our attack compared to last week, where we were shut down by an excellent keeper. All three goals, and a number of corners, were earned by good passing around and within the circle to find the free man for the tap in near the post, rather than shooting from the top.
And conversely, our defensive pressure was such that the only space UNSW could find was for Hail Mary shots from tight angles at the top of the circle, which Damo calmly batted away.
An excellent team effort from everyone, and a great feeling to sing in our away "home" change rooms.
Special mention to the "Blakes" tonight. Blake Malone, playing his first starting game in 3rds for a number of years, found his touch and fitness and looked like he had never been away.
And Blake Hernandez, still in the U15s, had an exceptional game at right AM, in all aspects, and was deservedly our best and fairest. Well done guys!
Points: 3 Blake H, 2 Brad, 1 Mac. Goals: 2 Hayden, 1 Mac.
3rd grade
Sutho 2 lost to GNS 3
Another game that got away. After watching 4ths hammer GNS 7-1, we were pumped for a big game at Olympic. GNS got away to a better start and converted early pressure into a soft goal.
They kept that pressure on and converted a second goal mid way through the half, with some lose marking allowing a neatly finished back stick into the net. A late goal to Mac kept us in the contest at half time on the score board, although we had started to assert some dominance in field position.
The second half was all Sutho. We dominated the team running 4th and if not for some brilliant saves by their young gun keeper, we could easily have scored four or five.
Pleasingly, we had the most outcomes of any game this season, with 5 or 6 corners and numerous shots on goal. Our pressure was excellent and the possession around the attacking 23 was as practiced. We just couldn't score.
One corner saw Sean have two consecutive shots saved by the keeper, before he attempted to head the ball into the net, resulting in no goal, 5 stitches above the eye and a few games off sporting his new super villain look.
I also think the comment that since he started taking corners he has more shots than a schoolies night club was a bit unfair, especially as he is injured!
With the attacking pressure continuing, Blake went to cross the ball from near the right-hand side baseline only for it bounce high on the stick and loop across the circle before Matt Wilson leapt into the air and overhead smashed it into the goal.
After much umpire consultation as to whether it was legal or dangerous, the goal was awarded. 2-2.
GNS responded by lifting their tempo, but we pressed hard for a winner. With 30 seconds left, we were caught out by an interesting decision (again), and with all our team in attack we were unable to scramble well enough to shut down the GNS fast break, as they slotted a winner with 15 seconds to go.
Jay had a fantastic game on the right as he scythed his way through the GNS midfield from the back, and was our standout 3 points winner.
And so after 8 rounds we sit 2nd last, but not playing like a team at the bottom of the table and with the comp so tight as it is, that with 14 rounds left there is plenty of scope to climb the ladder and make a run for finals.
Points: 3 Jay, 1 Brad, 1 Matt W, 1 Sean. Goals: Mac, Matt W
5th grade
Sutho 2 drew Monterey 2
Scored within the first 2 minutes to go 1-0 up but no let up from Sutho as we kept the pressure on and controlled this fast flowing game with some terrific passing and running from everyone.
The young players worked very hard throughout the game but the Monterey goalie played very well.
Same score at half time and good talk about using the ball and working down the side lines.  More pressure in the second half resulted in another goal in the second half 2-0 up and the opponents started to get rattled and angry but with 10 minutes to go and some massive lobs from the defence line created 2 goals for them and a hard worked draw for us.
Individually, Monterey had some players with great skill but the young Sutho 5th graders showed persistence in their efforts, solid tackling, marking and nice ball work.  Training is working well for these guys.
Best and fairest: 3 Mitchell Rowling, 2 Ty Stevens, 1 Tom Hausman. Goals: Geoff Noy and Harvey Bates.
6th grade
Sutherland 0 lost to Baulkham Hills 4
We started very positively with good passing and running and even had a few chances to score.
We had better positioning by players during the game but Baulkham Hills scored late in the first half against the run of play.
The second half lacked the marking and ball control of which we are capable, and BH scored 3 late goals in the second half to knock the wind out of us on a lovely sunny afternoon. Bye next week then we regroup and try harder.
Points: 3 Mark Bayley, 2 Ray Northwood, 1 Dave Lucas.
Women
First grade
Sutherland Arangas 4 d Easts 1
Saturday dawned much clearer and with considerably less rain than had been forecast, paving the way for a great afternoon of hockey at home.
Our #suthowomens Premier League team lined up against a new opposition and battled it out in the heat of a muggy afternoon.
The first half was positive and a decent tussle between both teams.  Run of play was largely within our attacking half, thanks to solid defence and good communication to adjust to the opposition's structure.
The experience of senior players carried the scramble and resetting that was needed 'on the run' while youth was able to shine with strong skill, sensible overlapping and speed.
The second half was a tale of woe for the first 10 – 15 mins with a display of the weakest hockey produced this season.
However, that was wonderfully followed by the very best hockey yet to come from this exciting team to close out the half and the game.
The whole team can be very proud of how they lifted their heads, stepped up the pace and turned the run of the game around to their benefit.  Great composure in defence, discipline in the mid field and excellent execution in attack brought about a convincing 4-1 win.
Our #suthowomens Arangas are growing every week in a season that has the strongest Premier League competition in many years.
The team's commitment to training, game preparation and to each other is paying dividends and will allow this team to continue to develop and remain a finals contender.
Best & Fairest: Kristen Agius 3, Kendelle Tait 2, Jemma Sears 1. Goals: Kristen Agius 2, Steph Ancevski, Kendelle Tait.
2nd grade
Dolphins 1 d Sutho 0
The second grade team went into the Mother's Day game off the back of two losses, and were determined to improve and get back to their winning ways.
Unfortunately, our cause wasn't helped by multiple injuries and people away for work and family commitments – but luckily, Kate, Karen and Lois from the Wildcats very generously gave up their morning to come and play before they returned for their game that evening. Thank you so much!
The game was a great improvement on the last few, with some lovely short passes and strong tackling.
Sarah Rose used her new and improved skills to throw some nice overhead passes and Katja did some incredible goalkeeping, with the highlight being an impressive one-on-one with a Dolphins player who outran the defence.
Unfortunately, despite a generally strong performance from the defence (who took all the best and fairest points), some sloppy marking allowed the Dolphins to score the only goal of the game.
It was a disappointing result to a game that should have been won by Sutho, but we can take away some things to improve, such as keeping the ball on the stick in attack and never losing your player in defence. Hopefully next week we will continue to improve and bounce back to our good form!
Points: Sarah Rose 3, Felicia 2, Katja 1
3rd grade. 
Wildcats 3 vs Dolphins 2 
A surprisingly hot day for round 6!
The game started at a fast pace with Wildcats' forwards doing some good short passing to break through the defence and get a couple of shots at goal. Unfortunately they failed to get one in the back of the net and Dolphins scored first against the run of play.
The last 10 minutes of the half  half were played in Wildcats' attacking half. Our defenders were pushing up and keeping the ball out wide. Kate made a good run, showing skills to get  around a couple of Dolphins players and took a  shot from the top of the circle to level the  score to 1-all just before half time.
The second half started a bit slower. Dolphins had some strong hitters and were playing a big hitting game. Wildcats  marked well and dominated possession making some good intercepts.
Good tackles in defence from Lois Scott  and Kirsty Margetson breaking  down any attacking runs from Dolphins. Again Wildcats had quite a few  opportunities to score, including short corners, without success. (Who keeps moving the goal posts?)
The second goal came with about 15 mins to go again after strong lead up work from Kate, managing to get a good hit away to score through the goalies  pads. Fi  Edgar scored the third goal from a short corner, working week in combination with Lyn Smith. With 5 mins to go Dolphins scored their 2nd goal, again against the run of play.
Overall a good consistent team effort from Wildcats. It's great to have some new players in the team who are settling in well.
Goals. 2 Kate Whitton 1 Fiona Edgar.
Juniors
U17
Replay of cancelled game in Round 2.
UNSW forfeited on Saturday morning 40 mins before the game started. We take a 5-0 win.
U17 Blue Tongues lost 5-2 to UNSW
Early start Friday night Daceyville, so we started with nine players and scored the first goal.
One up and playing well, we had a couple of good chances before Uni scored a quick couple.
It was 2-1 at half time and two more players turned up to make it  a full team, but the damage was done; the boys were exhausted and three more goals got past in the second half.
But Sutho did score again to prove they were still performing well.  Everyone tried very hard for the whole game and the team will improve with time and it's good to see some very good players getting ready for senior hockey next year.
Best and fairest: 3 Joshua Ko, 2 Matthew Quinlivan, 1 Isaac Jackson. Goals:  Matthew Quinlivan 2.
U15 Metro
Ryde 9 d Sutherland 1
We were back to round 1 in the draw this week, playing the tough Ryde team and after a few weeks of having a number of players missing it was great to have 12 of the team available.
Ryde started strongly again, but the team handled the pace of the game a bit better this time.
It was great having Charlie back to help organise the defence and he did a great job with Ash, Anna and Jess to make life harder for Ryde in this game.
Ryde had a number of consecutive short corners and Daniel and our corner defenders did a great job repelling most of the corners.
But despite an improved effort we went to half time down 6-0.
It must have been Craig's inspirational half time talk, but the guys came out all guns blazing in the 2nd half and for over 20 minutes of the half the score was 1-1 for the half.
Our attack started to kick into gear which saw Elliot slot a goal. That was on the back of good play from Max, Ben, Huon, Ollie, Paris and Luca with much improved intensity, passing and speed of play.
Ryde put on a couple late goals, but it was a much improved effort from the guys and if we can keep the same team on the field for the next few weeks I am sure a win is not far away.
I can safely report no kookaburras were seen harassing the team this week.
Under 13A
Thank you to Rory Staples for his pictures of the big local derby.
Sutho Geckos 3 def Sutho Monitors 1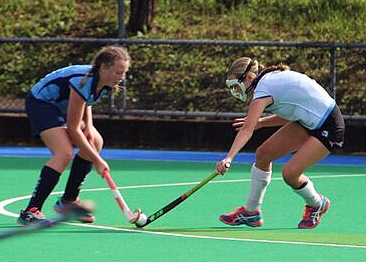 Always a tough game when two Sutho teams meet each other in a top of the table clash. The Monitors were weakened by a high injury count, but withstood considerable pressure from the Geckos in the first half for a half-time score of 0-0.
But the Geckos managed to make better use of its attacking short corners in the second half to win the game.
The first quarter of the game was particularly scrappy with the Geckos not controlling the ball – even though we weren't under significant pressure and enjoying a lot of possession. There was an absence of composure and quite a bit of panic passing – possibly caused by who the opposition was rather than what was actually happening on the field.
In the second quarter there were more passages of positive passing by the team and getting results in the Monitors' circle with Chloe, Bree and Shontae earning short corners for the Geckos.
However, our short corner execution was not the best on our initial attempts. Although the subsequent short corners were an improvement, the Monitors' defence and keeper made some very good saves.
Just before half-time the Monitors earned a short corner, but an amazing run out by Shontae ensured the Monitors hitter was under pressure and couldn't get a shot on goal.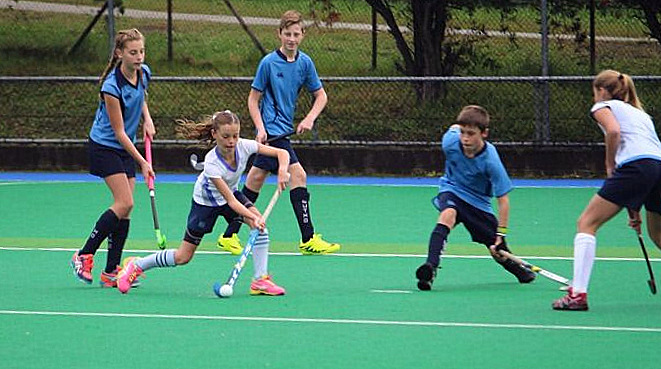 The Geckos started the second half strongly and good lead up work earned two more short corners, with Lachlan scoring off the second one to make it 1-0. Geckos were on a roll at this point and were dominating around the Monitor's goal and earned another short corner.
The short corner was executed well with Chloe Holmes being perfectly positioned on the post (after pushing out) to deflect the ball into the Monitor's goal to make it 2-0.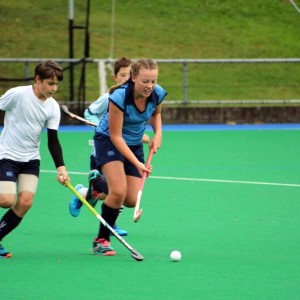 I'm not sure if the Geckos then relaxed with a two goal buffer or the Monitors stepped up, however the Geckos had to defend under considerable pressure from the Monitors in the next period of the game.
Both teams seemed to step up another gear in the last 10 minutes of the game with the ball being moved end to end until the Geckos managed to score again through Lachlan to make it 3-1 at full-time.
Best and fairest points: 2  Shontae Salmon, 2 Bree Richardson, 2  Lachlan Staples. Goals:  Lachlan Staples 2, Chloe Holmes 1.
Sutho Monitors 1 Lost to Sutho Geckos 3
The Monitors were pumped for the top of the table clash between the two Sutho teams. Once we got over the whole team turning up in Sydney South hoodies, the game plan was sorted and we hit the pitch.
With a couple of key positional players missing, the Monitors took the field with just the starting 11, but Lachie Duhne from the U11As did a great job in our rotation. Well done and thanks.
The Monitors were effective in nullifying the Geckos'  firepower and created a number of chances in attack.
However, in the end the Geckos were better able to convert their opportunities, with all goals in the game coming from corners, reflecting the tightness of the contest and strong defence of both teams. The final goal came after the full time hooter.
Some great efforts all over the field, and great courage by a couple of players to return to the field after coming off injured.
Noah had a fantastic game in the midfield, working tirelessly, as did Tahlia and Jett. All the defenders had great games, with Lily and Angus especially strong. And Isaac again did a good job covering for Grace in goals.
Hopefully we are back to full strength for next week against Glebe.
Best and fairest: 2 Noah, 1 Angus, 1 Jett, 1 Lily, 1 Tahlia. Goal Tahlia 1.
Under 11A
Sutherland Geckos 2 d Glebe Blacks 0
Our first home game for the season was a huge success, with the Geckos achieving an outstanding 2-0 victory.
Amelia Domrow scored her first goal for the season and Lachlan Duhne put an extra goal in the back of the net just to seal the win. Darcy Matthews, Jonty Austin and Zara Matthews took away the 3, 2, and 1 points with the whole team playing extremely well once again.
The team continues to play to their strategy by keeping the ball wide, taking the free hits fast and (most importantly) having FUN.
A BIG thanks to the parents who did a fantastic job on canteen duty.
Best and fairest: 3 Darcy Matthews, 2 Jonty Austin, 1 Zara Matthews. Goals: Lachlan Duhne 1 and  Amelia Domrow 1.