Hi to all Sutho players, managers, hard working club people in the background and all Sutho supporters.
Your weekly newsletter is back, and although there will be lots of match reports, anyone has news about people and events they think would be of interest to Sutho, just fire off an email to johnmulcair@optusnet.com.au
So let's get cracking.
MJ's big effort for Burns Unit kids
Matt Johnson in action against Moorebank in last year's grand final
Fire & Rescue NSW has just finished one of its headline fundraising events for 2017, with a team of about 25 firies cycling from Wagga Wagga to The Children's Hospital at Westmead.
They raised more than $80,000 for the hospital's Burns Unit, taking the total collected over the 12 years of the 400in4 (400kms in 4 days) event to well over $600,000.
Sutho first grader Matt Johnson was one of the cyclists who not only did the ride, but also stopped at primary schools along the way to give fire safety talks and demonstrations to the students.
The annual ride has funded the Burns Unit with pain management specialists, an operating theatre tailored for young burns patients and a lasers suite for better managing burns scars.
Top awards for Shire hockey players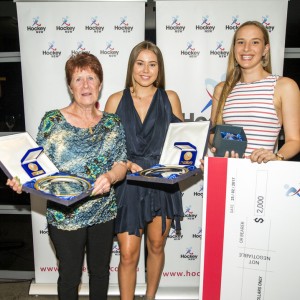 These awards might have been made just before the season started, but it's never too late to recognise excellence.
Players from Sydney South Hockey Association, which includes all clubs in Sutherland Shire, have  collected three of NSW hockey's most prestigious awards.
Carol Harriss (left) was named Women's Masters Player of the Year for 'significant and consistent contribution to women's Masters hockey', and midfielder Naomi Duncan (centre) the Junior Field Player of the Year for outstanding achievement on the field.
One of six Basil Sellers Scholarships was made to goalkeeper Zoe Newman (right).
These scholarships share $12,000 between six players from hockey's Accelerated Athlete Program, "who have demonstrated credentials in academia, citizenship and hockey performance.'
Greenhills update
It all seemed to going to schedule, with the much anticipated Greenhills hockey complex set to open for play April-May.
That was until Sutherland Shire Council, which is project managing the job, advised it had overlooked the connection of, well, electricity.
Read all about it at: http://www.sydneysouthhockey.com.au/update-on-greenhills-hockey-park/.
Otherwise, the project is coming along a treat, with the changing rooms, canteen etc complete, watering systems ready to go, baseworks complete and turf laying begun.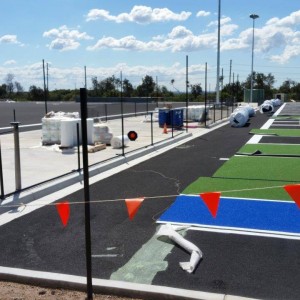 Match reports
Women
First grade                                                                          
#suthomwomens PL 5 d Tartans 2
Lining up against your mates is never easy and last Saturday, our Senior Women's PL team did just that coming away with a very strong 5 – 2 win over Tartans.  It was a cloudy afternoon at Sylvania but nothing beats playing on your home turf.
The first 15 mins are ones that the team needs to forget and never repeat despite a good warm up.  It looked like the effects of school and work holidays took their toll as all around the park there was a loss of concentration, poor skills, no communication and low effort.
Thankfully the opposition only scored once in this period, and by the time the clock counted down to 20 mins to go, the ladies had warmed up, remembered why they were there and returned to their natural style of hockey.
An equalizer came soon after, reminding the team how effective accurate passing and working for positive outcomes in the attacking circle can be.  The effort stepped up and players started to need a rest to recover and refocus.
A few players were stretched by playing positions they haven't been in for some time and as a team there was a new focus on creating and using space.
The second half was a good display of commitment, discipline and team work.  Goals came from passing the ball around the opposition with players showing maturity in making the pass to a better scoring position rather than taking a shot themselves from a difficult position.
In addition, Demi showed excellent confidence by listening to her team and coach, backing herself and carrying the ball into the circle for a number of positive outcomes that resulted in goals and was recognised with a well deserved 3 points from her team mates.
The best part of the #suthowomens PL team's performance was the turnaround from a poor start to a strong and committed game.  Every player accepted their performance was lacking, every player stepped up, and every player made changes that took the team to a well deserved and convincing 5 – 2 win.
Congrats Ladies!
Points – 3 Demi Klerkx, 2 Ashton Waters, 1 Jo Momsen. Goals – 2 Kendelle Tait, 2 Alex Noy, 1 Kristen Agius.
2nd Grade
Sutho 1 lost to Bosco  4
Round 3 of the SEHA competition saw the first loss of the season for Sutho's 2nd grade women. The final score was 4-1 going down to competition leaders, Bosco.
Despite a healthy amount of possession and a number of chances we were not able to convert. With a number of players out for various reasons and a few injuries mid-game, we did well to stay in the contest.
Points: 3 Andrea Martin, 2 – Lauren Lee, 1 – Sarah Rose. Goal: Otua McHardy
Sutho 4 d RSL 0
In Round 2 of the SEHA competition 2nd Grade Women followed up their Round 1 win with a 4-0 win against RSL.
Unfortunately the opposition only fielded nine players for the majority of the game, but RSL managed to defend against our attack well and put pressure on our own defence at times.
All four goals were scored in the first half. Despite the scoreless second half we still created good chances up front but were not able to convert. At the back and midfield we continued to improve our passing game.
The win sets up a top of the table clash against Bosco at Sutherland after the Easter break. The break comes at a good time with about half the team carrying injury!
Points: 3 Lauren Lee, 2 Kiara Shaw, 1 Andrea Martin. Goals: Kiara Shaw 2, Sarah Morris 2.
Men
1st Grade
Sutho 3 lost to Briars 5
Our match against Briars was always going to be a tough one; they are always hard to beat,  especially at Burwood on a Saturday night.
The game started off very fast and we were unable to hold onto possession for more than a couple of passes in the early part of the game which resulted in Briars controlling much of the early part of the match.
Briars scored their first goal off an interesting high cross ball above hip height that was picked up by one of their strikers and gave goal keeper Nathan Akroyd little chance of making a save.
Briars went on to score an additional 2 goals before halftime, one a penalty stroke from an interesting umpiring decision, and Sutho found themselves behind 3-0 going into the break.
As team recognising we are not going to get the rub of the green at times and staying disciplined is something we need to be mindful of going forward.
Sutho regrouped at half time and had a 15 minute patch where we played some really good hockey and looked like we were going to make a comeback at 3-2, but the linkages just weren't there and passes were not coming off and we ended up playing rushed, catch-up hockey.
Too much possession to Briars had the game getting away on us with a 3-5 loss.
The team was no doubt very frustrated after the match with the lack cohesion, talk and linkage between the lines in critical moments. It showed on the field and made getting a positive result very tough.
The positive thing is there is much room for improvement! With us playing Moorebank this coming weekend Sutho, and for the first time with an almost full team available, will need to play smart and connected if we are chance of beating the 2016 premiers.
Best and fairest: Joe Huston 3, Cameron Busenel 2, Matt Phillips  1.Goals: Matt Phillips 1, Matt Johnson 1, Nathan Bourke 1.
2nd grade
Sutho 3 lost to Briars 7
I wasn't going to bother on this match, but in hindsight, it doesn't hurt to say it as it is.
We lost 7-3.  Believe it or not, we led at half time 2-0.  Then it all imploded and we lost the 2nd half 7-1!!!!
An unbelievable and unacceptable result and certainly no way will we be in the grand final this year if that is the sort of performance we produce.
There are no excuses like the umpire killed us or it snowed etc etc.  It was a simple example of a team who played for one half and then switched off instead of playing the whole game. Take nothing away from Briars as they played well and stepped up when it counted and deserve their place as undefeated leaders of the competition.
Fitness is a great factor, or the definite lack thereof, for some players in the team. This results in the inability to play at the same pace throughout a game as winners need to do if they really want to be in the grand final at year's end.
The team showed that they can be better than the opposition as was the case in the 1st half.
So the only good thing that can come out of the match was that we have the ability to be winners if we are prepared to put the work in.  So the team needs to establish their aims for the season as to whether they really want to win or not???  However, the will won't bring them what they wish for if they are not prepared to put the work in.
This may be a bit of a spray, but hopefully a reality check for the boys – not pulling punches from the truth.
3rd Grade
Sutho and Briars drew 3-3
The one that got away. Sutho dominated the match and deserved to win. A couple of poor defensive turnovers and some very unfortunate decisions late in the game made a huge difference.
We started very strongly and controlled the ball well. Good transfers at the back into strong leading in the midfield created a number of good chances and positive field position.
We also worked very well without the ball, with excellent lines, running and calling, such that all three goals came on counter attacks from turnovers in their defence.
In each case the pressure we applied saw a poor pass intercepted and Mason lay on an excellent ball for the goal scorers. Three goal assists for Mason – the first to his brother – made for happy families on and off the pitch!
At 3-1 up with seven minutes left it looked like Sutho had the game, but to their credit Briars pushed very hard and forced a number of turnovers, that they were able to convert. A converted corner with 90 seconds left made it three all.
We will learn a lot from the game; that the better team doesn't always get the points and we need to close out games.
However, there was plenty to be impressed with in the way we controlled the ball, finished opportunities, and the movement in all lines. All our strikers had  excellent games up front, as did our midfield.
While we created lots of attacking pressure and forced the Briars keeper to make a number of very good saves, especially from Josh, we only managed one attacking corner, which gives us four or five from five rounds, so we need to be getting better results from our circle penetrations.
Well done to our U15s Hayden (starting) and Blake (off the bench) who both had excellent games, and also Dakota in his first 3rd grade game in goals.
Points: 3 Mason Neale, 2 Jay Kelly , 1 Mac Dunn. Goals: Mac Dunn 2, Hayden Neale 1.
Sutho 4 beat Sydney Uni 1
After a difficult week trying to get teams on the park, and a very focused session at training, it was fantastic to see it click.
On a warm Sunday arvo at Sutho, we withstood early pressure from Sydney Uni's attack and very high press. Gradually we got some possession and momentum in the middle and our high work rate from the forwards built pressure on the Uni defence.
This manifested as a couple of turnovers to our strikers who created "outcomes". Sean calmly slotted a straight hit on the corner and Harry converted a couple of field goals to go to the break 3-0 up.
At half time we discussed how to overcome their press and to both get in the grind and control the tempo, as Uni were going to come hard after the break.
That they did, and had us pinned in our half for 10 minutes. Eventually they scored a well taken goal from a defensive error, and at 3-1 they had all the running.
This seemed to spur the guys back into the type of running on and off the ball we showed in the first half, and Harry scored again to complete his hat trick.
Sutho controlled the last quarter of the game really well; the pace of the game, the work rate and the possession were all with us. The energy on field and in the dugout was fantastic, and the team song was sung with enormous gusto.
All our forwards all had their best games of the season – they created huge pressure off the ball, and showed great decision-making with it.
With some better execution in front of goals (old man and the birthday boy), we may have had a few more goals.
Our defence was strong – no corners against and Aidan hardly touched the ball in goals, both good indicators of a well organised effort.
So we head to Easter break 2 and 2 from the first 4 rounds, with plenty to be positive about, but still lots to work on to build into the season.
We sit mid table in what is looking like another very tight competition, where every game will be a contest.
Points: Harry Roberts 3, Mark Bonnici 2, Wade Tonna 1. Goals: Harry Roberts 3, Sean Kelly 1
4th grade
Sutho 1 lost to Briars 3
With our entire defensive unit away, Sutho acquitted itself well against the much higher placed Briars.
1-0 down at half time, we drew level early in the second half and held them until late in the game when we conceded twice from turnovers.
Great games from all our young guys, with Dakota solid in goals and both Matt Staples and Blake Hernandez stepping up from juniors in defence.
We controlled the ball pretty well, and did some good work in the mids, with Mitch and Kosta having solid games.
This was coupled with strong running up front, but we couldn't turn that into enough positive outcomes in the circle. However, very encouraging effort. Thanks to everyone who filled in or doubled up.
Points: 3 Blake H , 2 Mitch R, 1 Kosta M. Goal: Josh Brown
5th grade
No report
6th Grade
Sutho lost to Briars 0-1
It was a Sunday afternoon and a lovely sunny day, and again the team played exceptional well.
The first half was 50/50 end-to-end play and Briars scoring a stick touch goal midway through and Sutho controlling the rest of the game just unable to pop one in the net.
We had plenty of chances and their goalie was playing very well but some of our shots also went wide.
We have played two top teams so far and our performances are improving so things are looking up.
Best and fairest: 3 Mark Bayley, 2 Ross Crowley, 1 Ty Stevens.
Sutho 2 lost to Macquarie Uni 3
First game up against the table leaders last year and boy did we give it to them.  Our passing was on-form and running with the ball went well.
Couple of good attacks at their goal brought off three or four great saves from their goalie – two by Phil could easily gone in.  Pressure continued and eventually Ray popped in a goal: 1-0 up.
They returned the pressure and soon scored to equal the score before half time.
After the break we again substituted well and used the wingers and with more pressure Cameron scored on a rebound – 2-1 up.
Mac Uni pushed everything forward had four short corners and eventually won a penalty stroke which was saved by Dave Lucas.
But they still pushed up and finished with two more goals to overtake our lead.
Great effort by the whole team.
Best and fairest: 3 Mark Bayley, 2 Alex Doyle,1 Dave Lucas.
Goals: Ray Northwood and Cameron Bayley.
Sutho 1 lost to Bankstown 2
We started the game with nine players against Bankstown who had four reserves and we held them for most of the first half playing extraordinarily well. The passing of the ball, running and controlling and the guys effort was outstanding.
Eventually Bankstown scored but this Sutho team kept their heads up, continued running and were rewarded with a goal from a rebound picked up by Phil Rowling.
The second half was no different with effort and we controlled most of the game except when Bankstown slipped around the back of the defence and scored to make it 2-1.
We tried everything to get the ball in the back of the net for the last part of the second half but the team of nine just became too exhausted.
All players should be congratulated on their performance on Saturday and then 4 players went on to assist fifth grade at St George. Great effort from sixth grade and when all the team return we will be looking forward to some better results.
Best and fairest: 3 Sean Hails, 2 Cameron Bayley, Ross Crowley 1. Goal: Phil Rowling
Juniors
U13A
Sutho Monitors 0 lost to St George 1
This was our first 'formal' hit out of the season after a couple of practice matches against Sutho teams.
Being a school holiday weekend we were missing three of team, so big thanks goes to Lachie Duhne from the U11s who played more than half the game for us and did a great job.
It was quite warm mid-morning at Sutho, but I think we were all grateful it wasn't raining. The game was very even and both teams had a number of chances in each half, including short corners.
However, with a couple of injuries and only one sub, the heat wore us down and we were running on empty for the last five minutes. Saints took advantage of that and scored with 60 seconds to go through their ever present centre forward.
A disappointing end, but a fantastic effort, in in what is shaping as a very even competition.
Best for us today was Grace in goals, who made a number of fantastic saves and continues to grow in confidence each week in her decision making.
The other four points were split between our four defenders, who all did a great job.
Points – Grace 2, Byron, Lily, Angus and Alex 1 each.