100 per cent Sutho effort
Usually match reports are about last weekend's matches, but you can't pass up the chance to headline the BIG game at home next weekend.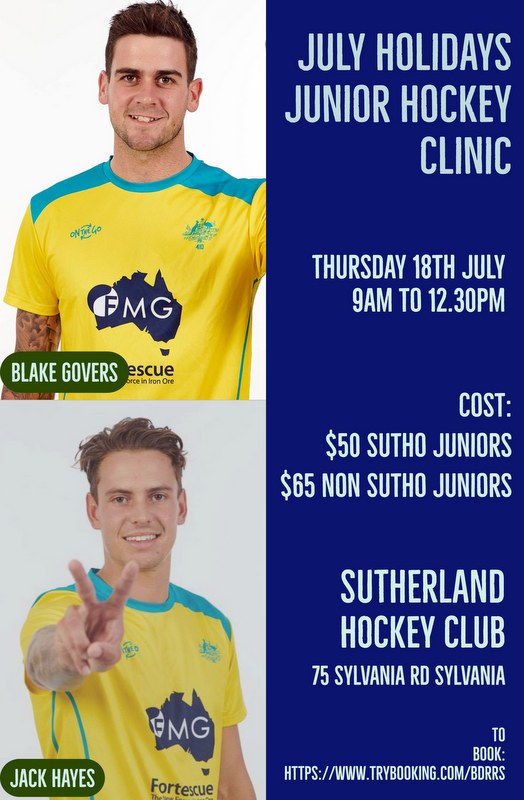 Sutho will its have three Australian players, Kieran and Blake Govers and Jack Hayes, lined up for the first time this season against Sydney University – always a tough nut.
The game starts at 2pm, so it should still be sunny, too.
Don't forget, Blake and Jack are running a School Holidays Clinic at Sutho on 18 July. Details and bookings: https://bit.ly/2XCtCcF
Anyway, back to last weekend – and particular thanks to Tony O'Leary for his excellent pictures we publish here of 3rd and 4th grade. Tony also battled terrible light to get some great shots of 5th grade late on Saturday afternoon, but the team hasn't responded to requests for a match report.
When the sun came up on Saturday morning, its weak wintry rays had to battle their through fogs of varying thickness. It stayed pretty chilly for our Sutho juniors and their supporters no matter where our teams were scattered across Sydney.
On the bright side, however, it was a pretty good weekend for Sutho.
Men
8th Grade Sutho 0 St George-Randwick 2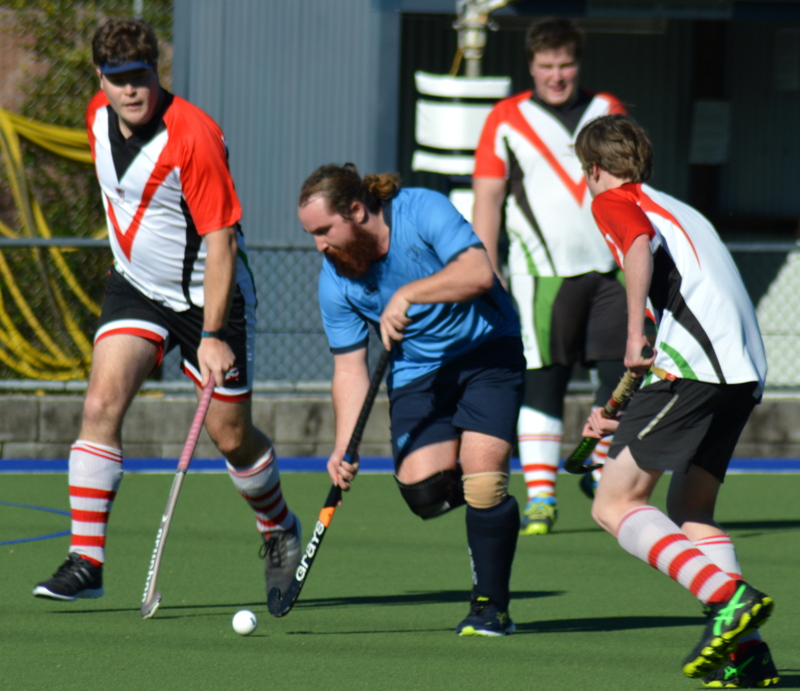 On our last match against St George-Randwick we had lost 3-1.  The game started with the usual high pace and kept both teams on our toes.
Mark was right that we have come together really well and the way we are play is a joy be involved with.
We had a few opportunities as did StG-R.  The pay was definitely in the middle of the park with a sprinkling on the wings.  We had a better game when we spread it wide but we weren't able to capitalise on it.
The speed of Jordan definitely caused some issues for their defence and came close to scoring on a number of occasions.
The big item of note is the performance of Edward our goal keeper!  He had an outstanding game, hence his best and fairest points, he was saving balls that were hit pretty hard and also from odd angles.  Even the oppo asked who he was!  It was really an outstanding performance.
Mark and Adam had a fantastic game stopping their forwards and kept the score to a low level.
We end up 0-2 down one from a short corner and the second from an impossible angle.
Best and fairest: 3 Edward Weaver, 1 each Mark Bayley, Adam Palmer and  Jordan Wood.
7th grade Sutho 4 Bankstown 1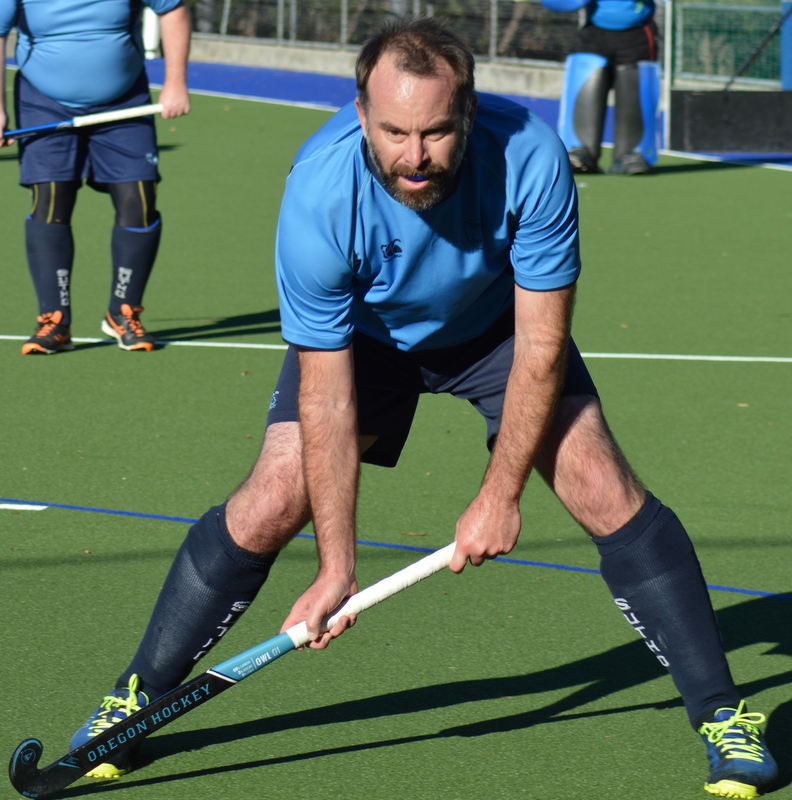 After a good win the weekend before, the big challenge was to back it up with another win to keep our slim finals dream alive.
As usual there was a few late changes and with the addition of Piles on the comeback trail we went in to the game against Bankstown reasonably confident of back to back wins.
A change in coaching style inspired by Gus a few weeks ago with the intention to stop goals against as our main objective and be happy to win 1-0 has seen a good solid base in defence backed up by a hard working midfield and looking to capitalise on any chances that come our way in attack as a recipe for success.
We shut down their main attacking weapon of the full back throwing overheads all day, and showed plenty of skill to score a 4-1 win. In reality this should of been about 8 barring the wayward shooting at goal,no names no pack drill: Piles, J.B,Gus…
The goals were 1 each to Jordan Wood,Sean Ryan, Declan Coman and the Old Boy Brookfield.
Our man of the match points were shared amongst the Red Beards 1 Hugh Coman, 2 Declan Coman and 3 to Andrew "I'm playing 2 Games each week" Chang.
Let's turn up ready to go again this Sunday against Manly and make it a hat trick boys!
6th grade Sutho 3 St George Randwick 1
Sixth grade took on St George on Saturday afternoon in a must-win game.
Sitting one place above them on the ladder and following a narrow defeat the last time we played them, the boys were ready for a big game.
Playing against an undermanned St-George, we made the best start possible with an early penalty stroke converted by Lachy Cartwright. The early dominance of possession, however, wasn't converted into points, with ill-discipline and sloppy defending putting pressure on ourselves.
A silky effort from Matt Rowling was converted into points before a second half screamer from man-of-match Chris Fishlock put the game (and the St-George goalie) to rest.
A late goal and pressure from St-George didn't change the result with the points going our way. Well-done lads.
Points: Chris Fishlock 3, Phil Rowling 2, Lachlan Cartwright 1. Goals: Chris Fishlock 1, Phil Rowling 1, Lachlan Cartwright 1.
5th grade Sutho 5 St George Randwick 0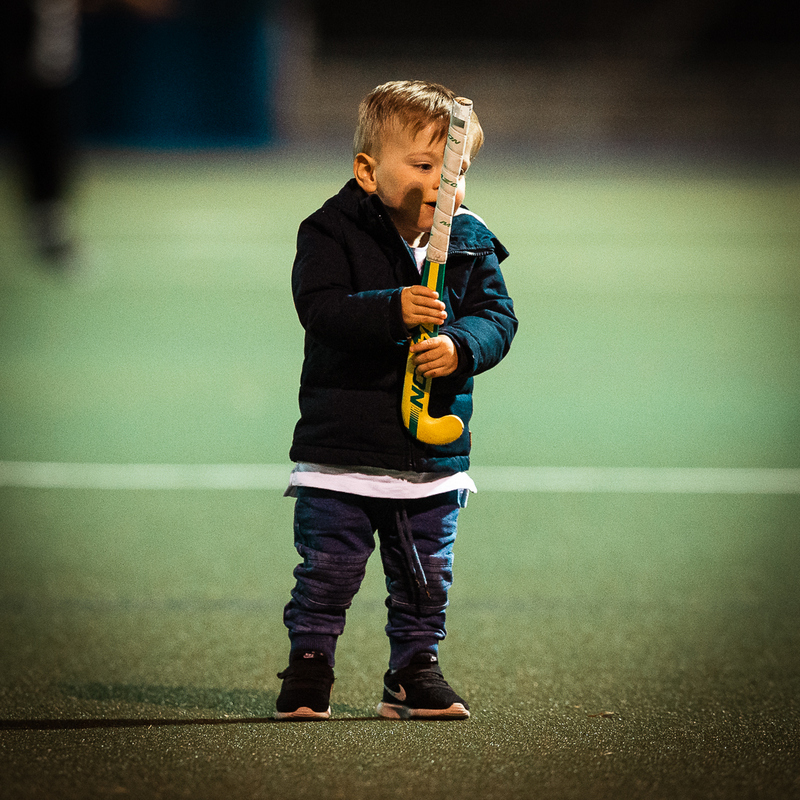 The boys were exhausted from their efforts on the pitch and singing the Sutho Song. So there was no energy left to write a match report. We do know the best and fairest points went to: 3 Mitch Scott, 2 Nic Donni, 1 Lachlan O'Leary.
Anyway, enjoy Tony O'Leary's great match pictures. The light for pictures was atrocious and a lot of editing had to go in. Thanks Tony for the sideline and post-match efforts.
4th grade Sutho vs. Glebe 0-0
With 4th grade just hanging on to 6th place, the team was keen to get a win over Glebe after losing to them in the first round. With a few fresh-faced juniors making their 4th grade debuts, Sutho started slow in the first quarter but maintained constant pressure for the remainder of the match.
Glebe tried to play a counter-attacking game with many attempts at overheads and long balls to their strikers. Other than two first quarter saves from the keeper, Glebe showed very few signs of scoring.
Sutho dominated the match but the back of the net remained elusive for the team. Glebe's 11 men behind the ball made it difficult to find space in the circle and convert our opportunities.
The result sees 4th grade slip to 7th place, 1 point from 6th place.
Best and fairest: 2 Nic Donni,  2 Brendon Hol, 2 Lachlan O'Leary.
3rd grade Sutho 2 Glebe 2.
On a beautiful afternoon for hockey at Cintra, it was 4th place vs 5th place, Sutherland Vs Glebe. We were ready for a physical match against a predominantly older Glebe team, stacked with former 1st graders.
In the first quarter, both teams had an equal chances at goal but couldn't capitalise on any. Our defence was looking strong and so was the middle field.
In the second quarter we stepped up the ball movement through the middle and around the back with Ralph, Gus, Kian and Zac all getting involved, zinging the ball around and linking up well with each other. Early in the quarter we scored our first goal with Tim intercepting a back pass between the fullbacks and smashing it into the bottom corner.
It was just the break we needed but within two minutes Glebe were lining up for a short corner… their push out wasn't great and the trapper had to receive it upright, he then hit it to the post and it was deflected into the net. 1-1.
The third quarter has been tough for us this year. Glebe came out playing very physically but no one in the team was fazed by it; all the young boys stood up and stayed strong on the ball, tackled hard and went for every 50/50. Jay was a rock, tackling anyone that came near our attacking circle and Dan kept out any shots that were on goal.
We were finding it hard to get it out of defence all quarter as Glebe was pressing well. A quick transfer of play down the right by Ryan gave us a breakaway, Joel ran the ball to the baseline then passed it across the goal to Scott who put it on his reverse and scored. We were up 2-1 going into the final quarter.
It was a scrappy last quarter were we found ourselves defending for most of it. A few desperate and dangerous shots by Glebe saw a few players getting injured, and Kian was off for the rest of the match with a smashed wrist. Some more messy play found Glebe in the circle, taking out Dan as everyone watch the ball trickle over the line to make things 2-2.
The game could have gone either way but 2-2 seemed like a fair result. Jay got 3 points for great defence, especially in the later stages of the match. Gus, Dan and Tim all claimed 1.
As mentioned it was great to see all the young boys step up against one of the most physical sides in the competition.
Goals: Tim Mall, Scott Crisafi. Points: 3 Jay Kelly, 1 each to Dan Bryant, Tim Mall and Angus Callinan.
1st Grade Sutho 5 North West Strikers 2
A big comeback from the defeat by Moorebank the week before and done in style. The boys, although with a slow start in the 1st quarter, were then on fire and didn't let up until the final whistle.
We converted 50-60% of our corners with 4 goals being converted from penalty corners.  This makes such a difference to a result when the team works hard for circle penetrations and achieve the ultimate result in converting them to goals.
We lost Scott Govers early in the 1st half unfortunately with an ankle injury which needed a quick reshuffle and hope he will be good to go for the next match.  Up to this time he was having a strong influence on the game.  Also Alex Shaw suffered a hand injury in the 2nd half but played on to the end with a great performance throughout.
Thanks to Zac Nyrhinen for making a last minute dash to come and play at short notice after having played for 2nd grade at Cintra – and playing well to boot.
A welcome back to Mamat after being away for a couple of weeks as well.
This week we welcome Jack Hayes and Blake Govers to play with us against Sydney Uni at home at 2 pm which will be great to watch 3 Aussie players playing for Sutho at one time.
A good one for our parents and juniors to come and see them play. Don't forget to book for Blake and Jack's school holiday clinic on 18 July; quite a unique offer and opportunity for our kids.
B & F:  Kieran Govers 3,  Alex Shaw 2, Matt Johnson 1 .Goals:  Kieran Govers 3, Matt Johnson 1, Matt Bennett 1.
Women
Premier Grade Sutho Arangas 0 Easts 1
The Sutho ladies went into the game aiming to build and improve on their first loss of the season the week prior. The sun was shining and the mood was high with the injection of Clare – a Sutho original – into the forward line. Bec delving into her second game of the year with the girls, while Sarah and Darcy were racking up some more Premier League games.
First quarter saw the Sutho ladies go out with confidence and a sense of calm around the field. The ball was transferring well with stick to stick passing getting the better of Easts.
The girls were connecting – something that had lacked the week previously – and it was paying off. Sutho with majority of the ball with numerous circle penetrations and some near misses – conversion was imminent.
There was some good control through the middle with Ruth and Bec linking up with our midfield lines to push through. Tempo started to wane slightly through the middle two quarters – fatigue setting in and the basics were dropping. Sutho continued to push with patches of play connecting and moving well. Five penalty corner opportunities in a row went begging. Easts were holding up strongly – much fitter than last time we met.
The end quarter saw a determined Easts start pushing through a tired Sutho team. Sutho continued to show heart with some brilliant saves in the circle by Anna and passing through to the midfield and out to the leading strikers.
At two minutes to go, Sutho had the attack, but a quick turn over in the attacking circle had Easts taking off with a goal in sight. Sutho was caught out of position, leading to an overlap and an Easts shot on goal hitting the backboard.
Sutho was devastated but quick to return to the halfway with Bec and Nev taking off straight to the circle. 30 seconds to go: penalty corner. Unfortunately the ladies couldn't convert, ending in a 1-0 loss.
There was much to take from the game: – everyone is building and learning from all aspects. Next week sees the return of Iris and Ash to the defensive and attacking midfield arenas and everyone hungry for a win!
Player points: Cathryn Johnson 3, Amanda Hoddinott 2, Rebecca Janes 1.
Metro
Sutho U15 Metro 3 Ryde 6 at Greenhills
Having lost to Ryde 6-1 earlier in the season, the U15 Metro team was eager to improve with this week's performance.
After an early goal from Ryde, Sutho put their heads down and within minutes countered with a straight hit from Matty Rose.
The first half continued with back and forth play from both teams – the Sutho defence holding off the extremely strong Ryde attack, significantly assisted by fantastic keeping from Grace, leaving the score at 2-3 to Ryde at half time.
The second half began with the ball up either end of the field with little result or outcome for either team.
After 15 minutes Ryde broke the deadlock with a quick break resulting in a goal, shortly followed by another off a short corner.
Sutho managed to come back right near the end of the game with another goal from a tomahawk off Isaac (much to his coaches' annoyance).
Ryde then received 2 consecutive short corners after full time, off slightly puzzling umpiring decisions, and managed to convert, leaving the final score at 3-6 Ryde.
Despite the loss, this was a vast improvement on our previous efforts, and a big step forward in our game play in general.
Best and fairest: 3 Grace Matthews, 2 Oli Bollard, 1 Isaac Olsen.
Juniors
U15A  Sutho 0 Sharks 2
It was a cool and foggy start to the day, followed by brilliant sunshine. We came up against Sharks for the 3rd time this season, having won the first and drawn the second. We knew it was going to be a tough game.
Sharks started the game super strong and attacked us constantly. Our defence held strongly for 15 minutes until they snuck one past and scored.
The rest of the first half we struggled to get momentum and had very few attacking
opportunities. The Sharks pressured with their excellent passing and phenomenal skills.
We were out skilled but hung in to 1-0 at half time.
In the second half we came out and played better; we transitioned the ball from defence to attack with some good passing. Our strikers did have some scoring opportunities, but we couldn't find the net.
Again, Sharks surged in attack and we managed to defend several penalty corners.
They scored later in the 2nd half, giving them the final score 2-0. It was an enjoyable game and a well-deserved win to the Sharks.
We will get back to training this week and sharpen up on some of the basics and look
forward to next week's game. Good effort by everyone and special thanks to Jonty and Kai for filling in for us.
Under 13A
Sutho Geckos 5 Glebe 0
The Geckos had a good win today defeating Glebe 5 goals to 0.
Although we won, the team needs to improve their "going wide" strategy as much of the play was congested down the middle of the ground.
Holly and Peter scored some great goals and Isaiah made some good saves in defence.
We now have a 3-week break until we start to gain momentum towards the "business end" of the season.
Best and fairest: 3 Holly Antilla, 2 Peter Rast, 1 Amelia Domrow. Goals: Peter Rast 2. Holly Antilla 2 and Camille Rogerson 1.
U13B
Sutho Blue Tongues 10 Glebe 0
From the start of today's U13BT game against Glebe our team was in good form.
Opening the scoring in the first 3 minutes of the game was Cooper, supported by the excellent passing game on display all the way from the back through midfield to the front feeding our goal  shooters.
They made a great job of converting these to goals, despite the Glebe keeper's best efforts.
Goals by Cooper 2, Kalahni 2, Kai 3, Sky 1,Tully 2.
It was a lonely game for our Goal Keeper Milo. Great game by all players who kept their positions and played a well structured passing game.
Best and fairest: 3 Kalahni, 2 Milo and 1 Tully.
Sutho Thorny Devils 4 University of NSW 0
Round 10: The morning fog was clearing as our TDs made their way to a sun-filled Daceyville for a late morning start against UNSW.  Our opponents were without three of their players, which put the odds in our favour.
There was a goal keeper change for the TDs with Finn putting his hand up for duty so Jacob could play in the forward line.
Coach Hoy was on ref duties and Simon was away, leaving Sam to manage player rotation. For the first time this season you could hear the parents cheering over the coaching staff calls!
The TDs started off strongly with three goals in the first half, one coming off a short corner that would put a big smile on coach Hoy's face. The TDs looked focused all game, each player giving their all.
Half time saw us 3-0 up, with watermelon slices all round thanks to Nathaniel. So there was a calmness in the dugout during break.
The second half was full of opportunities but UNSW scrambled well and never gave up.
The TDs did add to the score board later in the half with a great forward line goal, starting off with Liam at RS running the ball down the side line before a pinpoint cross to Jacob at CS, Jacob fending off the opposing player then a flick to Amy at LS on the goal post to tap it in for a well structured goal.
Great win TDs and rest up for the next 3 weekends.
B&F points: Riley 3, Darcy 2 and Jacob 1. Goals: Riley 2, Lachlan 1, Amy 1.
U11B
Sutho Blue Tongues 2 University of NSW 0
Today's game was a great game with our Blue Tongues winning 2-0 win against UNSW.
We scored our winning goals in the second half. Both teams played really well, but unfortunately for UNSW just couldn't get any balls past our goalie Ryan who did a great job.
Congratulations to our team and a great game UNSW.
So this week our best and fairest are Georgia 3, Ryan 2 and Thomas 1. Congratulations guys and well done Blue Tongues!!!