Benny gets the clincher… Sutho 3 Moorebank 1
First grade Sutho 3 Moorebank 1
Saturday saw a vintage display of our real Sutho 1st grade team in beating arch nemesis, Moorebank, in a repeat of last year's grand final.
We were six players down with injuries including Kieran (Kizza) Govers.
So the players brought in to the side to play were:
Peter Mulcair, who just never seems to age, in an absolute vintage display as only he could provide to the great wonderment of everyone there to see it and for the team;
 Zac Nyrhinen one of our younger players, who took the opportunity with both hands and played one of the best games we have seen from him in a long time; and, last but not least
Harry Roberts, one of our 16/17 year-olds who not only took the job on and the opportunity, but showed what he is capable of. He will continue to grow on and upwards to be a true first grader and, hopefully, a proud representative career.
To add to these we welcomed Alex  Shaw from New Zealand, who has over 50 caps for his  national team and played in the 2014 World Cup.  Alex was thrown in at the deep end after only arriving on Thursday and not knowing any of the boys, but still looked good.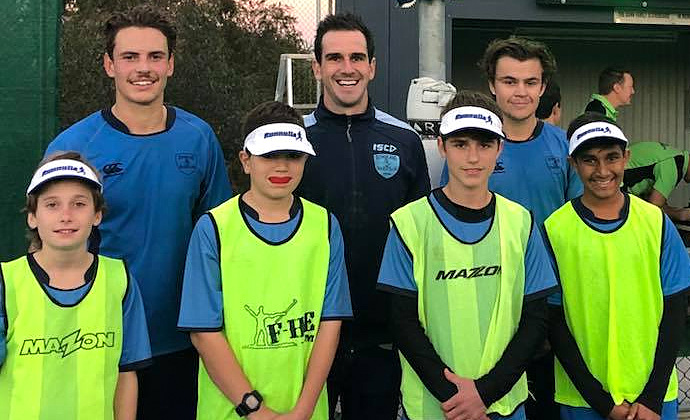 Another player who got his Mojo back and scored two great goals, as he has always has had an uncanny success in doing, was Matt (" Benny") Bennett.
In saying all of this, the rest of the team came together and got the "family" back again after a little hump we had to get over & rid of during the last few weeks.
The match showed what the boys can do even with out the missing players.
In saying all the above, Moorebank were at full strength and couldn't counter.
So a great win and hopefully onward and upwards from here to the business end of the season.
And what a day to pull this one out in front of our sponsors who watched in awe at the speed and skill in the game.
Best and fairest: 3. Cam Buesnel, 2. Nathan Akroyd, 1. Matt Bennett.
See the setup for Benny's goal that took it to 3-1: https://www.hudl.com/video/2/272570/5b2f1c0c345304016c2caa09
And here's The Leader's match coverage: https://www.theleader.com.au/story/5486953/sutherland-storm-back-to-summit/?cs=1633
2nd grade Sutho 0 Moorebank 11
It was a tough day at the office for second grade with injuries, unavailability and players drafted into first grade to fill the six gaps there.
Manager Vin Sharkey reports:
"In the 2018 season it is now Sutherland 1 Moorebank 1.").
3rd grade Sutho 1 Moorebank 4
After a grim week of single digit temperature, thanks to the rain coupled what felt like Arctic winds, 3rd Grade took to the field on a delightful warm sunny Saturday.
Hard work and effort was present on the day, forcing the red and blue to really earn it, with Jay earning himself 1 point with excellent defence out of the back, engaging in all defensive situations in the circle.
The forward line attempted to make some solid penetration through the Moorebank defence, a near goal scored by Ryan M after receiving and overhead from the 50m into the circle.
Though the goal wasn't scored, a corner was awarded in which the boys added to the scoreboard, Ryan M earning 2 points, and Mac Dunn another goal to his tally.
It goes without saying that Blake Hernandez earned his 3 points with his resilient effort from the mid field, with constant competitiveness for every 50-50 and non stop intensity from taking the field until the final buzzer went.
Set the standard
Blake set the bar of what standard the Sutho boys need to maintain and lift to in order to hold a competitive presence in this division. Hats off to him being one of the youngest in the team and showing such a great effort even after coming back from a recent wrist injury.
The boys had many a opportunity to capitalise on, they could not match the final touches in which their rivals did at every presentation. It was the small details that made the big difference in the final score of 4-1 to Moorebank.
The score unfortunately doesn't represent the effort in which the boy displayed, some fine tuning of trapping and passing is what let the boys down today and Moorebank to get up.
Back to training with next week being a new week, with some take away pointers from today's game to work on with in the coming weeks of training.
Points: 1 Jay K, 2 Ryan M, 3 Blake H.
4th grade Sutho 3 Moorebank 1
What a great Saturday afternoon for hockey at Hockey Park. After the disappointment of the first two games of the day, 1st grade put on a fantastic display in the 2017 GF replay as a warm up act to the prime time 4th grade match starting at 5 pm. With a slightly smaller crowd than we were used to, we took the park full of expectations of a tight match given the number of absentees across the senior men's teams.
The first 15 minutes were a scramble for our defence as we got acquainted with each other and Moorebank's midfield took advantage of some extra space to send the long passes through to a loosely marked striker or two.
This resulted in a number of desperate tackles or saves from Luke and our defenders. Unfortunately, on one such foray, the lone Moorebank striker managed to divert the ball around Luke's well timed slide onto his backstick. Despite Sean scrambling to cover the goal behind Luke, the resulting tomahawk thundered towards goal and collected Sean's body, earning Moorebank a well-executed penalty stroke.  It felt at this point that we were in for a long afternoon!
Superb skills enthral crowd
Finally the crowd was able to concentrate on the superb skill on display and with their encouragement ringing in our ears, we lifted our intensity and concentration and started to work our way into the game.
The rest of the 1st half was an even affair, but with Moorebank falling away in defence, it allowed us to control the ball and launch numerous attacks.  Our midfield tightened up their marking, which meant our defenders were able to intercept those long passes with more success. We earned a couple of short corners but didn't execute well.
With a great game awareness, Bonnici collected a sideline ball just inside our attacking half with 7 seconds to go in the first half and sent the chaos ball towards Moorebank's circle and a deflection caught a defender's foot. Coroneo converted the short corner with a thundering drive into the RH corner and Moorebank's dejection was notable with a 1-1 score.
The controlled play continued in the second half with Moorebank continuing to fall away rather than pressure our defenders as we moved the ball upfield.
Inevitably the weight of possession continued to build and the second goal came from a questionable short corner plan (what was Wiggo doing receiving the ball 2m to the left of the battery?) and the ever reliable Jono Rose managed to tap in through the keeper's legs for our second goal.  The third came from a good strike from Matt Quinlivan giving the keeper no time to close his legs!
A good effort to recover from our slow start in a game which was important to do well in.
B&F: Jono Rose 3pts, Peter Coroneo 2 pts, Mark Bonnici 1 pt Goals: Jono Rose 1, P Coroneo 1, M Quinlivan 1.
5th grade 3 Glebe 0
After last week's loss 5th grade had a chance to get back into some form against last-placed Glebe. Previously we'd beaten Glebe 11-0 but with nine changes to that side we were expecting a very different game.
We started well, controlling possession, playing an up tempo game and moving the ball freely across the field. Our strikers earned half a dozens corners early but struggled to convert without our suspended drag flicker.
Our first half pressure did finally result in a goal from Lachie Rowling (on his return after 4 years abroad) finishing a loose ball in the circle, Matt picking up another two minutes into the 2nd half to put us clear and Fish finished the scoring with 10 to go.
It was pleasing to see the boys maintain our pace and ball movement right to the end of the game. We didn't have a bad player, but full credit to Rory, Tim, Bryn and Luke at the back for keeping a clean sheet even though none of those boys have played more than two games with us this year.
Onto Moorebank next week, and if there's anything better than beating Glebe it's beating Moorebank!
Best and fairest: 3. Phil Rowling, 2. Mitch Rowling, 1. Matt Rowling
6th grade Sutho 2 Bankstown 1
After another week of selection dramas, and with 14,500 guys unavailable this week we welcomed back a few old heads to help us out.
We came up against Bankstown, a team below us on the table but quite capable of causing an upset.
We started off strongly with the help of Josh and Joel Brown and the Doctor giving us plenty of punch coming out defence we finally scored our first goal with some quick crisp passing and good finish by Tim Crismale.
However, there wasn't enough of it and Bankstown kept peppering us but our defence held firm and managed to keep them at bay due to a great game by Rory in goals.
We managed a 2nd goal to Mark Brookfield with about 15 minutes to full time and looked comfortable. However Bankstown scored with about 10 minutes to go and made it a nervous few moments till we finally won 2-1.
Goals to Tim Crismale and Mark Brookfield while 1 point went to young Max Heckley, 2 to Bryn Davies and a great 3 points to Rory Anderson.
7th grade Sutho 0 Manly 0
On a lovely sunny afternoon we went to Bankstown to play our home game against Manly.
This week we started playing well at the very beginning – unlike other weeks – and continued with good marking, positive passing and some very good play.
Throughout the whole game Manly's defence was the best part of their game and we were unable to score on numerous occasions. Their keeper would've got their three points for sure.
Our defence played very well today marking the opposition attackers out of the game and our midfield players held most of the position.
The whole team played well and just like to thank Harrison for helping us out and give us to substitutions all up. Points went 2 to Adam Palmer, 2 to Mark Bayley and 2 to Matt Reid. Well done 7th keep it up.

Women
1st grade Sutho 3 RSL 4
A cold and late night game at Moorebank was fired up and red hot when we came up against RSL.
We knew we were in for a tough game and we came prepared with a solid team plan and individual words of wisdom.
We controlled the pace of the game and scored some brilliant goals – a stroke to Hannah and a top net deflection from Cath. But we got burnt in defence and went down 4-3.
Goals: Hannah Burrell 2, Cathryn Johnson 1.
Player points: Anna Matthews 3, Hannah Burrell 2, Cathryn Johnson 1.
Sutho 2nd grade
No report
Sutho 3rd grade W
No report
3rd grade Sutho Wildcats 2 Easts 0
An early and very cool start for Wildcats this week. We were expecting a tight game against Easts who are 3rd on the ladder.
Wildcats had great intensity in the first half and everyone was putting in 100 per cent effort. First goal came from Elise, who showed great persistence to get the ball in the net.
Wildcats' forwards and halves kept the attack coming and the second goal was scored by Kayla after a good run, taking on the defenders one by one to score from the top of the circle. Half time score: 2- nil.
The second half was more defensive for Wildcats . Halves Kirsty, Megan and Kathleen and Lois at full back were always reliable and and kept feeding the ball back up to the forwards. We had a few good shots at goal but the Easts goalie was in fine form and made some great saves.
This win secures Wildcats' spot firmly at the top of the table. Thanks Kayla for filling in.
Best and Fairest: 3 Megan Squires, 2 Elise Cummins 1 Lois Scott. Goals: 1 Elise Cummins, Kayla Edwards 1.

Juniors
Under 17 Sutho Blue Tongues 3 St George 2
The U17 Bluetongues made their way to Greenhills on a cold and chilly night, perfect hockey conditions. There were good spirits in the change rooms before the start of the game, which was pleasing to see heading into a big game for us.
The first 10 minutes of the game was a strong and even contest between the two teams, with each coming up with genuine goal scoring chances and equally brilliant defence.
Eventually St George managed to break it open with a very well placed and hard hit into the goal on the second shot of a short corner.
Minutes later, they followed up with another goal, leaving the Blue Tongues down 2-0. With half time coming up Sutho pushed for goals, with all the effort paying off with Josh slamming home a goal showing great strength. It sent us into half time with some momentum.
With a good break at half time, and the talk being a display of only good cop this week, Sutho went back out with momentum favouring them, and it showed.
Sutho dominating the play with many goal scoring opportunities but none being put away due to some great keeping, but eventually all that pressure led to Jack scoring off a well worked team-style short corner, bringing the score back to 2-2.
The rest of the half was played in high intensity as each team looked to break the deadlock.
That finally came when Sutho caught a breakaway from half way with some lovely passing and good team support play ending up with a goal to debutant Zac Coles, who backed from playing a game before! This broke the game open and give Sutho a 3-2 lead with three minutes left on the clock, with Sutho coming out on top for a great win!!
Points 3 – Joshua Ko, 2 – Zac Coles, 1 – Luke Mecham. Goals – Joshua Ko, Jack Meecham, Zac Coles
Sutho U15B Blue Tongues 3 Glebe 0
For the first time this year the Blue Tongues had a full team for the home game match against Glebe.
This was our third game against Glebe, who we won comfortably over in the last two games so the focus was on playing our own game and passing the ball.
Sutho got in early, with a quick goal in the first half. Sutho had plenty more shots at goals, but the Glebe goalie stopped all but 3 goal attempts with Angus, Hannah and Kaylah about to get one goal in each.
Well done to the team for great teamwork and well done also to our goalie, Ryan, who had a quiet game in goals this week.
Best and fairest: 3 points Kaylah, 2 Holly, 1 Charles.
Under 13A Sutho Geckos 3 St George 1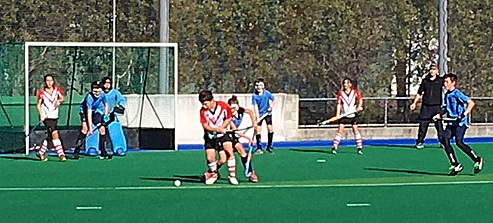 The comp leaders were playing against the third-placed St George team, but you would have been forgiven for thinking St George were on top of the table with a very spirited performance.
Although St George lost on the scoreboard they were the dominant team for the bulk of the game. Most of the play was in the Sutho half – and although Sutho had a fair amount of possession – we just couldn't get the ball through to the forwards with any regularity.
The defensive effort by all the Sutho players was terrific, with particular effort from Byron, Lily, Thomas, Grace and Matt. This included Grace making some tremendous saves and the defence's 'never give in' attitude thwarting a number of St George attacking raids and short corners.
Sutho's two goals in the first half resulted from breakaways by Matt who jinked left, jinked right, then left and right again to weave his way up the field before hammering home two shots from the top of the circle (without the goal keeper even moving). It was fortunate that Sutho were up 2-0 at half time.
Sutho started the second half well, with some brother to brother passing between Jett and Jonty resulting in Jonty slotting home a quick goal after the break to make it 3-0. That gave Sutho some breathing space, however St George recovered and again continued to create scoring opportunities.
This resulted in St George scoring from a short corner to make it 3-1 with about 10 minutes to go. However Sutho protected their lead well and there were no further goals scored notwithstanding further pressure from St George. A character building win for the team under considerable pressure throughout.
Best & Fairest: Byron Watson 3 pts; Lily Johnson 2 pts; Jonty Austin 1 pt.
U13B  Sutho Thorny Devils 1  Moorebank Blue 1
Pictures thanks to Matt Morris
It was a 100% effort today against a very strong Moorebank Blue, and a continuation of the turnaround we began last week, and almost a win, except for a well played manoeuvre in our D by two experienced strikers.
The success of today could be directly measured by the level of intensity shown on the field and when we are 'playing the press' we lift as a team and everyone plays well.
So many good points in the game make it hard to pick out a few, and it is great to see skills build throughout the season, but a pro shot pass in the D by Owen created a beautiful strike opportunity to beat the Moorebank defence; more work like this will make us superstars.
Jana smashed the back line with excellent support from the backs to shut down an aggressive opposing front line with a solid effort from Harley and an excellent return to form by Nathaniel.
A strong spine kept the game moving with a very nice effort by Mackenzie beating half a field of defenders to move the ball all the way to our only goal. And a great game by Amelia with some solid traps and good passing.
There was more utilisation of the wings today, and moving the ball to the line was the exact recipe to hold our own in a tough, competitive game.
A continuation of this kind of intensity, and a focus on the little things will drive the success of the second half of the season.  Well done by all today, a huge improvement, and consistent high intensity was great to watch.
Go Sutho!!
Under 13B Blue Tongues 0 Moorebank Red 1
We had our first loss for the season, but ironically we played the best game so far.
Our teamwork was excellent, with all members of the team sharing the ball with pin point passing and good trapping.
Our biggest opportunity to improve remains our commitment to passing the ball out wide and then bringing the ball back towards the goals. We have now played every team in our draw so we start the exciting journey towards the finals.
Best and fairest: 3 pts Zara Matthews, 2 pts Mayah Tait, 1 pt Cameron Sprod.
U11B Sutho Bearded Dragons 11 Moorebank Reds 1
Back to Sutho for a home game up against Moorebank Reds.
It was a fast and furious start to the game.  With instructions to the backs to look after Eliana who was goal keeping and had injured herself at school during the week , the Bearded Dragons thought the best form of defence was to attack.
While the score may indicate otherwise, the Moorebank goalkeeper made numerous saves in the first half and Sutherland went into the break leading 3-nil. The second half was when the Dragons applied their drills from the cold Thursday nights, taking the ball wide and then hitting across goals to their team mates awaiting on the post.
Pretty soon in we were obliged to take players off and eventually played the last 5 minutes with only 5 field players.
Well done to the whole team, as they really are playing as a team and covering the whole field and putting into practice using the side channels, instead of taking it straight up the middle.
Best and fairest: Jack M 2, Kaylee R 2, Lachlan H 2.  Goals: Jack Margetson 3, Kaylee Rule 2, Lachlan Hoy 2, Riley de Soza 2 and Thomas Blackman 2.