It was a bit up and down in 5th grade, but all were happy to be back on the pitch
It might have been overcast for most of Saturday, but there were plenty of happy Sutho players around as they either began or resumed season 2021.
Only our Under 15 and Under 17 Metro teams have yet to swing into action but get underway next Friday night.
And it was a  landmark weekend for Ruth Sannes, who played her 200th game for Sutho on Saturday in our PL1 match against Uni of NSW.
To celebrate, she helped out as goalie for half of second grade's game on Sunday morning. And that was before heading off to play in her Sutho Sydney Women's Hockey League match.
And that was before going to Monday night's Committee meeting as one of our Women's Convenors. And that was all before turning out as a Sutho junior team coach.
Thanks, Ruth you are a brilliant contributor to Sutho.
And…
Sutho's 2021 Minkey Program for 5 to 9-year-olds commences this Friday, 23 April. It goes through to mid-August in Term 3.
The introduction to hockey aims to ensure all participants have a lot of fun each week while developing basic hockey skills.
Minkey runs from 4:30 pm-6 pm on Fridays at our home ground (Tradies Hockey Park) – car park entrance off Sylvania Road, Sylvania (between Box Road and Garnet Road).
The program involves experienced coaches/players introducing hockey to the little Minkies and developing their skills via drills and fun activities.
The cost is $90 per child, which we believe is the best value Minkey Program in Sydney.
Even better, get your Active Kids Voucher number from ServiceNSW (https://www.service.nsw.gov.au/transaction/apply-active-kids-voucher) prior to registering online with the club. Using your child's Active Kids voucher will cover the complete cost of the 2021 Minkey Program.
Minkey registration: HERE
And,
Thank you so much to our picture contributors Anna Domrow, Natalie Krepp, Rory Staples and Matt Morris. You help make the match reports what it is.
And,
Our valued sponsor Sutherland Mazda is making it even easier to Vrooom… Make sure to check out the details at http://www.sutherlandmazda.com.au/

Women
SWHL
Sutho 8 Sydney Uni 0
It was a perfect autumn day on Sunday when Sutho's SWHL team played against Sydney Uni.
The team started off in immaculate form, snagging two quick-fire goals with Hannah and Iris hitting the back of the board within the first 3 minutes of the game.
Sutho dominated play throughout the match and eventually prevailed 8-0, the highest score so far in the season.
The multitude of short corners provided for a few goals with Camille making a rehearsed deflection.
The backs and mids made Liv's life very quiet in goal – she only had to make one save. The transfers at the back and stern defence held Sydney Uni at bay and allowed the forwards to press all morning.
SEHA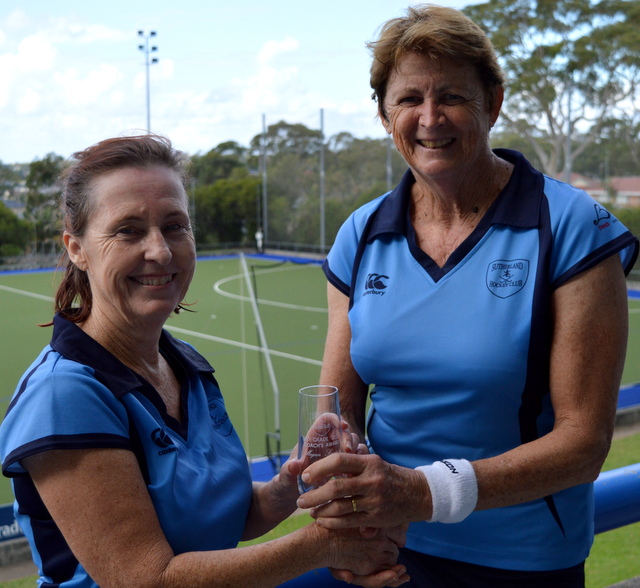 Sutho 1st grade 1 UNSW 3
In the first game of the season for Sutho's first-grade women's playing UNSW, unfortunately, we went down 3-1.
We had a great first half with an early goal scored by Camille.
There was some really promising play throughout the whole game and we are looking forward to a great season.
Congrats to the debutants to first grade and thank you to Camille and Iris for filling in.
Best and fairest: 3 Alex 2 Emily 1 Ruth. Goal: Camille (her first in first grade!).
2nd grade women v Bentstix
Sutho 3rd grade  Bentstix
In our first match of the year, we played Bentstix, which is always a very challenging match. A draw was a good result.
Unfortunately, we were a little ill-disciplined with two players receiving green cards and especially as we played in the heat of the day Next week we are at Daceyville.
 Men
Sutho 1st grade 2 Ryde 1
It was a third hard week for our 1st graders against arch-rivals Ryde. It was certainly, as expected, a hard,  fast and skilful game of hockey played by two of the top four clubs vying for finals positions this year.
It was the usual hard marking of our players who weathered the storm by Ryde.  And it's always hard having to play at 6.30 pm at Ryde on a Saturday night.
There wasn't a Sutho player on the field who didn't give their all and then some, even to the point of being sick during the match and insisting to play on.  Our club should be proud of them.
The younger players promoted to the team last year and the ones who have retained their spot this year all have recognised the vast difference in skill, pace, strength and tenacity required.
As a new chum to the team for the 2nd week in a row, Michael 'Sharkey" Sharkey – who captained our premiership 2nd grade in 2020 –  commented how hard and different it was to play at that level.
We led 1-0 until the 4th quarter. Then we thought all might be lost when we were down a player to a yellow card for ten minutes of the last quarter. Ryde equalised.
Through sheer determination, we pushed on with 10 players – and scored an unbelievable goal which totally frustrated Ryde. They couldn't penetrate our dour defence and the game ended in our favour 2-1.  It's impossible to mention any individual players as it would be hard to leave anyone out.
Hopefully, the next game will be somewhat easier against Northern Districts at Pennant Hills – but all teams are out to beat us as one of the top dogs.
Best and fairest: Nathan Ackroyd 3, Jack Hayes 2, Kieran Govers 1. Goals:  Alex Shaw 1, Brady Anderson 1.
Sutho 2nd Grade 3 Ryde 2
After a frustrating and disappointing draw against Moorebank last week, our 2nd-grade team ventured onwards to face off against another heavyweight of the league.  Ryde-Hunters Hills Panthers – a foe we all know all too well.
This would be our first match against Ryde since our glorious 2-1 victory in last season's grand final.
We knew coming into this season we would play off against the league's best of the best in the first few weeks, having already played UNSW & Moorebank, we knew taking 3 points from this compelling contest, would lay the platform of our season.
Throughout the week and even on game day we faced adversities, with our beloved captain earning himself a promotion to first grade, of which we wish him all the best  – and hope he returns soon.
On game day, we faced even more troubles, as our DJ and attacking midfielder was on a holiday in Tasmania – taking a stress-relieving trip down south. Then his flight home was delayed, only taking off as we started the game.
Ryde came out playing a very similar style to that of last season – their fast and aggressive attacking line had our team pressed for time on the ball, leading to a few errors and lapses of judgment.
Our game plan, as always to keep things simple, focusing on our basics, trap-pass, trap-pass.
We also were challenged to show our commitment to our teammates, by winning our 'one-eleventh' on the pitch – It was with this notion our team found our groove and our fight.
Winning the little efforts all over the field started to make the difference as we turned defence into attack.
Ryde would take the lead however after a fortuitous deflection on a short corner. We would soon wrestle the game back, with some glorious ball movement earning us a stroke – converted with much more conviction this week.
Leading into half time the game had fallen back into Ryde's favour, after again some lucky play (some would say a 'fluke' of a deflection).
Our team managed to fight back once more and with the help of a 1st-grade lad, who displayed the very definition of commitment, by agreeing to fill in for the first half – as we were struck with the loss of our DJ in Tassie.
We began the second half full of confidence and resolve.
We knew the game was in the balance, but our morale and the belief in our game plan we would see us through – and that it did.
Although Ryde tried pressing and maintaining their pressure, the momentum of the match had swung in our favour.
We engaged our midfield more frequently and started to string together some brilliant sets of play going forward through our AMs. We displayed more patience with the ball, and defensively we worked hard.
After some clinical finishing we took a 3-2 lead in the final quarter – a lead we would hold until the end of the match.
We emerged victorious against arguably one of the best teams in the league. Although it was far from our best game, the effort could not be faulted as we earned a sweet and just 3 points.
Best and fairest: To come.Goals: Mason Neale 2 Blake 'Billy' Hernandez  1.
 Sutho 3rd grade 2 Ryde 2
Saturday's match was always going to be tough coming up against last year's premiers.
Ryde started strong and fast. We looked in trouble early with Ryde dominating the first 10 minutes, with sharp ball movement, lots of running and players moving positions constantly.
Ryde's attacking and penetrating runs into the circle were shut down early by Mitchell Scott, who picked them off cleanly and Gilbert Gough-Fuller (Gilby) saved anything that came his way.
Around the 12-minute mark of the first quarter, we managed to get the ball out of our half. A quick breakaway with a baseline run and pass close to the spot found Ollie Turner with a shot which he pushed perfectly into the goal: 1-0 to Sutherland.
This rattled Ryde as they had dominated the whole first quarter, they started to retreat, and we found our rhythm.
The second quarter was evenly contested with both teams having good passages of play.
Ryde were still coming at us, they had a few shots and short corners but Gilby was like lightning in goal.
A quick mid-field break from Ryde close to the end of the quarter found them with a good opportunity at close range. Obviously, Gilbert wasn't going to let anything in without a fight, saving three shots in a row but Ryde were finally able to get a goal in on the fourth rebound, 1-1.
Two minutes later with nice transfers and skilful play up the field we had a short corner which Matt Vine push low in the bottom right corner. 2-1 Sutherland.
The last half was a blur with Ryde having a lot of chances from field goals and shorts but nothing was getting past Gilby. Low, high, fast, slow, even if he was off-balance he saved everything!
Ryde had a lot of opportunities in the last 10 minutes of the game but most of them were wide or went over the top. We were pushing their defence with some great skills and runs from Scott Crisafi and Matt Vine and great linking in from midfielders Ryan O'Leary, Ollie Turner and Ralph Price.
In the last few seconds of the match, Ryde was able to get the final play of the game, a short corner. The ball was pushed out with Matt Vine chasing it hard, the trapper dragged Matt and flicked the ball at the goal. Gilby saved it but it crept under his pad and started to roll toward the goal line –  Mitchell Scott saw this and dived but was unable to clear it cleanly and a stroke was awarded.
Ryde put it hard and low: 2-2 draw.
The whole Sutherland 3s team really dug deep, run as hard as they could, were focused, marked up and played as a unit.
We frustrated them with our commitment, enthusiasm and skills. As Craig Turner said at the end of the game, we never gave up and all gave 110%. We were all a little disappointed with the result but we're really proud of each other.
B&F: 3 Gilbert Gough-Fuller; 2 Mitchell Scott; 1 Tim Mall. Goals: 1 Oliver Turner, 1 Matt Vine.
Sutho 4th grade
Sutho 5th grade 0 UTS 0
It was a tough 0-0 draw for our 5th-grade team against UTS with some really good build-up play but unfortunately, we couldn't get a shot away.
We started well with a few circle penetrations and we looked well on top early.
In the second quarter, we dropped off, our movement of the ball looked strong until a bad trap would break down the play.
In the second half, we started strong but, again, our poor traps were letting us down.
Our defence held strong when UTS looked dangerous and managed to keep a clean sheet.
In the final quarter, we finally were able to win a few short corners but again we weren't able to get the ball in the back of the goal. It was a solid effort from the team but still room for improvement.
Best and fairest: 3 Dave Richardson 2 Aaron Krepp 1 Sohan Mavji
Sutho 6th grade 1 UTS 2
Sutho started strong coming off the back of some losses; the team was well prepped and keen to get some points on the board.
With a commanding lead in possessions, it felt like only a matter of time before the scoreboard would reflect the control Sutho was displaying. Unfortunately by the end of the first quarter, no conversions were achieved – but the outlook in the team was still positive.
The middle of the game showed a lot of promise, but so a few interesting choices, including a pass made directly to the opposing team's offense  – which resulted in a very scrambled defence and fortunately no score!
As the game progressed, Sutho's gusto started to wane with a younger and fitter UTS team taking advantage and capitalising with two goals in quick succession.
The last 15 minutes of the game saw Sutho put in a last-ditch effort which showed off some of the team's potential. With a clean goal from Brookie, Sutho was poised to take the momentum back and even up the score, but it was too late. Try as they might, they just couldn't get that second goal.
The end result was a 1-2 loss, but a lot of potential was displayed; with a bit of finetuning the wins will come.
Best and fairest: 3 Lachlan Cartwright 2 Lachlan Todd 1 Andrew Chang.
Sutho 7th grade 0 Baulkham Hills 3
On a warm sunny afternoon at Sutherland Hockey Club seventh-grade ran out with full confidence for one of their good games.
We played exceptionally well,  keeping position and marking players but in the end, couldn't hold Baulkham Hills with their superior speed.
We eventually went down 3-0 in an extremely hard-fought game.
Well done to all the players who were involved for keeping their heads up, right to the last minute.
Best and fairest: 3 points to Anesu Makoni, 2 Steve Harvey and 1 Conner Crowley.
Juniors
Sutho U17 Geckos 0 UNSW Marlins 8          
This was a better performance than last week, with more control with great attacking play at the start of the game. Unfortunately, UNSW defence held strong and we were unable to get that elusive goal.
Against the run of play UNSW, was able to score two quick goals which gave them confidence and the game started to even out with both teams attacking and defending.
UNSW's defence held well against our attack and providing limited opportunity to enter the strike zone and get a shot away, at the other end of the field UNSW was able to get through to the strike zone and either get a shot in or a short corner.
Being down 5 nil at half time, we could see that UNSW were starting to tire, but we just could not break that final line of defence to get a shot away. And their attack was able to get through to put another 3 goals to finish the game with 8.
A big thank you to Chloe, Piper, Lucy and Peter from the U15s for volunteering to step up and help our team who were only down to 8. All 4 players, who came straight from their game to help, had sensational matches.
Best and fairest: Liv 3 Jack 2 1 Christian
Lizard Trophy
Sutho U15A Blue Tongues 0 Sutho U15A Thorny Devils 3
The morning sun shone down at Tradies Hockey Park on Saturday as the U15 Blue Tongues prepared to contest the Lizard Cup against the U15 Thorny Devils.
Both teams struggled to earn attacking opportunities in the first quarter, barring a shot from behind by the Thorny Devils which was well saved by goalkeeper Alexander Ormonde and cleared to safety by defender Mackenzie Gunner.
The second quarter was a bit more open.
The Blue Tongues were able to earn themselves two short corners, but were unable to convert either of them to goals.
The Thorny Devils had another shot from behind that was sent wide. The score remained 0-0 going into half time.
As the third quarter began, the game began to open up. After about 5 minutes, the Thorny Devils began a hot streak, scoring 3 goals in 5 minutes to all but seal the game.
The Blue Tongues came out more attack-minded in the second half and were able to produce a few opportunities. They got another short corner, but from which they weren't able to get a shot away. Striker Dominic Lenzo was able to get a counterattack away but pushed it across the face of the goal.
Ultimately the Blue Tongues couldn't find their way back into the game, and the score remained until full time.
Best and Fairest: 3 Manolis Delimarkou 2 Dominic Lenzo 1 Alexander Ormonde
Now, over to the Thorny Devils…
It was a beautiful sunny morning when the Thorny Devils took to the pitch for their first official game of the new season.
Unfortunately due to the odd number of teams, the team had a bye in Round 1, which meant an extended holiday break.
We started off strongly, using our skills and speed to move the ball around the pitch. Focusing on the strength of our defence and the speed and motivation of our midfield and strikers, we were able to keep the ball at the attacking end of the field.
We had many opportunities for success but unfortunately couldn't follow through.
We had an excellent second half where we managed to score 3 goals. It was overall a successful game and provided many opportunities for players to reflect upon and grow throughout the upcoming season.
Best and Fairest: 3 Dominic, 2 Lucy, 1 Nicholas
Sutho U15A Geckos 1 UNSW Killer Whales 3
Overall we played well as a team, making some great passes and working well together.
We had some great chances in the attacking circle but we just need to work on stronger shots at goal and what we do to get the ball in the goal.
We also need to work on our defensive corners and having strong hits as well as leading and getting in front of our players when we have the ball.
Bailey Peters scored an awesome goal getting into the left corner. Peter Rast got 3 points playing an excellent all-round game.
Chloe Burne got 2 points playing a solid game especially marking and in the last half intercepting the ball and getting in front of her player.
Archie Groundwater got 1 point playing an excellent running and chasing game, especially position-wise.
This was our second game and we are still working out where each other plays. It is a very positive and encouraging team. Our coach Todd is amazing and if we listen to him our team will be unstoppable.
Best and Fairest:3 Peter Rast 2  Chloe Burne 1 Archie Groundwater. Goal: Bailey Peters 1
Sutho  Under 13A Blue Tongues 2 Sharks 2
Last Saturday the Blue Tongues played against the Sharks in an all Sutherland Shire hockey match.
The Blue Tongues started the match well and there was some good passing all around the field.  We scored first and were looking quite strong.
The Sharks were also playing well, and they started to get some good field position.  They eventually got a short corner and scored a goal from that corner.
The Blue Tongues defence was marking well but the Sharks had players sitting very high and they scored a goal from a one on one with me (the goalie) and we were behind 2-1 with one quarter to go.
In the last quarter, our good passing game returned, and we found a way past the Sharks defence to score an equalising goal.  That left us with a few minutes to get a third goal or to keep the Sharks from getting another one.
With 10 seconds to go, the Sharks got the ball close to our goal and had a shot and luckily, our goalie got a foot to it and deflected it wide of the goal.
Goals: Kalahni and Kai.
U13A Sutho Geckos 8 Glebe 0 
Another fantastic result for Game Two of the season.
Although we started a little rusty coming back from the holiday break, minus a couple of players, as well as borrowing a player and with no reserves, we ended with a convincing 8-0 win over Glebe. Again with about three minutes to go, the mercy rule was used to give Glebe a better chance.
There was some great channelling by Luka in the first quarter and when we passed the ball across the field to our players.
It spread the play and gave us more opportunities to get the ball towards Glebe's goal end and have a shot at the goal.
Although we held Glebe to a 0-0 score in the first quarter, we led the way for the next quarter with a 4-0 lead at half time.
Field goals were scored by Leo and short corner goals were scored by Jack with the second being called seconds before half time.
The third quarter saw us continue working on our defence, marking our players and winning the ball when tackling.
The fourth saw us take the lead again with Leo and Jude scoring and tapping the ball into the goal for each other – great teamwork boys.
Our final goal came from Rhydian Perry, who we borrowed, and was well deserved (he usually plays half field for the 11As). A big thank you, Rhydian, for filling in for us.
Best & Fairest:  3 Leo Matthews 2 Jamie-Grace Pittello 1 Luke Erikson. Goals:  Leo 3, Jude 2, Jack 2, Rhydian 1.
Sutho U13A Bearded Dragons 1 Moorebank 1
Despite being 3 players down the Bearded Dragons took to the field in their first proper hit-out of the season.
After conceding a goal early in the first quarter, the team fought back in the second following good lead-up work by Ryan and Caitlin to assist Rowan who scored the equaliser.
Solid mid-field work in attack and defence by Alyssa, Evan, Caitlin and Abby and good defence at the back by Jack and Georgia during the second half with a couple of great saves by Zara in the goals kept the scores level.
Overall, a great performance by an undermanned team to come away with a draw.
Sutho U11A Blue Tongues 2 Cronulla RSL 1
Game 2 and there were a lot of positives for the Blue Tongues.
We were dominating the game but RSL were defending with everybody in the circle and keeping us out.
Our short corners were working well with Beckett injecting strongly. The ball went into the goal but wasn't passed from the short corner so didn't count.
Mila was doing a great job distributing from fullback and Cayleb was doing strong in midfield. Then Rhydian intercepted a ball from a free hit and scored. We continued to dominate but RSL caught us on the break and equalised.
The second half was more of the same but a great performance from the RSL goalkeeper and the post was keeping them in the game.
Cooper was trapping and passing really well and Saskia was strong in defence.
We entered the last minute and Cayleb had a free hit on the left in our own half. He quickly fed Beckett who found Rhydian at the top of the circle, who slotted it past the goalkeeper.
A great team performance with great passing and maintaining possession and a deserved win.
Best and fairest: Rhydian 3; Cooper 2; Mila. Goals: Rhydian 2
Sutho 11A Geckos 13 Glebe 0
As Glebe has a strong history in Sydney hockey, we were not sure how their team would play.
The game started at a fast pace with some excellent passing.
Following the coach's pre-game talk the ball was being constantly passed out wide where there was more space.
Instead of taking the ball up individually and shooting, we made extra short passes in the attacking circle which lead to clear shots on goal.
Geckos were tackling with low flat sticks which prevented Glebe from attacking and the ball being played in Glebe's defensive half for most of the match.
The highlight of the game was the number of passes being made before scoring goals. This will be valuable when playing stronger teams.
The mercy rule was used (reducing the team down to 5 at the end), but this did not stop the attacking raids and shots on goal.
Overall a very entertaining attacking game, with our team winning 13-0.
Best and fairest: 3 Gemma Cimilli 2 Audrey Paige 1 Sophie Howson