It's Sutherland Mazda's End of Financial Year sale

Sutherland Mazda is a valued Sutho sponsor, and if it's a great deal on your next car you've been waiting for, hit the EOFY Sale! There's big savings across the Sutherland Mazda new and  used range with some fantastic offers up for grabs! More info?: http://www.sutherlandmazda.com.au/special-offers/
In addition to great driveaway prices for the 3 EOFY days only, if you purchase any in-stock new, used or demo car, you'll receive a free gift valued up to $500: choose a Westfield gift card, a GoPro camera or a fuel card.
Sutherland Mazda  has been awarded Mazda Master Dealer status three years in a row. It has proudly serviced Sutherland Shire for over a decade.
Sutho match reports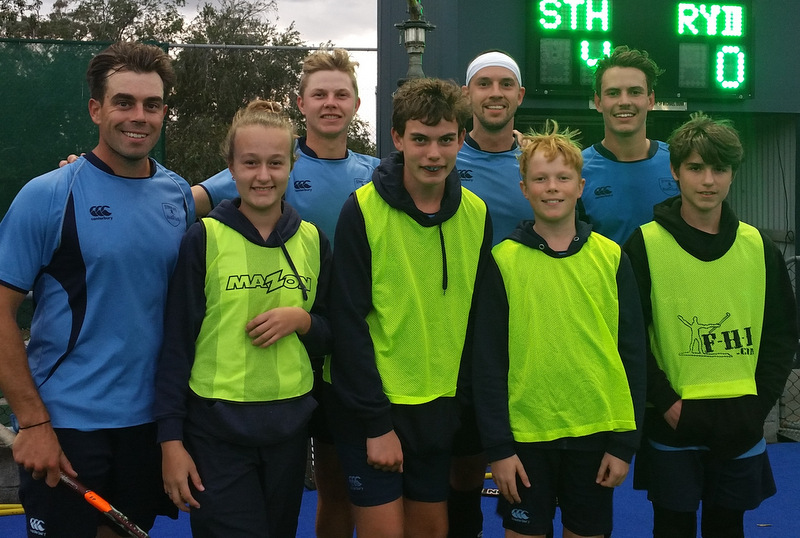 This week's ballpersons for the first grade match against Ryde came from Sutho's Under 13B Thorny Devils. Running the sidelines were Mackenzie, Kai, Ethan and Matt, who met up after the game with Jono Scott, Brady Anderson, Matt Bennett and Jack Hayes. – Picture: Matt Morris
Men
1st grade Sutho 4 Ryde 0
This was to be a replay of last year's final when we defeated Rye 5 – 4 after being down 4 – 2 with 7 minutes to play.  We pulled our goalkeeper off and with luck and hard play drew 4-all at full time and went on to 5 –4 in sudden death playoff. The rest is all history now.
Saturday's match was a fast, skilful game by both sides who will surely meet again in the final series.  Sutho played some great team hockey and seem to be improving with every match.
Luke Noblett returned from over seas to fit straight back into the team with a first up solid display: it was though he was never away.
There is no other way to describe Nathan Akroyd's display as goalkeeper other than amazing.  He stopped everything Ryde fired at him and just refused to all ow any thing past him.  Truly a magnificent performance and must be daunting as much as frustrating to opposing teams.
It is once again difficult to single out players for special mention as this team is a real unit and it shows their total commitment to each other on the field. They are a great example for our younger players to watch & inspire to reach the same heights.
The start to this season is far better than last year where we were sitting in about seventh position at the same time.
We will be without Kieran Govers and Jack Hayes next week when we play GNS at Pennant Hills who will be trialling in Perth for the  Australian. We wish them both well for selection.
Best and fairest:  Matt Johnson 1 , Kieran Govers 2 , Nathan Akroyd 3.
Goals:  Kieran Govers 1,  Jack Hayes 1 , Christian Halyard 1 ,  Matt  Johnson 1.
2nd grade Sutho 4 Ryde 2
Once again the second grade team was affected by injuries with five players unavailable including captain Gavin. Fortunately five players from other grades (Jason, Mac, Ryan, Wade and Mason)  stepped in and once again acquitted themselves admirably.
Sutho had the better of the first half and took a 3-1 lead into halftime. So well did the team play that coach Gav did not utter a single word to them during the break!
The final score was 4-2 but this did not reflect the territorial advantage Sutho had during the match.
The Ryde goalie had a great game and defused many promising Sutho raids.
For the third time this season Brendan scored two goals. Ralph got one and Michael scored the final goal which he described as "a stunning goal".
Zac had a fine all-round game and deservedly got 3 points with Peter getting 2 and Sully 1. All in all a good performance with much improved passing and teamwork.
We all wish Gav all the best and a speedy recovery from his nose surgery.
3rd grade Sutho 1 Ryde 6
Stevo's take on the clash, with some perspective from the Naughty Chair!
Sutho versus Ryde! To everyone else at the club, they will say Sutho vs Moorebank is the grudge match; but not to me! I don't know why, but Ryde has always been the one team who have managed over the years to get under the skin of this mild-mannered goalkeeper and let loose one angry, angry man! And you know, what? Today was still no different!
As hockey only has two seasons- desert hot and Arctic cold, we finally had winter arrive this afternoon and man did it feel like the true hockey season was here! With my pregame ritual of a killer python and two PowerAdes (have to be red and blue respectively), I was now ready to spend 20 minutes adjusting my box, slowly get my gear on and start thinking of nicknames for the whiteboard in the change room. Other teams would be talking tactics and plans, we talk names, such as: TBC, TBC2, Braddles, DILF, BIL, J., (.)Y(.) and Jimmy (seeing as that is his nickname!!). With all the names sorted, its time!
The game started in quite quick fashion. Both teams jostled through the midfield looking for the early break, and that came to Ryde first. A quick ball outside the 25 was played to the baseline and worked into the first short of the game.
It was this moment that the game went downhill for us in a way. Ryde worked it beautifully around in the circle but their shot at goal was still their first, so it was deemed lifted and the goal overturned. Regaining a bit of composure, this then turned into our favour with Mac getting a good breakaway and creating a one on one with their keeper which resulted in the keeper giving away a stroke.
Now here I am sitting down my end of the goals thinking, Okay Mac, you've got this! You roof them every week at training, this is just like that… and then Mac sends it directly into the keep's glove. Turns out, he asked the keeper to wave at him while he was taking the stroke! Mac had tried to put off the keeper and resulted in putting himself off.
A few quick breakaways from Ryde had us playing on the back foot and not before long we were down 4-0 at halftime. Things were not looking good for us and the whole time I was getting angrier and angrier at at what I regarded as some debatable decisions..
Usually half time has many wonderful quick comments from yours truly, such as the infamous, "Let's go out like its 1-all" comment of 2015 when in fact we were actually up 1 nil!
So, with the second half underway, Sutho began the stronger of the two sides. Our composure was solid and so too were our transfers and one-two play up the sidelines.
And then enter the short corner from hell. It started off being quite simple. Ball goes to the top, Stevo comes out makes the save, ball gets cleared. Everything went to plan, till there was a whistle from the ref saying that the man directly in front of me was stick checked. Umm, pretty sure he wasn't mate! So I mildly queried the decision.
After eight years of grade, I finally met a ref who sent me off. Well played, good sir!! A quick helmet and glove change to Nick, he was now the kicking back. He did really well without pads and Sean yelling to him "You can kick it!" But finally, being in the naughty chair I do have to say, I actually liked it!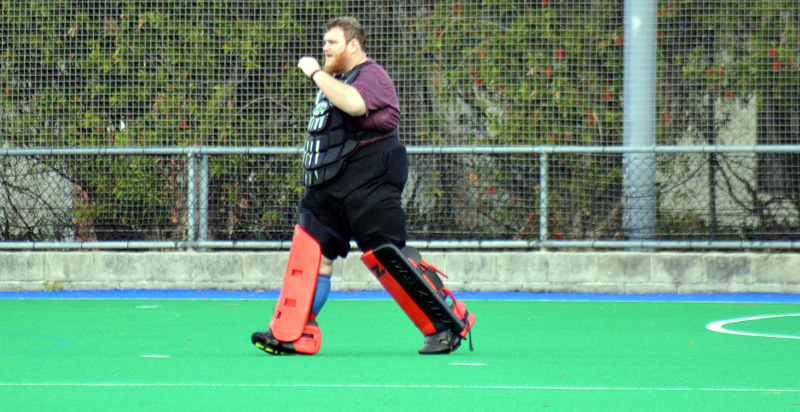 Back on the pitch and the game running down, I think the worst action of the day took place.
Ryde were making a break to the baseline, where Sean came in and took control of the situation, Until he lost his footing and knew he was going down. With three Sutho players in the circle ready to clear the ball, Sean lying on the ground scrambled the ball frantically over the baseline and gave away a deliberate short! Well done, Sean!! After the series of shorts, we finally got a breather and got the ball down the other end. A little too late and the buzzer went. Ryde 6 Sutherland 1.
All in all, it wasn't our best day out there; the result didn't go our way, but the passion was definitely there! A solid effort today by all the lads and a quick shout out to: Wade for his attempted back flip; Braddles for his dive at Mac's tomahawk shot to stop him from overtaking him as leading goal scorer for 3rds and also again Braddles for his 5 minutes yellow! We will get the win next time lads!
Points: Brad 1, Jay 2, Mac 3. Goal- Brad
4th grade
Deferred match
5th grade Sutho 3 Easts 1
This week we traded the heat and glaring sun for a grey sky and rain for our game against Easts.
While their record wasn't great, Easts have made all their games tight and this was the case again this week. We started slow and never found our groove in the first half, going into the break down 0-1.
This was the first time we had been trailing all year – our first test to see if we can play under pressure, and we did.
Three good 2nd half goals from Piles, Q, and Bob were the result of more disciplined and smarter play from everyone.
This game was another positive stepping stone in what's becoming a promising season.
Points: 3 A. Hoy, 2 M. Quinlivan, 1 P. Rowling.
 6th grade Sutho 3 Bankstown 2
After suffering a bad loss we needed to snap straight back into form,but unfortunately it didn't work that way.
We started against eight guys for the first 10 minutes but we went to sleep and were quickly down 1-0.
We slowly got ourselves together and got back to parity early in the second half only to concede another goal quickly after that.
The previous week it took us to the last 10 minutes to really get going but it was too late. This week we managed to score two late goals to win 3-2.
The good news is Rory had a great game in goals along with Dan Oakes 1 point,Tim Crismale 2 points and two goal hero Sean Kelly 3 points.The other goal was scored by Julian Weaver.
7th grade Sutho 1 Monterey 4
I was very proud of the way the boys went today despite the loss. It was one of the best games we played so far but we had very little luck when it came to the scoring end but we did have chances and the Monterey goalie was very good.
Damo, Darren, Jordan and Conner all played well upfront with some very good stick work getting around their defence and some good efforts with cross balls that just couldn't connect.
The midfield of Matt, Alex, Caleb,Cameron and Howie all played exceptionally well and got most of the points. The defence of Ross Adam and myself only let a few go by and they all seem to go in the goal even though Dave did have a good game as goalie.
If we play like this in the next few weeks, we will be back on the winning trail and we are all looking forward to it.
Points: 3 Cameron Bayley, 2 Alex Doyle and 1 Darren Shaw, who also scored our goal.
Women
1st grade
Cancelled due lack of umpires
2nd grade
3rd grade Wildcats 1 Easts 0
Due to several factors, including injuries, work commitments and it being Mother"s Day, the Wildcats were depleted and required players from our other 3rd grade team. A special thank you to Grace, who kept a clean sheet and to Victoria, who filled in for the day.
The game was very close, with Wildcats having multiple chances, but eventually scoring from one of the many corners with Lyn Smith converting.
Weather conditions at Kyeemagh were very trying, with strong winds and the occasional drop of rain.
Metro
U17 Sutho – Bye round for U18 State Championsips
U15A Geckos 1 St George Randwick 3
Off to Greenhills on the first cold night of the season – it was freezing. With three players out injured or away, big thanks to Angus for helping out.
Sutho started really well, and after good attacking pressure, Chloe hit the post on a corner before Liam's push towards goal was strangely left by the keeper for the opening goal.
Saints bigger, stronger mids and backs started to assert themselves, with a clear game plan to smash the ball upfield towards their skilful strikers. This was effective and created a number of first half opportunities for St George, which saw them level the scores for 1-1 at half time.
The second half was all Saints. They out-muscled and out-enthused Sutho, and finished their chances better, to score 2 more goals and take the 3-1 win.
Our first really tough game of the year, it was an excellent insight into what we need to work on as a team, and that focus at training is important to improve and execute in games.
Oliver and Zac M both had excellent games in mid field, Keeghan was very busy at the back and James made a number of strong saves in goals.
Big thanks to Wade, Nic and Mac for running training this week – running seems to have been the theme of the session!
Points 3. Zac M, 2 Oliver, 1 Keeghan. Goal: Liam.
U15 Sutho 2 Ryde 2
Sutho headed away again this time to play Ryde at Ryde.
With a number of regular players out and unavailable we were lucky to have Anna Matthews and Lachie Prentice help fill in for us, but this still left us with only 11 players and no subs for the game.
Sutho started well and created some good opportunities with our first goal coming off a short corner via a deflection from Zak Keelan. Our second was via Kian Johnson which had us up 2-0 at half time.
In the second half we went away from our good early ball movement and were caught on a number of times holding the ball too long and not throwing the early easy pass.
This put us under pressure and provided Ryde opportunities. Ryde ended up scoring off a controversial awarded short corner with 10 minutes to go and then again with four minutes to go to level the match.
Huon Bollard stepped up and had a great game in central defender and made some great tackles and distributed the ball well. He also made a save on the line in the first half.
Daniel Bryant was also solid in goals with plenty of good saves, as he develops into a very good goal keeper. Elliot Stark played well in the midfield and worked really hard in defence.
Points: 3 Huon Bollard, 2 Daniel Bryant, 1 Elliot Stark.
Next week Sutho plays UTS Mosman at Greenhills.
15B Sutho Blue Tongues 0,  Moorebank 5
The Blue Tongues had a tough game against Moorebank with Moorebank scoring 3 goals in the first half, leaving the team with some work to do in the second half.
Well done to the Blue Tongues for taking an amazing attitude into the second half of the game. At no time did they look like giving up. They worked on keeping the ball out wide and the communication with each other was much better in the second half as well.
Well done also to Blake in goals who was kept very busy, particularly in the first half, and had some great saves.
Best and fairest: 2 points Blake, 1 each to Ryan, Kaylee, Luke and Angus.
Juniors
U13B Sutho Thorny Devils 3  Glebe Strikers  0.
Backing up with another convincing win today, it was great to see another 'whole team effort' bring home victory over a traditionally tough Glebe.
A new split interchange system kept the spine of the Thorny Devils strong, and able to maintain momentum, allowing for a more dynamic side field support to move around and shake up the opposition.
Structure and focus from training was evident in the maintained field position and quick, task-oriented play, and some nice positive feedback from other Sutho coaches noticing our building discipline in this regard.  A big thanks to Garry for building this solid base.
Plenty of gusto in attack and defence, resulted in a good ratio of positive changeover in our favour leading to many scoring opportunities which were nicely converted to points on the board.
Lots of chat across the back-line shutdown most of Glebe's efforts in our half. It was also good to see lots of constructive and deliberate passing which, I'm sure, built up our confidence in attack, and ran the Glebe players ragged trying to stay on the ball.
Maintenance of our solid foundation, concentration on clean execution of trapping and tackling, and keeping our fast-paced game play is developing nicely.  It's great to watch this positive group working as a team, taking constructive criticism and feedback well, and acting on it with maturity.
Go Sutho!!
Best and fairest points: 3 Jana Dimitrovska, 2 Mylo Collins, 1 Harley Belbin.
U13A Sutho Geckos 2 St George-Randwick 1
It was a good win for the team, as it had been a real battle against St George.
St George started very strongly, and similar to the previous week the Geckos were asleep at the start and pinned down in our own half for the first quarter of the match.
However the Geckos were scrambling well and we could easily have been a goal down in the first couple of minutes of the game but for some brilliant goal keeping by Jett Austin who saved three great shots on goal in quick succession.
I think if St George had scored any of those early goals, the flood gates could have opened. The second quarter was more balanced between the teams (when the Geckos woke up) and we were rewarded with a goal 30 seconds before half-time.
There was some terrific passing up the right side of the field and then onto Lachlan and onto Tomas who still had a bit of work to do to beat the keeper, but he banged it into the back of the net to give us a 1-nil lead.
A couple of minutes into the second half saw some good lead up work by Bree and Lachlan result in Lachlan's shot on goal creeping under the keeper's pads to give the Geckos a 2-nil lead.
The team was better structured in the second half with Sohan covering a lot of ground in his new position in the mids, however St George had not given up.
They continued to pressure our goal, with Jett continuing to save goals and Matty managing to clear a shot off the line. St George were eventually rewarded with a goal to reduce our lead to 1. They  continued to attack in the last couple of minutes of the game, but the Geckos' defensive efforts (and more scrambling) held firm and we came away with the win.
Best and Fairest: Jett Austin, Sohan Mavji and Tomas McCowen 2 pts each. Goals:  Tomas McCowen and Lachlan Staples.
U13B Sutho Blue Tongues 2 St George Randwick 0
The Blue Tongues had another hard-fought win today beating SGR 2 goals to 0.
The team kept the attacking pressure on the opposition for a significant part of the match with some good stick to stick passing in and out of the circle.
After only two matches together, the teamwork and companionship is pleasing to see with everyone giving positive feedback to each other on and off the field.
Best and fairest: 3 Zara Matthews, 2 Lile Roche, 1 Lachlan Duhne. Goals: Zara Matthews 1, Christopher Goodman 1.
U11A Sutho Geckos  5 St George Randwick 0
Another entertaining game by the Geckos.
The things we practiced in training were implemented in the game. Great channelling in defence, passing around the mid-field and leading in the attack.
A real team effort.
Best and fairest: 3 Kalahni, 1 each to the rest of the team.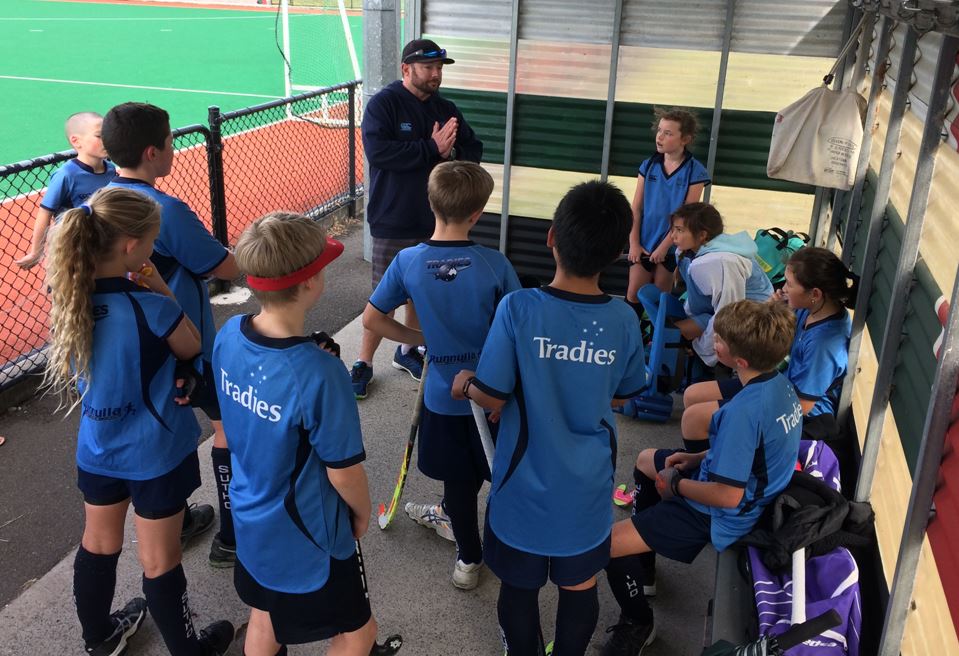 Under 11B Sutho Bearded Dragons 2 SUHC Cubs 1
On a miserable cold, windy and rainy day we met a new challenge – much bigger rivals. However, the size of the competition didn't worry our kids and they were fearless as they stepped up to make some great tackles against the Cubs.
It was a close game and both teams couldn't quite make the most of all their opportunities but we managed to go up 2 nil before the Cubs scored themselves a sneaky goal late in the second half. We were able to hold them out to bring home the win. It was a great effort by all the players.
Best and fairest: 2 pts each to Emily Carey, Thomas Blackman and Dominic Lenzo. Goals: Thomas Blackman and Eliana Domrow.
U11Bs Sutho Blue Tongues 3 Moorebank 2
A quick goal by Skye in the opening minutes gave the Blue Tongues a great start against Moorebank, but then they scored two goals in the first half, which had us worried.
But a quick pep talk from our coach Rebecca gave the team some extra confidence going into the second half.
Down a player throughout the game, the team worked really hard. Ava, Blake, Olinda and Jude were running every which way to compensate and were matched by Moorebank's endless rotation of subs.
Hannah was a blocking machine at the back and Charlotte did a great job on goals to stop Moorebank from scoring in the second half.
Ava scored with 10 minutes to go and the game got exciting! This was shortly followed by a goal from Jude.
A big team effort from Blue Tongues secured a win of 3-2.
Best and fairest: Hannah Harris 3, Ava Derieve 2 and Jude Lyons 1.