Shane Smith had a great game in defence – often tough work
Sutho's 5th grade Sydney League team were gutted after their 3-4 extra-time golden goal loss to Ryde White last weekend. But, in true Sutho spirit, our match reporter summed it up:
"Another year, and another time where it feels like we exited too early (2018: lost the grand final, 2019: draw in the preliminary final (out as were finished lower on the table). Next year lads, is our time."
Meanwhile, our three Premier League teams turned out at Homebush Olympic Park with first grade playing Sydney Uni and third grade against Moorebank in sudden-death elimination finals. Both won.
Second grade, who finished minor premiers and had a little finals cushion, needed it when they went down 1-2 to Uni of NSW.
This means next weekend our three top teams play again – but all in razor-edge games: 3rd grade plays Glebe at Lidcombe at 1230, before the arch-rivals doubleheader at Olympic Park. Second grade plays Moorebank at 2.45, while Sutho first and Moorebank hit off at 4.30.
Spectators are allowed at the grounds, subject to COVID-19 restrictions, but with plenty of space, get along Sutho fans.
Matchday guide and Live Streaming
Sydney Hockey has advised match day and live streaming arrangements for Homebush on Saturday. They are:
Maximum capacity at Sydney Olympic Park: For both pitches is 500 persons (this means at any one time through the day, including participating teams)
Dogs: Due to an incident last weekend, patrons are reminded that Venue Policy is no dogs are permitted within the Hockey Centre gated area (guide dogs and companion animals excepted, with valid accreditation). Should you bring a dog along,  you will not be permitted to enter
Other
The canteen will be open, but with no alcohol sales. Nor will alcohol be allowed to be brought in
Dressing rooms remain closed
Maintain social distancing requirements, and
Parking is in P4 with a 4hr free limit on validation.
Skills Academy replaces Summer Comp
One last plug before we get to the match reports:
For the first time in more than 30 years, one of St George and Sutherland Shire's landmark sports events will not be held – claimed by COVID-19 restrictions.
Sutho's annual Summer Schools Competition has traditionally drawn scores of 6-a-side junior primary to senior secondary teams from St George and Shire schools, with many players going on to distinguished careers in the game.
Our Summer Comp might be sidelined this year, but we have worked with COVID-19 management experts to develop a Summer Sutho Skills Academy where players can hone game skills with highly experienced male and female coaches and players.
It runs from 19 October to 9 December. Fees, which are eligible for NSW Government $100 Active Kids vouchers, are $110 for 8-10 -year-olds and $130 for 12-17-year-olds.
Full details and registration: www.sutho.com.au
Some of the kids getting an Academy preview last weekend:
Sutho 1st grade 4 Sydney Uni 1.
This weekend we defeated Syd Uni quite emphatically, gratifying after the 3-0 beating they gave us two weeks ago. It may have given them a false sense of hope. But this time the boys really turned up for this semi-final, showing they wanted it – and bringing out the best in them as a team.
The older school led by example for the younger brigade, who rose to the occasion in their first PL1 final series.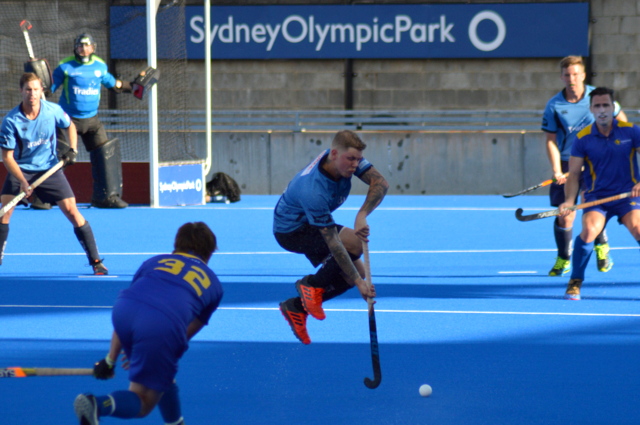 Especially pleasing was the display of our defensive unit, particularly Nick Hill and Shane Smith, whose high-quality games were probably their best for the season. Riley Nilan also probably played his best he has all season, and at just the right time.
It is probably unfair to just single out these players, as the whole team played so well. If we could have snagged a few of the crosses in front of goal the score could have been another 2-3 goals.
That's something to work on for our game next weekend, the preliminary final against our old rivals, Moorebank. The team needs to play for the whole game: Uni scored a goal in the last quarter and could have got their tails up, but we closed ranks again.
Goals:  Brady Anderson 2, Harry Roberts 1, Matt Johnson 1.
Sutho 2nd grade 2 University of NSW 3
A finals series ushers in new challenges for all teams and none was greater than for our second-grade boys. Finishing minor premiers by very slim margins, we played UNSW (second) in the battle for second-grade supremacy, and to decide who we would face in next weekend's elimination match.
Pitch 2 at Olympic Park hosted this much-anticipated battle, however again no change rooms were open for use, meaning we had nowhere to play our pre-match song, 'What's Love Got To Do With It.' Some players rejoiced, others pouted. (And for those who don't have it on their playlist…)
In the scorching 26-degree heat, our match commenced, and as expected, UNSW started fast. Their attack was built around long passes and darting leads from their strikers. This fast start caught us a bit off-guard, but gradually we gained possession and controlled the speed of the game. By using our central and attacking midfielders, we began to turn the tide of the match.
The scores locked at 0-0, we finally managed to break this tie, as our right half calmly and skilfully scored the best own goal you could see. Thankfully, the umpire deemed it a no goal and the match remained 0-0 at half time.
The second half allowed our team to become a bit more expansive, stretching their defence further and creating space. So we managed to create more opportunities to take the lead.
Alas. UNSW managed to earn their first short corner of the game, converting to take the lead, 1-0. Not long after, unfortunately, they scored once more, off the only long pass that worked the entire game.  We managed to play our way back into this affair; from our attacking short corner we scored off a lovely drag flick to the bottom right.
The game finished 2-1  in favour of Uni.
We look to the next game, which will be an elimination game against Moorebank, which will surely be a challenge, but one we look to tackle head-on.
Goal: Joel Westblade, plus 1 disallowed own goal to Mitchell Shipp.
Sutho 3rd grade 2 Moorebank 0. Elimination final Sutho (3rd) v Moorebank (6th)
A good result, as Finals are often not the prettiest games. But we will need to improve to beat 2nd placed Glebe at Lidcombe next week for a spot in the grand final. We got them 2-0 earlier in the year, but this will be an entirely different affair!!
On a warm October morning, we gathered at Homebush for a 12.30 hit off on P2 vs the old foe, Moorebank. Having been knocked out by a last-minute goal in the corresponding game last year, there was definitely a steely determination in the eyes today.
With both teams making the most of the long on-field warm-up, there were no excuses once the whistle blew. And so it began.
Sutho had some nice passing early, and Moorebank was working the ball into the high corners and looking for crosses into the D. Midway through Q1 one such foray saw an errant tackle or two and the Poolas had a corner.
We were pretty clear that they would flick, but stopping it was another matter – lucky it hit Brad on the shoulder on the post and deflected over the goal, but at the cost of a penalty stroke. However, today was Dan's day in goal, and he calmly made a stick save on the stroke to keep the scores level.
At the quarter break, we were happy with our output, and after a rev up by Sharpie, we went back out to keep winning the ball in front. Sutho built into the game more and earned a number of short corners. However, between our guys being slightly off and Moorebank defence all over us, we couldn't really even get a shot in. At our end, Paul saved another flick on the right post, although he claims it is just 'hit his stick'. 0-0 at half time.
The talk at the break was positive. Sean read a message from Duck, who couldn't be there – he implored us to want it more than them. Paul expanded that this was going to be a tight game – win the ball, defend in front, take our chances. Our composure on the ball was pretty good, with our out letting working fairly well despite periods where they pressed high.
As you would expect, a lot of the play was in the midfield, where the pressure was intense and a number of turnovers caused fast breaks at either end. The Sutho defenders were having strong games, with Brendo Hol a rock at left-back and Dan B equally solid in goals, parrying away crosses and would-be shots.
Late in Q3 Zak took a quick free hit on halfway and threw an overhead into the D -Moorebank missed, Sharpie passed around the keeper before the defence chopped down Viney's attempted shot – Sharpie converted the stroke for 1-0 lead at the break.
Final chat was clear – they would come hard at us, and probably direct like last year. Defend strongly, get back and help your mate, but still play hockey! Moorebank didn't quite muster the same pressure we expected, albeit they did earn a couple of corners we again saved on the line. However, our midfield did pressure them such that a lot of their attacks were one out or smashes into the circle. With 1 minute to go, we earned a corner and converted for 2-0 win.
Goals: Brendan Sharp, Matt Vine
Sutho 5th grade 3 Ryde White 4 Preliminary Final. Sudden death extra time
Gutted, absolutely gutted. I suppose I should put this in some context,  so here we go…
For the first time this year, we went to Cintra with its working scoreboard that is adjusted by 1 second increments, not overly useful water cannons, which, added to the very warm day, produced a  dry and bumpy pitch. We all navigated Sydney traffic – some finding it more challenging than others (cough, Bryn)-  but we were all ready, fired up, and confident.
The plan was to go hard for the first 5 to 7 mins and let our youthful attacking line loose on Ryde. The plan worked well and about halfway through the first quarter we executed our penalty corner variation to perfection and we were up 1-nil. That was how it ended the quarter.
Ryde struck back early in quarter 2 and the battle was on – with the young kids, of which we had many, all holding their own in the face of a very physical Ryde team whose confidence was growing.
Half time came and went, a little longer thankfully so the team could rehydrate and get some water on the field. The squad exuded confidence and the messages were kept simple and positive.
Quarter 3 was another back and forth a fair with few chances being crafted by either side. It was some quick thinking from Luke at the 16-yard line which saw him throw a great overhead and a little luck with the defender missing the ball. Then Lachlan Groundwater (one of 3 Lachlans in the team!) controlled the ball that bounced up to head-height, then getting an early touch in the circle put to the ball past the GK:  2-1 up!
Quarter 4 seemed to fly by. Ryde scored another, but our heads didn't sink. The lads worked hard as we were down a player with Seb being sent off for 5 mins with 10 mins left of regular time.
Almost immediately after getting back to 11 players, we secured a PC – the first shot was saved, but it fell favourably to Regan who showed all of his experience to calmly slot what we believed to be the winner. Score – 3-2 up.
We had ~ 5 mins to hold out and so we restructured a little, but it didn't go as smoothly as previous weeks and the nerves started to show. That said, we were able to fend off Ryde's efforts to put the game into extra time.
And then… with around 1 min to go, Ryde had the ball on the sideline at our 25-yard line, the ball was smashed into Pikey's foot, the umpire's whistle was slow to blow, Pikey poked at the ball, the Ryde supporters roared, upgrade to a short corner resulted. Our lads, the lads were less than happy.  Ryde executed and the scores were tied again,  but with 17 seconds to go.
The boys were clearly upset and frustrated – which was totally understandable, but we had to get clear heads quickly to focus on the challenge that lay in front of us. We went with a mix of youth and experience, and no goalkeeper as we had to win.
We had a chance with a short corner midway through the first period, but Ryde held us out. Ryde then attacked and got in behind our defences and found a player unmarked to slot home the winning goal.
The lads were gutted but they showed class in the end – which is never easy in such circumstances. A massive thanks to all the lads who helped out on the day to give us 16 players – cheers Cam Bayley, Daz Saunders etc.
Another year, and another time where it feels like we exited too early (2018: lost the grand final, 2019: draw in the preliminary final (out as were finished lower on the table)). Next year lads, is our time.
Goals: Will Gair 1, Lachlan Groundwater 1, Regan Smith 1.